Every Episode Of Luther Ranked Worst To Best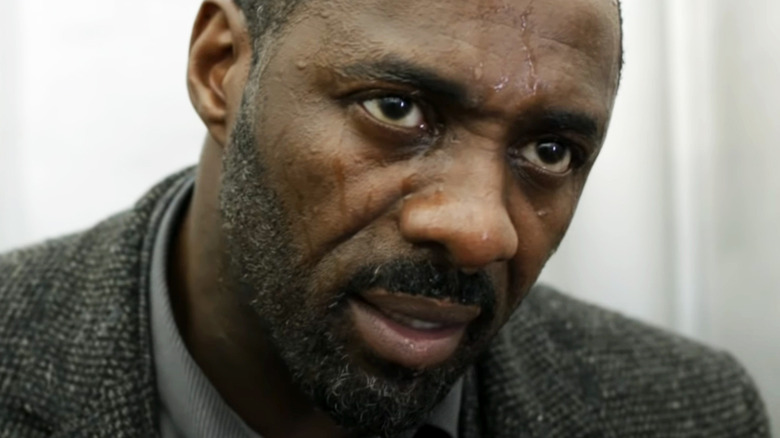 BBC/YouTube
"Luther," a BBC crime thriller that premiered in 2010, quickly established itself as one of television's best crime shows – in large part because its titular character, DCI John Luther (Idris Elba), is one of television's best detectives. Far from the sort of squeaky-clean cops we've come to be familiar with, Luther is a deeply flawed and complicated man who's more than happy to break the rules, get his hands dirty, and even ally himself with killers. Things get even more complicated when Alice Morgan (Ruth Wilson), a brilliant murderer with a devilish smile, becomes an unexpected ally.
Gritty and uncompromising, "Luther" ranks among the best thrillers ever produced for the small screen. It's also slated to make the jump to the big screen: A "Luther" movie is headed to Netflix. That makes this the perfect time to look back on the series' incredible five seasons. Which chapters of this spellbinding series stand above the rest? We're here to find out. We're ranking every episode of "Luther" from worst to best.
20. Season 4, Episode 2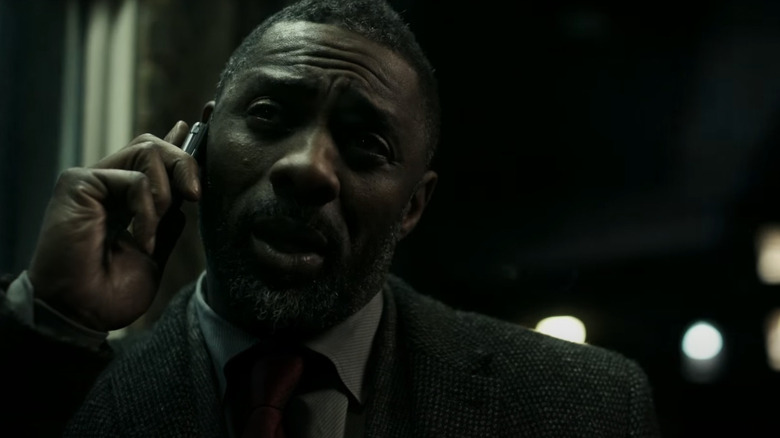 BBC/YouTube
Make no mistake, the worst episode of "Luther" is still miles better than most crime dramas you're likely to find on TV.  Season 4, Episode 2 ranks dead last on this list, yet it still features high levels of suspense and drama and some truly fine performances. 
In this installment, the second part of a truncated two-episode season, Luther investigates the apparent death of his enigmatic ally and part-time lover, Alice Morgan. When he meets a self-proclaimed psychic who says she's been communicating with Alice, alarm bells go off: This alleged seer might have been involved in Alice's disappearance. She proceeds to reveal details of a murder case from Luther's past, which means something is really amiss. As he presses further into Alice's death, Luther also works a case involving a serial killer. Separately, a local gangster puts a bounty on his head. 
This episode is intriguing, but it largely feels overstuffed and entirely too short. It also features a jaw-dropping conclusion that teases more "Luther" to come. This might seem impressive, but keep in mind, it took four years for Season 5 to arrive. This frustration, combined with its full-to-bursting quality, puts Season 4, Episode 2 below every other episode of "Luther."
19. Season 1, Episode 3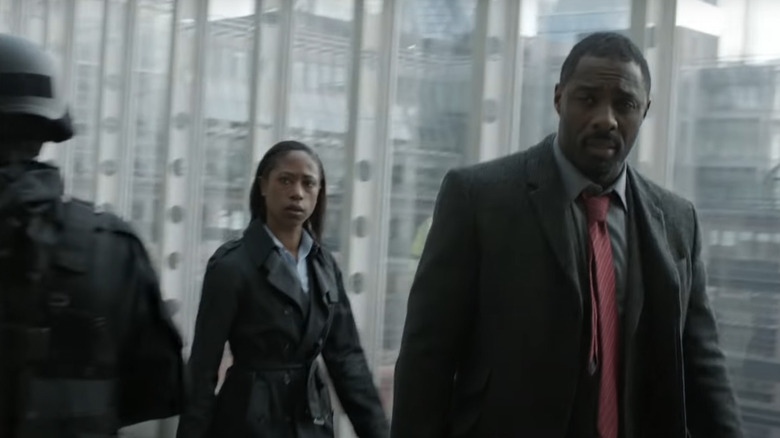 BBC/YouTube
In this dark episode, the body of a young mother is discovered completely drained of blood — the result of some sort of sinister ritual murder. Luther quickly figures out who's responsible for the heinous act: A slimy, devil-worshiping serial killer named Lucien Burgess (Paul Rhys). The man was a suspect in an eerily similar murder case a decade prior, but was set free thanks to a beating from an undercover officer who had no hard evidence to prove the case against him.
Luther wants to make sure that Burgess is taken down for good, but when he goes too far and attacks the suspect, he may be forced to give up his pursuit. Alice Morgan, meanwhile, thinks she can impress Luther by striking back at Mark (Paul McGann), hopefully sending Zoe (Indira Varma), Luther's ex-wife, back into his arms. But her plan only lands Luther in even more trouble, as Mark files an official complaint. Back at the city hospital, Henry Madsen (Anton Saunders) comes out of his coma, threatening to imperil Luther's career should he tell the court what he did to him. This is a gripping episode, but it's also a bit too convoluted and occasionally slow. Given the two installments that precede it, it's also a significant step down in quality.
18. Season 5, Episode 4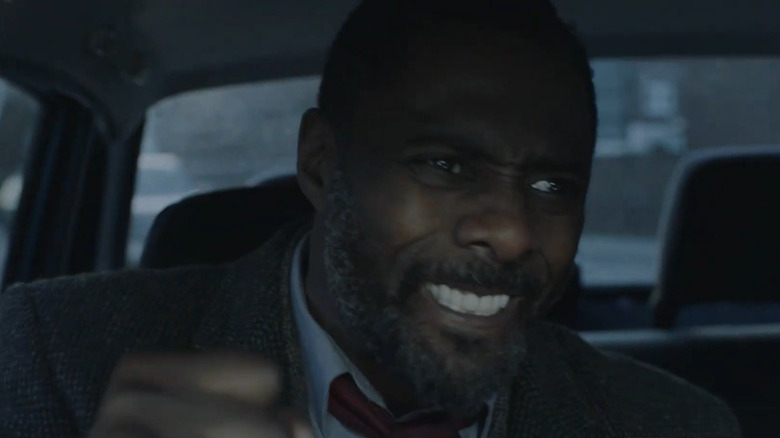 BBC/YouTube
For five solid seasons, we see Luther get involved in all manner of trouble: He covers for murderers, harbors fugitives, works with hardened criminals, and conceals crimes. But he always somehow manages to keep his nose clean. All that might change in the Season 5 finale. Though Luther and Halliday (Wunmi Mosaku) are able to piece together an elaborate puzzle, serial killer Jeremy Lake (Enzo Cilenti) still threatens to finish off a new slate of victims if he's not stopped in time. Even if they succeed, it may come at a great cost.
Meanwhile, Luther's clash with George Cornelius (Patrick Malahide) comes to a rip-roaring conclusion, as the mobster threatens to take Luther down with him following Benny's death. But the biggest stand-off of the season comes not between Luther and a nefarious new adversary, but between him and his old lover-slash-nemesis, Alice. This is an explosive episode, but it also feels a bit overdone and somewhat disjointed. Anyone not already sold on the series might find themselves questioning some of the internal logic on display, which doesn't always hang together.
17. Season 5, Episode 2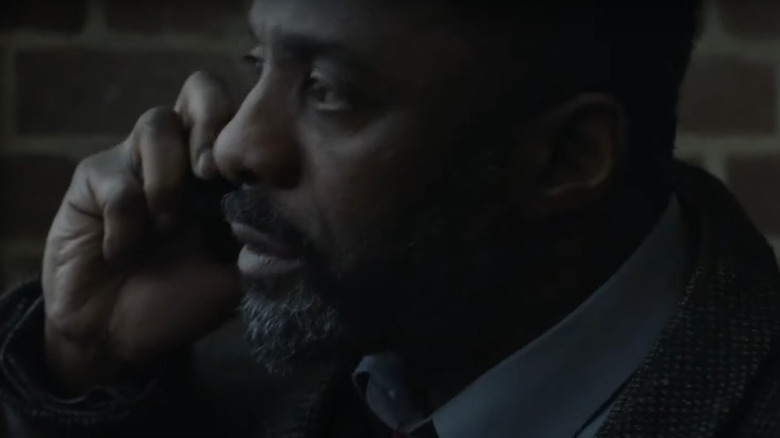 BBC/YouTube
This episode delves deep into the character of Alice Morgan, the sociopath-turned-quasi-girlfriend and rival of DCI John Luther. Here, we learn that she's been in cahoots with mafia man George Cornelius and his son — and that she acted against them both when they betrayed her in a diamond deal. We also learn what happened to her following the previous season's conclusion: After a car crash left the diamonds in the wind, Alice was forced to fake her own death to get away.
Alice has wound up with a bullet in her side following attempts to settle the score with Cornelius, and comes to Luther for help. As it turns out, Alice kidnapped Cornelius' son, and now that she and Luther are back together, the mobster will think he's more involved than ever. Moreover, his new partner Halliday gets a lead in their murder case — psychiatrist Vivian Lake (Hermione Norris) may be more involved than they first thought. This episode is undoubtedly entertaining, but its dialogue doesn't quite reach the show's high standard. On a production as excellent as "Luther," that's enough to keep it towards the low end of this list.
16. Season 5, Episode 1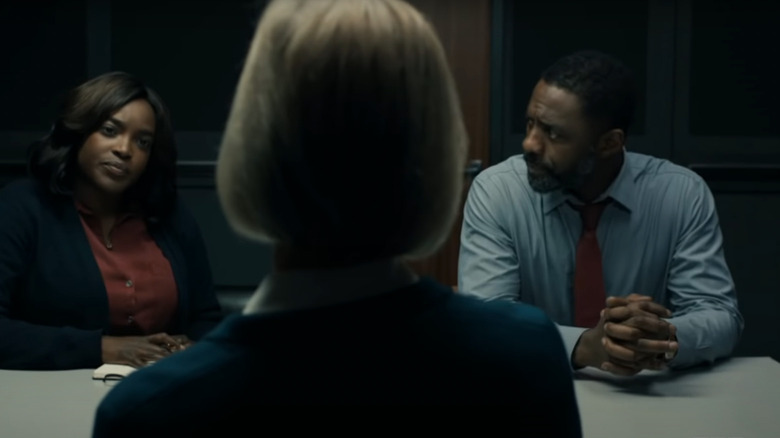 BBC/YouTube
Season 5 of "Luther" changes the formula by telling a single story across four thrilling episodes. It begins with Luther pursued by his old enemy, mobster George Cornelius, whose son has gone conspicuously missing. The gangster believes Luther is involved, and abducts the detective to get answers by any means necessary. Of course, Luther has nothing to do with it. Once he's back at the precinct, we meet his new partner, DSI Catherine Halliday, who's joined him just in time to tackle a brutal series of killings.
The two prove to be a good team, and are able to pick up a number of clues at the murder scene that soon lead them to a second victim. They also pick up on devious tricks the perp is using to stay off the police's radar. When they connect with a psychiatrist who informs them of a troubled patient, they believe they may have IDed their suspect. To make things even more complex, Luther soon gets help from the one and only Alice. "Luther" fans were ecstatic to welcome the show back to the airwaves, but even the most ardent among them can't ignore the fact that this episode isn't one of the show's best. It's a bit too broad and reliant on the established "Luther" formula to be truly shocking.
15. Season 4, Episode 1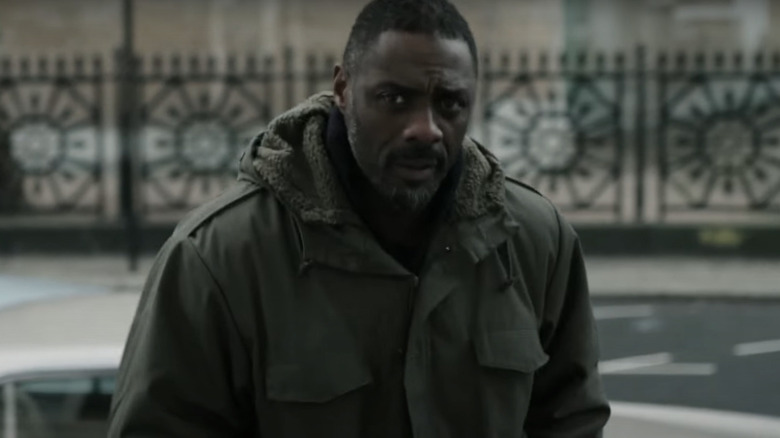 BBC/YouTube
By 2015, "Luther" star Idris Elba was a bonafide Hollywood heavyweight. Finding time to fit in a new season of his hit crime drama likely proved problematic. Perhaps that's why Season 4 is comprised of just one story, told across two episodes. The first finds Luther living in a remote cottage in the English countryside. The hardened copper is on an extended leave of absence, and seems to enjoy being far from the action.
But then he learns that Alice Morgan has been confirmed dead. He doesn't believe a word of it, and returns to the job to find out what's happened to her. Before long, a new series of murders rises to his attention: A nasty, cannibalistic serial killer is at work. DSU Martin Schenk (Dermot Crowley) struggles to get a handle on the situation, but thankfully, Luther is back in action and on the case. Joined by a new partner, the fresh-faced Emma Lane (Rose Leslie), Luther sets out to crack his latest gruesome assignment. Season 4's brief length hurts both of its installments, though Episode 1 still manages to rank higher than Episode 2. Still, truncated "Luther" is better than none.
14. Season 1, Episode 2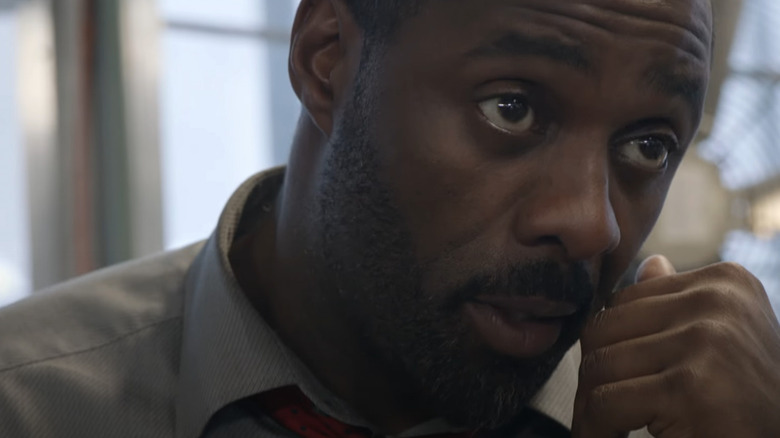 BBC/YouTube
A mysterious gunman has begun hunting police officers across London. His first targets are taken out after apparently discovering a body beneath a railway arch. This body is no murder victim, though: He's the ruthless killer, who surprises the officers, guns them down in cold blood, and callously walks away. 
Luther soon unravels the clever set-up, and concludes the suspect has a personal score to settle. The man behind the killings is revealed to be a former soldier whose father has commanded him to murder police officers. Luther draws the gunman out into the open by openly chiding him on television, making himself the next target. Meanwhile, Alice Morgan begins taking an almost obsessive interest in Luther. The show is still finding its legs in this early episode: It's full of the things that make "Luther" great, but they're not quite as polished as they go on to become.
13. Season 1, Episode 1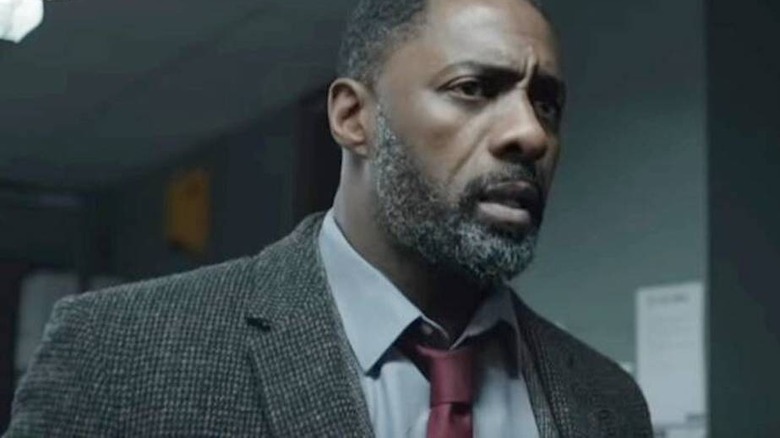 BBC/YouTube
The very first episode of "Luther" introduces us to the titular character, a relentless detective currently on the hunt for deranged serial killer Henry Madsen. We're introduced to Luther's reckless and brutal tactics right off the bat: When the two meet in a tense stand-off, he puts Madsen in a coma and lies to his superiors. Following a months-long leave of absence, Luther is back on the job and assigned to work a confusing double homicide involving an older married couple.
Though Luther can't quite prove her guilt, he determines the couple's clever and sociopathic daughter, Alice Morgan, is the likely culprit. At the same time, Luther becomes dangerously preoccupied with getting back his ex-wife Zoe, who left him because of his violent temper and obsession with his job. This fixation puts Mark, Zoe's even-keeled new boyfriend, on the wrong end of the flawed copper. This might not be one of the best episodes of the series, but it sets the tone and shows us just what a complicated and dangerous man John Luther really is.
12. Season 3, Episode 1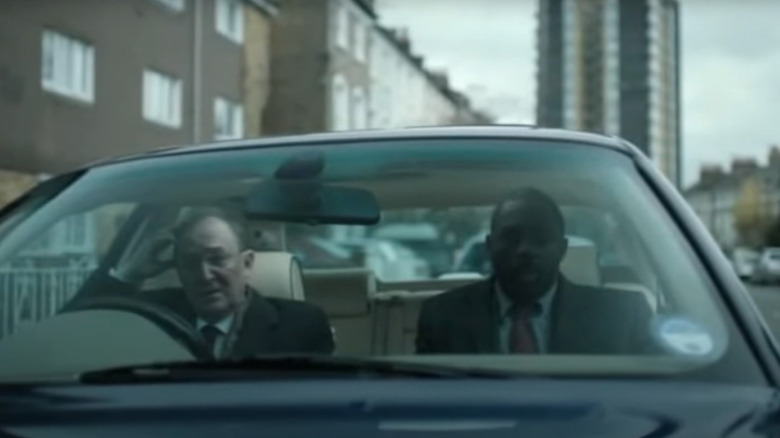 BBC/YouTube
There's a new madman on the scene in Season 3's debut episode: A cold, calculating killer who lurks in women's homes, murders his victims when they're at their most vulnerable, then steals their shoes. But this isn't the only case Luther and DS Justin Ripley (Warren Brown) are working. They're also investigating the death of an internet troll, who might have underestimated one of the people he targeted for harassment.
While Luther is kept busy at work and home, DCI Erin Gray (Nikki Amuka-Bird) and a former corruption sleuth who's been lured out of retirement begin investigating him. Believing Luther might be a dirty cop, they start to build a case against him. They approach Ripley about joining their corruption probe, but Luther's young partner is reluctant to turn on the man he admires. This premiere kicks Season 3 off in memorable fashion, but it lacks the spark that enlivens the best episodes.
11. Season 5, Episode 3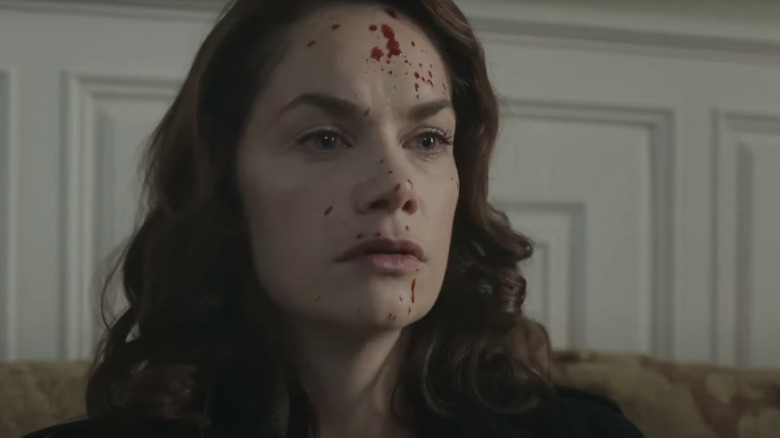 BBC/YouTube
Alice finally goes too far and kills the son of Luther's longtime foe, George Cornelius. This might spell doom for one of Luther's closest allies: Held captive by Cornelius, Benny Silver's (Michael Smiley) life hangs in the balance. Luther is tempted to turn Alice in to save him, but instead, the two team up for an attempted rescue. This quickly goes off the rails, however, as Cornelius completely loses control.
With nowhere to turn, Luther calls on an old friend, Mark North, who hasn't been seen since Season 2. Though he's uneasy about harboring a wanted serial killer, Mark can't deny Luther. The detective has other business to attend to as well, namely a maniacal murderer. Meanwhile, Halliday's gung-ho investigative work into Jeremy's medical history leads to a surprising revelation. This episode is a bit slower than you might expect, which keeps it from a higher spot on this list. However, once it gets going, it's enormously entertaining.
10. Season 3, Episode 2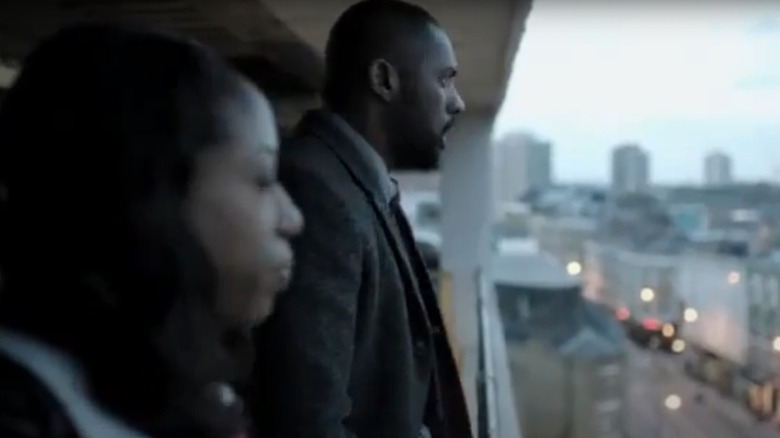 BBC/YouTube
Luther continues his romance with Mary Day (Sienna Guillory) in this installment, amidst assorted gruesomeness and brutality. Ripley continues the investigation into who murdered internet troll Jared Cass, and Luther begins looking at cold case files in an attempt to find a suspect. He's soon led to a retirement home housing elderly William Carney (Ned Dennehy), who might have a connection to the recent killings. 
It soon becomes clear that a decades-old serial killer is the focus of a copycat. Luther zeroes in on a man named Paul Ellis (Kevin Fuller). Their first confrontation becomes an all-out physical battle, which might be the biggest and most thrilling moment of the season. Back at the station, Luther learns that Ripley remains loyal to him as Gray's probe into his potential corruption continues. But if you think that's going to intimidate the tough-as-nails detective, you don't know Luther. This episode isn't one of the all-time greatest, but its killer fight scene is too thrilling to be denied.
9. Season 2, Episode 2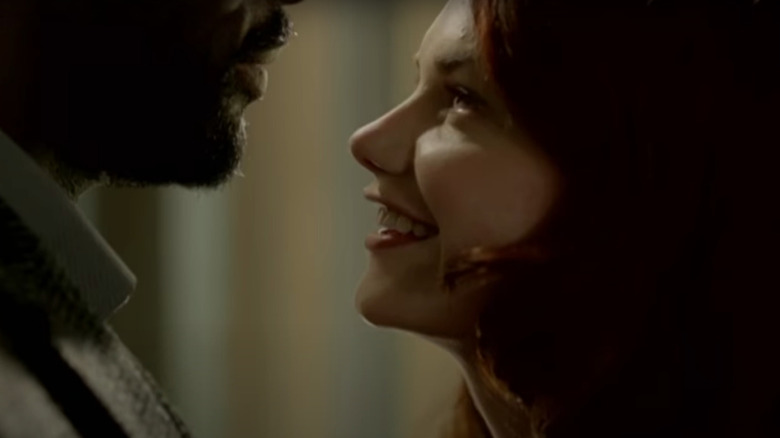 BBC/YouTube
Ripley has been abducted by serial killer Cameron Pell (Lee Ingleby). His depravity seems to know no bounds: He's also kidnapped a busload of schoolchildren. But the salvation-seeking Luther is still hoping to ransom his soul. Now that he's rescued young Jenny (Aimee-Ffion Edwards) from the clutches of Baba (Pam Ferris), a sinister back alley boss, they embark on a complex and risky friendship. Luther soon becomes Baba's target: She wants payback for what he took from her. Now, Luther must risk everything by serving Baba to earn Jenny's freedom.
Meanwhile, Alice is dealing with her own troubles. She's looking to leave the country, and take the complicated copper with her. But leaving everything behind and starting over isn't what Luther has in mind. This is a graphically violent episode, even compared with most installments of the series. While this might be a bit much for some viewers to take, it's justified by the solid storyline.
8. Season 2, Episode 1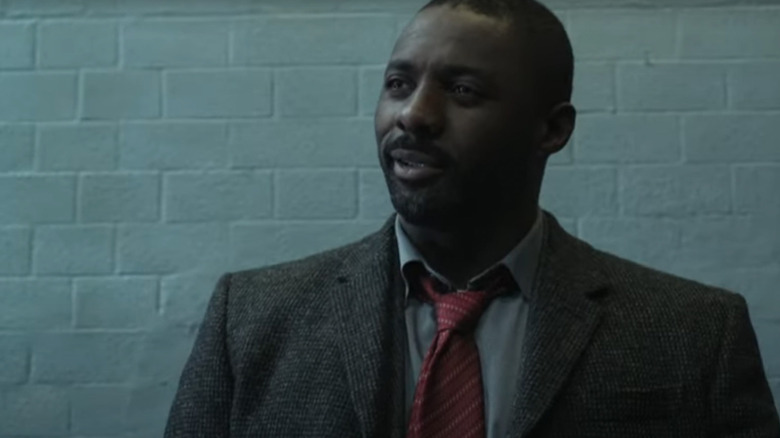 BBC/YouTube
Still haunted by Zoe's death, Luther returns to work alongside Justin Ripley. But he doesn't have time to mourn: He and Ripley are recruited by Schenk to join a new department, the Serious and Serial Unit. Their first case involves a former art student who's now a serial killer obsessed with English folklore. He goes so far as to wear a Punch mask, a la "Punch and Judy."
Luther is on a quest to better his soul and satisfy his moral qualms. This pushes him to visit killer-turned-savior Alice Morgan, now incarcerated in a psychiatric ward, and do what he can to help a troubled young woman named Jenny. Jenny's mother blames Luther for the death of her husband (which occurred more than a decade prior) and Jenny's subsequent problems. Luther believes saving Jenny might serve as penance for his problematic past. This Season 2 opener isn't quite as good as the series' best chapters, but it's undoubtedly engaging.
7. Season 2, Episode 3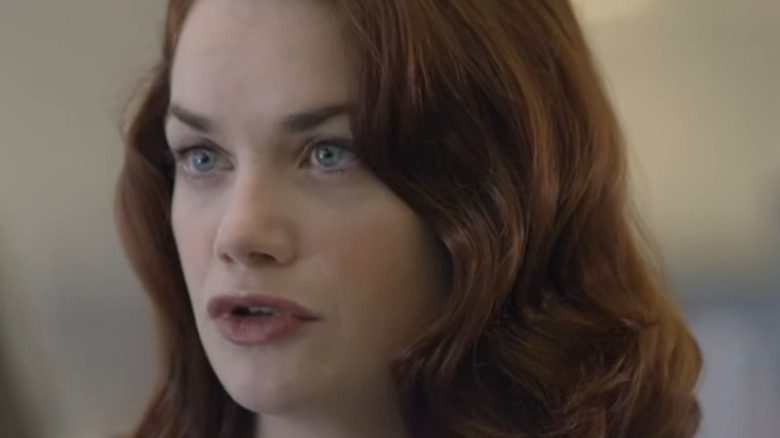 BBC/YouTube
In this first part of a two-part story, Luther and Jenny's burgeoning friendship begins to border on something more. Fiendish Baba and her henchmen, meanwhile, are determined to keep Luther in their debt. They ask him to use his connections on the force to their advantage ... and if he doesn't play along, well, they aren't above being paid back in blood. This leaves Jenny incredibly vulnerable, and eventually forced to do the unthinkable when Baba's sadistic grandson comes after her. 
But Luther is dealing with bigger problems, as he's on the hunt for a killer whose motives and methods are a complete mystery. How opaque is this villain? Even bringing him in might not mean an end to his killings. One of the most chilling episodes in the series, this slice of "Luther" builds to a pulse-pounding climax that will leave you on the edge of your seat.
6. Season 1, Episode 4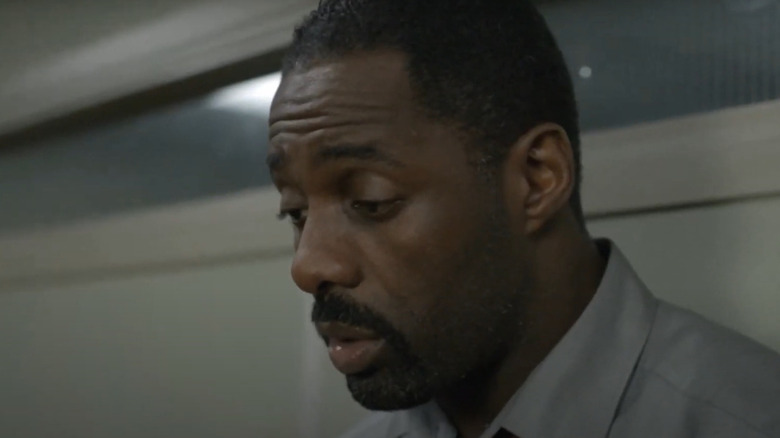 BBC/YouTube
A midnight madman is murdering women, and Luther finds himself taking on the case. Police have had no luck drawing up a list of suspects, but Luther puts the clues together, which all point to a married, middle-aged fetishist. To catch him, Luther enlists the aid of the man's wife, who has no idea her mild-mannered man is actually a crazed killer. When said killer realizes she's turned on him, he sets his sights on his next victim: The man she's been sleeping with behind his back.
Meanwhile, Henry Madsen recovers in the hospital. Alice Morgan — who harbors a bizarre fascination with Luther — sets fire to said hospital as part of a plan to silence him once and for all. When Luther realizes who's responsible for Madsen's death, he has to decide whether he really wants the help of a sociopathic murderer. A solid installment, Season 1, Episode 4 does a good job of drawing viewers ever more deeply into this series' complex world.
5. Season 3, Episode 3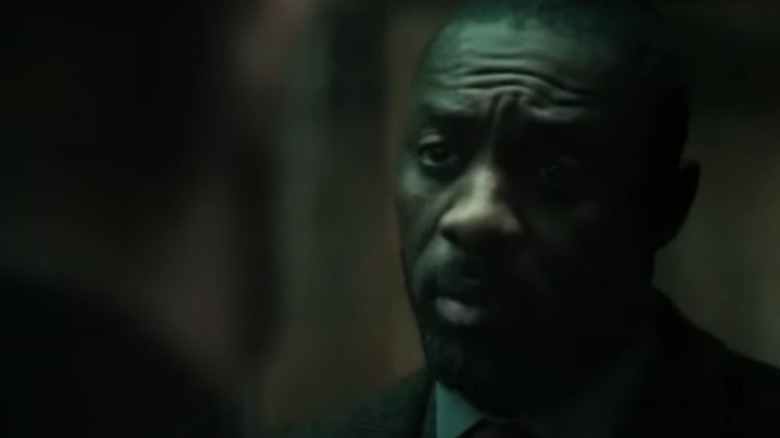 BBC/YouTube
Luther takes on a vigilante killer who is targeting criminals in this gripping episode. This presents a unique problem: The media and the public are on the killer's side. Few people are willing to come forward to help catch a man they think is doing a better job of cleaning up the streets than the police.
But this doesn't slow Luther down. He identifies the wannabe hero as Tom Marwood (Elliot Cowan), a widower whose wife was murdered years prior. He's not just bloodthirsty, either — he's publicity-savvy. His video messages to the public sway them further to his side. In Marwood, the grizzled London detective may have met his match: They're both ruthless and cunning do-gooders out to punish the worst criminals around — and willing to cross the moral line to do so. Things get even more complicated when Ripley gets in the way. This episode is pulse-pounding, complex, and boasts one of the most thrilling cliffhangers in the entire series.
4. Season 2, Episode 4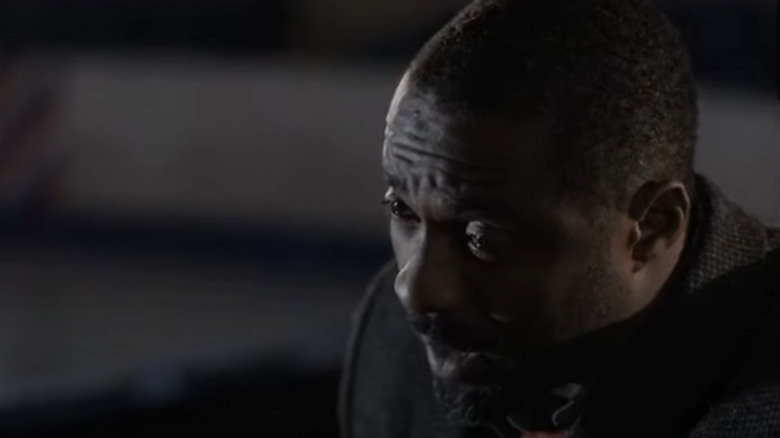 BBC/YouTube
In this conclusion to a two-part story, Luther takes a suspected serial killer into custody and makes a bombshell discovery: He's not the only killer on the loose. The man's twin brother is also taking lives, which explains many of the case's oddities. Furthermore, Luther finds out that the brothers are rolling dice to pick their victims, and are racking up their body counts as part of a twisted competition. Learning the rules of their deadly game may be the only way to stop them.
At the same time, Luther must also attempt to stay one step ahead of Baba before she discovers that her grandson is dead. What's worse, he must do this without alerting his fellow lawmen. In the end, he risks his entire career to save Jenny from prison, and puts his own life on the line to stop a killing spree. What results is a devastating Season 2 finale that proves "Luther" is no one-hit-wonder.
3. Season 1, Episode 5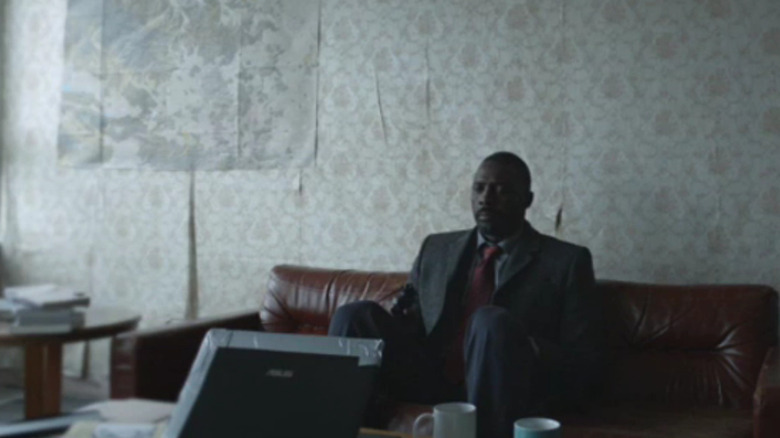 BBC/YouTube
In this opener of a tense two-part story that still ranks among the series' best, a dangerous thief takes an art dealer and his wife hostage, demanding a stash of diamonds that the kidnapper knows they have. But what the kidnapper doesn't know is that the wife has swallowed the diamonds to keep them safe. Her tight-lipped husband negotiates his release, but the kidnapper keeps his wife to ensure his return with what he thinks will be a shiny payday.
Fearing the madman will learn where the diamonds are and kill his wife to get to them, the art dealer goes to the police. Unbeknownst to Luther, DCI Ian Reed (Steven Mackintosh) is involved in the horrific crime as the kidnapper's accomplice. As the situation quickly spirals out of his control, Reed is forced to take drastic measures to save his career and the victims' lives. In the process, Luther somehow finds himself on the wrong end of a murder charge. We hope you find the edge of your seat comfortable — this episode will have you perched there from the first minute to the last.
2. Season 3, Episode 4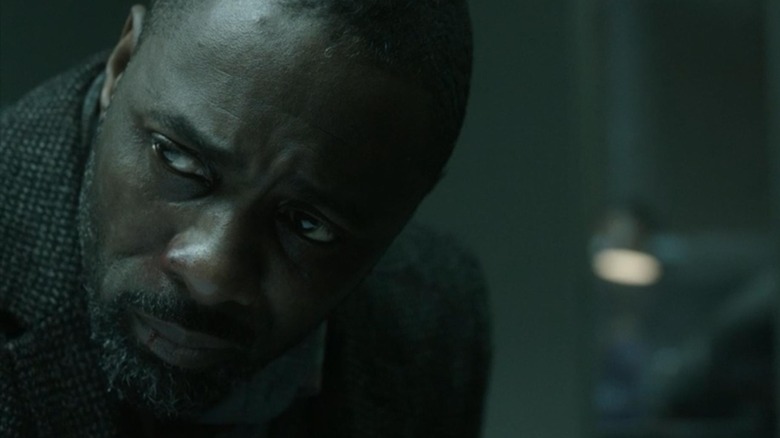 BBC/YouTube
In the wake of Ripley's sudden death, Tom Marwood has become a desperate man willing to kill anyone in his path. At the same time, Gray's corruption probe into Luther's affairs reaches its crescendo. Things get even more complicated when Luther becomes a suspect in his own partner's murder. To catch the real killer, Luther is forced to rely on Alice Morgan's help — and she isn't happy about Mary, Luther's new love. As Marwood bears down upon them all, Gray must ask herself if she's willing to put aside her mistrust of Luther and give him a chance to save the day. 
A fast-paced, roller-coaster conclusion to Season 3, this episode wraps up a number of ongoing storylines with absolute aplomb. Jaws are dropped, loose threads are tied up, and Luther is pushed to the limit like never before. This is one of the best-ever chapters of the tough-as-nails detective's story.
1. 1. Season 1, Episode 6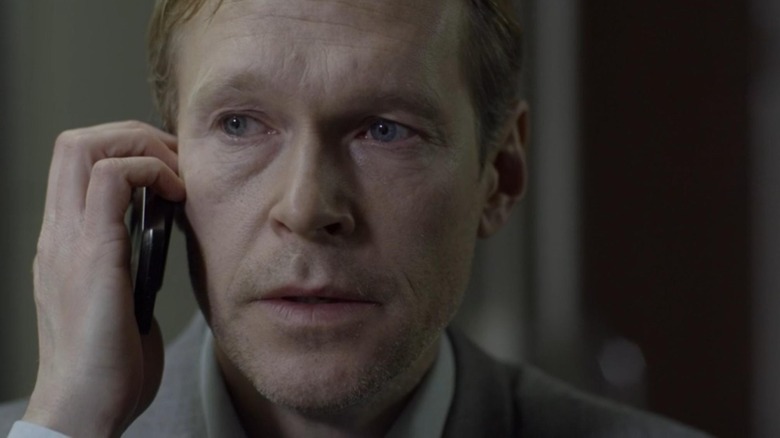 BBC/YouTube
The very best episode of "Luther" is Season 1's captivating finale. Framed for his ex-wife's murder, Luther is on the run from his own department. Circumstances are so desperate, he must reluctantly turn to two unlikely allies for help: Mad Alice Morgan and his ex-wife's boyfriend, Mark. 
While most of Luther's former friends on the force believe he's a cold-blooded killer, his partner, wide-eyed Justin Ripley, believes in his innocence. He helps Luther stay one step ahead of police trackers and deadly snipers. This is a powerful asset, but the task ahead is still enormous: Luther must hunt down Ian Reed and get him to confess to Zoe's murder and his part in the kidnapping plot before the police get to him first. A near-perfect episode with an utterly nail-biting finish, this Season 1 capper brings everything to a satisfying close while still leaving fans begging for more.