The Untold Truth Of David Duchovny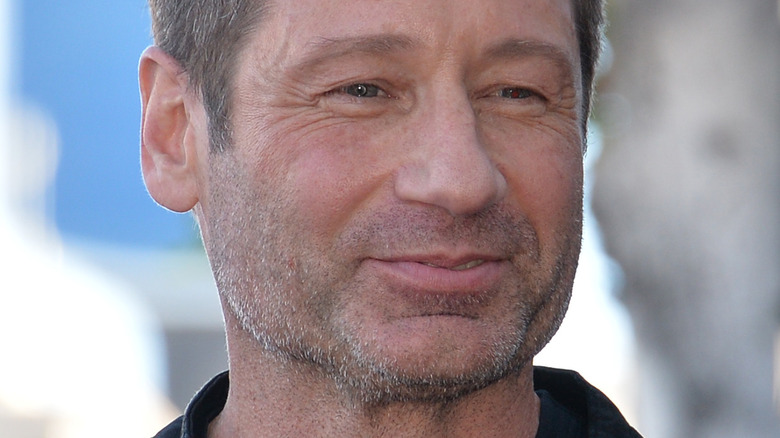 Featureflash Photo Agency/Shutterstock
The spooky science fiction classic "The X-Files" gave David Duchovny the opportunity of a lifetime, and he repaid the show in spades by helping to make Agent Mulder — and the show itself — iconic. His performance is stellar, full of both sincerity and deadpan charm, and he had off-the-charts chemistry with co-star Gillian Anderson. 
Duchovny also received considerable critical acclaim for his edgy, ambitious work on the Showtime drama "Californication," where he plays scandal-ridden writer Hank Moody. He took home Best Actor Golden Globes for both "The X-Files" and "Californication," which is an impressive feat ... and that's without even getting into his countless award nominations.
Of course, there's more to Duchovny than just his two big roles. We want to talk about his biggest hits, but we also want to take a closer look at the little details and unexpected branches of his work, exploring how both chance and choices shaped Duchovny's career and made him who he is today. The untold truth is out there.
David Duchovny attended both Princeton and Yale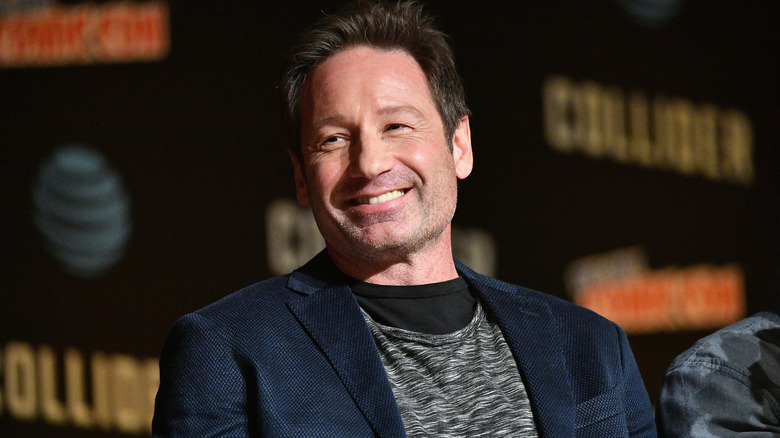 Dia Dipasupil/Getty Images
Before he ever stepped foot on a TV set, Duchovny made it into an equally hard-to-crack environment: the Ivy League. His academic achievements didn't stop at getting into a big name school either — he excelled. He earned his bachelor's degree in English at Princeton, where he graduated summa cum laude — and with a hat tip of recognition from the Academy for American Poets. Not too shabby. You know who else was impressed? The Mellon Foundation, which awarded Duchovny a grant to study at Yale, where he began work on his PhD.
We wish we could read his proposed thesis — "Magic and Technology in Contemporary American Fiction and Poetry" — but alas, he wound up "ABD," academic shorthand that means he did "all but the dissertation." He told Consequence that academia evolves so quickly that it would be all but impossible for him to pick up where he left off at this point, even though he's a little wistful about that last unwritten project. As he puts it, "I'd love to have written it. In some ways, I think 'The X-Files' kind of became that in a way." We can see that. Let's call it "Magic, Technology, and Aliens in Contemporary American Television."
He started off with literary ambitions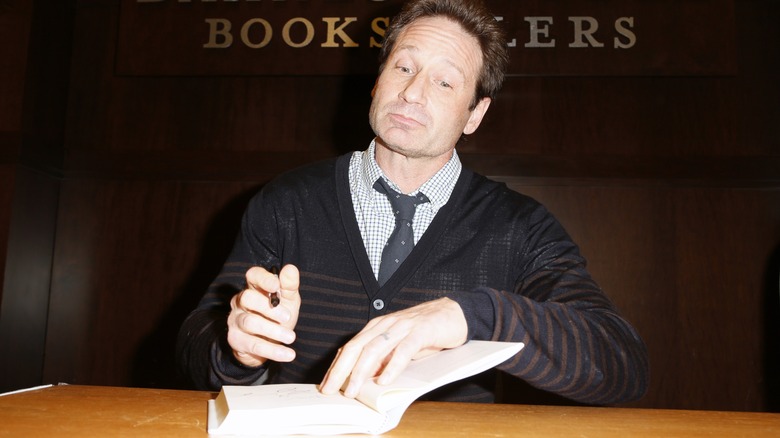 Joe Kohen/Getty Images
David Duchovny's creative compass initially pointed in an unexpected direction. He wanted to write.
He told NPR that his early idea of being a poet got humorously quashed in college, when he met author Walter Kirn, "a terrific novelist ... an actual poet," and Kirn's work made him immediately see that his own was lacking. "I think when I read Walter's stuff, I was like, 'You know what? I'm not a poet.'" He soon gravitated towards writing plays. In an interview with The Believer, he explained that theater appealed to him because so much of it is about collaboration. He was lonely and bored, and he "wanted to play with other people."
Unfortunately, he felt like nothing he was producing was really up to snuff. Trying to up his writing game led him in a life-changing direction. "I thought, 'Well, if I'm gonna write things that are gonna be performed by actors, then it's probably helpful for me to know something about what that's like. ... What it's like to say words might help me write words.'"
All that acting and writing practice paid off, and he eventually published several novels. "Truly Like Lightning" even garnered praise from The Washington Post in 2021, which called it a "provocative, entertaining book" which "makes a solid case for [Duchovny] as a real-deal novelist."
His music is more than a sideline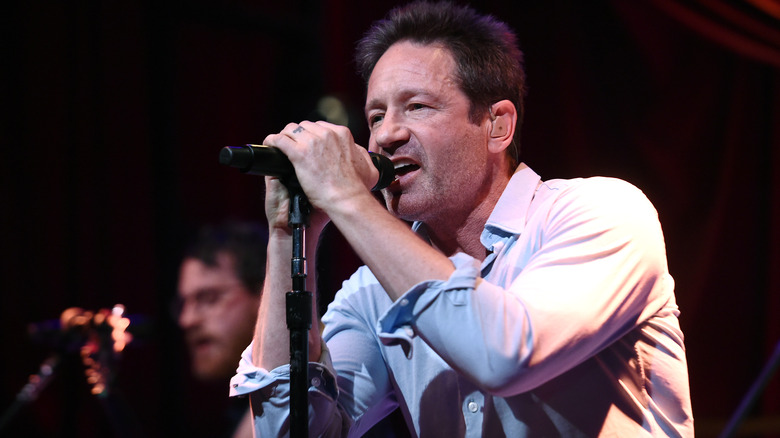 Steven Ferdman/Getty Images
David Duchovny came to music fairly late — he confirmed to Billboard that he learned to play the guitar while filming the later seasons of "Californication," when he was already in his 50s. In fact, he suggested that his character start learning too, complete with on-air instruction. "I got guitar lessons for free," he admitted.
His interest quickly grew, however, and music became more than just a hobby or a vanity project. While he undeniably gets contracts and gigs more easily than most new musicians — he's upfront about the benefits of his fame — it would be a mistake to think that only preexisting fans will get anything out of his albums. His work is steadily maturing, and critics are taking it seriously in its own right. 
Flood Magazine describes his third album, "Gestureland," as "firmly rooted in the contemporary folk-rock and left-of-center country scenes," establishing that this is a separate branch of Duchovny's career with its own separate influences and contexts. American Songwriter also reviewed "Gestureland," calling its sound "weathered but resolute" and deeming it "a quality effort, one well worth a listen and several revisits after that." As he evolves as a musician — and settles into collaborative efforts with his band — we're likely to see some more thoughtful albums in the future.
How his Twin Peaks role broke new ground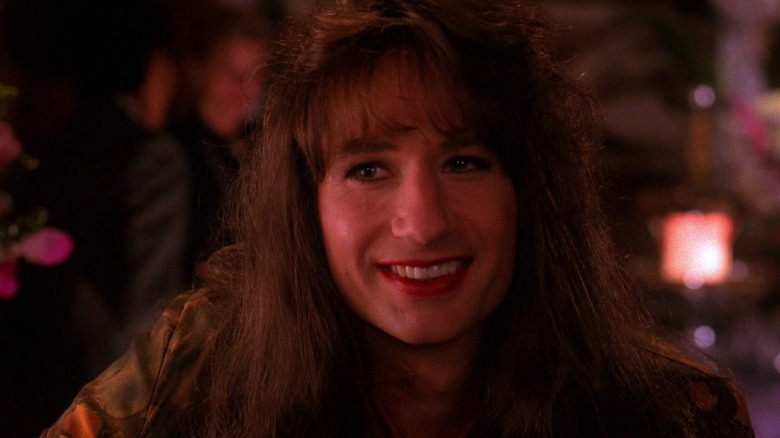 CBS
David Duchovny may have only appeared in a handful of "Twin Peaks" episodes, but his character proved iconic enough to be an absolute must for "Twin Peaks: The Return." Duchovny plays DEA agent Denise Bryson, one of the first trans characters that TV treated seriously and with affection.
There are a few jokes built into Denise's appearance on the show, all of which we could do without, and by now, we generally advocate for trans characters to be played by trans actors. But it's hard to overstate how much of a game-changer her characterization was at the time. In a piece for The Daily Beast, Samantha Allen describes some of what makes the show's treatment of Denise have such a lasting impact.
To start with, Denise gets to be almost unprecedentedly human, "friendly, self-assured, and frequently hilarious," as Allen puts it. She's layered and unique in a way that completely fits the show's sensibilities. Just to hammer that home, "Twin Peaks" seals the deal by having the compassionate and heroic Cooper completely accept her. As Allen explains, "Cooper is the kind, decent, cherry pie-loving, crispy bacon-eating heart of 'Twin Peaks' — so if Denise is all right in his book, then she's all right, period." She's someone we were delighted to welcome back for "The Return," even for just a few minutes.
David Duchovny doesn't have a career plan
s_bukley/Shutterstock
If you're looking for a five-year plan, David Duchovny can't give you one. Whatever happens, happens. The important thing is that he stays true to himself.
In an interview with The Guardian, he laughed off the suggestion that he planned out his 2017-2020 break from acting to make room for his other interests. "I mean, if I was being a canny brand-maker, I would say absolutely yes, that's what I was doing. But the truth is that I wasn't seeing stuff that I was desperate to do." If a project doesn't feel right to him, he won't take it on. He prefers to take his chances trying to develop shows that he cares about, even if that means he sometimes has to go through the "nightmare" of seeing them fall apart before production starts.
He also likes to keep his options open and wait for the future to take care of itself. He knows his "X-Files" co-star Gillian Anderson has balked at returning for more of the show, but he's never going to take that kind of definitive stance. "For me, life is life: I don't know anything about what's coming, I don't just say no to things like that. It's not how I function."
His performance style is unconventionally low-key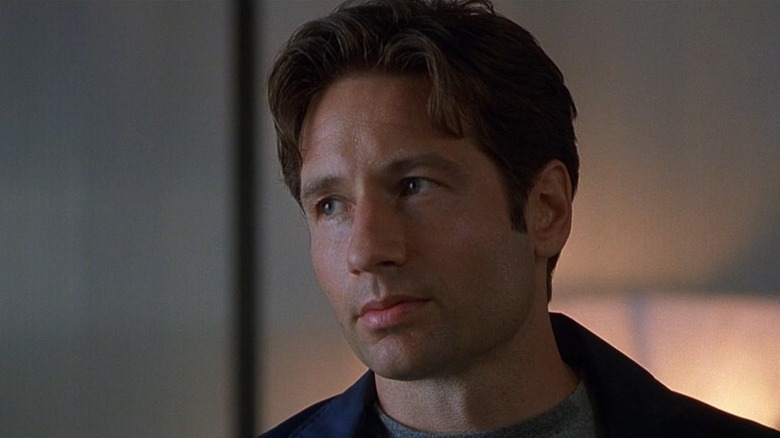 20th Century Fox
David Duchovny's performances are famously laid-back and straight-faced, to the point where the original 1998 "X-Files" movie cracked a joke about it. "When I panic, I make this face," Mulder says, looking impassive.
But what winds up being iconic often starts off looking just weird, so it's no surprise that casting directors didn't understand Duchovny's low-key appeal right away. He described his early career to The Believer, saying, "When I first started acting, I was just getting auditions and not getting jobs, and the feedback would be like, 'You're too low-energy or flat.' That's the worst thing for an actor: flat." A lot of actors would've changed their approach then and there to avoid the dreaded word, and he could've easily overcompensated with a bunch of showy performances.
Instead, he took a more intellectual angle on it and trusted that the more "internal" techniques he was trying would eventually pay off. "I just kept saying to myself, You know what? I'm doing something. I know I'm not flat. I don't feel flat, and somebody's going to get it sometime." He was right. By now, we all get what he's doing — and we're big fans.
He's much more skeptical than his most famous character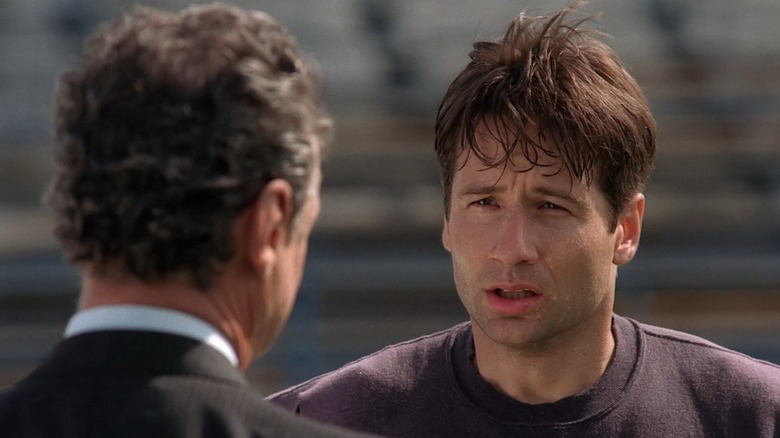 Fox
Over on "The X-Files," Fox Mulder "wants to believe" — but David Duchovny is more of a Scully, and he's sensitive to the feeling that his strings are being pulled. That's the skepticism that kept him out of Scientology, despite a brush with its recruiters. He told The Daily Beast, "I realized immediately, because they're asking very personal questions, that they were gathering information that I didn't want to give out to a stranger. ... And I never went back."
He never really bought into any conspiracy theories either, but his logical approach helps him understand when people subconsciously expect him to take a more Mulder-like stance. "Rationally, I get that people associate me with that, so I don't get super frustrated. I just wish I was more interested, because I'm not that fascinated with it." They should've caught him during childhood, when he had a brief fling with the movie "Chariots of the Gods." That was when he could've told fans all about how extraterrestrial visitors gave humanity everything from ancient religious lore to Stonehenge. Now, people who want to talk to him about UFOs will just have to content themselves with his polite nods.
He became the public face of sex addiction (and that may not be a good thing)
According to ABC, David Duchovny was the first in a cascading series of celebrities to admit to dealing with sex addiction. In 2008, his story became public when — with his marriage to Téa Leoni on the rocks — he sought treatment and briefly spoke about his problem. His initial statements asked for "respect and privacy," and over the years, he's understandably kept most of his press announcements focused on his work instead of his personal life. Still, it's hard to deny that Duchovny's status as the first big-name sex addict made an impact on the public.
That's a mixed bag. Increasing widespread understanding of addiction is definitely a good thing, so it's beneficial that Duchovny broke the silence around this kind of stigmatized compulsion. Unfortunately, his prominence also means that people might take their cues from him, and experts aren't sure they should. Rob Weiss of L.A.'s Sexual Recovery Institute told ABC that he's leery of how Duchovny's hedonistic, sexually promiscuous role on "Californication" may have clashed with his recovery. If people try to follow in his footsteps and continue their pre-recovery lives without making any big changes, they might get themselves into trouble. Hopefully, people will take the good examples and leave the bad ones behind.
David Duchovny had an iconic moment at the Grammys
David Duchovny would eventually have a well-regarded musical career of his own, but in 2000, he was only appearing at the Grammys as a presenter. He and Jennifer Lopez announced the winner of the award for Best R&B Album.
TLC won for "FanMail," for the record. We don't blame you if you don't remember that. The lasting cultural legacy of that moment is definitely Jennifer Lopez's green dress with its signature deep neckline plunge and split skirt. It even merited its own article on Biography, which notes its legacy in pop culture and the fashion world.
But even though Lopez and her dress reigned supreme, Duchovny managed the nearly impossible feat of stealing the spotlight for just a second — by making a dry, good-natured quip about how there was no way he ever could. "Well, Jennifer, this is the first time in five or six years that I am sure that nobody is looking at me." 
Both Lopez and the crowd got a kick out of it, and even though Duchovny is surprised by how long his little tossed-off joke has been remembered, he's glad it comes across as "self-effacing" rather than sleazy. In an interview with Stereogum, he's even charmingly earnest about the moment's longevity. "I didn't notice that it was any more revealing than other dresses that were there. I [just] thought she looked great."
How he felt coming back as Mulder — and why he might do it again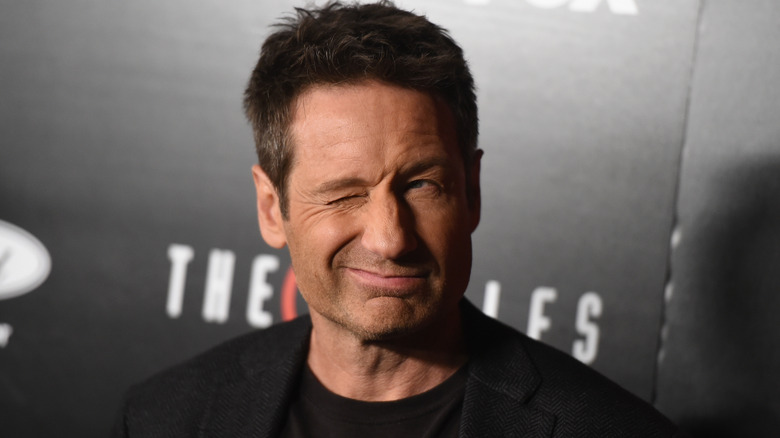 Kevin Winter/Getty Images
There are actors who resent it when a famous early role gets them pigeonholed, but David Duchovny is at peace with the phenomenon. 
In an interview with The AV Club where he discussed revisiting Mulder in the renewed "X-Files," he talked about how his real concern wasn't resetting his career, it was making sure he did artistic justice to the role. He didn't want to retread old ground, so he reminded himself that he wasn't the only one who'd aged. "James Bond is James Bond. ... He doesn't really get older. He just does the same thing. But I didn't want that with Mulder. I couldn't play him the same way I did when I was 30. It would be silly. So it's like how has this changed? ... Who is this guy now?" 
The answers that he found were apparently meaningful enough to him that he, unlike co-star Gillian Anderson, has gone on record as being happy to return for more. But now that the challenge of rediscovering his old character is gone, any new appearances would be less about his loyalty to Mulder and more about his loyalty to showrunner Chris Carter. Den of Geek reports an answer Duchovny gave to podcaster Daniel Hartvig Nielsen: "Chris is a good friend, and I'd be there for him whatever he wanted."
He directed a movie, and you probably haven't seen it
David Duchovny has had success in a lot of fields, but his feature film directorial debut, "House of D," was an unfortunate flop. Critics almost universally panned it — the film has an abysmal 10% approval score on Rotten Tomatoes — and while audiences were a little friendlier to the sentimental coming-of-age drama, they weren't exactly turning out in droves. According to The Numbers, the movie only made back $466,106 of its $2 million budget.
"House of D" had some good ingredients, most notably its cast and a solid premise about an artist revisiting his memories of life and young love in 1970s Greenwich Village. So why did it flounder? In a word — tone. The film simply gets too cloying, especially in its cringeworthy and stereotypical handling of elements like Robin Williams' intellectually disabled character. Roger Ebert, forced to sum it up, revisited notes he'd made in the theater, writing, "Peering now at my 3x5 cards, I read sappy, inane, cornball, shameless and, my favorite, doofusoid. I sigh. The film has not even inspired interesting adjectives, except for the one I made up myself."
Luckily, Duchovny's directing spots on "The X-Files" and "Californication" came out better, so there's still a chance for him to develop his chops and try again.
For years, he avoided politics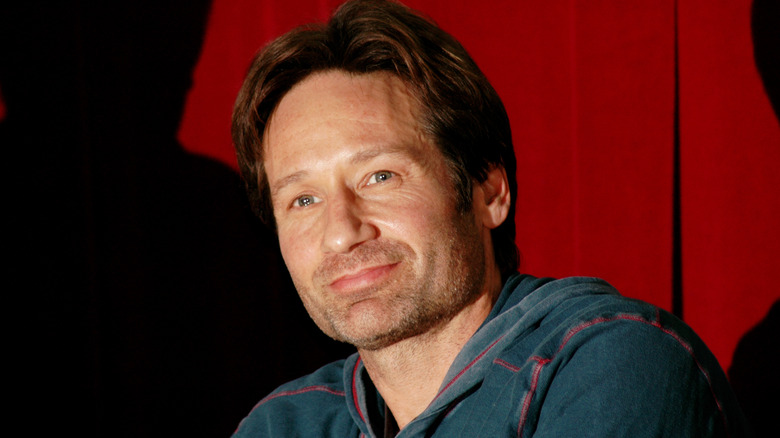 Eleanore Studer/Shutterstock
David Duchovny spent a long time keeping his political opinions off the record. He didn't just stay quiet out of the desire to not offend anyone. As he explained to The Daily Beast, he had a genuine ethical concern about the way famous voices can drown others out. "It's one person, one vote, but it's not one voice, one voice. This one voice has more power than this other voice, so to me, it seemed like gaming the system. And that's not what I wanted to do." He's an educated, thoughtful guy, but politics aren't his area of expertise, so he didn't want his opinion to count for more than anyone else's.
But the COVID-19 pandemic and his frustration with how it was handled gradually led to increased engagement with politics, and Duchovny got more willing to speak out. And he decided not to put so much pressure on himself to be profound. He recognizes that a political aside in his song "Layin' on the Tracks," for example, is "just name-calling. It's not sophisticated political debate. It was just anger at that point — and disbelief." He's giving that disbelief some space to breathe now. Still, most of his work remains personal, and he's mostly interested in examining his own responsibility for where the world's going.
How the pandemic changed David Duchovny's perspective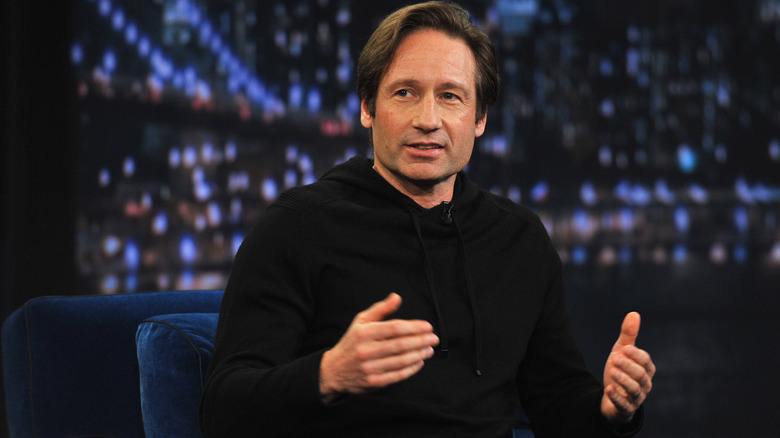 Theo Wargo/nbcuniversal/Getty Images
David Duchovny was directly affected by COVID-19. According to The New Yorker, he contracted it in October 2020. The experience made him a strong advocate of vaccination. He told The Daily Beast that he views both vaccination and mask-wearing precautions as necessary acts of social generosity — gestures of care that we can make towards society in general. It's about protecting everybody. "It's not just taking care of myself; it's making sure that I'm not going to be carrying it and giving it to other people."
Most of his introspection, however, is reserved for his relationship with his teenage son. In an interview with The Daily Beast, Duchovny reflected that all the lockdown time together was a benefit for him, but it meant his son missing a significant part of his high school years. What do you do with that? He said he really wonders about it. "The world went to hell, everybody's suffering, people are dying, and yet I've been forced into this deeper connection with this person that means so much to me. Can I hold onto that once I let him go? Is that what life is about? Is life about holding onto it, or is life about letting go of it?" Music, acting, and writing may give him ways to work out these complex feelings.