The Best Celebrity Cameos In HBO's Entourage, Ranked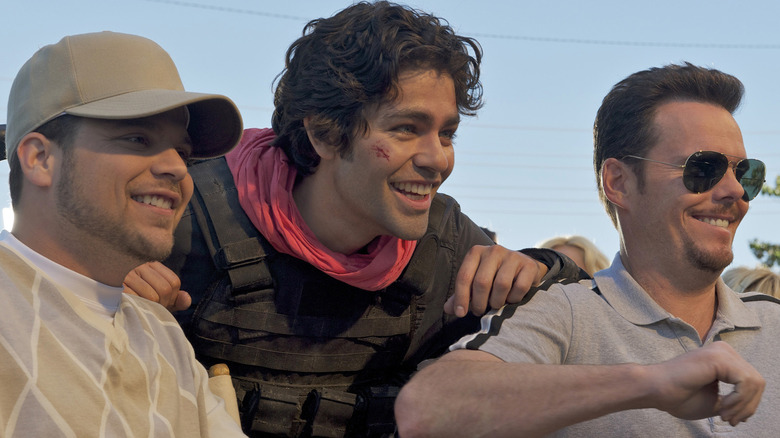 HBO
At this point, the legacy of "Entourage" is divided, if not controversial. All of the HBO show's high points, such as Jeremy Piven's three-peat at the Emmys, are pillared by some of the most scathing reviews fans will ever read, which is quite unusual for such a popular program. The show's overt misogyny and homophobia are frequently cited in the bad reviews, however, Alyssa Rosenberg of The Washington Post wrote that when "Entourage" is viewed as an accurate depiction of its era of Hollywood, the character arcs on the show will begin to make more sense.
Rosenberg is correct; when viewed from the right angle, "Entourage" has as much intricacy in its representation of Hollywood's internal politics as 2022's "Babylon." But, more importantly, the series discovered a way to bring a more realistic portrayal of Tinseltown into fans' homes.
The show's greatest strength, as evidenced by a number of Emmy wins and nominations, was its excellent casting — for instance, an actor like Kevin Dillon portrayed a role precisely suited for him in Johnny "Drama" Chase. What was most intriguing was how the series used its immaculate casting to constantly choose the appropriate celebrity cameo in its quest to establish the setting. So, let's take a look back at some of the best celebrity cameos from "Entourage."
14. Mark Wahlberg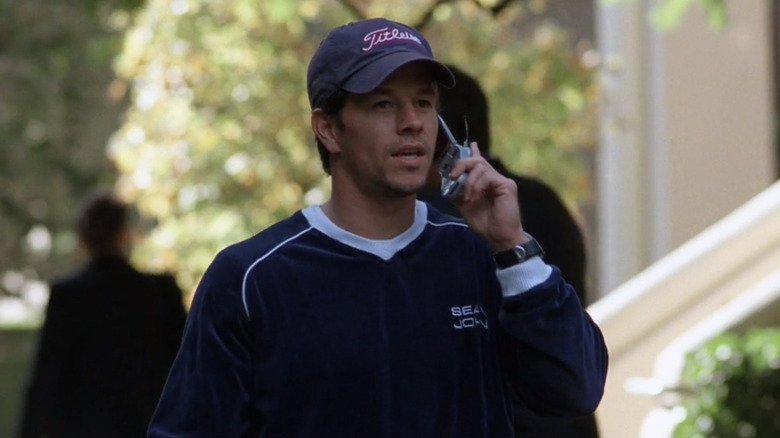 HBO Max
Before he became an actor, Mark Wahlberg rose to prominence as a rapper. His path to becoming a Hollywood leading man was complicated; he was a troubled adolescent who carried his troubling ideas into young adulthood, and these facets of his character threatened to end his career prematurely. Fortunately for Wahlberg, he earned a big role in Paul Thomas Anderson's "Boogie Nights" and has been a star ever since.
Wahlberg was not only a co-executive producer for "Entourage," but he was also the first celebrity to appear in the show. For those who are unaware, the entire series is based on Wahlberg and his pals' real-life interactions. The original plan for the show was to follow Wahlberg and his buddies because they were supposedly entertaining, but that quickly altered when Wahlberg became uncomfortable with being the star of a reality TV show. They then decided to make the show a fictional version, and in the pilot episode, Wahlberg is seen kidding around with Turtle (Jerry Ferrara) as they pass each other on the street.
The cameo is insignificant in the grand scope of Wahlberg's filmography and celebrity. It was brief and forgettable, but it was unquestionably the most important. According to Wahlberg, no other celebrity wanted to appear on the show before it initially aired. So, Wahlberg was the lone cameo on the pilot. It was an immediate hit. Only then did the other celebrities agree to appear.
13. James Cameron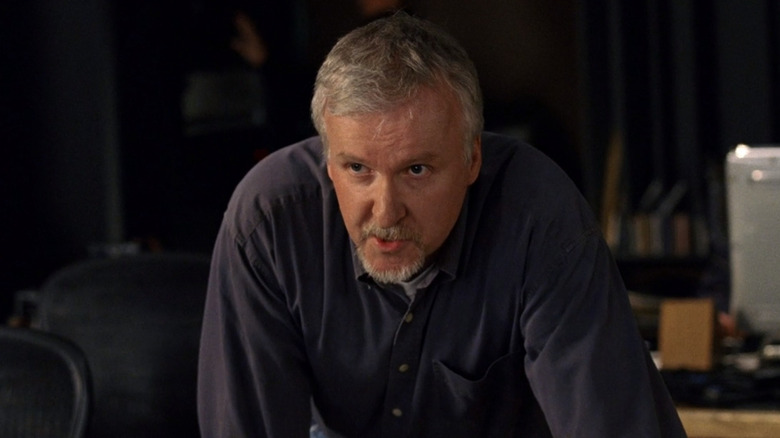 HBO Max
James Cameron is widely regarded as one of the most successful directors of all time. Some of the most financially successful films ever made as of 2023 include "Avatar," "Titanic," and "Avatar: The Way of Water," all of which Cameron directed. His work is both diverse and successful, and he has worked in practically every genre and created a genre classic while at it. Later in his career, though, he began to have a preference for water-themed films, which was skillfully channeled into his "Entourage" cameo.
Later, after the show had concluded, Kevin Connolly (who played Eric "E" Murphy) admitted that the show occasionally hit a bit "too close to home" during an appearance on Piven's "How U Livin J. Piven" podcast. Connolly was also well prepared for the part because he is close friends with Tobey Maguire and Leonardo DiCaprio, both of whom are far more well-known. The Season 2 episode, "The Sundance Kids," kicks off a plot arc in which Vince (Adrian Grenier) is vying to be cast in the film adaptation of the under-water based comic book, "Aquaman," mirroring Connolly's experience when Maguire was cast as Peter Parker in "Spiderman."
The boys run into Cameron, who is booked as the director of "Aquaman," at the Sundance Film Festival. Vince is at risk of losing the role and Drama and Turtle talk up Vince's star power at an earshot length to Cameron to coerce him. After Cameron appeared on the show, suddenly nobody was too big for "Entourage."
12. Mandy Moore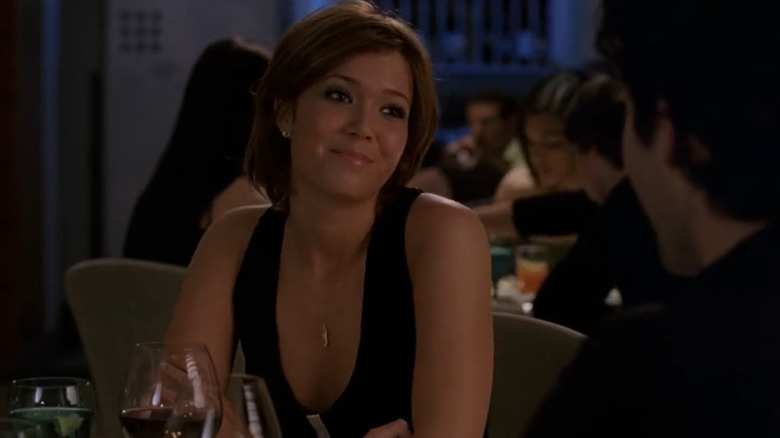 HBO
Mandy Moore grew up with aspirations of becoming a singer and actor and had already begun working on music on her own by the age of 13, which led to a deal with the record label, Epic Records. But the child prodigy didn't stop there; she also began landing acting roles, and by the time she co-starred in 2001's "The Princess Diaries" with Anne Hathaway, Moore was already a platinum-selling artist and prolific actor, firmly establishing herself as one of the brightest stars of her generation.
The earlier seasons of "Entourage" followed the lads as they adjusted to their massive success in their mid-20s, and Moore was on a similar road in real life. She initially appeared on the show in the Season 2 episode, "Oh Mandy," in which Cameron casts her as Aquagirl. It's hinted in the episode that Vince had a relationship with her a few years ago that didn't end well, so everyone is concerned about what this might signify for the film.
The entire episode features the entire ensemble constantly mentioning Moore, which is a refreshing change of pace given that all cameos had been a surprise up until that point. So when Moore finally emerges for a few seconds at a dinner with Vince, the audience gets the impression that this isn't the last they'll see of her. And they are correct; Moore quickly becomes a recurring character, drastically changing fan expectations anytime a cameo appeared onscreen.
11. Martin Scorsese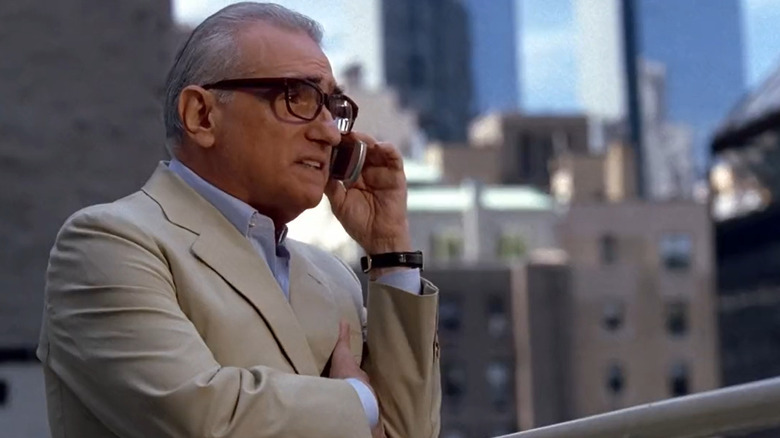 HBO
Martin Scorsese is regarded as the most respected director of his generation in some circles. Beginning in the 1970s, Scorsese showed a proclivity to mine his Italian heritage and the dark side of masculinity to create some of the best films ever created. What better way to demonstrate to audiences that Vince, an Italian-American actor from New York, is beginning to be taken seriously as an actor than to have him land a part in a Scorsese film?
A little-known fact about "Entourage" is that it took 30 drafts before the network agreed to produce the show. According to the show's creator, Doug Ellin, his first draft, while great, began with Vince having recently experienced a flop, putting his career in jeopardy. HBO correctly believed that the show needed to begin with a light and optimistic tone. However, after five seasons, the audience was ready to see Vince's career unravel. By the end of Season 5, Vince has been financially destroyed by a flop, and he has returned to New York, yearning for an audition in a Gus Van Sant film.
Despite shunning Vince and his efforts, Van Sant sends Scorsese Vince's reel in the end. That's when the iconic filmmaker calls and offers Vince a role in his upcoming film, an adaption of "The Great Gatsby." By this point, no cameo on the show could truly surprise fans, so it's only natural that they began employing cameos as clever plot devices.
10. 50 Cent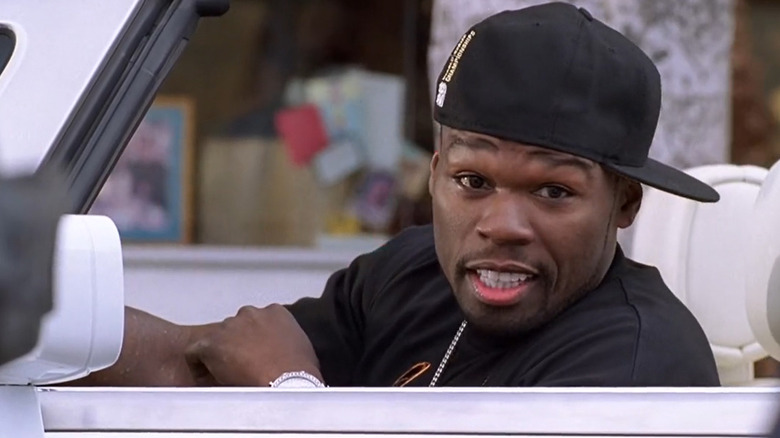 HBO
Curtis "50 Cent" Jackson has undoubtedly had one of the most fascinating careers in the entertainment industry. He began as an underground rapper, working his way up the arduous New York rap ladder until he was shot nine times in 2000. He miraculously overcame that obstacle to produce his debut album, "Get Rich Or Die Tryin'" in 2003 which earned diamond certification and he eventually made the shift to become a well-regarded Hollywood producer.
When Season 6 begins, every member of the gang is thriving. Drama's show is doing exceptionally well, Eric is maturing as a manager, and Vince has recovered from his slump. Turtle is also doing well because he is dating Jamie-Lynn Sigler. When Turtle's birthday arrives, he doesn't start the day well — first, he argues with his mother, and then he develops a growing sense of purposelessness because he has nothing going for him that is independent of the people around him.
When Turtle goes for a drive in one of the two cars given to him for his birthday, he runs into 50 Cent at a traffic light stop, and the rapper, in his usual snarky manner, asks, "See you out here in your new daddy's car?" The scene went on to find new life on the internet as a popular gif. This just goes to prove that if you're going to have a cameo, it better be memorable.
9. Tom Brady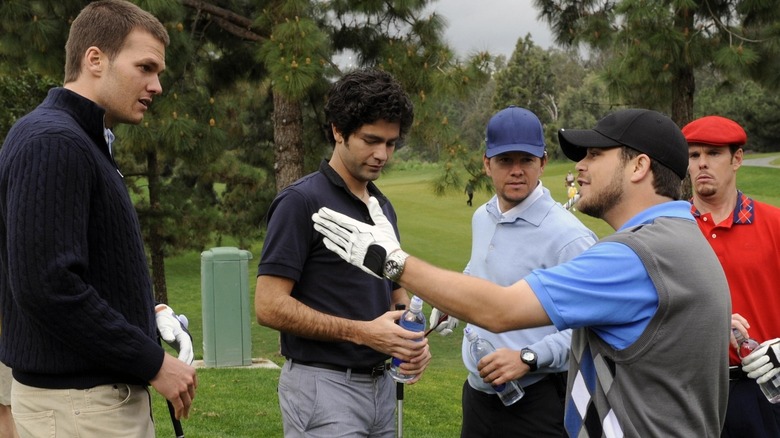 HBO
Tom Brady is the most widely recognized name and face in the NFL. The athlete has earned that distinction as well; he has seven Super Bowl rings, making him the most decorated player in the sport's history. Brady won six of those championships with the New England Patriots, which also happens to be Wahlberg's home team, so it's no surprise that he came on the show. Much of Brady's career has been clouded by reservations about his talent, yet with each new accomplishment, he has managed to convert even his harshest critics into fans. And, of course, "Entourage" made use of this facet of his career.
In the season 6 episode, "Fore!," Vince, Turtle, and Drama are partnered up with Wahlberg and Brady for a charity golf game, and Turtle, a fan of the Patriots' rival, the New York Giants, decides to spend the entire afternoon trying to deride Brady. Turtle is just coming into his own as an individual at this time, but he still feels like he is a subordinate to childhood attachments; in this case, to the New York Giants, and therefore Brady is the adversary.
Instead of retaliating, Brady ends up being extraordinarily kind to Turtle. When Brady indicates that he recognizes Turtle and would like to set up a double date with their respective partners, Turtle's entire confrontational demeanor shifts. The cameo's genius was that it extended Turtle's journey of growth while simultaneously delving into Brady's impact on the ethos of NFL fans.
8. Matt Damon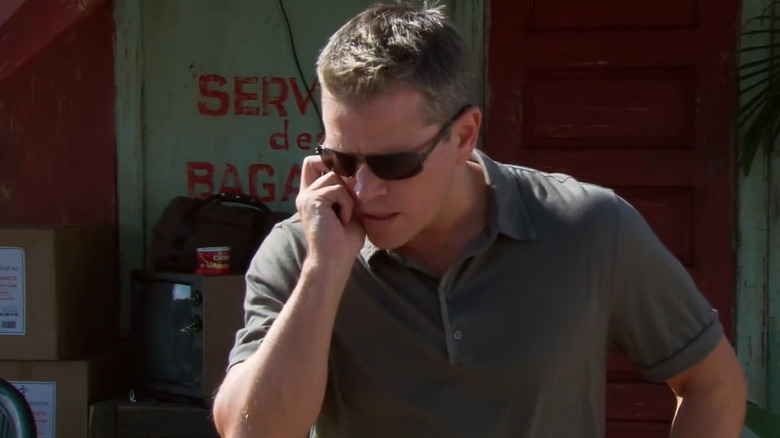 HBO
Many aspiring filmmakers have the dream of their first huge film drawing big actors and garnering them an Oscar when they are still in their twenties; Matt Damon got to realize that dream and he went on to play a number of notable roles, including Jason Bourne in the action franchise. With such success, an actor will likely make far more than they'll ever need, and Damon has since been associated with a variety of charities in his efforts to help the less fortunate.
In Season 6, Vince is doing better than ever. He recently finished a Scorsese picture and is gearing up for an Enzo Ferrari biopic. And even when the biopic is postponed, he signs a voice acting gig that pays him $4,000,000 in the meantime. Damon contacts Vince, understandably, to contribute to his cause. To Damon's chagrin, Vince continues to try to avoid him.
Fans consider Damon's cameo as one of the best because he comes across as utterly unhinged while also being hilarious. Damon is highly committed to his charity work, so it's not unthinkable that he would lose his cool with people who are unwilling to give to the less fortunate. Part of the group even reunited with Damon in 2009 to create an advertisement for a real charity, in which Damon loses his cool with Grenier.
7. LeBron James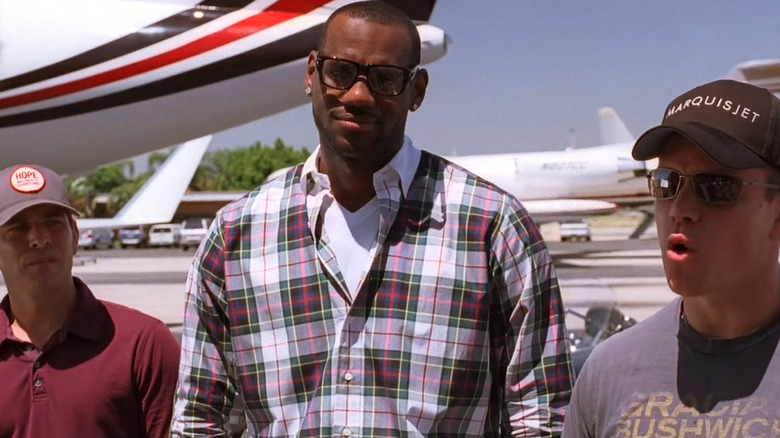 HBO
LeBron James, like Tom Brady, is a titan in his sport, and in February 2022, was crowned the NBA's all-time leading scorer. James also has four championships under his belt. But because he is one of the most well-known athletes in the world, most fans are already aware of all of this. What fans may not know, however, is that James is a huge television fan, which sometimes even leads to squabbles with the show's creators. But one show he did enjoy was "Entourage," which he loved so much that he leveraged his signature Nike deal to produce a sneaker commemorating the show.
James appears in the same episode as Damon — Season 6's "Give A Little Bit" — and he also attempts to persuade Vince to donate more money to Damon's charity. When fans see the episode again, it's evident how excited James is. His appearance is very different from Brady's, and he's not there to do any heavy lifting. However, it is possible that his appearance sparked a fire in his belly as it only got better from there. He subsequently featured in 2015's "Trainwreck" alongside Amy Schumer and Bill Hader as a hilariously fictionalized and sensitive version of himself, and starred in 2021's "Space Jam: A New Legacy." Of all the cameos in "Entourage," James is the one whose acting career benefitted the most.
6. Peter Dinklage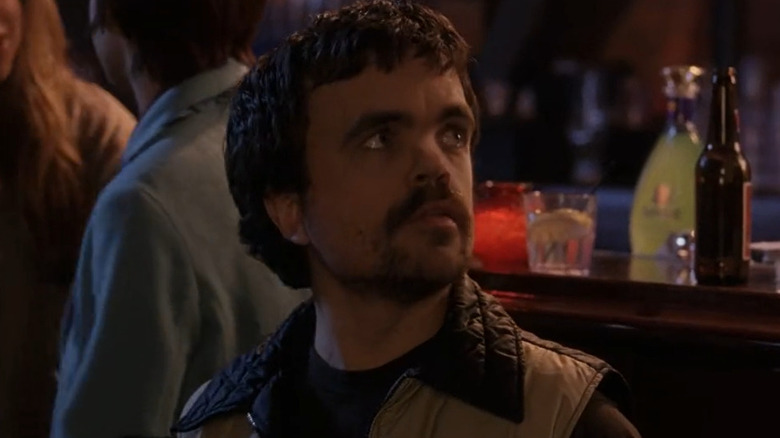 HBO
Peter Dinklage started acting quite early in life. He never lost his love of acting throughout his youth, and after receiving formal training, Dinklage worked his way up the ladder with roles in films such as "Bullet" and his breakthrough picture, "The Station Agent" — one of the best films that turn 20 in 2023.
Dinklage makes an appearance in the Season 2 episode, "The Sundance Kids," in which two girls see him from across the bar and strike a pact for one of them to approach Vince and the other to approach Dinklage. Dinklage is standing next to Ari (Piven) at the bar, who tells Dinklage that he thinks he is the best actor in town. Dinklage isn't amused and takes offense at how Ari phrased it. Dinklage was clearly respected within the industry even before he became a household name, and in true "Entourage" form, they portrayed the genuine Hollywood perception of Dinklage before he got his big break on "Game of Thrones."
5. Aaron Sorkin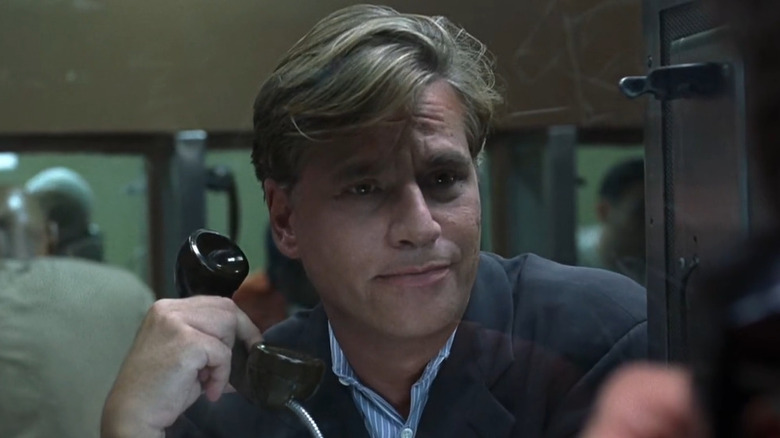 HBO
Aaron Sorkin is one of the most prolific writers of his generation and he has earned accolades for his work in film, theater, and television. Sorkin's approach is one of the most identifiable in the business; he has a knack for making his characters more verbose and intelligent than most people usually are, while still keeping them grounded in reality. But at that time, Sorkin still lacked mastery over only one thing, and that was directing.
The Season 6 episode, "The Sorkin Notes," concludes an almost season-long arc that focuses on Ari's softer side, which was rarely shown outside of his relationship with Vince. Andrew Klein (Gary Cole), a former coworker, had hit a rough patch in business, so Ari decided to buy his company and appoint him the head of the TV department. And, while Andrew adapts quickly to his new surroundings, an unpredictable office affair leads to an argument that lands him in jail on the day he is scheduled to attempt to sign Sorkin to the agency.
Normally, this would result in an automatic dismissal, particularly with Ari, who was known to find such things entertaining. But Ari believes in Andrew, and Sorkin still insists on visiting him in jail, claiming to be very interested in Andrew's ideas. From behind bars, Andrew suggests directing to Sorkin, and that suggestion convinces Sorkin to sign with Andrew. At the time, the audience was unaware that Sorkin would eventually start directing films in real life as well.
4. Zac Efron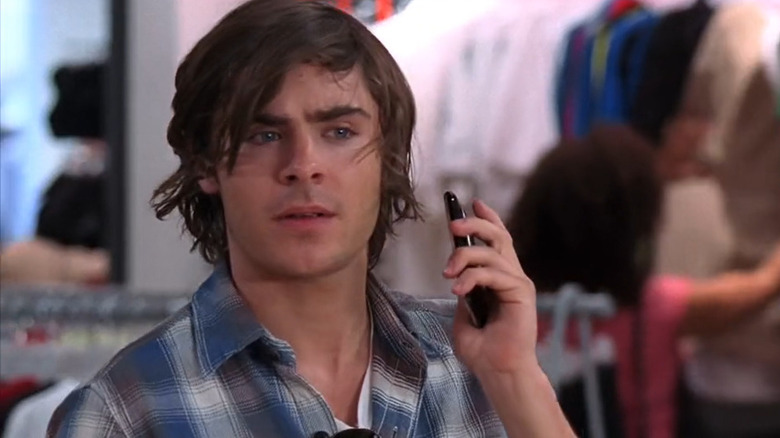 HBO
Zac Efron describes his childhood as one in which he almost always got good grades while also being the class clown. Efron eventually combined his natural talent with singing lessons and, voila, he became a child star. Following guest appearances in several TV shows, he secured a main part in Disney's "High School Musical" franchise. And, as is well known, it is quite difficult for an actor to shed such an image.
Efron makes an early appearance in the Season 6 episode, "Security Briefs," in which he becomes embroiled in Ari's ongoing battle with a rival agent, Adam Davies (Jordan Belfi), who Ari started with in his previous agency but whose penchant to pull the rug out from under Ari time and again transforms them into bitter competitors. And, while Ari always keeps things professional, Davies always attempts to make them personal.
Efron's role in the episode is straightforward; he learns through Ari that Davies attempted to leverage him to Disney by promising that Efron would pose shirtless for lunchboxes if they offered Dwayne "The Rock" Johnson more money for a sequel they were working on. Davies is then promptly fired by Efron. The appearance is simple, but it allowed Efron to exhibit his talents to a more mature audience, which definitely helped him develop his future career.
3. Dean Cain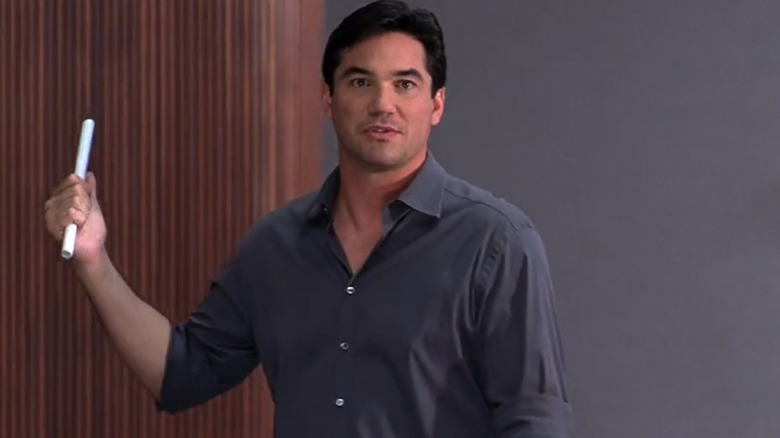 HBO
Dean Cain is best known for playing Clark Kent in the 1990s Superman series, "Lois & Clark: The New Adventures of Superman." Cain has appeared in other productions since then, but he has never gained the kind of fame that he did on that show. He is now mostly seen in guest appearances or as a political commentator. In many ways, Drama experiences the same thing throughout "Entourage."
Drama was the first of the gang to break into Hollywood, appearing in a cult classic TV show, "Viking Quest," which constantly surprises him when he's recognized for it on the street. Drama never loses hope that he will ultimately make it big with his next job throughout the entire series, but he has generated so much animosity within the town and has a tendency for getting in his own way. In the Season 6 episode, "Scared Straight," Drama is auditioning for a job in a reboot of a 1990s program when he notices Cain walking in to audition as well, and he suffers a panic attack.
It's brief, but it is one of the show's most inventive moments. Drama saw what other people think of him in that one scene: just another star from the past that can be replaced with another. This causes Drama to question whether he has any gas left in his tank as an actor for the first time in his career.
2. David Schwimmer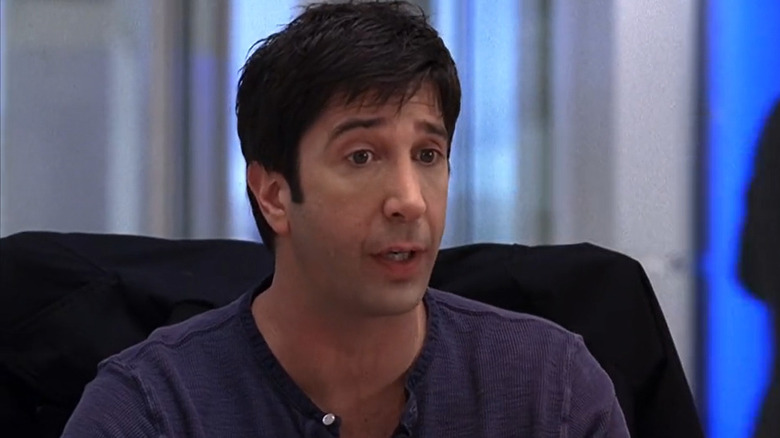 HBO
David Schwimmer is best known for playing Ross in the hit sitcom, "Friends," widely considered one of the best shows ever in its genre, and Ross was the lovable dork at its heart. However, as time passed, the show got reanalyzed, and critics and fans began to question whether some of Ross' actions genuinely had a nefarious undertone to them. "Entourage" was a show that was always superb at analyzing such topics while remaining subtle.
For a show that was chastised for its misogyny, "Entourage" has its fair share of strong female characters. Lizzie Grant (Autumn Reeser) was one such character. Lizzie is best remembered by fans for her turbulent affair with Andrew Klein, but she was also very good at her job and always put it first. In the Season 6 episode, "Running on E," Lizzie is entrusted with convincing Schwimmer to return to television, and she succeeds.
Fans are prone to confusing a celebrity's real life with their on-screen character, so, in one sweep, "Entourage" managed to comment on Ross' apparent womanizing and Hollywood misogyny by making Schwimmer only interested in sleeping with his agent for the duration of the episode. And Ari didn't mind so much as long as it didn't hurt his business.
1. Jamie-Lynn Sigler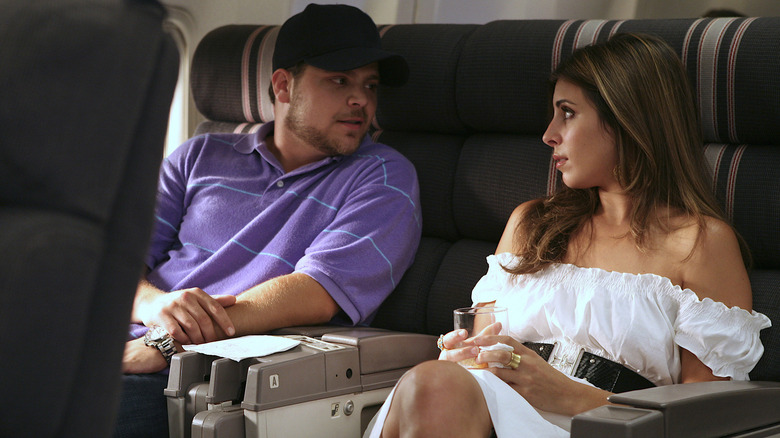 HBO
Jamie-Lynn Sigler is known best for her role as Tony Soprano's daughter in HBO's "The Sopranos." In the early 2000s, "The Sopranos" was the biggest show in the world. Its cultural impact was palpable, and it was sweeping award ceremonies every other year. So when Sigler appeared in "Entourage," it would be fair to say that fans assumed it would just be a short-term appearance.
When Season 6 premiered, critics predicted that it would be a season of growth for the boys and that was absolutely true. After they first meet on a flight toward the end of Season 5, Turtle and Sigler soon become an item and date for the entirety of Season 6. Turtle benefited from Sigler's emotional maturity, which he was unable, or rather, was not compelled, to attain with Vince. While Vince was just happy for Turtle to be a passenger in his incredibly lavish life, Sigler helps Turtle to map out his own life goals and dreams. Turtle finds fresh ways to self-actualize throughout the season, which actually offered Ferrara more to work with.