TV Shows That Released Movies In The Middle Of Their Run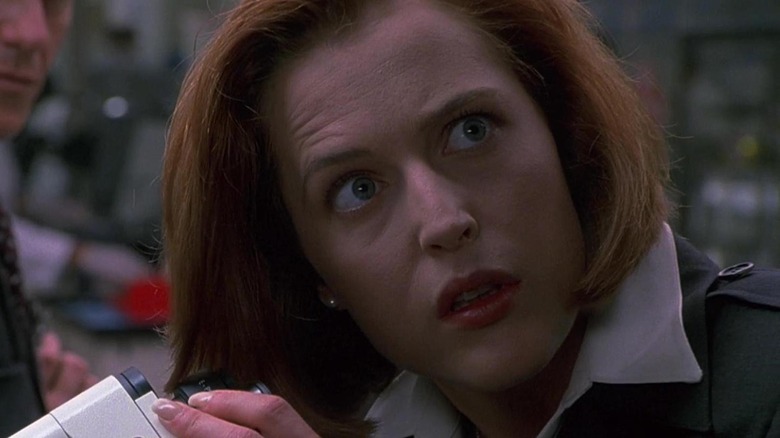 20th Century Fox
TV shows and movies usually pick one medium or the other to make their mark. On some occasions, a popular series might turn its story into a feature film, such as "Star Trek." Movies can also spread to the small screen, like "Star Wars." 
TV-to-film jumps often come years after the end of the series, when audiences' hunger for more becomes too much for studios to ignore. Every once in a while, though, a long-running TV series will make the leap to the big screen while it's still airing. With a bigger budget and a longer run time, most use the big-screen treatment to up the ante and tell a grander story, more epic than anything you could tell in a 30-minute or hour-long episode.
It might not seem like the smartest move to interrupt a series with a film, but if your show is a big hit, why wait until it's over to make a splash in theaters? From the earliest sitcoms that went Hollywood to the latest TV phenomenons invading theaters, these are the series that struck while the iron was hot and released movies in the middle of their run.
McHale's Navy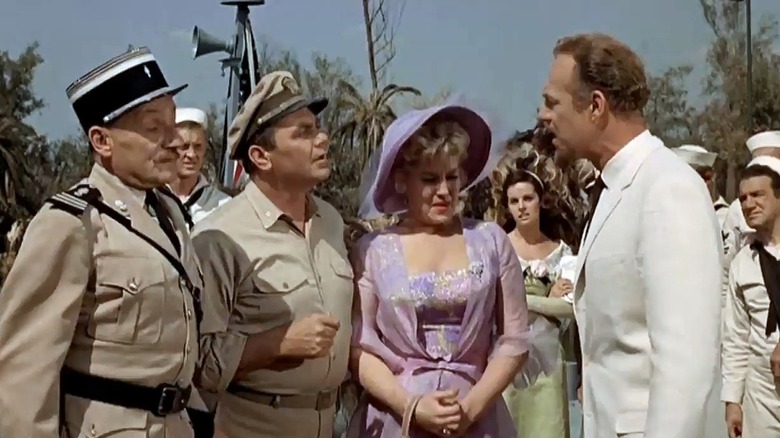 Universal Pictures
Modern audiences might know Ernest Borgnine and Tim Conway as the voices of Mermaid Man and Barnacle Boy on "SpongeBob Squarepants," but these roles are only an homage to their days starring on the black-and-white 1960s sitcom "McHale's Navy." The series was spun off from a somewhat surprising source: the 1962 drama "Seven Against the Sea," also starring Borgnine as McHale. The drama turned to laughs when it hit television screens a year later. For five seasons, Borgnine and Conway played a pair of naval officers aboard a PT Boat. Between the second and third years of the show, they took their crew on a mission to the uncharted waters of the big screen.
The 1964 film extension of the same name, "McHale's Navy," marked the first time the crew was seen in color. Beyond the bigger screen and brighter picture, not much else changed. The film plays like a two-part episode, with McHale taking his ship on yet another wacky adventure, this time scheming to win a payout in a horse race. His plan backfires and he needs to find a way of paying back the debt, but everything he tries only seems to make the problem worse. 
Though no comic masterpiece, it delighted audiences just enough to get a theatrical sequel. "McHale's Navy Join the Air Force" was released in 1965, just before the show's final season, though Borgnine did not himself appear in the title role.
Transformers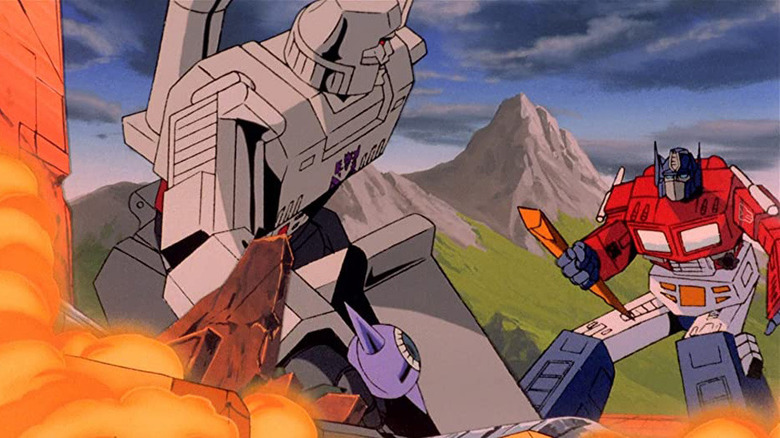 Claster Television
The 1980s were awash in lackluster animated fare for kids, but a handful rose above the rest and have stood the test of time. That includes "Transformers," the action series about a race of intelligent transforming robot aliens who disguise themselves as Earth machines after crash-landing in our backyard, where they continue fighting their interstellar civil war. The series gave us heroic Autobot leader Optimus Prime and his villainous counterpart, the Decepticon called Megatron. Airing 98 episodes across four years from 1984 to 1987, it lived on in the decades since with repeated revivals, and eventually a big-budget Hollywood film series that launched in 2007.
But Michael Bay's blockbuster "Transformers" wasn't the first time it was seen in theaters. Between the second and third seasons of the cartoon, producers had the bright idea of capitalizing on the show's phenomenal success by bringing a new, epic story to cinemas via "Transformers: The Movie." Continuing where the series left off, it was the biggest, most action-packed "Transformers" adventure yet. But it also did the unthinkable: killing off Optimus Prime in its traumatic climax. The series struggled to recover from this explosive change after it came back to television for its third season. 
Eventually, Optimus returned in the series' three-part finale, "The Return Of Optimus Prime," but for many of the show's child viewers, it may have been too little, too late.
The Simpsons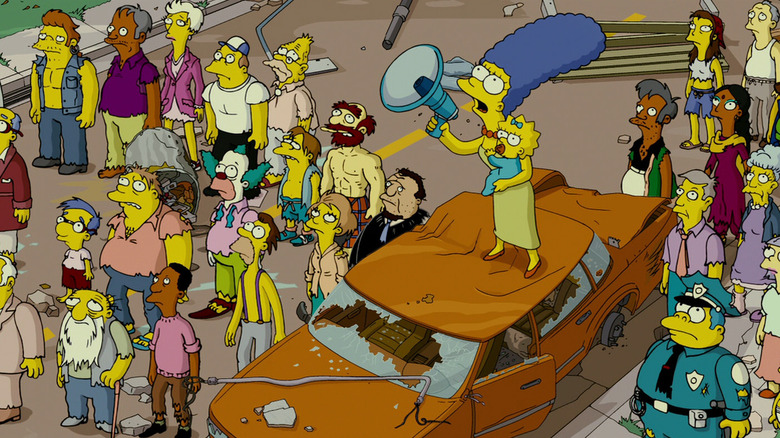 20th Century Fox
"The Simpsons" hardly needs any introduction for viewers old or young, as it has the distinction of being the longest-running scripted primetime American TV series, airing across parts of five decades. When it began as a series of animated vignettes on "The Tracey Ullman Show" in 1987, no one could have foreseen its evolution into such a long-lived series, let alone its remarkable impact on pop culture. They certainly couldn't have imagined it would one day become a big-screen theatrical blockbuster.
"The Simpsons Movie" hit theaters in the summer of 2007, in between the series' 18th and 19th seasons. Producers pulled out all the stops for the film, with a bigger, bolder story that saw the Simpsons blamed for a potential global catastrophe and sent Homer off on a quest to save the world.
An expansive production, it included seemingly every character—minor or major—ever seen in the show's nearly two decades on the air. Surprisingly low on the kinds of celebrity cameos that the small-screen version was famous for, the film still earned itself a whopping $536 million globally, making it the biggest hit on this list and one of the highest-grossing animated films ever at the time of its release.
Dragnet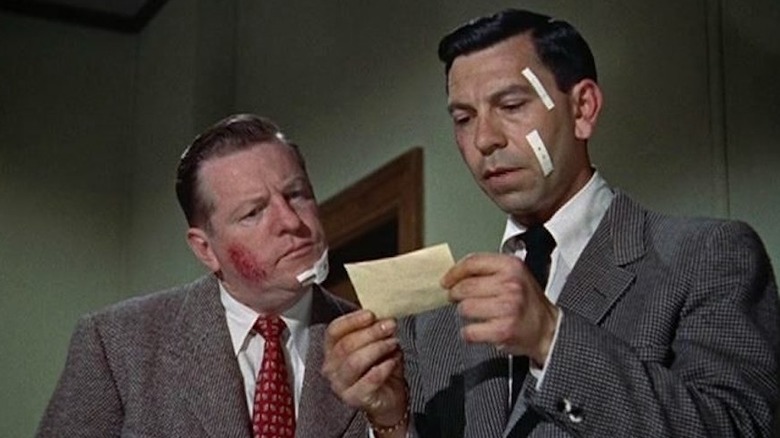 Warner Bros.
Among the most iconic cop shows ever made, "Dragnet" set the standard for nearly all police dramas that would follow, whether modern viewers recognize it or not. Set around the exploits of hard-nosed cop Joe Friday, played by the show's creator Jack Webb, the series was adapted for television from an earlier radio show of the same name. What set "Dragnet" apart from its contemporaries was its focus on investigative work and procedural elements, with few big action scenes or explosive firefights. It focused on all manner of crimes big and small, and was never afraid to tackle the most politically or socially sensitive subjects. 
After moving from radio to television, "Dragnet" proved an even bigger hit with viewers than with listeners. It soon made another leap, this time to the silver screen, when the movie industry came calling. Dropping into cinemas just after its second season on TV, the feature film "Dragnet" told the story of Friday and his partner Frank Smith investigating the death of a bookie. When they zero in on a local gangster as the perp, the investigation points to the involvement of organized crime, making it an uphill battle to prove their case against him.
Following the film, the TV series carried on for four more years. It was revived briefly in the late 1960s for a TV movie, rebooted as a comedy-drama with Dan Aykroyd in 1987, and was the subject of two attempted revivals in 1989 and again in 2003. 
Dark Shadows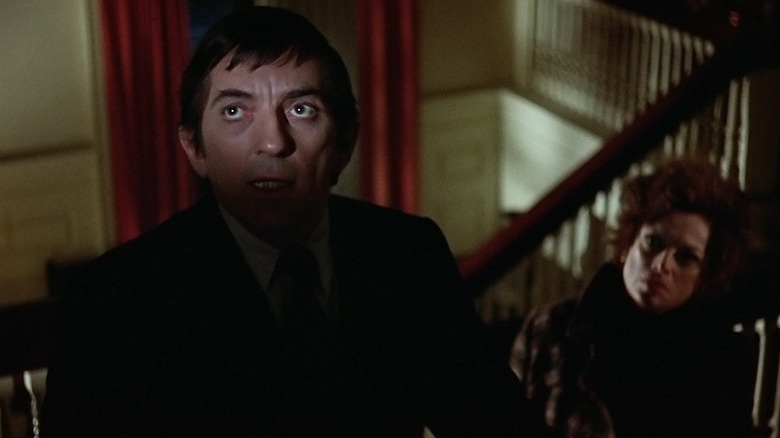 MGM
Soap operas have been a staple of television for over 70 years. They've crossed cultural divides and many have spanned decades as a unique form of multi-generational storytelling. In 1971, "Dark Shadows" took the genre to a whole other level. The melodrama centered on the many supernatural events that befell the residents of a gothic manor. Embracing horror and even some science fiction elements, audiences were transfixed by the stories of vampires, witches, warlocks, and even time travel and alternate dimensions. There was truly nothing like "Dark Shadows"–neither at home nor at the movies–and so it made perfect sense for the series to become a feature film.
With near-daily episodes, the series had already aired over a thousand stories when a big-budget spin-off, "The House of Dark Shadows," was released to theaters in December of 1970. The film focused on the series' fan-favorite breakout star, vampire Barnabas Collins (Jonathan Frid), who was looking for a way to shed his immortality so he could marry a human woman. 
A year after the film's release, the TV series came to a close, having aired a total of 1,225 episodes. A sequel film, "The Night of Dark Shadows," capped off the story in August of the same year. A legendary series, it's been the subject of no less than three revivals, including a 2012 film directed by Tim Burton and starring Johnny Depp.
Battlestar Galactica
NBCUniversal Television Distribution
Originally a low-budget television series inspired by "Star Wars," the epic space adventure "Battlestar Galactica" threw in some "Star Trek"-style storytelling to become something all its own. Though it only lasted a season, it became a cult classic and was revived in 2005 as a darker, grittier space drama, and became a critically acclaimed hit for the burgeoning Sci-Fi Channel. The series followed a group of space-faring survivors of an alien attack as they set out to find their new home, the mythical planet called Earth. Along the way, they met another wayward starship full of survivors: the Battlestar Pegasus, led by the ruthless Admiral Cain, who created a new and shocking conflict.
After the show's fourth season, the story took a bit of a detour with a direct-to-DVD movie titled "Razor," which told the as-yet-untold story of Admiral Cain and the Battlestar Pegasus. Intercut with a new story set during the show's second season aboard the Galactica, the film was a satisfying thriller that expanded on the show's mythology and allowed previous guest star Michelle Forbes to return and take the lead. It was well-timed too, as its release helped whet fans' appetites while they waited for the series to return for a final season following an extended writer's strike.
The X-Files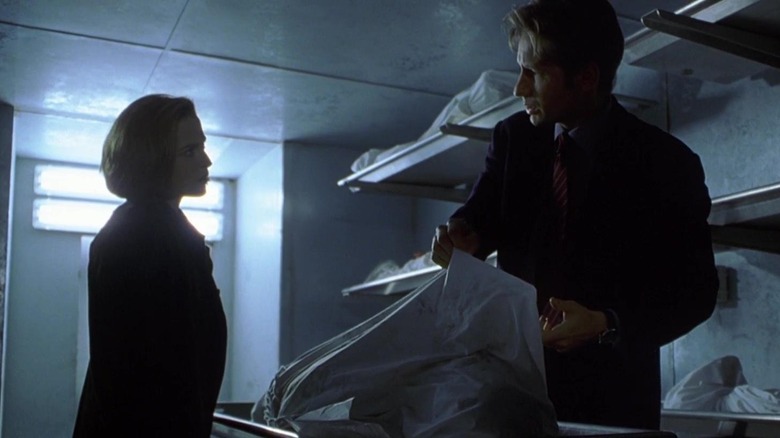 20th Century Fox
The 1993 sci-fi procedural "The X-Files" was a genuine pop culture phenomenon, introducing audiences to acerbic conspiracy theorist and FBI agent Fox Mulder, and his skeptical, strait-laced partner Dana Scully. Together, the two agents investigated all manner of odd and unusual cases, from invisible monsters and deadly viruses to alien encounters and mutant babies. Equal parts sci-fi and horror with a healthy dose of police procedural, it hit the zeitgeist in the way few shows ever do and became a sensation over the course of its 10-season run.
With star David Duchovny looking to break into movies, turning the series into a feature film seemed like a no-brainer. Just ahead of its seventh season in 1998, they did just that, delivering "X-Files: Fight the Future" into theaters. Released as a summer tentpole, it expanded the series' alien invasion storyline, as Mulder and Scully–since forced out of the FBI–uncovered sinister evidence that the government was covering up an extraterrestrial presence on Earth.
As far as movie extensions go, "X-Files" may be the gold standard, giving the writers more room to send Mulder and Scully on a bigger adventure. The film's story builds upon the previous season and becomes an integral part of the show's mythos, making it essential viewing for fans, while being a well-made, well-reviewed film in its own right. It did well enough in theaters that it earned a sequel, "X-Files: I Want to Believe," which was released in 2008, long after the end of the show's original run.
The Muppet Show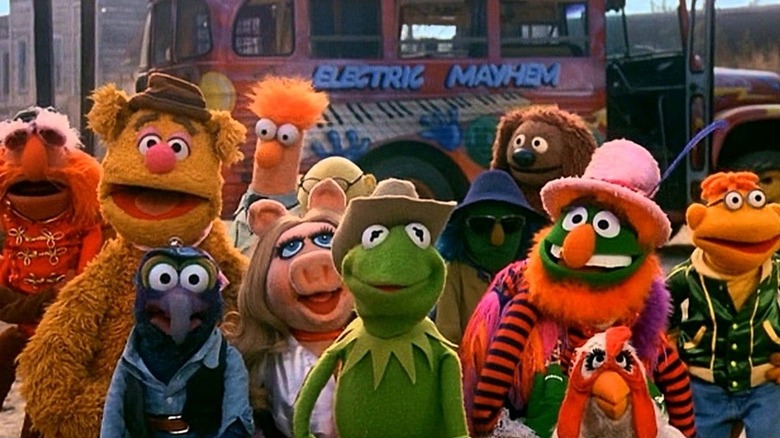 Associated Film Distribution
Created by legendary puppeteer and children's entertainer Jim Henson, there is arguably no more recognized group of kids characters than The Muppets. Including Kermit the Frog, Miss Piggy, Fozzy Bear, Animal, Rolf, Gonzo, and others, they've been a staple of children's television for decades, with Kermit the Frog making regular appearances on "Sesame Street" before receiving their own primetime series, "The Muppets Show," in 1976. Running for five seasons and more than a hundred episodes, the series was a kind of puppet sketch comedy show with a variety of different characters and stories. 
The Muppets appeared in their first movie between the show's third and fourth seasons. "The Muppet Movie" took the Muppets on the road. The story showed how the Muppets met, beginning with a Kermit deciding to pack up and travel to Los Angeles to become a star, and along the way meeting the likes of Fozzy, Rolf, and Miss Piggy. A beloved classic, the film was packed with celebrity cameos, including Steve Martin, Richard Pryor, Mel Brooks, Bob Hope, and even Orson Welles. Full of quotable dialogue and scenes that are still fondly remembered by both kids and adults today, it might be the best movie on this list.
South Park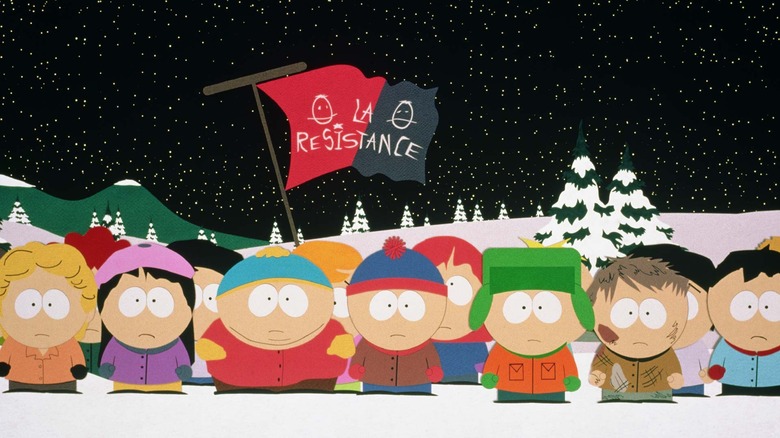 Paramount Pictures
Nearly a decade after "The Simpsons" got the big-screen treatment, the edgiest cartoon on television, Comedy Central original "South Park," followed. Centered on four foul-mouthed youngsters in the snowy mountains of Colorado, it had more than just crass humor and violent sight gags; it also offered incisive social commentary on everything from politics and race relations to religion and pop culture. Filled to the brim with raucous laughs and razor-sharp wit, the small screen couldn't contain it, so after three seasons, it moved to cinemas.
Welcomed into theaters in 1999, "South Park: Bigger, Longer, and Uncut" was just that: a super-sized helping of everything that made the series great. It made full use of its R rating, bigger budget, and longer run time. In a meta-story, the film sees Stan, Kyle, Cartman, and Kenny attend a screening of the R-rated "Terrance and Phillip" animated spin-off movie and turn completely and uncontrollably uncensored. A public outcry to ban the film ensues, leading to a war between America and Canada.
Punctuated by a series of wild musical numbers that earned it an Academy Award nomination, the film was a hit with critics and audiences, though it failed to bring in the big dollars of other feature film extensions like "The Simpsons Movie."
Doctor Who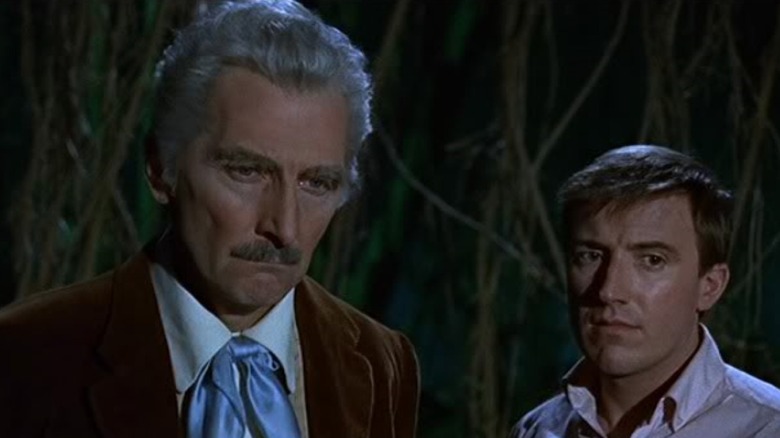 British Lion-Columbia Distributors
Britain's most iconic science-fiction franchise, "Doctor Who" ran for nearly 30 years beginning in 1963. After a false start in the mid-'90s with a failed pilot for a sequel series, a reboot launched in 2005 made the series an international hit that continues to this day. By 1965, the series was already a cultural touchstone on the British Isles, with the villainous Daleks–a race of chrome-domed robots with a toilet plunger arm and an egg whisk laser gun–embodying every child's nightmare. Given its popularity, a move to theaters was the next logical step, and so shortly after just its second season on the air, it got the big-screen treatment with "Dr. Who and the Daleks."
Unlike every other entry on this list, however, this film was not set within the continuity of the television series and featured none of the same cast. In place of William Hartnell as The Doctor was Hammer Horror star Peter Cushing (best known to audiences today as Grand Moff Tarkin from "Star Wars"), who suited up in fancy dress and faced down the robotic menace the Daleks. It was the first time the Doctor and the Daleks were ever seen in color, and while its different cast was a disappointment to some, child fans were mostly delighted to see their favorite hero up on the big screen. 
Though not as well-received as the show, the film was successful enough to receive a follow-up, "Daleks' Invasion Earth 2150 A.D." a year later.
The Lone Ranger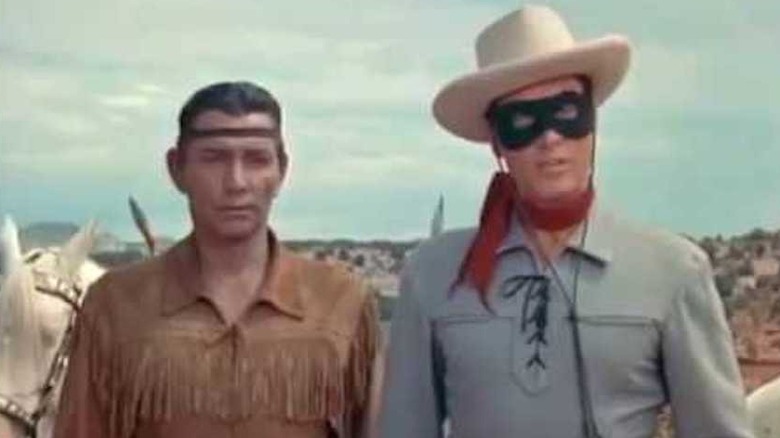 Warner Bros.
Long before Armie Hammer and Johnny Depp suited up as a cowboy and his Native American sidekick, "The Lone Ranger" dazzled audiences of all ages with thrilling small-screen adventures. Airing more than 220 episodes between 1949 and 1957, the show was, like "Dragnet," a live-action adaptation of a radio series that had previously been adapted as a film serial in the late 1930s. TV is where "The Lone Ranger" became a crime-fighting icon, with tense shootouts and fast-paced cowboy action. As the last surviving member of a group of Texas Rangers, the titular Lone Ranger teams up with Tonto to battle crime in the lawless frontier of the American West.
In 1956, before airing its final season, "The Lone Ranger" became a movie. The show's two lead actors, Clayton Moore and Jay Silverwheels, again starred as The Lone Ranger and Tonto. In the film, our hero investigates a series of Native American raids and discovers that a wealthy white landowner is attempting to spark a war between the tribes and settlers in his bid to annex sacred mountains that contain a rich vein of valuable silver.
Spongebob Squarepants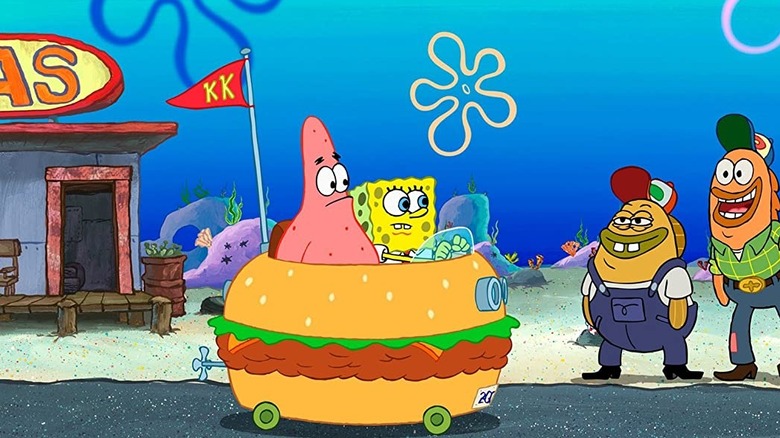 Paramount Pictures
The kids' show that defined Gen Z, "SpongeBob Squarepants" began as a little animated series on Nickelodeon in 1999. It wasn't long before it grew into the biggest show on the network and arguably the most beloved cartoon of its era. Noted for its bizarre characters, clever gags, and psychedelic visuals, it also boasted some surprisingly astute social commentary that gave it serious adult appeal. The only thing that frustrated viewers was its sparse output; through its first five years, just 60-some episodes had been released. Fans looking for more got it in a way they might not have expected when "The SpongeBob Squarepants Movie" landed in theaters in late 2004.
In the film, SpongeBob and his best friend Patrick are sent on the adventure of a lifetime. Journeying out of the ocean and onto land, the two undersea pals embark on a quest to prove their boss Mr. Krabs is innocent after he's accused of stealing the trident of King Neptune. Along the way, they get into all kinds of trouble. Thankfully, they get help from none other than David Hasselhoff himself. Future "Avengers" star Scarlet Johansson also made an appearance, voicing Neptune's daughter Princess Mindy.
A big hit, the show continued on for another decade, with two more movies releasing theatrically in 2015 and 2020.
Bob's Burgers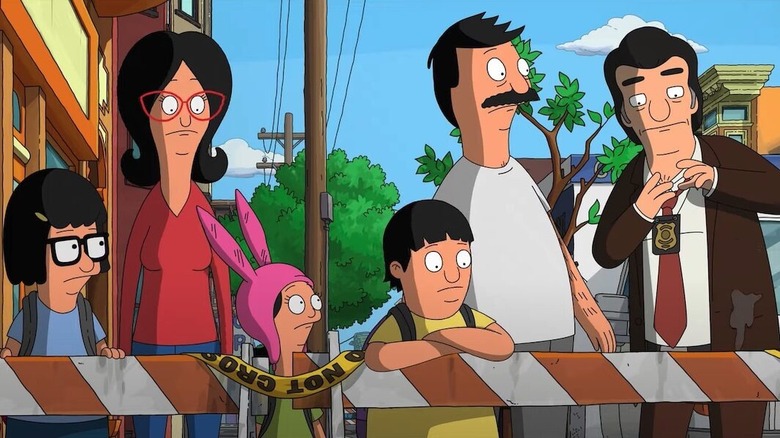 Fox
Debuting in 2011, "Bob's Burgers" is Fox's latest attempt at launching a big animated franchise to succeed "The Simpsons" or "King of the Hill." With at least 13 seasons secured, it seems the network has achieved its goal. "Bob's Burgers" is a dry, wry comedy about a suburban family whose patriarch runs the titular hamburger restaurant. Its quirky characters, outlandish situations, and earnest family stories have made it a big hit with fans and critics alike. With a comic book spin-off and a real-life restaurant tie-in, there are few worlds left for the show to conquer. They've even ventured out to the movies.
After more than a decade on the air, "The Bob's Burgers Movie" was released in 2022. Once again, the feature-film extension trades the modest, episodic television stories for a bigger, bolder adventure. This time, a massive sinkhole has opened up directly in front of the family restaurant, dooming the business. With their summer plans on the line, they are forced to redouble their efforts to save it, while the kids set out to solve a local mystery that could be key to fixing the hole that's causing all of their problems.
24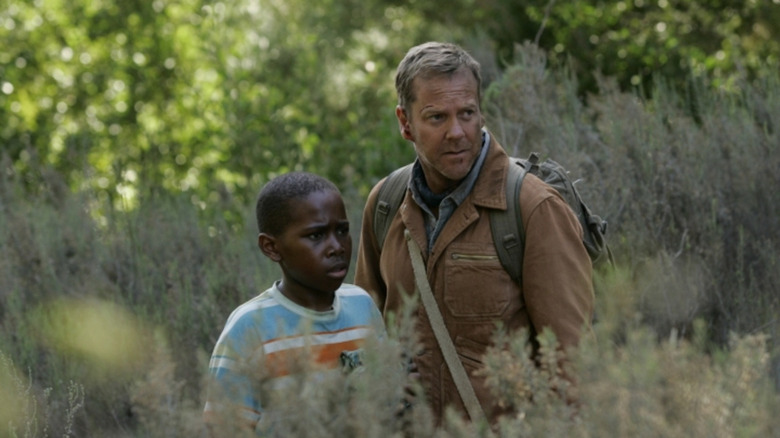 20th Century Fox
The action-packed spy series "24" began its lengthy television run in late 2001. It starred big-screen hero Kiefer Sutherland as Jack Bauer, a government agent tasked with stopping the most heinous international criminals. The cleverest aspect of its premise was that each episode of the 24-episode seasons took place in real time across a single hour, with each yearly story encapsulating one day in Bauer's life. The unique format brought a freshness to the action genre and made it one of the hottest shows on TV in the new millennium. 
The series wound up airing 8 full seasons across 14 years, with a 12-episode follow-up in 2014. Between its seventh and eighth seasons, a protracted writer's strike in Hollywood stopped production of the series. When work resumed, it was too late to get a new full season on the air, so the decision was made to produce a direct-to-DVD film, "24: Redemption" that also aired on Fox that fall.
The story took Bauer to the fictional African nation of Sangala, where he gets caught up in a coup d'état orchestrated by a local warlord, General Juma. Just like the series it extended from, "24: Redemption" received rave reviews and helped tide audiences over while the eighth season was written.