The Most Iconic Police Partners In TV History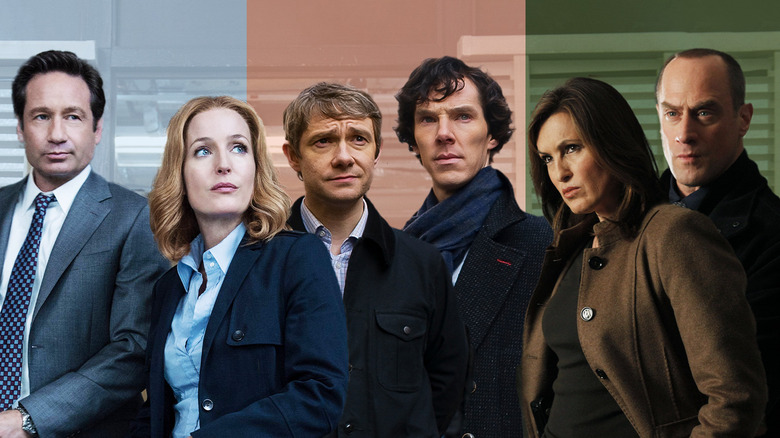 NBCUniversal Television and Streaming, 20th Television, BBC One
As the saying goes, two heads are better than one, and in the history of television, that's been just as true. Because, while some shows can succeed with a single hero, a pair of crime-solving do-gooders can often prove even more enduring. There may be no genre where that is more true than the police drama, where law-enforcers of all stripes partner up to take on crooks, from small-time thugs to international terrorists.
Each member of a two-person team brings their own unique skills to the table. The genius and the muscle; the risk-taker and the pragmatist; the hot-tempered one and the level-headed counterweight. But no matter how different they may be — and even if they don't always get along — they always come together to form a whole that's better than the sum of its parts.
From the very beginning there have been those crime-busting partners who've stood out above the rest, famed duos who've distinguished themselves as heroes and have become etched in the public consciousness in the process. So grab your radio, strap on your sidearm, and hop in the squad car, because we're on the case to find the most iconic police partners in TV history.
Christine Cagney and Mary Beth Lacey (Cagney & Lacey)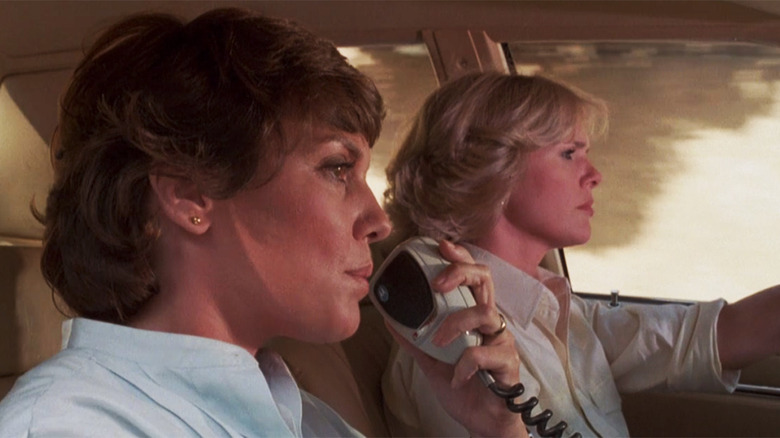 MGM Television
Today it might not seem all that unusual to see a pair of hard-nosed females busting the bad guys in a prime time cop show, but flash back to the early '80s, and you'll find "Cagney & Lacey" breaking all the rules of the day to blaze a trail for all the lady lawgivers who'd follow. While there had been some women heroes on the small screen before, none had done it like Christine Cagney (Sharon Gless) and Mary Beth Lacey (Tyne Daly), a pair of streetwise New York cops.
Running between 1982 and 1988, "Cagney & Lacey" wasn't a glossy, glitzy adventure show, but a more gritty, realistic drama. After a couple of rough early years that included two cancellations, the series soared. By the mid-1980s, "Cagney & Lacey" was beating popular police dramas like "Hill Street Blues" and "T.J. Hooker" in the ratings. It was ahead of its time, unafraid to take on taboo social issues like drugs, homophobia, sexual assault, and, of course, gender inequality.
As tough and as capable as any male cop pairing on TV (if not more so), Cagney and Lacey became icons for an entire generation of women. Thanks to their groundbreaking series, they paved the way for future female investigating teams, showing not only that they could get the job done, but that they could lead a hit series without the help of a man.
Dave Starsky and Ken Hutchinson (Starsky & Hutch)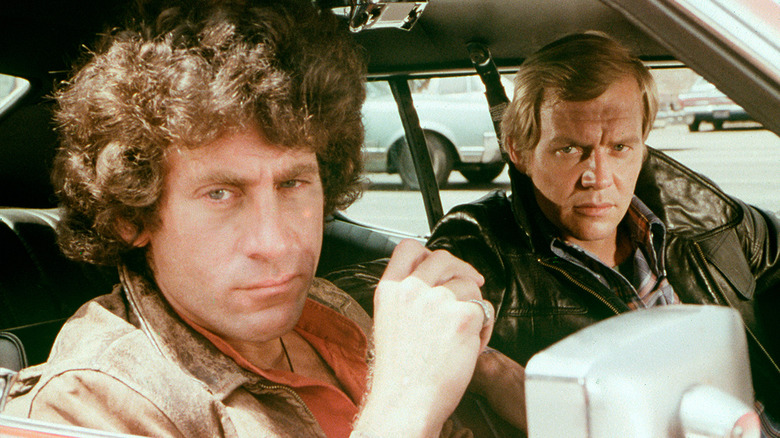 Sony Pictures Television
Though their series only had a brief run in the 1970s, the titular duo of "Starsky & Hutch" became the quintessential crime-stopping cop couple of the day. Like any good police partners they had their differences, with Paul Michael Glaser playing David Starsky as an uptight, intense officer, and David Soul imbuing Ken "Hutch" Hutchinson with a more laid-back attitude. They were both very easy to like, however, making them the perfect heroes for a more fast-paced police series.
Cruising the streets of Bay City, California in their Ford Gran Torino (which became almost as famous as them), Starsky and Hutch were an unflappable, unstoppable team. What made the pairing so great was that they weren't your typical TV cops, often doing things not-so-by-the-book. They bent the rules to stop the bad guys and solve crimes, getting the job done no matter the cost. Audiences may recognize that type today, as the renegade cop has become a bit of a trope, but back then it was something relatively fresh for the genre.
"Starsky & Hutch" only ran for four seasons but lived on for decades, cemented in the hearts and minds of TV audiences. Iconic enough to get a movie remake in 2004, the Ben Stiller/Owen Wilson-led flick was smart to go for a more tongue-in-cheek homage, knowing they could never replicate the success of the original.
Sonny Crockett and Rico Tubbs (Miami Vice)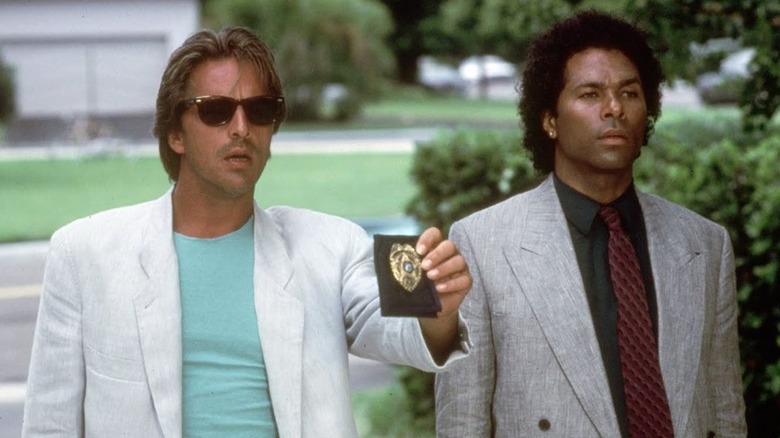 NBCUniversal Television Distribution
The mid-1980s were marked by glitz and glamor. Flashy, ultra-cool stars paraded across the screen, and even cop shows got in on the trend. In "Miami Vice," big city police partners were re-envisioned as slick, stylish crime fighters in the form of Florida detectives James "Sonny" Crockett and Ricardo "Rico" Tubbs, played by Don Johnson and Philip Michael Thomas. The pairing brought elegance and chic to the genre, as the well-dressed duo chased down criminals in between taking in the sun and the surf.
A pair of heroes for the MTV generation, Crockett and Tubbs always looked good, sported the hottest outfits, and drove the nicest cars — and they did so with an unrivaled panache. What could have easily devolved into a cheesy affair became effervescent and modern, and it was punctuated by a dutiful fight against Miami's criminal underworld. A perfect mix of style, humor, and suspenseful crime stories, "Miami Vice" put the heroes through their paces, turning both actors into bonafide sex symbols and unforgettable legends of the 1980s.
Revered in the annals of TV history, a film adaptation eventually made its way to the big screen in 2006, with Colin Farrell and Jamie Foxx starring as Crockett and Tubbs. The two A-listers gave it their all, but, no matter how charming and slick they were, Farrell and Foxx were always going to struggle to match the iconic performances of Johnson and Thomas. The big screen reboot failed to live up to expectations, with critics advising viewers to go back and check out the series instead.
Andy Sipowicz and Bobby Simone (NYPD Blue)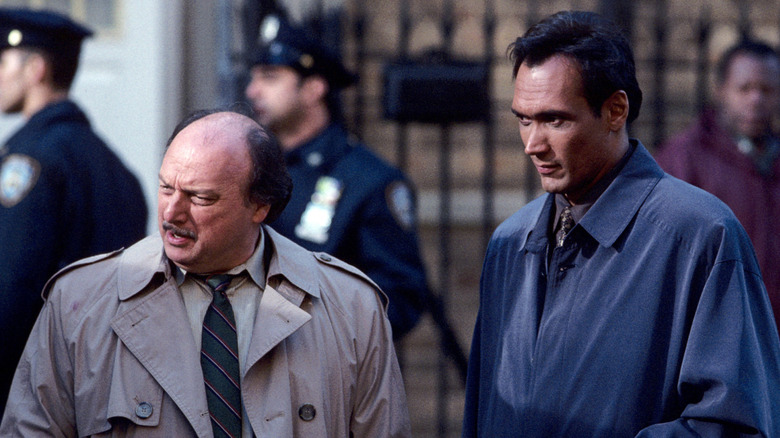 20th Television
Legendary TV creator Steven Bochco had worked on other cop shows in the past, from the famed "Hill Street Blues" to the short-lived flop "Cop Rock," but in 1993 he launched what would become one of the biggest police dramas of the decade, "NYPD Blue." A controversial series for its envelope-pushing content, "NYPD Blue" ran for 12 seasons and was led by Dennis Franz as the gruff, foul-mouthed Andy Sipowicz. He went through several notable partners over the years, but the one that established him as one half of an iconic duo was Detective Bobby Simone, played by Jimmy Smits.
Unlike so many cop dramas that came before it, "NYPD Blue" wasn't afraid to have a hero with flaws — and boy did Sipowicz have flaws. He rubbed many of his colleagues up the wrong way, including Simone, who arrived leery of Sipowicz's bad temper and political incorrectness. But, despite his bigotry, misogyny, and downright despicable behavior, Sipowicz's friendship with Simone broke the mold. They would slowly build a mutual respect thanks largely to Simone's patience and compassion, which is one of the reasons they became such riveting partners. In the end, Simone had a profound impact on the surly Sipowicz. He helped him become a (slightly) kinder cop, even if he couldn't change every one of his bad habits.
Jimmy McNulty and Bunk Moreland (The Wire)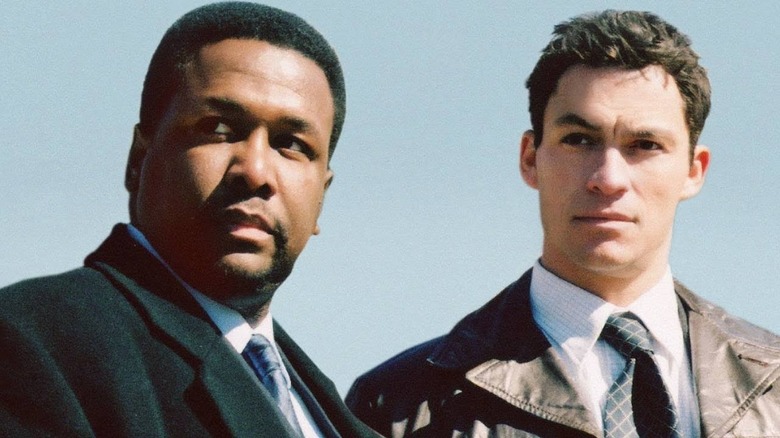 HBO
Not just one of the best police dramas, but one of the best dramas on television, period, "The Wire" features an ensemble cast of complicated cops. The layered characters are what make the series so special, and at the center of its story are Detective James "Jimmy" McNulty (Dominic West) and Detective William "Bunk" Moreland (Wendell Pierce).
A series that confronts the roots of crime in a big city, the officers of "The Wire" are often as guilty as the criminals they're tasked with taking down, and McNulty and Bunk are no exception. Though they both have a strong sense of duty and justice, McNulty's moral compass is too often pointed in the wrong direction. As a result, Bunk is often left covering for him and his unscrupulous behavior. It's this relationship that makes the pair so unique and memorable in the history of police dramas.
Best friends as well as partners, the morally ambiguous McNulty and the good-natured Bunk may not be the traditional righteous cops audiences have come to expect from TV procedurals. But with their quirks and charms, they are two of the most compelling characters to ever populate a show of this kind.
Frank Poncherello and Jon Baker (CHiPs)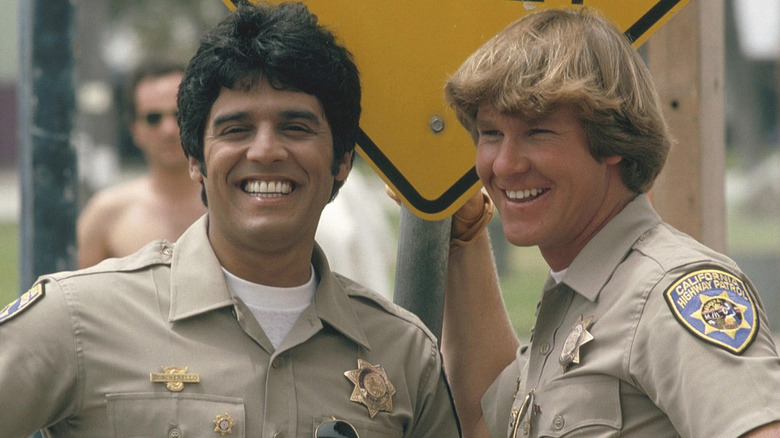 Warner Bros. Television
A breezy, light-hearted police adventure, "CHiPs" — short for California Highway Patrol — launched in 1977, following officers and good buddies Frank "Ponch" Poncherello (Erik Estrada) and Jonathan "Jon" Baker (Larry Wilcox). Both actors became heartthrobs thanks to their roles as intrepid, motorcycle-straddling West Coast cops, with their broad smiles and fashionable hair making them a hit with viewers.
Ponch and Baker had their differences, of course, and there was way more to them than just toothy grins and mop tops. Baker was the even-tempered, by-the-book officer, while Ponch was the fiery risk-taker who could sometimes get in over his head. That's part of what made them the perfect team and why they were so appealing to fans of the show, who tuned in mainly for the exciting dynamic between the partners.
Like Starsky and Hutch and Crockett and Tubbs, Baker and Ponch were later brought back for a big screen adventure. They were played by Dax Shepard and Michael Pena in the 2017 movie reboot, which got hammered in the reviews. The film "abandons the endearing innocence of its source material, using the titular cop show's premise as a setup for aggressively lowbrow gags that prove only mildly arresting at best," reads the Rotten Tomatoes critics consensus.
Fox Mulder and Dana Scully (The X-Files)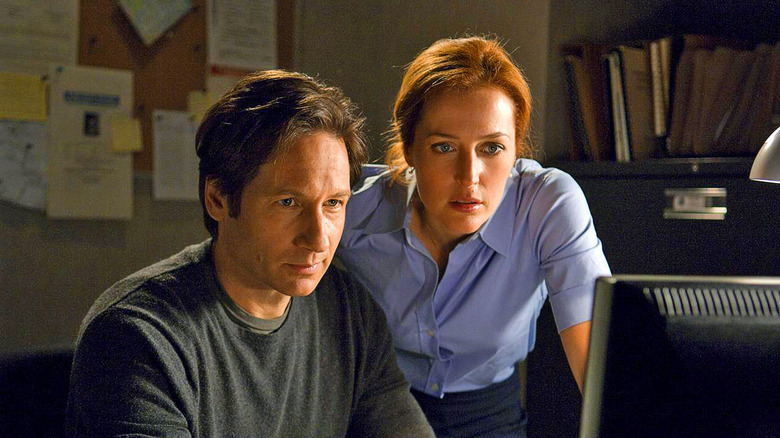 Fox
The impact that the '90s sci-fi police procedural "The X-Files" had on television and pop culture cannot be understated. Viewers quickly fell in love with the show's two leads, FBI agents Fox Mulder and Dana Scully, played by David Duchovny and Gillian Anderson. Fans of the series were riveted by their inexplicable cases, but it was the relationship between Mulder and Scully that kept them coming back week after week for a decade.
As the skeptic and the believer, they were an opposed pairing that complemented each other brilliantly. Their wicked banter, verbal sparring, and their close friendship made them easy to root for, and watching them solve cases together was the highlight of every episode. Perhaps more than any other duo on this list, Duchovny and Anderson had palpable chemistry, with their characters going from faithful friends to on-again, off-again lovers.
The two leads returned to their roles 15 years after the original series concluded for a revival, which was met with critical acclaim — 2018's Season 11 is Certified Fresh on Rotten Tomatoes. Anderson may be done playing Scully, but her impact goes beyond good reviews or sky-high ratings: She's responsible for the so-called "Scully Effect," with more women becoming interested in the sciences thanks to Anderson's portrayal.
Benson and Stabler (Law & Order: SVU)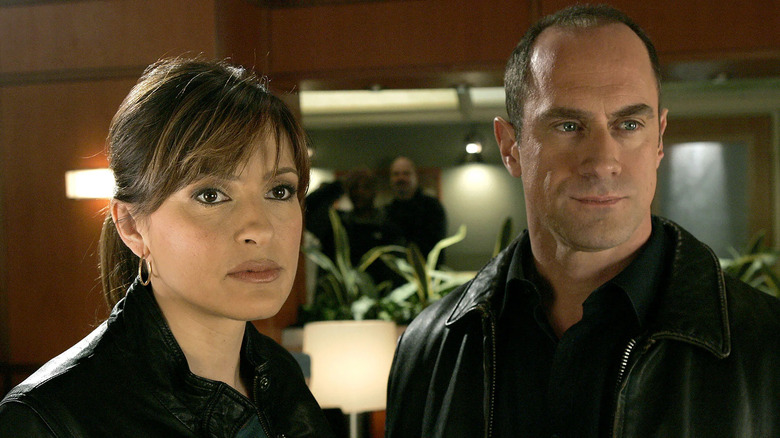 NBCUniversal Television Distribution
For years it was Lennie Briscoe (Jerry Orbach) and Mike Logan (Chris Noth) who were the most iconic partner pairing in the "Law & Order" franchise. Little did fans know that they'd get a run for their money from Olivia Benson and Elliott Stabler, the two detectives that led the spin-off series "Law & Order: Special Victims Unit." Benson and Stabler were faithful, loyal partners who always looked out for each other (both on the job and off it), and they remained together for longer than any other pairing on this list, working side by side in nearly 300 episodes.
Benson and Stabler are arguably the main reason that "SVU" became such a big hit, eclipsing the run of the original, franchise-starting series. While the show has a phenomenal ensemble, it's Mariska Hargitay and Christopher Meloni who shepherded it toward becoming one of the most beloved police dramas of all time. Like yin and yang, Benson and Stabler formed the ultimate partnership, complementing each other as they chased down New York's worst criminals.
While they star on separate shows these days, it will be their pairing on "SVU" that is forever remembered. They blended steely resolve and investigative skills with the compassion and empathy needed to deal with victims of the most despicable crimes, becoming an unforgettable pairing in the process.
Jake Peralta and Amy Santiago (Brooklyn Nine-Nine)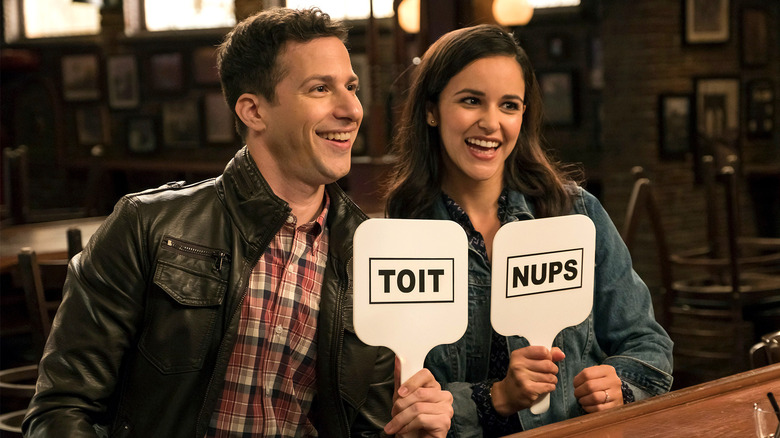 NBCUniversal Television Distribution
Cop comedies are a unique sub-genre of the police procedural, and there have been quite a few over the years. However, few have produced as memorable a partnership as "Brooklyn Nine-Nine." Co-created by Michael Schur, the man behind "The Good Place," and "Parks and Recreation" writer Dan Goor, "Brooklyn Nine-Nine" is set in the titular New York borough and follows a group of goofball officers in the big city.
While officers Jake Peralta (Andy Samberg) and Amy Santiago (Melissa Fumero) aren't always partners on the beat, they are deserving of a place on this list because of their unique rivalry-turned-romance. Benson and Stabler and Mulder and Scully each had their brief romances, but Jake and Amy don't just have a dalliance, they wind up falling in love and getting married in a break from the traditional will-they, won't-they TV formula.
Over the course of the show's early seasons, Amy goes from hating Jake's laziness and slacker vibe to appreciating his good nature and inner hero. They have contrasting personalities, with Amy as the stern, more serious one, and Jake the silly, sloppy, carefree one. They are two sides of the same coin, and they prove to be not just great partners on the street, but one of TV's best couples, too.
Sherlock Holmes and John Watson (Sherlock)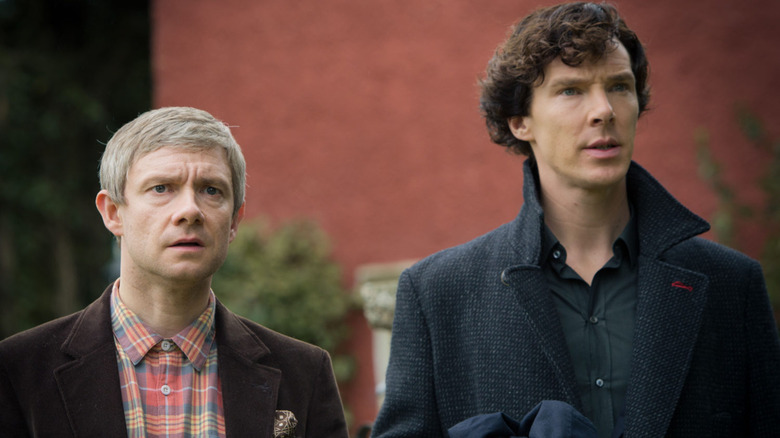 BBC
Sherlock Holmes and his partner Dr. John Watson may be the most famous literary investigators and law-adjacent partners in all of fiction, and they've been brought to the small screen several times. But, while the pairing of Jeremy Brett and David Burke were arguably the most faithful, and Johnny Lee Miller and Lucy Liu the most exciting, it's the combination of Benedict Cumberbatch and Martin Freeman from the BBC series "Sherlock" that is without a doubt the most iconic. Together they starred in a modern-day update of Arthur Conan Doyle's stories, breathing new life into these classic characters.
Brilliant, aloof, and cantankerously snide, Cumberbatch's Holmes is the perfect embodiment of the character for the 21st century. Freeman's Watson, meanwhile, is the ideal foil for him, a humble, affable, and ultimately faithful assistant who is also more capable than you might expect. Like the best crime-solving partners, Holmes and Watson start out as bickering, reluctant work colleagues who quickly build an unshakeable bond that eventually comes to anchor the series. Despite Holmes' misanthropy and Watson's initial uneasiness, their chemistry is impeccable, and they lean on each other to solve the toughest of cases.
Brilliantly written by Steven Moffat and Mark Gatiss, Holmes and Watson in "Sherlock" are effortlessly believable as unlikely best friends and crime-busting cohorts. That's all owed to the performances of Cumberbatch and Freeman, who instill them with an unmatched richness and flavor, helping make even the most extraordinary stories feel somehow down-to-earth.
Spenser and Hawk (Spenser: For Hire)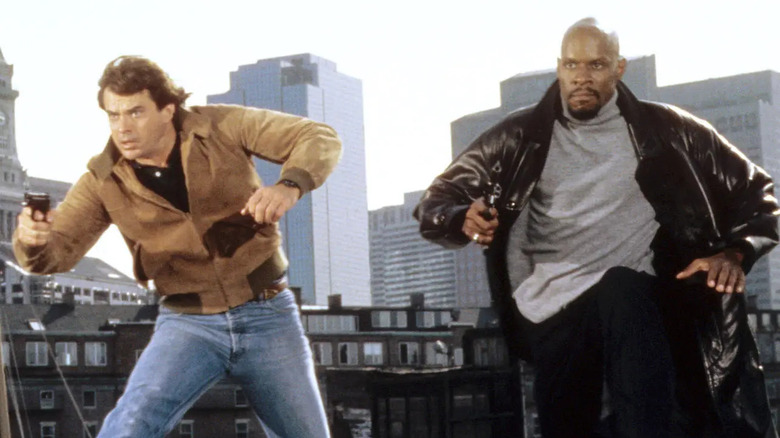 Warner Bros. Television
Few partners in TV history are as dynamic or gutsy as Spenser and Hawk, crime fighting buddies on the '80s action-adventure series "Spenser: For Hire." Robert Urich starred as the titular hero for hire, a charismatic former cop. His partner Hawk — a Magnum-wielding, chrome-domed enforcer with a strict code of ethics — was played by Avery Brooks, who would later become known for his turn as Captain Ben Sisko in "Star Trek: Deep Space Nine." Together, they hunted down killers, kidnappers, and an assortment of gangsters.
Spenser led the cases with a suave charm and derring-do, but Hawk balanced him out with his cool sense of style and a fierce intensity that added a much-needed edge to the series. Though they were rarely seen as close-knit friends outside of their jobs, they always had each other's backs when chasing down the baddies. They became an iconic '80s action duo, with Hawk even getting a short-lived spin-off entitled "A Man Called Hawk."
In the late '90s, the series got rebooted with a pair of TV movies. Spenser and Hawk were played by Joe Mantegna and Shiek Mahmud-Bey. In 2010, Mark Wahlberg and Winston Duke took over the roles for the Netflix movie "Spenser: Confidential," which failed to impress the critics — it scored just 36% on Rotten Tomatoes. Neither remake duo came close to Urich and Brooks, proving just how good the original pairing really was.
Joe Friday and Bill Gannon (Dragnet)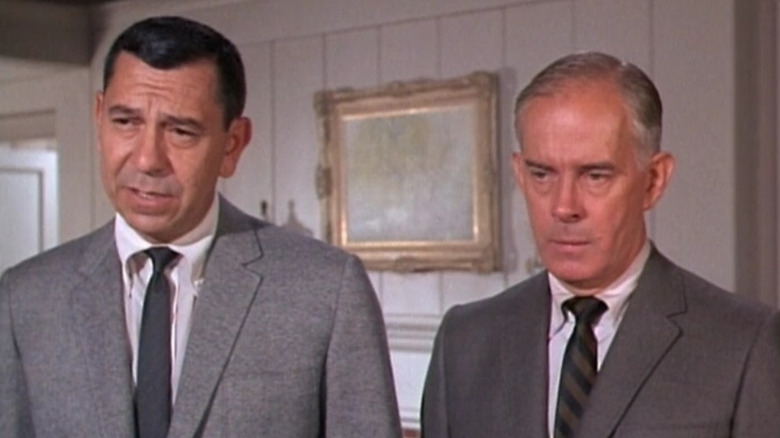 NBCUniversal Television Distribution
One of the first police procedurals on television, "Dragnet" essentially set the standard by which all future shows in the genre would be judged. Created by actor Jack Webb, it adapted the successful 1949 radio drama of the same name. The show ran for eight seasons and nearly 300 episodes, spanning most of the 1950s, but it would be the 1967 revival starring Webb and Harry Morgan that would deliver one of TV's most famous police partnerships.
Webb and Morgan played Joe Friday and Bill Gannon, whose weekly cases saw them solving crimes in the City of Angels. With dramatic stories that were full of topical subject matter that raised eyebrows at the time, the series would influence countless others, with Friday and Gannon becoming the blueprint for TV cop duos. Bitter, strait-laced, no-nonsense officers of the law, they proved that police shows didn't need to be action-packed adventures, and that leading men didn't have to be young, charming, and suave hotshot lawmen.
The series is part of a pantheon of '60s greats, elevating the police drama at a time when Westerns like "Gunsmoke" and "Bonanza" still ruled the airwaves. Though it might seem dated today, a look back will reveal many of the hallmarks of today's best police procedurals, while the names Joe Friday and Bill Gannon were perhaps the first to be entered into the cop drama's proverbial Hall of Fame.