Brie Larson Is 'Perfect' For Captain Marvel Role, Says Ben Mendelsohn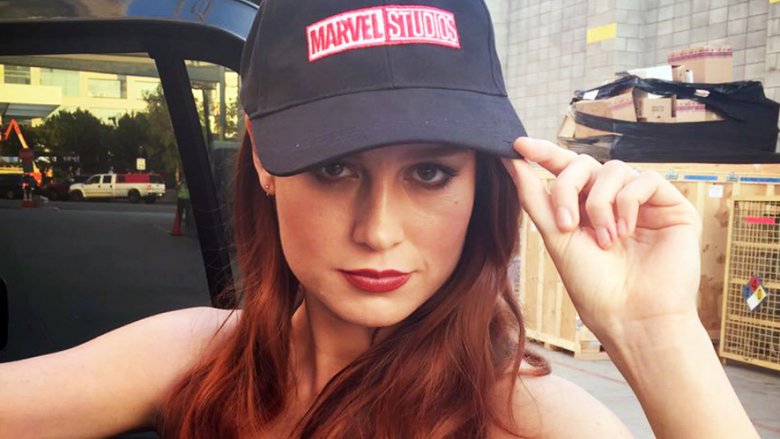 Twitter
Ben Mendelsohn believes there's no one more perfect to play Captain Marvel than Brie Larson.
Speaking to Entertainment Tonight at the Los Angeles premiere of Ready Player One, in which he stars as Nolan Sorrento, Mendelsohn kept modest about his villainous Captain Marvel role, but was more than happy to gush about what Larson brings to her titular character.
"Brie is absolutely perfect for that role," Mendelsohn said. "Why? Because she's a strong, yet sensitive, contemporary female. She is a champion, she's a fantastic actress and she's a great human." He added, "You can't ask for better for Captain Marvel."
Mendelsohn isn't the only person who has openly praised Larson's take on Captain Marvel. Marvel Studios president Kevin Feige previously revealed that Captain Marvel will be the most powerful character in the MCU once she makes her debut, and stated that Larson is the perfect actress to deliver a performance that highlights the hero's physical and emotional strength. 
"All of the Marvel characters have flaws to them [and] all of them have a deep humanity to them," Feige said. "With Captain Marvel, she is as powerful a character as we've ever put in a movie. Her powers are off the charts, and when she's introduced, she will be by far the strongest character we've ever had. It's important, then, to counterbalance that with someone who feels real. She needs to have a humanity to tap into, and Brie [Larson] can do that."
Original Captain Marvel scribe Nicole Perlman, who co-wrote Guardians of the Galaxy with director James Gunn, once called Captain Marvel "an incredibly strong and wonderful hero." 
Larson herself has had some great things to say about her character, previously saying that her iteration of Captain Marvel will bring lots of laughs and jaw-dropping action sequences to the silver screen. The actress also noted that the hero is complex, with a headstrong attitude and a stellar sense of humor, and will never back down in the face of adversity. 
"She's a believer in truth and justice and she is a bridge between two worlds, Earth and space," said Larson. "She's fighting between the flaws that are within her and all this good she wants to try and spread and make the world a better place. She can also fly and shoot things out of her hands. And she's really funny!"
Joining Mendelsohn's mysterious bad guy character and Larson's leading lady for Captain Marvel are Jude Law as Mar-Vell, the original Captain Marvel, and Samuel L. Jackson as Nick Fury. Gemma Chan, Robert Kazinsky, and Lashana Lynch, who replaces DeWanda Wise, round out the cast. 
Directed by Anna Boden and Ryan Fleck, Captain Marvel is set to soar into theaters on March 8, 2019.