Ready Player One Early Reviews Give Spielberg A High Score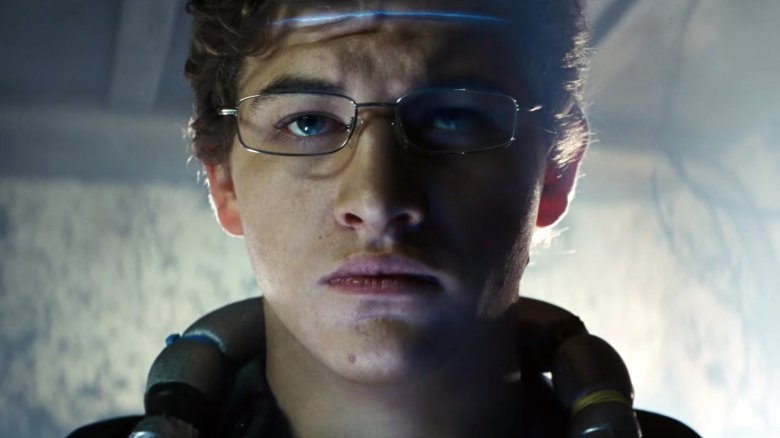 It sounds like Steven Spielberg has booted up another hit.
His upcoming nostalgia-fueled sci-fi epic Ready Player One premiered over the weekend at the South by Southwest Film Festival in Austin, Texas, and critics are calling it "classic Spielberg." Despite a sound glitch during the screening, most of the early reviews are glowing, and it's a good sign for a flick that could've been buried beneath its own weighty premise.
Based on Ernest Cline's 2011 book of the same name, Ready Player One is set in the year 2045, when most of the world is in the midst of extreme poverty. To escape the dreariness of the real world, people immerse themselves in the virtual playground called OASIS, co-created by a billionaire genius named James Halliday (Mark Rylance). When Halliday dies, he leaves behind a trail of clues for players to find the ultimate easter egg — one that will give the winner ownership of his company. Wade Watts (Tye Sheridan), an orphan who uses the name Parzival inside the OASIS, embarks upon a quest to win the game, but he faces an evil corporate drone (Ben Mendelsohn) who makes the stakes dangerously real. Throughout, the movie is loaded with pop culture references from the '80s and '90s including nods to everything from Back to the Future to the Tomb Raider video games.
Variety's Owen Gleiberman called the movie a "dizzyingly propulsive virtual-reality fanboy geek-out," while Eric Kohn of IndieWire said it's Spielberg's "biggest crowdpleaser in years."
Check out the response to the premiere below and prepare for Ready Player One to hit theaters on March 30.
#ReadyPlayerOne is classic Steven Spielberg. It's got the references, the ferocious effects and the great '80s soundtrack, sure, but also the charm, the heart, the humor and a fantastic Alan Silvestri score. I loved it & so did this #SXSW crowd. Be excited for it! pic.twitter.com/xwPOGwXDxd

— ErikDavis (@ErikDavis) March 12, 2018
TOTALLY engrossed in every second of @readyplayerone. It is one of the most technically brilliant things I have EVER seen. Spielberg is one of the few directors who could orchestrate this kind of visual symphony that SO many people will enjoy. Pretty amazing.🎮

— Grae Drake (@graedrake) March 12, 2018
#ReadyPlayerOne is classic Spielberg fun! What a blast, can't wait to see it again. Rewards repeat viewings. Tons of great references, visuals and heart. So kick ass it blew the speakers!

— Robert Rodriguez (@Rodriguez) March 12, 2018
Spielberg just said he makes many films, like The Post, from behind the camera. He made Ready Player One from the audience. That's the perfect summation of this experience.

— Eric Vespe (@EricVespe) March 12, 2018
READY PLAYER ONE feels like Spielberg watched a ton of Luc Besson movies and decided to outdo them. In terms of pure spectacle, it's the most astonishing thing he's done. Never underestimate Steve. #SXSW

— erickohn (@erickohn) March 12, 2018
Went into READY PLAYER ONE skeptical as hell. Came out largely as a joyous convert. I have a handful of issues with the structure and characters, but it improves on the book in important ways, the action is riveting, and I really bought the humor. #readyplayerone

— Tasha Robinson (@TashaRobinson) March 12, 2018
READY PLAYER ONE: So so so much movie. Sometimes too much but what I kept thinking over and over again was "my kids are gonna LOVE THIS." It is joyous and thrilling for the people who it's designed to joy and thrill.

— Brian Tallerico (@Brian_Tallerico) March 12, 2018
I didn't think I would like #ReadyPlayerOne, but I liked it a WHOLE LOT. I think people cheered and laughed every 2 mins and dang this film was entertaining. So many references, I can't wait for everyone to see it so we can all talk about it! #sxsw

— Beatrice Verhoeven (@bverhoev) March 12, 2018
READY PLAYER ONE is a big Trapper-Keeper stuffed full of smiles, Adventure, and heart.

I adore it.#sxsw

— Aaron Morgan (@Aaron_Morgan) March 12, 2018
Ready Player One is a pop culture extravaganza. A truly one of a kind film that combines video games, tv, movies, music, & action figures into one huge crowd pleasing film. Prepare to be wowed & see this on the biggest screen with the best sound system possible. #ReadyPlayerOne pic.twitter.com/Tj6QuqI9oF

— Scott Menzel @ SXSW (@TheOtherScottM) March 12, 2018