Mahershala Ali's 7 Best And 7 Worst Movies Ranked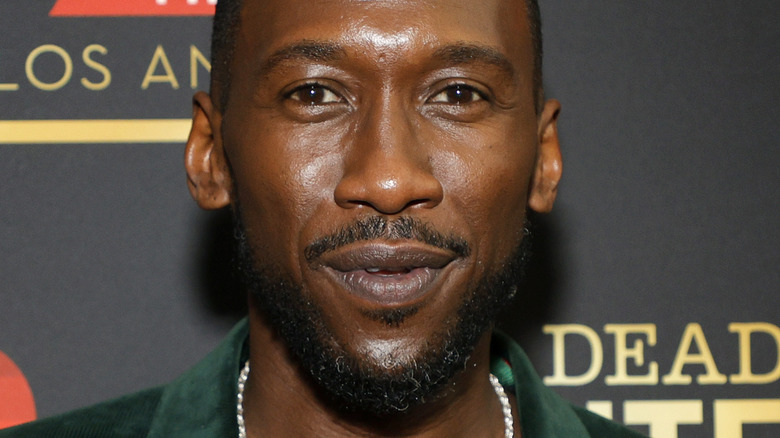 Amy Sussman/Getty Images
Mahershala Ali has quickly emerged as one of Hollywood's go-to A-list leading men. After appearing in a number of films such as "The Curious Case of Benjamin Button," "Predators" and "The Hunger Games: Mockingjay, Part 1" in small but memorable roles, the actor hit pay dirt with the critically acclaimed one-two punch of "Moonlight" and "Hidden Figures" in 2016. The former won him the Academy Award for Best Supporting Actor, an accolade he repeated two years later when he took home the same statue for his stellar work opposite Viggo Mortensen in "Green Book."
Ali's critical success paved the way for roles in commercial ventures, such as the animated masterpiece "Spider-Man: Into the Spider-Verse" and the 2019 sci-fi adventure "Alita: Battle Angel." He was also recently tapped by Marvel to portray Blade the vampire hunter in the MCU. While that role has only amounted to a brief voice cameo in "Eternals" thus far, we have no doubt Ali will bring the same perfect blend of charisma and cool we've seen him display throughout his previous ventures.
Speaking of which, with Ali's career on the rise, we thought it would be fun to look back and rank his short, but still impressive film portfolio. Without further ado, here's Mahershala Ali's seven best and seven worst movies, ranked from worst to best. 
Worst: Free State of Jones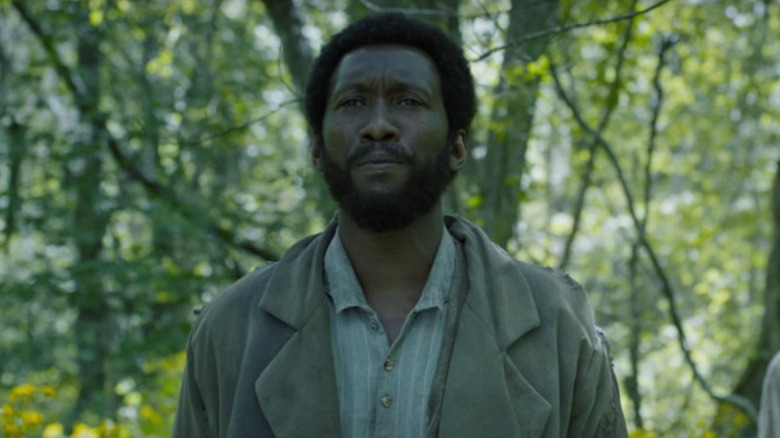 STX Entertainment
Gary Ross directed this true story of Mississippi farmer Newt Knight who, in 1863 America during the closing chapters of the Civil War, severed his allegiance with the Confederate army in order to aid an unlikely group of deserters and runaway slaves in their efforts to protect their homes from Southern soldiers. 
A notable bomb in 2016 — "Jones" cost $50 million to produce and only managed $25 million worldwide — Ross' film came under fire from a number of critics for wallowing in the much-derided "white savior trope." The New York Times' Charles M. Blow even compared "Jones" unfavorably to the likes of Robin Hood and Tarzan, describing the Knight character as "a white man who, dropped into a jungle, masters it better than the natives."
Others, such as Slate's Rebecca Onion, countered such criticisms and explained the importance of viewing Southerners in a more nuanced perspective. She cited historian (and "Jones" consultant) Vanessa Holden, who said, "This movie elevates Southerners to a point of real thoughtfulness, of real reaction, taking an independent stand, looking at a situation beyond just a knee-jerk reaction to a call to arms." 
We'll let you decide, but "Free State of Jones" is certainly a picture worth exploring — particularly for Mahershala Ali's sturdy supporting performance as Moses Washington, who aids Knight in his endeavors.
Best: Green Book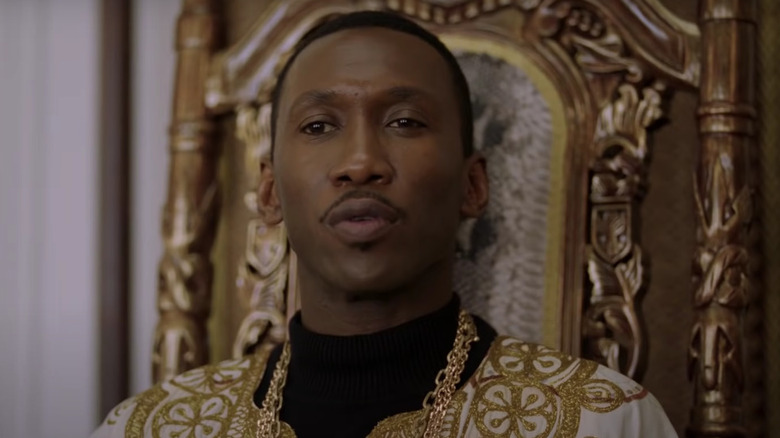 Universal Pictures
"Green Book" certainly applies a thick coat of warm-heartedness to its delicate subject matter — an approach that earned a few scathing reviews from critics — but that doesn't make it a bad movie. Thanks to winning performances by Mahershala Ali (who walked away with an Oscar, his second) and Viggo Mortensen, and a breezy tone that delivers heart and laughs in equal doses, this 2018 comedy-drama from director Peter Farrelly (of "Dumb and Dumber" fame) makes for a moving, even poignant night at the movies. 
In 1962 America, an African-American pianist seeks the help of a tough-talking bouncer from the Bronx to serve as chauffeur on his tour through the Midwest and deep South. Predictably, the men struggle to see eye to eye early on, but eventually learn more about the other and develop a powerful friendship steeped in respect and love. 
Based on the real-life account of pianist Don Shirley and Frank "Tony Lip" Vallelonga, "Green Book" was a smash with audiences who awarded the production an A+ CinemaScore upon its release, and ultimately shelled out $319 million in ticket sales at the worldwide box office.
Controversy surrounding its authenticity followed "Green Book" throughout its theatrical run, but those involved, including Ali, have defended the film and believe it honors the source material. "The disease of racism and bigotry and discrimination — there are a myriad of ways to tackle that," Ali told Telegram and Gazette. "And you need all of them."
Worst: Predators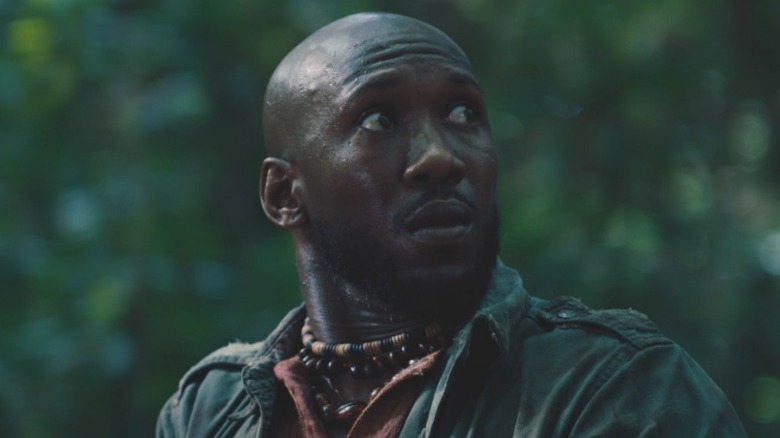 20th Century Fox
"Predators" actually serves as a solid sequel to John McTiernan's 1987 classic, "Predator," even if the script mostly sticks to formula. There's plenty of action, winning performances, and ingenious deaths to keep horror hounds invested. The various callbacks to the original, the least of which is composer John Debney's faithful recreation of Alan Silvestri's iconic score, will satisfy diehard fans of the series. 
Unfortunately, a goofy and predictable finale all but undoes the good will established in the first hour or so, leaving "Predators" as a middle-of-the-pack entry in a franchise full of lackluster sequels.
Starring Adrien Brody, Alice Braga, Topher Grace and Laurence Fishburne, the Robert Rodriguez-produced 2010 film is notable for being one of Mahershala Ali's early roles. The actor's part as RUF death squad officer Mombasa is quite brief, but Ali does what he can with the time given and ultimately enjoys one of the film's best death sequences.
Best: The Hunger Games: Mockingjay - Part 2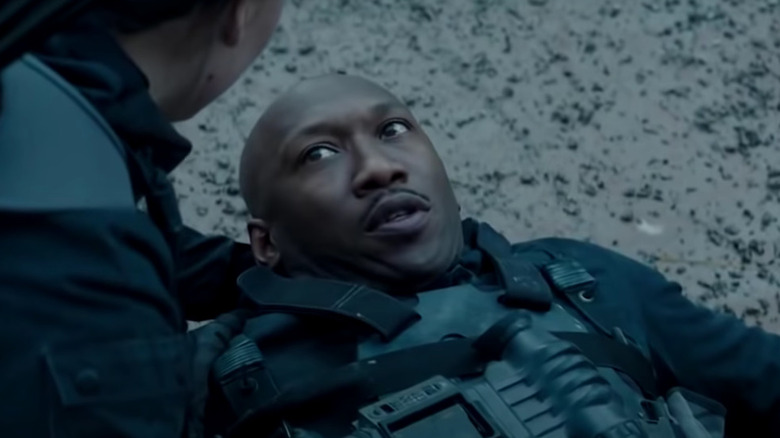 Lionsgate
Where "The Hunger Games: Mockingjay — Part 1" felt like an incomplete movie — a cynical cash grab, as it were — that mostly set the table for the big finale. 2015's "The Hunger Games: Mockingjay — Part 2" wraps up the dark young adult dystopian drama in a satisfying, albeit unexpected manner. Returning stars Jennifer Lawrence, Josh Hutcherson and Liam Hemsworth slide back into their roles with relative ease, but its the wonderful all-star supporting cast, consisting of Woody Harrelson, Elizabeth Banks, Philip Seymour Hoffman (in his final performance), Julianne Moore, Stanley Tucci, Mahershala Ali, and Donald Sutherland, that leaves the biggest impression.
Ali, in particular, stands out as Boggs, President Coin's second-in-command and assigned protector of Katniss Everdeen. While his screen time is relatively brief, the actor manages to create a sympathetic character who ultimately dies for a cause he believes is just. When coupled with Francis Lawrence's strong direction, these small details are enough to raise "Mockingjay — Part 2" beyond the atypical young adult fare, and render this Suzanne Collins adaptation as an engrossing piece of pop culture entertainment.
Worst: Roxanne Roxanne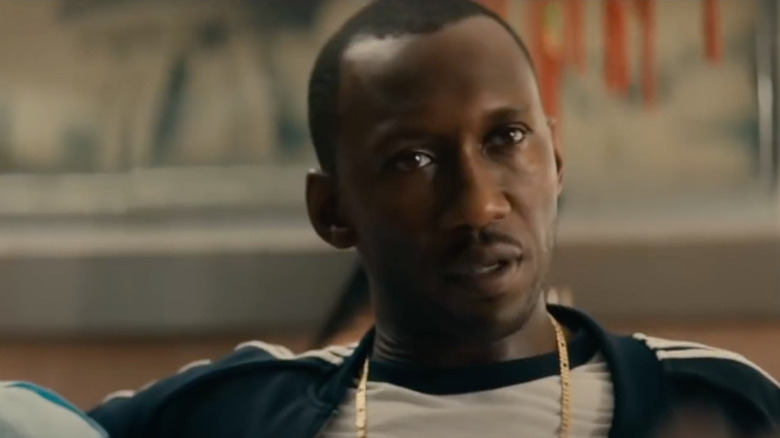 Netflix
Writer-director Michael Larnell's dramatic biography of true-life rapper Roxanne Shanté, "Roxanne Roxanne," features a strong cast led by Chanté Adams, Mahershala Ali, Nia Long and Elvis Nolasco, plus solid musical beats, but never successfully pulls all of its scattered ingredients together to form a satisfying whole. 
Released in January 2017, the film, executive produced by Shanté, Pharrell Williams and Forest Whitaker, revolves around Lolita Shanté Gooden, a young girl who rose through the ranks of the 1980s hip hop scene to become one of the genre's first stars at the age of 14. There are musical acts aplenty, but we tend to side with critic Robert Daniels, who noted in his review on 812FilmReviews, "When the film is at its best, it's a mold-breaking biopic for its subject. At its worst, it's as unfocused as the teenage mind it inhabits."
Unsurprisingly, Daniels acknowledged Ali's strong performance as one of the movie's ultimate strengths and felt that the actor's "entrance on screen breathes life into a drab stop-and-go film."  
Best: Hidden Figures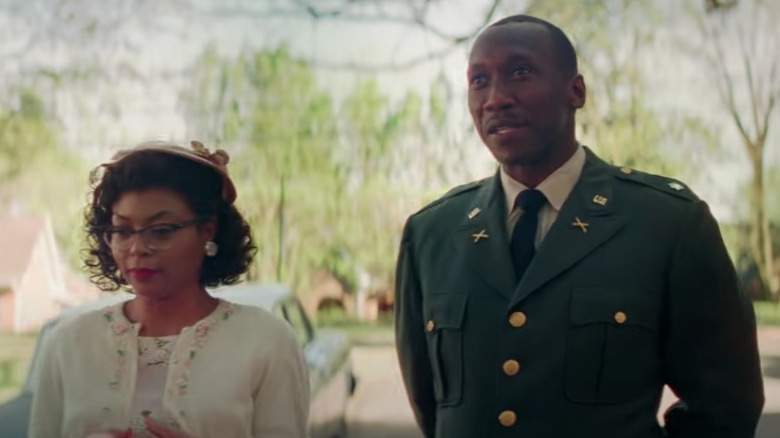 20th Century Fox
In the same year as his Academy Award-winning performance in "Moonlight," Mahershala Ali appeared in the box office hit "Hidden Figures," alongside his "The Curious Case of Benjamin Button" co-star Taraji P. Henson. The 2016 film chronicles the real-life exploits of Katherine Johnson (Henson), Dorothy Vaughan (Octavia Spencer) and Mary Jackson (Janelle Monáe), three African American women who served at NASA in its early inception and used their math expertise to aid in the space race. 
Co-starring Kevin Costner, Kirsten Dunst, Jim Parsons and Glen Powell, "Hidden Figures" raked in $230 million worldwide during its theatrical run and earned three Academy Award nominations, for Best Picture, Best Supporting Actress (Spencer) and Best Adapted Screenplay. Critics and audiences praised the film, with Time magazine's Stephanie Zacharek praising the cast's performances and writing, "'Hidden Figures' [is] both a dazzling piece of entertainment and a window into history [that] bucks the trend of the boring-math-guy movie."
Ali stands out in a supporting role as Lt. Col. Jim Johnson, who at first opposes the hiring of three women at NASA, but eventually comes to value their strengths and even ends up marrying Katherine late in the film. 
Worst: The Wronged Man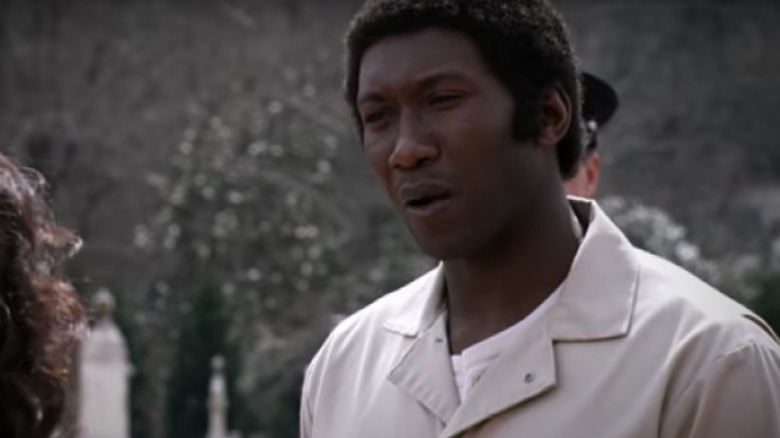 Lifetime Movie Network
It's probably not fair to call "The Wronged Man" a bad film, as the 2010 made-for-TV production earned mostly good reviews from critics and audiences alike. Jackie K. Cooper praised the Tom McLoughlin drama as "one of the best original movies the Lifetime Movie Network (LMN) has ever featured," in his review published on The Huffington Post, and felt its story would "impress and touch audiences around the country." Variety singled out the outstanding performances from Mahershala Ali and Julia Ormond, along with the script by writer Teena Booth, as reason enough to tune in.
Unfortunately, Mahershala Ali has only appeared in 15 films, and while none of them are really bad, some are simply not up to par with the best of the bunch. So while "The Wronged Man" falls in our "worst" pile, we still wholeheartedly recommend taking a gander at this story about a lawyer (Ormond) who goes to bat for a client (Ali) serving a life sentence for a crime he may not have actually committed. 
Best: Alita: Battle Angel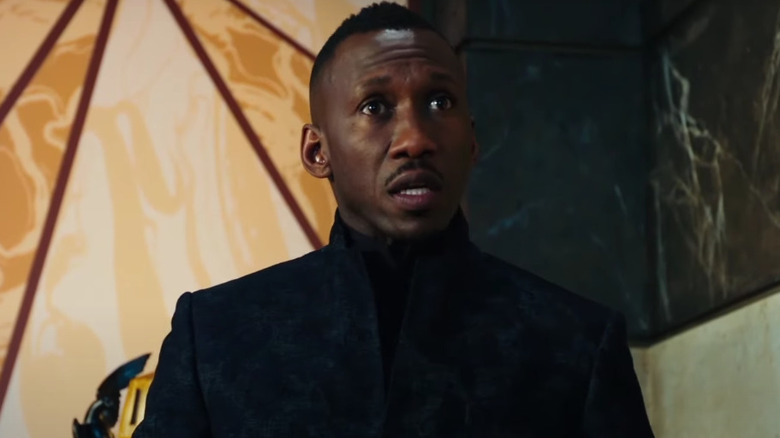 20th Century Fox
Following his Oscar-winning role in "Moonlight," Mahershala Ali had his choice of projects to pick from. The actor spun his newfound fame into roles in "Green Book" and "Spider-Man: Into the Spider-Verse," then leapt on the Robert Rodriguez-James Cameron production "Alita: Battle Angel." In this 2019 sci-fi thriller, he enjoyed a juicy part as the villainous (albeit complicated) Vector, a character whose criminal operations within Iron City pose a threat to our titular hero.
Ali's performance is solid and he makes for a formidable bad guy, even if his snarling entrepreneur mostly conducts his business far away from the action. His abrupt transformations into Nova, an even more dastardly villain capable of controlling the minds of others, including Vector, are quite effective if not downright scary.
The film itself doesn't quite reach the heights it aspires to, but still offers enough visceral action, nifty special effects and a rockin' Junkie XL score to warrant a watch or two. It helps to also have a strong cast that includes Rosa Salazar, Christoph Waltz, Jennifer Connelly and Edward Norton (in a surprise cameo).
However, the biggest issue is that Alita's story is incomplete. Rumors abound that a sequel may come at some point in the future. Considering the first film's meager box office revenue — at least, compared to its astronomical production cost — no one seems eager for follow-ups, which is a shame as this is a world we would love to revisit in the years ahead.
Worst: The Place Beyond the Pines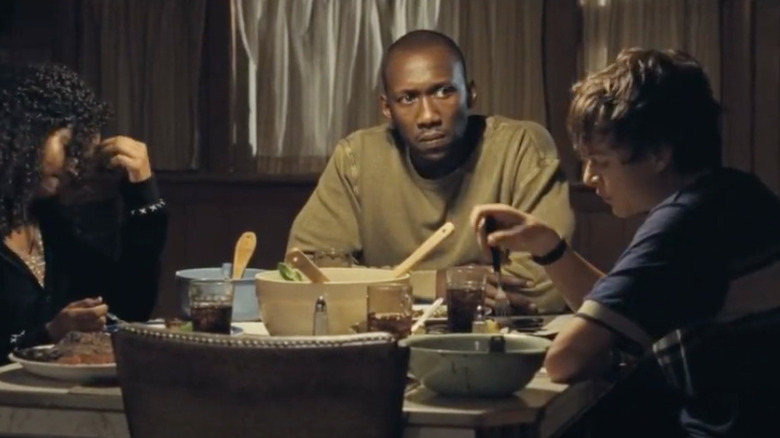 Focus Features
"The Place Beyond the Pines" is one of those films that feels like it could have been a classic, but unfortunately only taps the surface of its vast potential. Starring Ryan Gosling, Bradley Cooper, Eva Mendes, Rose Byrne, Ben Mendelsohn and Mahershala Ali, "Pines" tells three separate but interlocking stories revolving around fathers and the effect their choices have on their sons. It's a fascinating exercise sprawled across multiple time periods, none of which merge in a satisfying manner. 
Director Derek Cianfrance occasionally delivers spectacle — notably a few exciting motorcycle sequences early on —  but directs the 2012 picture with a heavy hand, making the hefty 140-minute production more of a chore than a revelation.
Still, Cianfrance at least has the guts to kill off a notable main character early on, which is something you don't see all that often, and the talented director does get the most from his exceptional cast. 
Unfortunately, as the story plods along, it becomes more difficult to care about the increasingly mundane plots, the characters' intersecting lives, and the overall significance of the story. As noted by David Denby in The New Yorker, "['Pines'] holds your attention from moment to moment, [but] by the end leaves you grasping for the experience you haven't had."
Best: Kicks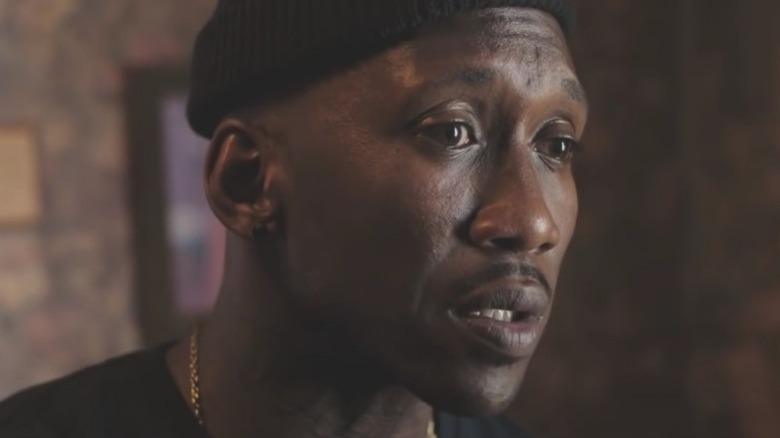 Focus World
"Kicks" is another good movie on Mahershala Ali's resume that deserves more attention than it receives. The 2016 film, directed by Justin Tipping, details the struggle of a young man named Brandon (Jahking Guillory), who dreams of owning a pair of Air Jordan sneakers in the hopes that they will advance his poor reputation. By happenstance, Brandon manages to secure both exclusive shoes at a discount price and a date with a girl, much to the envy of his close friends Albert (Christopher Jordan Wallace) and Rico (Christopher Meyer). He also incurs the wrath of a local gangster named Flaco (Kofi Siriboe). As situations intensify, so does the violence, leading Brandon to seek the council of his ex-con Uncle Marlon (Ali) while taking matters into his own hands.
Solid performances abound, particularly by Ali. While Tipping occasionally leans a little too heavy on the obvious — a subplot involving a gun, for example, goes where you expect it to go — "Kicks" still offers a very insightful look at the very difficult circumstances that surround the young men and women who grow up poverty-stricken in the United States.
Worst: Swan Song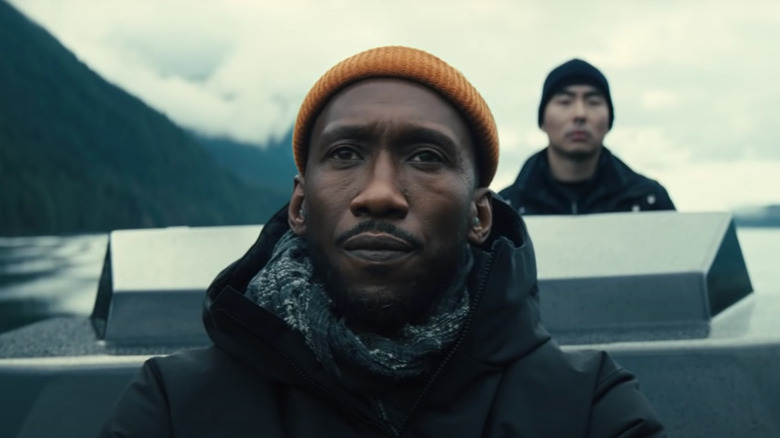 Apple TV+
Sometimes an actor is so good they can take a substandard script to dazzling heights. So it is with "Swan Song," in which Mahershala Ali plays Cameron Turner, a devoted husband and father who discovers he has a terminal illness and contemplates the use of a clone to aid his family once he passes on. It's a clever concept, but director Benjamin Cleary largely glosses over the edgier themes of life and death in favor of simplistic, melancholy character interactions. The film builds to an emotional climax that doesn't punch as hard as it should and leaves viewers wanting.
Through it all, Ali carries the 2021 film in a dual role that cleverly allows him to interact with himself. The actor's commanding presence makes the one-note drama — itself marred by a low-budget, cheesy production design — feel more powerful and consequential than it really is. His performance is more than reason enough to take a look at this otherwise depressing bit of sci-fi. 
Best: Spider-Man: Into the Spider-Verse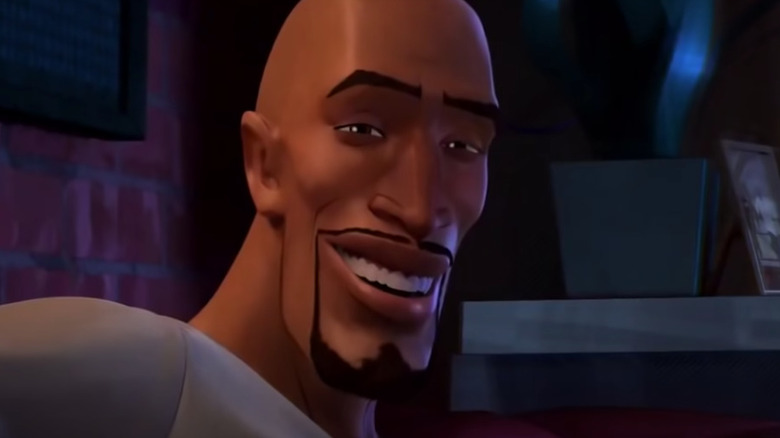 Sony Pictures
"Spider-Man: Into the Spider-Verse" is easily one of the most satisfying comic book movies ever released. Taking cues from past Spidey films while charting its own course and offering up some clever meta commentary, directors Bob Persichetti, Peter Ramsey, and Rodney Rothman craft a fun, colorful, energetic animated action-adventure without skimping on heart or drama.
Trying to find a new way to, ah, spin an all-new origin story for a familiar character — in this case, Miles Morales — was always going to be challenging, and it's amazing how fresh "Into the Spider-Verse" feels despite treading some very familiar ground. The film flows seamlessly from one scene to the next, aided by stunning animation, stellar set pieces and a strong voice cast that includes Shameik Moore, Jake Johnson, Hailee Steinfeld, Mahershala Ali, and Nicolas Cage.
Ali, in particular, adds gravitas to his Uncle Aaron role, painting the man as a tragically flawed figure who can't seem to shake the demons of his past. His arc forms the backbone of the story and offers the type of emotional payoff that comic book films often strive for but rarely successfully achieve.
It's weird to think that, after eight live-action Spidey flicks (not including the character's appearance in other notable MCU entries), this animated adventure ultimately stands as the best of the bunch.
Worst: The Curious Case of Benjamin Button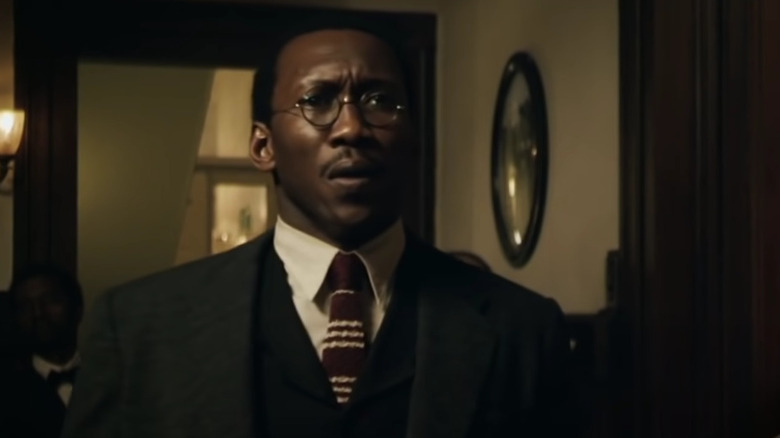 Paramount/Warner Bros.
From a technical standpoint, 2008's "The Curious Case of Benjamin Button" is one of the more impressive pictures delivered by Hollywood over the last two decades. The de-aging and aging effects applied to stars Brad Pitt and Cate Blanchett are absolutely convincing, trumping most modern films by comparison, while the robust set design transports viewers through various eras with conviction. The performances are solid, as is David Fincher's direction and Claudio Miranda's dark cinematography. By all accounts, "Benjamin Button" delivers.
The biggest gripe with "Button" is that, while pretty to look at, Fincher too often keeps his audiences at arm's length, refusing to succumb to the sappy love story that frames the overall narrative. As Roger Ebert explained in his review: "The movie's premise devalues any relationship, makes futile any friendship or romance, and spits, not into the face of destiny, but backward into the maw of time."
As for Mahershala Ali, the actor has a supporting role as Tizzy, the love interest of Queenie (Taraji P. Henson). This was Ali's first major acting gig, but he was keen to nix an explicit sex scene that would have gone against his religion. You can check out the interview here, but long story short: Fincher listened to his young star and filmed the scene in a tasteful manner.
Best: Moonlight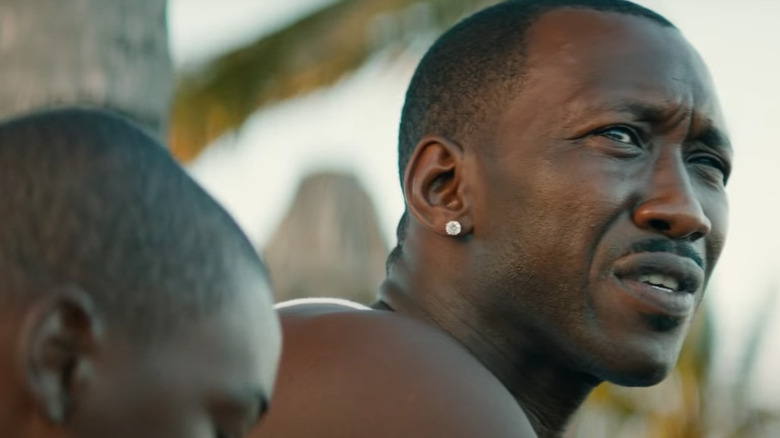 A24
A majority of Mahershala Ali's early roles were mostly oversized cameos that the actor expertly managed to turn into memorable performances. Barry Jenkins' Academy Award-winning "Moonlight" follows suite, as once again Ali turns 20 minutes of screen time into one of the most fascinating aspects of this wonderful 2016 coming-of-age drama.
"Moonlight" follows "Little" Chiron (played at different ages by Alex Hibbert, Ashton Sanders and Trevante Rhodes), a young kid growing up in the streets of Liberty City, Miami with his abusive, drug-addicted mother, Paula (Naomie Harris). Broken up into three distinct chapters set in different stages of Chiron's life, the film explores everything from the young man's relationship with his drug dealer friend and surrogate father, Juan (Ali), to the intimacy explored with another young man named Kevin (Jaden Piner, Jharrel Jerome and André Holland). It's an astonishing motion picture that was hailed by critics upon its release and went on to earn $64 million at the worldwide box office.
As Brian Tallerico wrote in his review on RogerEbert.com, "Every performance, every shot choice, every piece of music, every lived-in setting — it's one of those rare movies that just doesn't take a wrong step."