We Now Know Where Miles Morales Has Been Between The Spider-Verse Movies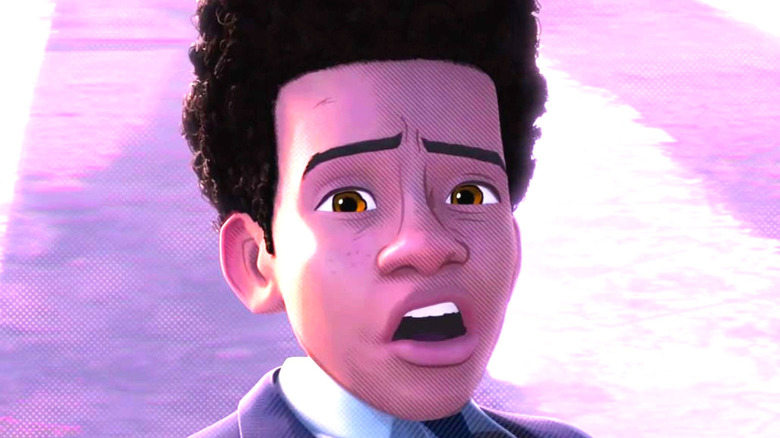 Sony Pictures Releasing/Marvel
Upon first glance at the teaser for "Spider-Man: Across the Spider-Verse (Part One)," the preview suggests that we're catching up with wall-crawler Miles Morales (Shameik Moore) shortly after where the first film left off. Lying in his room listening to Post Malone's "Sunflower," as per the closing moments of "Spider-Man: Into the Spider-Verse," Miles is greeted by Gwen Stacy (Hailee Steinfeld) before he's pulled into the Multiverse for all-out chaos.
Setting off on a new adventure straight after an old one isn't necessarily new territory for hero stories. Even Tom Holland's upcoming threequel, "Spider-Man: No Way Home," is set to kick off right after its predecessor (via SlashFilm). Thankfully though, creative dynamos Chis Miller and Phil Lord have provided some clarification on just where we can expect to be reunited with Brooklyn's finest web-slinger before we're thrown "Across the Spider-Verse." While the musical cue suggests we're picking up with Miles right where we left him in 2018, the truth is, it has been a while, and our hero may just really like that song.
Miles tries to step into some very big shoes in Across the Spider-Verse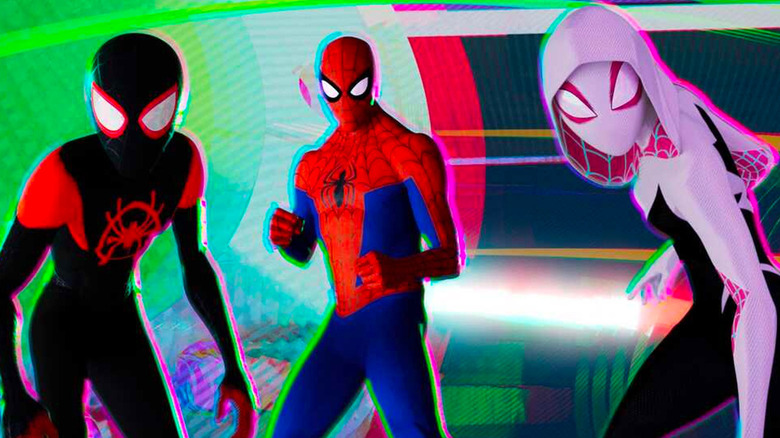 Sony Pictures Releasing/Marvel
Speaking to Entertainment Weekly for a Twitter Q&A following the release of the latest teaser, writers Chris Miller and Phil Lord discussed where Miles is in his superhero career, and most importantly, how he's trying to balance everything with his life as a high school kid.
"He's been trying to step into big shoes," the writers said. "[He's] realizing it's not so easy to juggle family and growing as a spider-person, and that it's lonely hiding the truth about yourself from the people you love." Those shoes have been worn by a few legendary heroes, of course. Besides his dimension's Peter A. Parker (Chris Pine), who died in the last film, there was Jake Johnson's Peter B. Parker, who taught him all about leaps of faith, as well as always watching the hands.
It's a routine conflict many heroes have come across over the years: the great responsibility that comes with the great power. We can see how he handles things when he's thrown out of Brooklyn and back into a world of alternate dimension Spideys — including Oscar Isaac's Spider-Man 2099 and Issa Rae's Spider-Woman — when "Spider-Man: Across the Spider-Verse (Part One)" arrives in cinemas on October 7, 2022.