Jeff Ames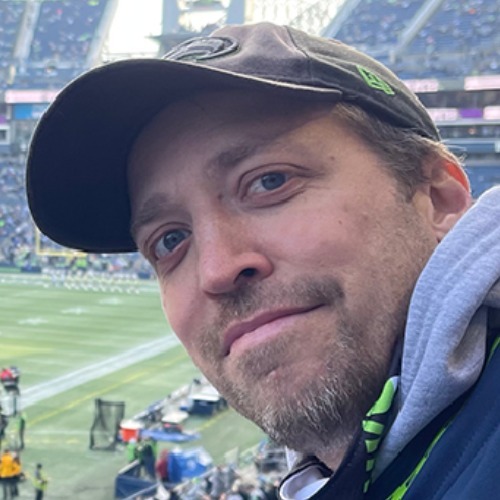 School
Yuba College
Dixie State University
Benedictine University Mesa
Expertise
James Cameron Films, Classic Films, Film Scores
Jeff has a love of all things motion picture scores and has nearly 500 movie soundtracks hanging on the wall of his home office. He's particularly fond of the works of James Horner ever since first hearing his work on James Cameron's "Aliens." Jeff's favorite soundtrack of all time is Horner's "Glory," which he often uses for inspiration when he's writing or drawing.

While working as a freelancer, Jeff has had the opportunity to interview several actors and creative artists over the years. Notably, he spoke with Zack Snyder and Matthias Schweighöfer about "Army of Thieves," discussed "Braveheart" with screenwriter Randall Wallace, and held an extensive interview with composer John Debney, among many others.

Over the years, Jeff has also collected a wide range of screenplays, including those written by John Patrick Shanley ("Moonstruck," "Joe Versus the Volcano," "Doubt"), Frank Darabont ("The Shawshank Redemption"), Billy Wilder ("The Apartment"), and James L. Brooks ("As Good As It Gets").
Experience
Jeff's love of motion pictures began when he viewed Steven Spielberg's "Jaws" for the first time. While he had no aspirations to be a writer early in life, he gravitated towards film criticism during college and eventually made his way onto the freelance cycle. Following his graduation from Dixie State University (now Utah Tech University), Jeff worked as a full time sports writer and then moved towards graphic design and marketing. However, he kept one foot firmly planted in the entertainment world with various side gigs that allowed him to share his opinions on film and TV. Now, he works as a full time marketing coordinator/graphic designer in Arizona, where he lives with his wife and two daughters, and spends his days cheering on the Seattle Seahawks and (bizarrely) Utah Jazz. He continues to write about films /Film and other media outlets, and has recently began diving into the early days of motion pictures in the hopes of expanding his knowledge of the film industry.
Education
After graduating from Wheatland High School in California, Jeff attended Yuba College for a spell, then made his way to Dixie State University where he acquired a BS in English Literature in 2010. Later, he achieved an MBA from Benedictine University Mesa.
Looper Editorial Policies
Looper's content is a collaboration between a core group of experienced entertainment editors and a vast team of writers, graphic designers, interviewers, and experts in all things entertainment and pop culture. Our goal is to provide up-to-the-minute breaking news coverage as well as original and engaging opinion and editorial content that serves fans of movies, television, and genre media in general.
Our team of editors and advisors constantly updates and reviews articles to ensure they're current, comprehensive, and informative. Additional information on our editorial process available here.