Mahershala Ali Agreed To The Curious Case Of Benjamin Button Under One Condition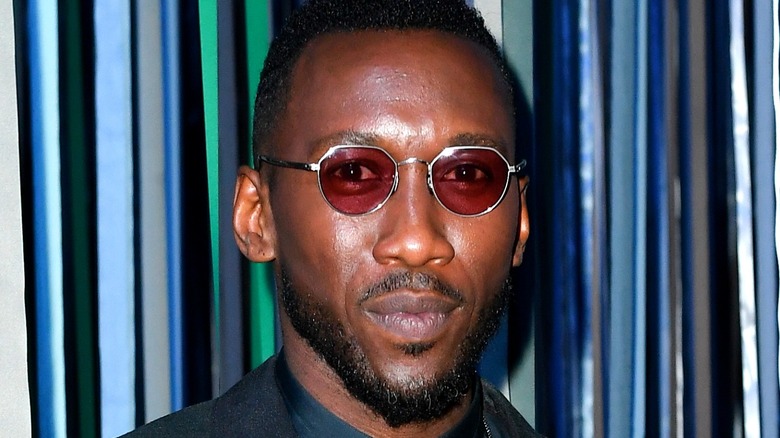 Jacopo Raule/Getty
Mahershala Ali is one of the most respected actors of this generation. He's a two-time Academy Award winner for his work in "Moonlight" and "Green Book," and he has a slew of other venerable projects to his name, including "Hidden Figures," "Alita: Battle Angel," and his most recent work, "Swan Song," which is once again giving him plenty of awards season talk. Plus, after playing Cottonmouth in Netflix's "Luke Cage," he'll return to the Marvel Cinematic Universe with the titular role in "Blade." It's a good time to be Ali.
As such, it's appropriate the actor had time to sit down with GQ to look back on all he had accomplished with his career so far. While he's had plenty of excellent roles to play, it's crazy to think of where his career would've landed if he didn't get the part of Tizzy Weathers in "The Curious Case of Benjamin Button." Back in 2008, it was his highest-profile role to date, but he was willing to turn it down if one specific condition wasn't met.
Mahershala Ali made a pact with himself not to do simulated sex scenes
After a series of television roles, Ali finally showed what he was capable of as an actor in "The Curious Case of Benjamin Button." It led to the actor we all know today, but one part in the script almost made Ali turn it down. For his GQ interview, he mentioned how "There was sort of a pact I made to not do simulated sex scenes. Like, I always wanted to get to a point, like listen, I wanted to be successful enough where people still wanted to work with me even if I had to have a double. Or good enough to where they would be like, okay we can kind of edit that out."
For Ali, it all came down to his personal boundaries and what he was comfortable doing. And ultimately, those with the power to do so must've felt that a sex scene in "The Curious Case of Benjamin Button" was superfluous. The actor goes on to say, "It was just unclear to me what they were doing with that scene. And so I just had to communicate, like, listen, I really want to do this job. I'll take it. But, on one condition, that if this is a sex scene, this isn't something that I'm comfortable doing. It just has to do with you being able to live with yourself, and everybody's got their boundaries, whatever they are."
Ali sticking to his guns certainly paid off. He has his pick of projects these days, and heaven knows how many more awards are in his future.