Marvel Superheroes Who Could Join The MCU's All-Female Avengers Team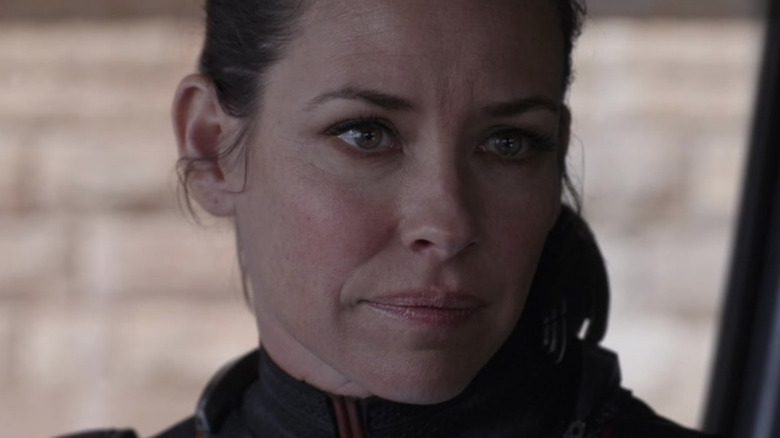 Marvel Studios
"The Avengers" is more than just the biggest blockbuster superhero franchise on screen — it's also one of comics' most enduring team titles, beginning life in 1963. But its original roster of Iron Man, Thor, Ant-Man, the Wasp, and the Hulk featured just one woman, and over the years it has largely been a boy's club of Earth's Mightiest Male Heroes.
But in 2015, Marvel launched a new Avengers comic book titled "A-Force," a team of women heroes, in a multiverse world where society's power dynamic is reversed. Following a crowd-pleasing moment in "Avengers: Endgame" that paid homage to "A-Force," many have wondered if such a team could assemble in the MCU.
While the comic is technically a multiverse adventure of variants, we've assembled a list of known female heroes in the MCU who could team up for an on-screen A-Force. From longtime Avengers allies to solo adventurers and new names, this is a list of superheroes we'd like to see join a group of all-female Avengers.
Captain Marvel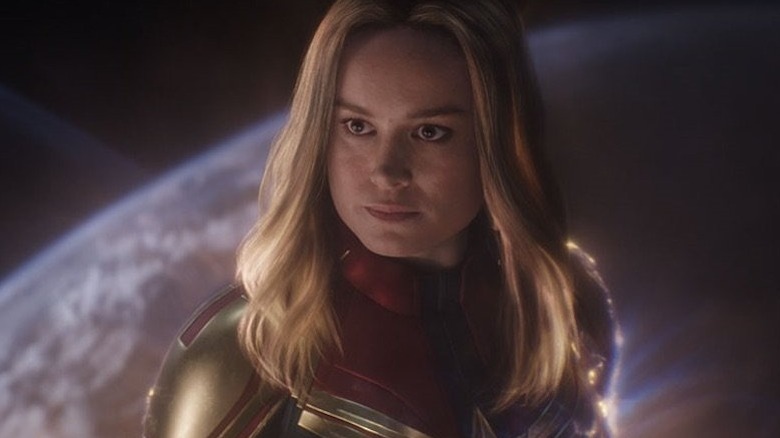 Marvel Studios
The obvious first pick for the team of all-female Avengers, Carol Danvers aka Captain Marvel (Brie Larson) is one of the most experienced combat experts on our list, and the longest-tenured superpowered human hero (so far). A trained military pilot and field commander, her expertise goes beyond her time in the U.S. military, but also her decades of experience as a Kree soldier under the command of Yon-Rogg (Jude Law), while the true nature of her Earthly origins was hidden from her.
But in addition to her veteran status, Danvers might also be the most powerful member of a potential female group of Avengers. She's taken on incredible interstellar villains like the Kree, the Skrulls, and Thanos (Josh Brolin) himself, even facing down against the Mad Titan in "Avengers: Endgame." We'll see her as a team leader of sorts too in the upcoming sequel, "The Marvels," where she's expected to lead Monica Rambeau (Teyonah Parris) and the new young hero Kamala Khan (Iman Vellani) into battle against an as-yet-unidentified villain played by Zawe Ashton.
Following that cosmic team-up, a move to lead a team of Avengers seems like a logical next step. But like original Avenger Thor (Chris Hemsworth), Danvers might work best as a part-timer, while giving another hero the right to lead, as she'll no doubt be splitting time between Earthly exploits and intergalactic adventuring.
The Wasp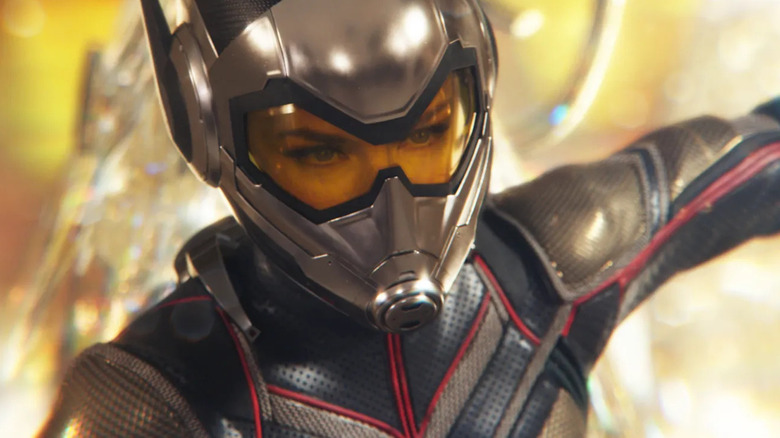 Marvel Studios
The only original member of the Avengers from the comics' first lineup in the 1960s who has yet to be an official member of the team, the Wasp's time may finally be here. Now that she's fought alongside the Avengers in "Endgame," she may very well join the superteam in its just-announced sequels, "Avengers: The Kang Dynasty" and "Avengers: Secret Wars." But if there's going to be an MCU version of A-Force, the team won't be complete without the Winsome Wasp, and we suggest that she should be their Nick Fury; the one who brings the team together.
Though it was Janet Van Dyne (Michelle Pfeiffer) who was the Wasp in the comics, it's Janet's daughter Hope (Evangeline Lilly) who has the role in the MCU. The only shame is that she is so much than just a sidekick, yet so far has only been featured as a partner to Scott Lang's Ant-Man (Paul Rudd), even if she does get title credit in "Ant-Man and the Wasp" and its upcoming sequel, "Quantumania." That's why we think it's time for Hope to spread her wings and leave Lang's lofty side and forge her own path as the founder of a female Avengers team, and maybe even its leader if Captain Marvel is off adventuring in space.
With the last original Avenger forced to wait nearly a decade for her debut, there's no better way to pay homage to her legacy than have it be the Wasp be the one to bring A-Force to life.
She-Hulk
One of the most recent additions to the MCU thanks to her very own Disney+ series, She-Hulk is Jennifer Walters (Tatiana Maslany), the superstrong cousin to Bruce Banner (Mark Ruffalo), the Hulk, an original member of the first Avengers team. In the comics, She-Hulk's Avengers status goes back decades, joining the team officially in issue #221 in 1982, and in 2015, it was Walters who led the all-woman A-Force in their comic book debut. While things will no doubt play out differently in the MCU, and we don't know where her own show's first season might end, seeing her join a fledgling superteam would make sense.
If there's anything that stands in the way of Jennifer joining this potential Avengers offshoot though, it might be her career. An attorney by day, there are few more qualified to help defend superpowered individuals than Walters, and her series will see her struggle to manage both her professional life in law and her superheroing. But if an all-female Avengers needs a powerhouse, someone who can go up against the biggest, toughest foes pound-for-pound, they need look no further than She-Hulk.
Scarlet Scarab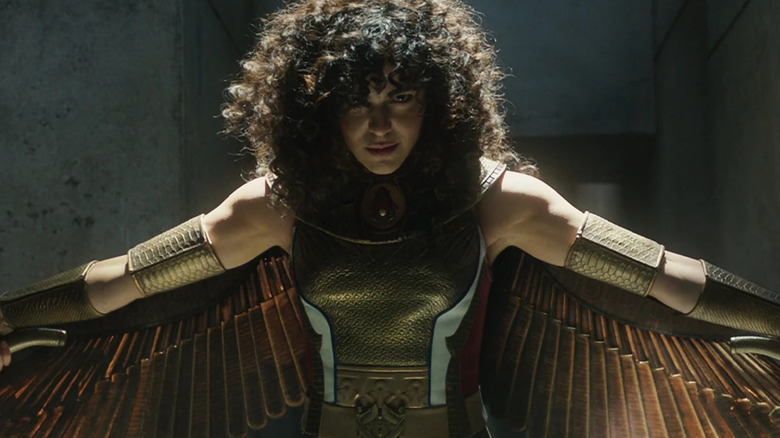 Disney+
Debuting in the highly anticipated "Moon Knight" series on Disney+ led by Oscar Isaac, Layla El-Faouly (May Calamawy) proved a scene-stealer. Former lover of Moon Knight personality and mercenary Marc Spector (Isaac), she was inadvertently dragged into the conflict between cult leader Arthur Harrow (Ethan Hawke) and his ally — the Egyptian god Ammit (Sofia Danu and Saba Mubarak) — and Moon Knight and the enigmatic Konshu (Karim El Hakim and F. Murray Abraham). Desperate to stop Harrow and Ammit, another god, Tawaret (Antonia Salib), bestows extraordinary powers to Layla, turning her into her human avatar, dubbed the Scarlet Scarab.
In the final episode of that series, it's implied that Layla would only serve temporarily as a human warrior avatar to the Egyptian god, but her fate as the Scarlet Scarab is never resolved. While it's possible she retired the role, it's just as likely she retained her abilities and continued fighting evil. With no word on a second season for "Moon Knight," we'd be disappointed if we didn't get to see Layla suited up as the Scarlet Scarab again, this time as a bigger hero. Putting her next to such heavyweights as Captain Marvel, She-Hulk, and the Wasp would help show just how powerful she is and show that one doesn't need to be the biggest name or the most cosmic do-gooder to fight as one of Earth's Mightiest Female Heroes.
Lady Loki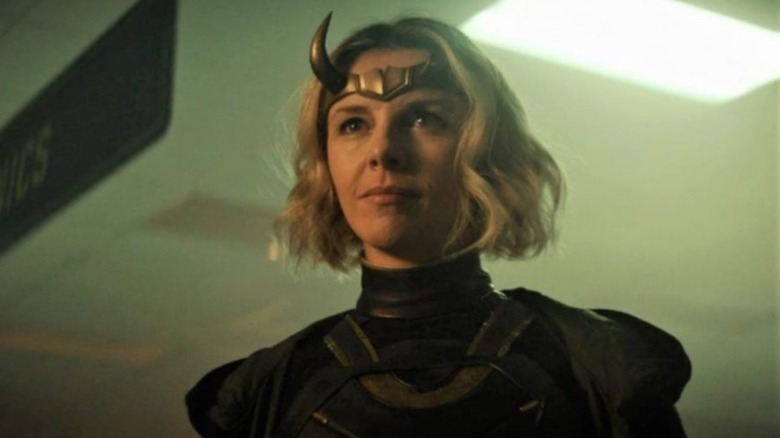 Disney+
One of the most controversial members of the team because she's traditionally a villain, Lady Loki in the comics isn't a unique, fresh female character. In the classic 616 universe on the page, she is the original Loki, shape-shifted into a womanly form, illustrating that gender is but a fleeting concept to an Asgardian. In the MCU, in the Disney+ series "Loki," we also met a multiverse variant of the God of Mischief, a young woman named Sylvie (Sophia Di Martino), who teams up with another variant of Tom Hiddleston's Loki to escape the Time Variance Authority.
At the end of that series, the multiverse is cracked wide open, and there's no reason to think that Sylvie couldn't look to Earth's women heroes for help. But there's another option as well, given Loki's storyline from the comics, that could see Loki use his magic to change his form and join A-Force as a woman, the aptly named Lady Loki.
This potential new version of the character could be more than just an exciting addition to the team too. Casting a trans or non-binary actor such as Jesse James Keitel — of "Queer as Folk" and "Star Trek: Strange New Worlds" fame — in the role might help bring some much-needed representation to the team.
Pepper Potts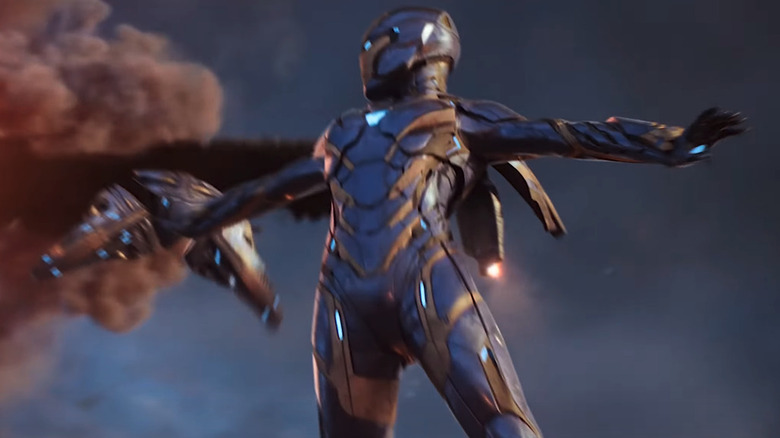 Marvel Studios
No female Avengers team needs to replicate its male counterparts, replacing heroes on a one-to-one basis. Still, any new team of women will need someone to bankroll their exploits, pay for their headquarters, and provide equipment and facilities to fight the biggest and baddest superheroes. In this case, a new Iron Man may be the best choice to join an all-female Avengers, and we're not talking about a young upstart like Ironheart (Dominique Thorne), but Pepper Potts (Gwyneth Paltrow) in her own powerful suit of armor.
After fighting alongside her partner Tony Stark (Robert Downey Jr.) in the Battle of Earth in "Avengers: Endgame," Potts proved she has what it takes to be a world-saving hero. And as the CEO of Stark Enterprises and the holder of Tony's assets following his death, there's nobody better than Potts to provide the payroll and the power of Iron Man on an A-Force team. Whether she goes by the name Rescue like in the comics, or some other moniker, Potts is arguably the odds-on favorite to suit up for a new team of women heroes, to carry forward Stark's legacy and ensure her own woman team has all the resources it needs to battle evil.
Yelena Belova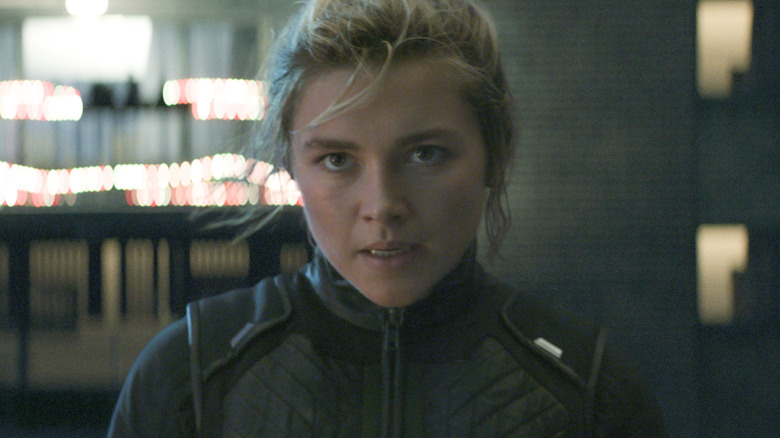 Disney+
First introduced in the long-awaited "Black Widow" solo movie finally released in 2021 after repeated delays, Yelena Belova (Florence Pugh) is the wayward adopted sister of original Avenger Natasha Romanoff (Scarlett Johansson). A deadly assassin with a serious chip on her shoulder, she popped up again in "Hawkeye," the Disney+ series centered on Clint Barton (Jeremy Renner), which saw her clash with the Avenging Archer, believing him responsible for Natasha's death. But by the end of the series, the two had found common ground, and while we hesitate to call Belova a hero just yet, she's well on her way to following in her sister's footsteps. If she does, a female Avengers group could be the perfect home for her.
Still, some have singled out Yelena for the roster of a different upcoming superteam, the Thunderbolts, a team of anti-heroes with dubious motives, who can count actual villains among their membership. Though Yelena being on the team of reformed villains could make sense, we'd much rather see her redeemed alongside major Marvel mainstays like Captain Marvel, Pepper Potts, and the Wasp, rather than a team of malcontents and former Avengers adversaries.
Though she may be one of the less-likely entries on this list, Belova belongs on a team of woman Avengers as much as anyone.
Valkyrie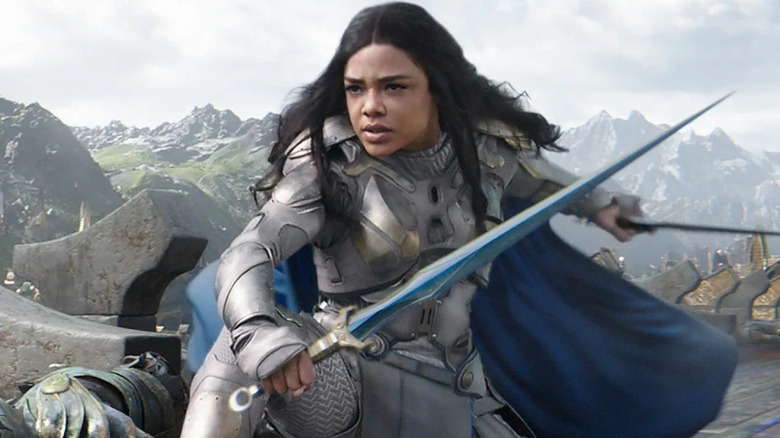 Marvel Studios
Debuting in "Thor: Ragnarok," the former Asgardian known as Valkyrie was already once a member of an all-woman warrior team. But after facing down Hela (Cate Blanchett), the Goddess of Death, Valkyrie remained the last of her sect, drifting through the cosmos until discovered on Sakaar by Thor. Now, she is King Valkyrie, leader of New Asgard, located in Norway. She recently joined forces with Thor again, alongside a Mjolnir-wielding Jane Foster (Natalie Portman), to stop the god-butchering villain Gorr (Christian Bale) in "Thor: Love and Thunder." 
A prime candidate for a female-focused Avengers team, Valkyrie might also be the most disciplined warrior on any roster of the potential lady legion. In addition to adding fierceness and nobility to the team, Valkyrie could help shape the likes of the Wasp, She-Hulk, and Scarlet Scarab into a highly trained and cohesive group of elite heroes. Battle-tested, her experience facing down all manner of cosmic monstrosities would be put to good use on an Avengers team too. But if you're worried she might not be willing to let Asgard go without its leader, don't fret: King Valkyrie already has a replacement waiting in the wings, with Lady Sif (Jaimie Alexander) now in New Asgard and no doubt ready to hold the throne in her absence.
Shuri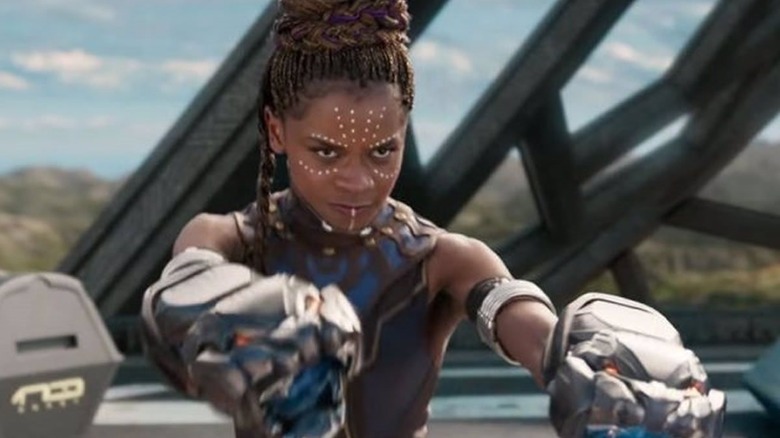 Marvel Studios
More than just the sister to the most recent man to inherit the mantle of the Black Panther, warrior protector of the African nation of Wakanda, Shuri (Letitia Wright) is a brilliant scientific mind. Behind much of the technology developed from the extraordinary vibranium mined in her homeland, Shuri is also a cunning warrior herself. In fact, with T'Challa (Chadwick Boseman) sadly gone and a new Black Panther needed to replace him, rumors have swirled that Shuri could be next in line to put on the claws. In the comics, the Black Panther is one of the longest-tenured Avengers outside of the original team, so if Shuri is indeed next in line, putting her on a team of female Avengers would be a no-brainer.
But even if it's instead T'Challa's lover Nakia (Lupita Nyong'o) or former rival warrior M'Baku (Winston Duke) who becomes the next Panther, we have Shuri fast-tracked for a spot on an all-female Avengers squad. Because if Pepper Potts is to replace Tony Stark as the financial backer of the team, someone's going to have to be there to offer the scientific genius side of the original Avengers founder, and that's where Shuri comes in. There's nobody else in the MCU, not even Bruce Banner, as technologically brilliant as her, plus she already has access to Wakanda's vibranium-powered tech. So if the female Avengers need a woman warrior and genius intellect, they'll get both in T'Challa's little sister Shuri.
Elektra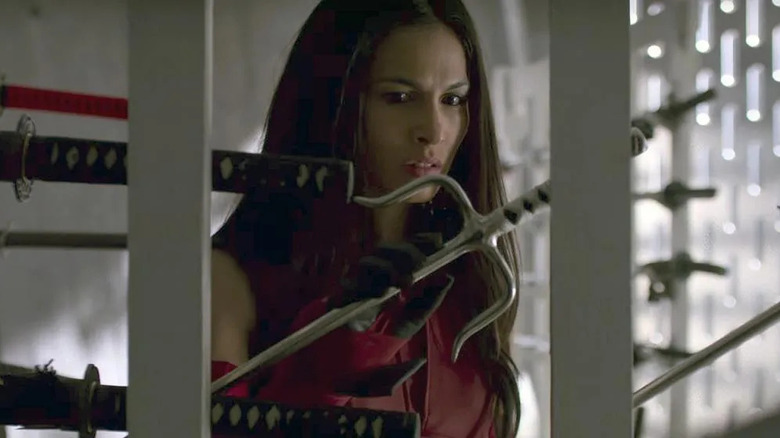 Netflix
A longshot pick for a female team of Avengers, the vigilante ninja Elektra (Élodie Yung) is already a part of the MCU, at least by a technicality. First appearing in the second season of the Netflix "Daredevil" series, Elektra returned in the team-up miniseries "The Defenders," and her fate was left undetermined after a building collapsed on both her and Matt Murdock (Charlie Cox). But Murdock survived, albeit in rough condition, so there's no reason to think Elektra couldn't be revived again. And with Marvel bringing the likes of Daredevil, the Kingpin (Vincent D'Onofrio), and others into the MCU from the Netflix series, it stands to reason the company could do the same with Elektra if it were to move forward with an A-Force project.
But why Elektra? Well, in the comics, the ninja assassin was a big part of the A-Force team, fighting alongside the likes of She-Hulk, Captain Marvel, and Rescue. A bigger hero on the page than she has been on screen, Elektra in an A-Force movie would finally be allowed to shine out of the shadow of Daredevil, where she could finally see action as her own hero on an all-woman Avengers team.
Jessica Jones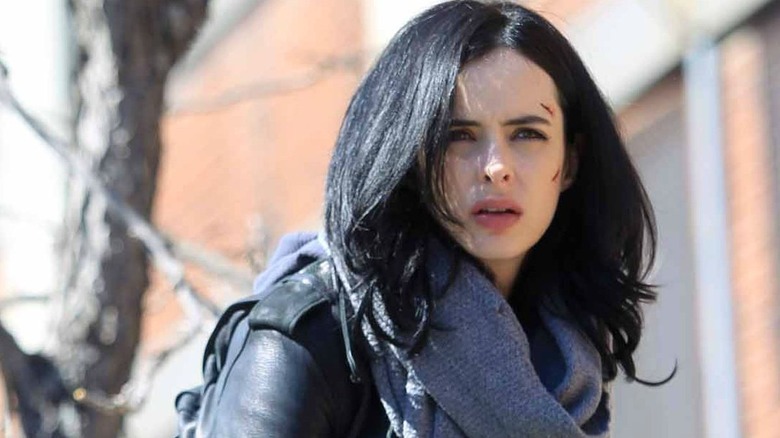 Netflix
Speaking of reviving characters thought lost from Marvel's Netflix series, it's been rumored that the MCU could bring back none other than Jessica Jones. Though we don't know for sure, nor if actress Krysten Ritter would reprise her role, Jones is the perfect character to shift into the MCU and fit right in the middle of an all-female Avengers lineup. For starters, Jones herself was a member of the New Avengers in the comics, while a multiversal version of the character was later a member of A-Force on Battleworld. 
More than just a brawler-detective in street clothes, Jones is deceptively powerful and would be a real asset to any team. She's one of the few characters from the Netflix Marvel series capable of going toe-to-toe with other superpowered baddies, be they man, alien, or monster. But beyond her superstrength she's also an experienced investigator and detective, skills that would translate well to tracking the world's most cunning villains. Additionally, if Marvel decides to bring Jones back and tweak her to be more like her comic book counterpart — who was a former costumed hero herself years before she became a private eye — she may even be able to fly in the MCU. 
Monica Rambeau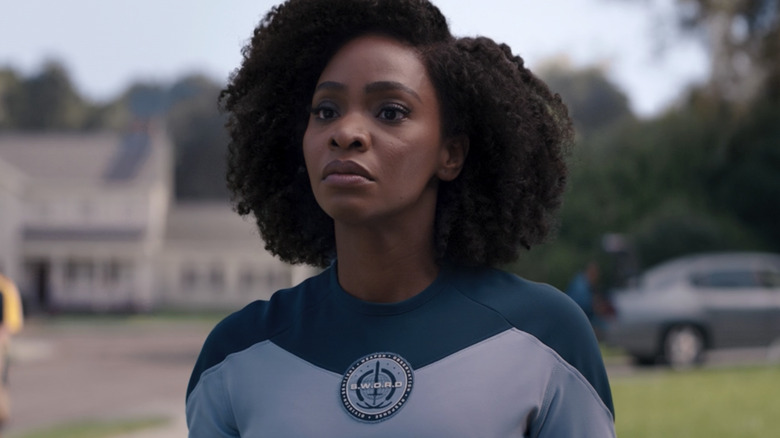 Disney+
"WandaVision" gave us the first appearance of several major players, including future Young Avengers Speed (Gavin Borders and Jett Klyne) and Wiccan (Baylen Bielitz and Julian Hilliard), the white version of The Vision (Paul Bettany), and the mysterious witch Agatha Harkness (Kathryn Hahn). But it also saw the debut of famed future Avenger Monica Rambeau. In the comics, Monica is a superpowered hero who has gone by many names. She has held the title of Captain Marvel herself for a time, eventually becoming her own hero Photon, briefly taking the title Pulsar, and finally changing her superhero alias to Spectrum. Though she's never been a member of A-Force in the comics, she'd be a prime candidate for such a team-up in the MCU, having received incredible powers at the conclusion of "WandaVision."
We'll soon be seeing Monica team up with Captain Marvel and Ms. Marvel in "The Marvels," and we expect she'll take her own superhero name at some point in the story. Already allied with two major heroines, she'd be a powerful recruit for a future team of female Avengers. She's also a former member of SWORD, giving her some serious credentials and experience and providing the team with valuable intelligence and connections. With Captain Marvel handling interstellar matters from time to time, Rambeau could be the team's full-time Earth-based cosmic powerhouse.
Okoye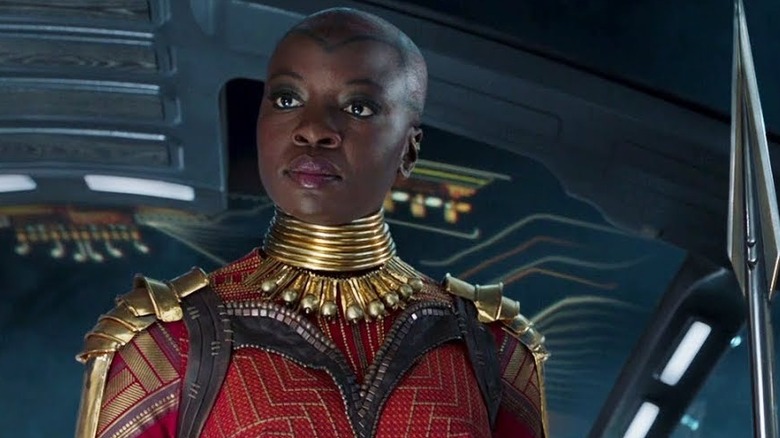 Marvel Studios
A member of the Dora Milaje, the royal guards in the African nation of Wakanda, Okoye (Danai Gurira) has proven time and again that she can face down any challenger, no matter how fierce. She's proven herself a capable warrior and mighty teammate, fighting alongside the Avengers in "Infinity War" and serving as a liaison to the team during the years after Thanos' victory on Earth. If there's anyone who would be right at home on an all-female Avengers team, it's Okoye. Already well acquainted with several potential A-Force members on this list, she'd be the perfect choice to lead the team into battle alongside Valkyrie, as another highly trained soldier and hand-to-hand combatant.
In fact, Okoye may just be a required member of the team. Should fellow Wakandan and youthful super genius Shuri take up the mantle of Black Panther and the throne of Wakanda and serve as its resident scientist, Okoye would become a necessity on the team. After all, where the royal family goes, Okoye must follow. But while the feared Wakandan warrior may be duty-bound to protect the late T'Challa's surviving sister, she would no doubt become a valued member of the team in her own right.
Sersi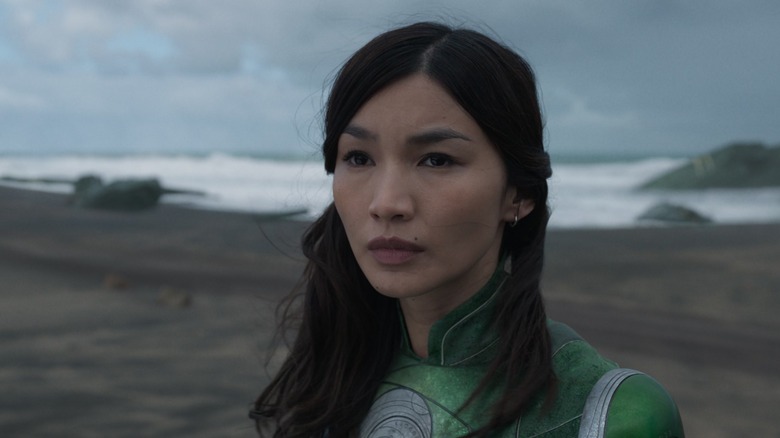 Marvel Studios
A member of the ancient race known as the Eternals, the superpowered immortal known as Sersi (Gemma Chan) was the leader of a group who had settled on Earth centuries ago. There to protect mankind from a race of diabolical creatures called the Deviants, they emerged in the 21st century to save the planet from armageddon that their own Celestial masters had planned in the 2021 film "Eternals." But at the end of that story, the team finds itself in crisis, with Sersi abducted by the Celestial called Arishem (voiced by David Kaye), for the crime of saving humanity. 
With "Eternals" struggling in theaters and with critics, it remains to be seen where Sersi will pop up next, but when she does and is freed from Arishem's judgment, we have no doubt she'll be on the short list of heroes for A-Force. A longtime member of the Avengers in the comics, her vast and versatile power set would be useful, with superhuman levels of strength and healing, flight and durability, but also the power to transmute matter at will.
If and when Sersi returns to Earth, she will surely be looking for a new set of teammates, and fighting alongside the rest of the heroes on this list seems as good a place to start as any.