Oscar Isaac's Best TV And Movie Roles To Date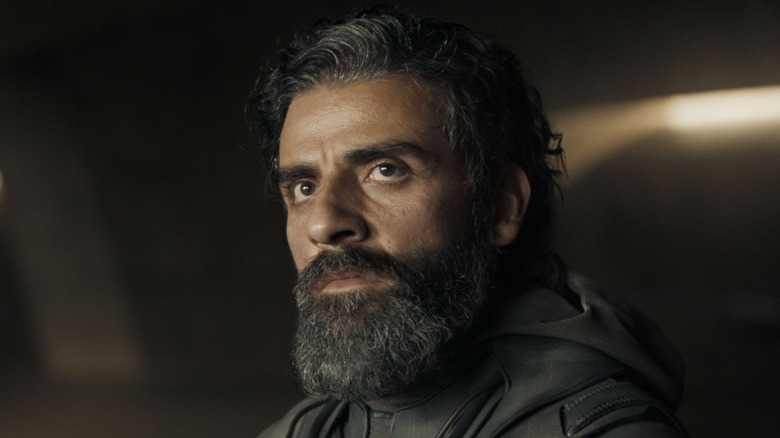 Warner Bros. Pictures
Oscar Isaac is one of Hollywood's biggest stars, with roles in blockbuster features like Denis Villeneuve's sprawling 2021 epic "Dune," the "Star Wars" sequels, and "X-Men: Apocalypse." He's even joining the Marvel Cinematic Universe as Moon Knight in his own series on Disney+, and he's slated to suit up and star in the long-awaited "Metal Gear Solid" film as series protagonist Solid Snake.
From his award-winning turn in "Inside Llewyn Davis" to "Scenes from a Marriage," Isaac has also been seen in a number of smaller dramas, as well as action thrillers like "Triple Frontier." And yet, despite his wide variety of performances, Oscar Isaac's career as a Hollywood lead is still barely a decade old, with his first notable role coming courtesy of Zack Snyder's "Sucker Punch."
With such a broad spectrum of roles, you might be hard pressed to know where to start watching if you're thinking about digging into his back catalog and enjoying his acting talents. Well, we're here to help: We've compiled a list of Oscar Isaac's best screen roles so you know where to start.
Apocalypse (X-Men Apocalypse)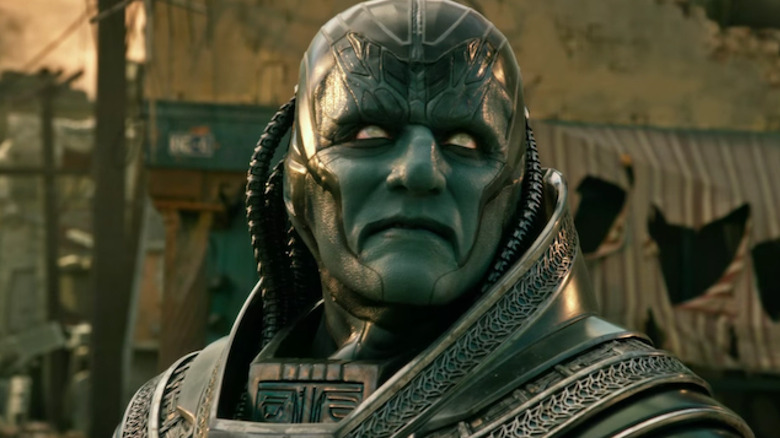 Fox
"X-Men: Apocalypse" certainly has its flaws: it's overstuffed and under-written, with little attention given to the kind of personal character drama that for so long made the "X-Men" movies such a success with audiences and critics. But as the nearly immortal mutant despot and titular Apocalypse, Isaac brings just the right amount of intensity and gravitas, and manages to make what could have seemed like cartoony dialogue seem imposing. Nobody is ever going to call it high art, but it's a solid interpretation of the classic X-Men villain, even if he doesn't have the best material to work with.
Isaac told GQ that he only accepted the role to be able to work with the likes of James McAvoy and Michael Fassbender, but due to the makeup and restrictive costume he couldn't even get a good look at his costars. "I couldn't move my head," Isaac said. "And I had to sit on a specially designed saddle ... and I would be rolled into a cooling tent in between takes. And so I just wouldn't ever talk to anybody, and I was just gonna be sitting and I couldn't really move." 
It's a shame that the talented Isaac and his interpretation of Apocalypse were wasted on such a disappointing film, though if you're just looking for old school comic book action, it will definitely satisfy.
Rydal Keener (The Two Faces of January)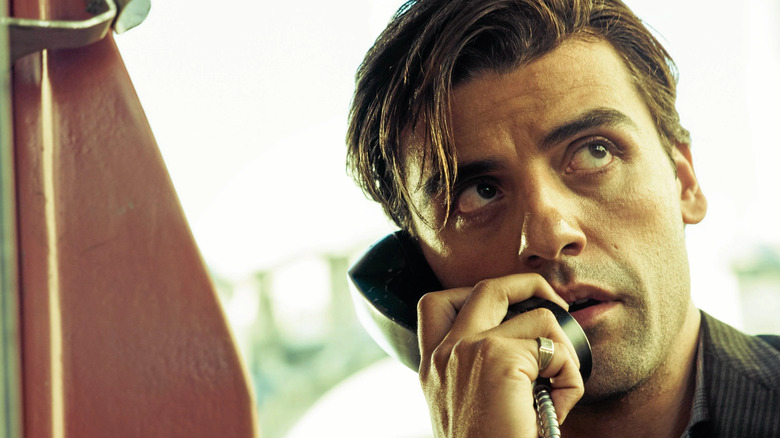 Magnolia Pictures
The 2014 thriller "The Two Faces Of January" found Oscar Isaac sharing the screen with "Lord of The Rings" alum Viggo Mortensen and former "Spider-Man" star Kirsten Dunst. A stylish and slick debut for director Hossein Amini, the movie was well received, but little-seen; though some called it "Hitchcock-ian," other critics felt it couldn't live up to the work of the groundbreaking director, although there are worse sins than not comparing favorably to one of Hollywood's greatest filmmakers. Isaac impressed as a then-up-and-comer, with Digital Spy complimenting the actor who, upon the film's release, had already been announced as a lead in the first of the then-upcoming "Star Wars" sequels.  
Of Isaac's performance as Rydal Keener in the movie, Digital Spy remarked, "Isaac plays the victim without seeming weak. Instead, he becomes the moral backbone of the film — getting wise to the game without giving in to cynicism." Noting that his star was on the rise at this point in 2014, the review concludes that his strong showing in "The Two Faces of January" would be "another stepping stone on his ascent to the Hollywood pantheon."  
Of that they were absolutely correct.
Santiago 'Pope' Garcia (Triple Frontier)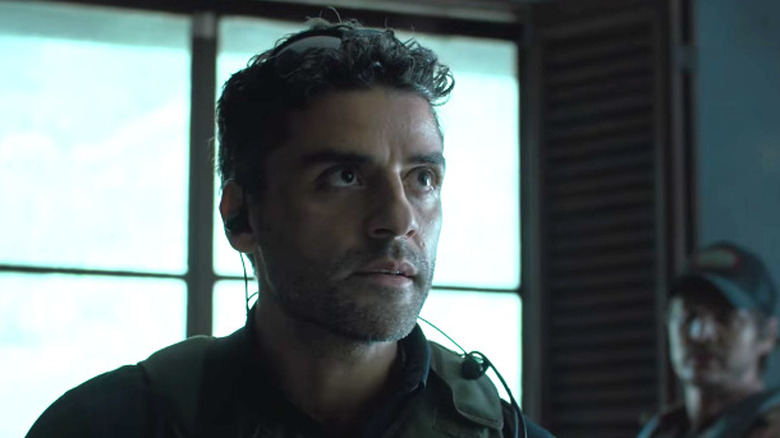 Netflix
The 2019 Netflix release "Triple Frontier" is a dramatic military adventure with an all-star cast that includes a who's who of actors known for sci-fi roles. Ben Affleck ("Batman v Superman"), Garret Hedlund ("Tron: Legacy"), Pedro Pascal ("The Mandalorian"), Charlie Hunnam ("Pacific Rim") — and of course Oscar Isaac — star as a team of former U.S. Army Delta Force soldiers who reassemble their old unit in order to execute the daring heist of a South American drug kingpin.
It's a high-stakes game of kill-or-be-killed, in classic action movie commando fashion, with fast-paced foot chases and gloriously gratuitous shootouts, punctuated by daring escapes as the characters put their deadly training to good use. The story isn't anything all that new — think of it as "The Expendables" with a better, younger, cast — but the talent that's assembled makes it more than worth the watch for aficionados of the genre. 
Oscar Isaac looks right at home among the group of main men on a mission, and in fact is the central focus of the film. It's thanks to his and the other castmembers' strong performances that "Triple Frontier" turns what would otherwise be a forgettable, trite shoot-'em-up into a rousing, uproariously entertaining romp. 
Jonathan Levy (Scenes From a Marriage)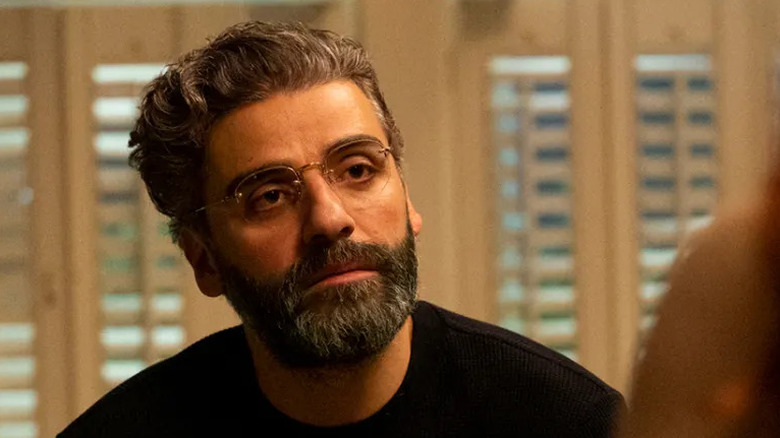 HBO
In HBO's "Scenes From a Marriage," an American remake of the 1973 Swedish miniseries by acclaimed director Ingmar Bergman, Oscar Isaac's acting talents take center stage, as NPR noted in its glowing review. The six-part series tells the intimate story of a long-married couple whose union is slowly disintegrating. Starring as philosophy professor Jonathan Levy, Isaac is reunited with his "A Most Violent Year" co-star Jessica Chastain, who plays his wife, tech executive Mira Phillips. Together they raise a daughter, but each at different times can't decide whether they should try to save their crumbling relationship or abandon it in favor of other people. It's a heart-wrenching drama about marriage, love, and growing apart.
The miniseries was widely applauded for its dazzling performances and the genuine chemistry between the series' two stars. Critics noted that the story itself was rather light, with only a small supporting cast and minimal locations that put the focus almost entirely on Isaac and Chastain. Its stripped-down approach made the series a showcase for the raw and uncompromising acting efforts of the two leads. As NPR put it, "Isaac and Chastain are fantastic performers who ... really do have tremendous chemistry."
Kane (Annihilation)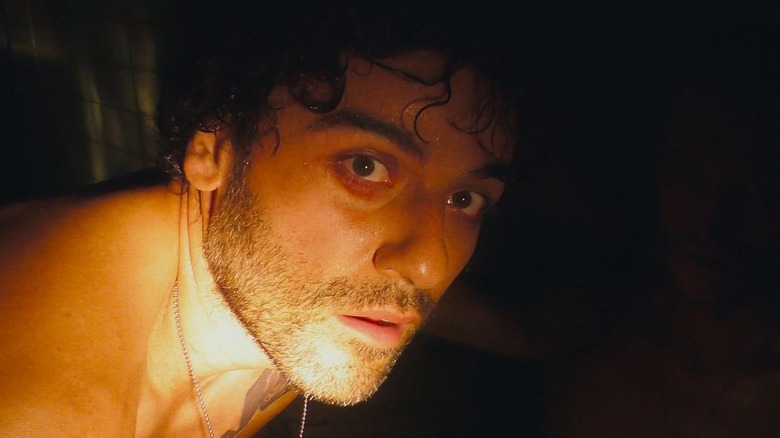 Paramount Pictures
Led by Natalie Portman, Jennifer Jason Leigh, Gina Rodriguez, and Tessa Thompson, this hard science fiction feature reunites Isaac with his "Ex Machina" director Alex Garland, who once again writes and directs, adapting the novel of the same name by Jeff Vandermeer.
Though not quite a horror movie per se, "Annihilation" does boast some real scares and a genuine sense of dread. Isaac plays Kane, a military soldier who was lost on an expedition into an anomalous region called "The Shimmer," and husband to Portman's character Lena. A year after his mysterious disappearance, he suddenly resurfaces, setting off a chain of events that sends Lena on a mission back into the Shimmer to discover what happened to him there. Described by some as one of the more thoughtful sci-fi films since Denis Villeneuve's "Arrival," the film puts the "science" back in science fiction, focusing on a team of scientists rather than the group of military commandos you might otherwise expect in a movie like this.
Isaac's part in "Annihilation" is small but pivotal, and it's his haunting performance as the man changed by his experience in "The Shimmer" that kicks off the story and motivates the team on their mission.
William Tillich (The Card Counter)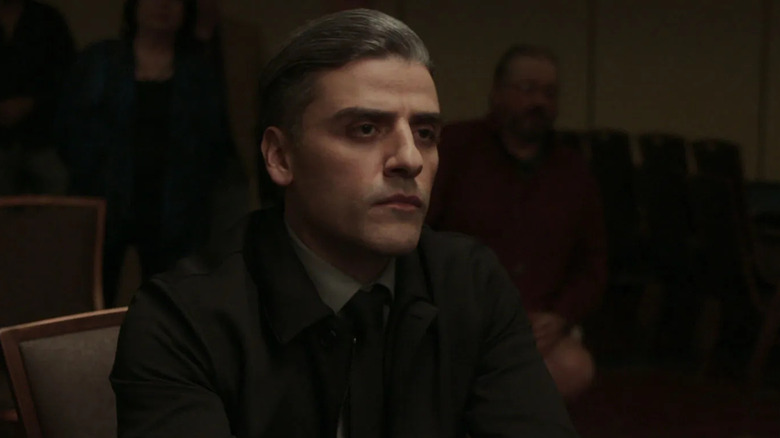 Focus Features
A tense drama about an ex-military soldier who now plays poker for a living, "The Card Counter" stars Oscar Isaac as William "Tell" Tillich, the aforementioned veteran who's recently been released from military prison and seeks to distance himself from his former life as a guard at Abu Ghraib. But his old life comes back to haunt him when he's drawn back into the world of torture and espionage by Cirk (played by Isaac's "X-Men" co-star Tye Sheridan), the embittered son of a slain soldier from Tillich's unit who attempts to recruit Tillich in a plot to get revenge on the former commanding officer they both blame for their troubles.
In "The Card Counter" we get a double dose of high stakes, both at the poker table and in Tillich's attempts to save Cirk from a life of violence as he becomes involved in the young man's plan for vengeance, all while playing in the World Series of Poker. The movie received four stars from Richard Roeper of the Chicago Sun-Times, who said "Oscar Isaac delivers a simmering, intense, tightly controlled performance as William Tell ... in one of the best movies of the year."
Abel Morales (A Most Violent Year)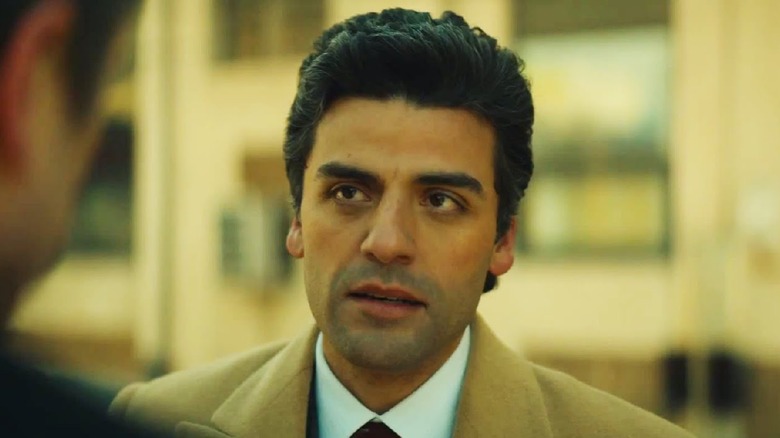 A24
If there's a genre Oscar Isaac seems to love more than science fiction, it's crime dramas — and it's hard to blame him, given the stellar body of work he's assembled in that category. "A Most Violent Year" fits that description, set in New York City in the winter of 1981, which according to the movie's logline was "statistically the most dangerous year in the city's history." The film arrived in 2014, a banner year for Isaac ahead of his star-making performance in "Star Wars: The Force Awakens," with his roles in "The Two Faces Of January" and "Ex Machina" hitting theaters too. 
Isaac's performance in "A Most Violent Year" garnered him accolades from critics, and continued to show why he was such a vibrant star in the making. The New Yorker hailed Isaac's performance, saying "He does more than fill out a starring role. He gives a movie-star performance, drawing the audience to him."
Llewyn Davis (Inside Llewyn Davis)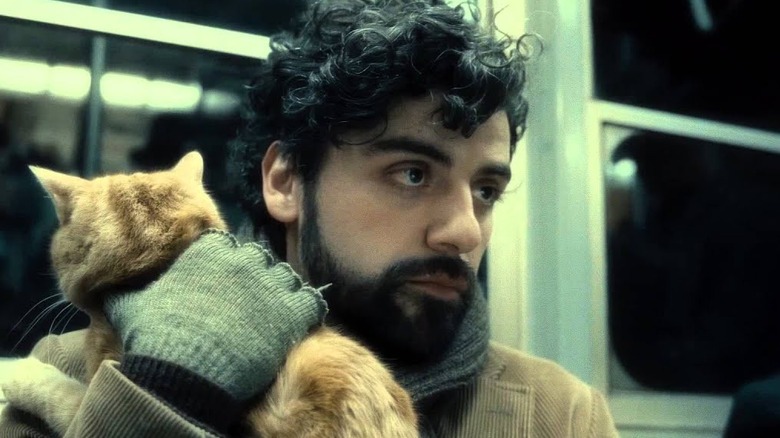 CBS Films
From "Fargo" and "No Country For Old Men" to "True Grit" and "The Big Lebowski," the Coen brothers have brought us some of the most well-reviewed films of the last 30 years, a run they continued with 2013's "Inside Llewyn Davis." Set against the backdrop of New York City's Greenwich Village in 1961, the film stars Oscar Isaac as Llewyn Davis, a struggling, aimless folk singer whose life is slowly falling apart. His recently released solo album has bombed, and he resorts to couch-surfing and relying on the charity of his friends and neighbors to survive.
It's a somber and melancholy tale, with all the hallmarks of a Coen brothers film. But for all of Joel and Ethan Coen's genius at work, it's Isaac who is the make-or-break part of the film, in what would turn out to be his breakthrough performance. Impressively, Isaac also played all of his own solo guitar parts and vocal performances live. 
IGN's review praised the actor, saying "It's Isaac's movie. Looking like a young Scorsese, he makes a seemingly unsympathetic character, a tortured masochist, fascinating and heartbreaking."
Leto Atreides (Dune)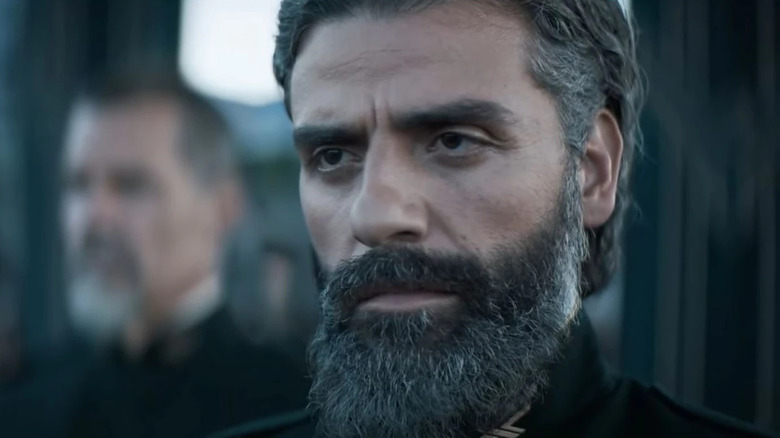 Warner Bros. Pictures
Hollywood started struggling to put together a screen adaptation of Frank Herbert's 1965 epic sci-fi novel not long after it was published. The first successful attempt, David Lynch's big-screen "Dune," didn't arrive until 1984, and a second adaptation — a TV miniseries — aired on Syfy in 2003. In 2021, "Blade Runner 2049" director Denis Villeneuve joined the list with his own "Dune" film.
Villeneuve gathered one of the most tremendous casts ever assembled for a science fiction movie — including Timothee Chalamet, Zendaya, Oscar Isaac, Josh Brolin, Jason Momoa, Rebecca Ferguson, Stellan Skarsgård, Dave Bautista, and Javier Bardem — uniting them for a grand sci-fi saga-starter that impressed critics with its resplendent visuals and sweeping storyline. But even if the headlines have been focused on its appeal as a spellbinding treat for the eyes, the performances from the cast drew equal acclaim; the review from CityAM may have said it best, arguing that "for all the visual mastery, it is the performances that make the film. Leto is the leader any society would want, with a strength and genuine concern that suggests he may be doomed in a landscape this corrupt."
If you like epic high fantasy science fiction, Denis Villeneuve's "Dune" may be as good as it gets. Oscar Isaac — and the superb cast gathered around him here — make it even more of a cinematic sensation.
Poe Dameron (Star Wars)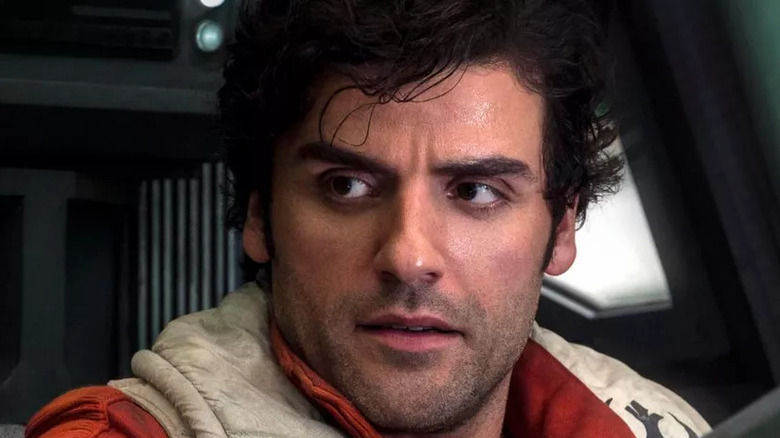 When Oscar Isaac was announced to have joined the cast of "Star Wars: The Force Awakens," the rumor mill went into overdrive, suggesting he might have been cast as anyone from an old Jedi friend of Luke Skywalker's to an Imperial officer. In the end, he played brash Resistance pilot Poe Dameron. 
Dameron makes a memorable impression — a Han Solo-type hotshot pilot with a rebellious streak, coupled with the morally upright nature of Luke Skywalker. Even reviewers who were critical of the new "Star Wars" films enjoyed Isaac in the role, often noting him as a standout and remarking on his chemistry with fellow freedom fighter Finn (John Boyega). Isaac later returned to voice the character again in a handful of episodes of the animated "Star Wars: Resistance," and the character would even receive his own spinoff comic book series from Marvel, a testament to Isaac's strong portrayal.
The "Star Wars" sequel trilogy has its ups and downs, but plenty of fans would still love to see more of Isaac as Poe Dameron. 
Nick Wasicsko (Show Me A Hero)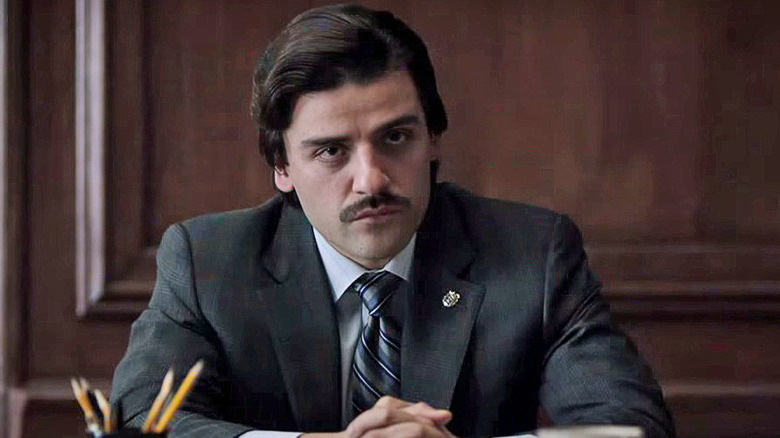 From David Simon, the man behind the television masterpiece "The Wire," comes the six-part HBO miniseries "Show Me a Hero," which tells the story of real-life everyman hero Nick Wasicsko and his fight over the construction of a massive public housing project in a neighborhood just north of New York City.
Adapted from the 1999 book of the same by Lisa Belkin, "Show Me a Hero" is essentially a political drama in which local officials buck up against the mandates and restrictions of the federal government, specifically the problems caused by systemic flaws like racism, segregation, and class warfare. A smart, low-key curveball after Isaac's appearance in "Star Wars: The Force Awakens," it showed exactly why he deserved to be Hollywood's next big star. 
Isaac was recognized with a Golden Globe for his work on the series, with Tribeca Film arguing that he was "the real best actor of 2015."
Nathan Bateman (Ex Machina)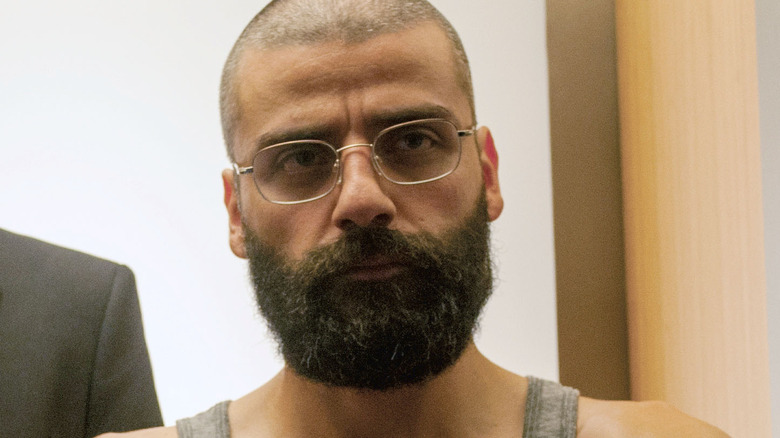 A24
If "Inside Llweyn Davis" was his breakout performance and "Star Wars: The Force Awakens" made him a superstar, it was "Ex Machina" that prompted genre audiences to sit up take notice of Oscar Isaac's talent. The directorial debut of Alex Garland, writer of the acclaimed sci-fi films "Sunshine," "28 Days Later," and "Dredd," it stars Isaac, Domnhall Gleeson, and Alicia Vikander — and would prove to be a major difference-maker in the careers of all three.
In "Ex Machina," Isaac plays Nathan Bateman, CEO of a robotics company intent on developing a revolutionary artificial intelligence humanoid robot. Bateman invites Caleb (Domnhall Gleeson), one of his computer programmers, to his lavish, remote estate to meet his creation, Ava (Alicia Vikander), as a test of her artificial intelligence. Called a modern Frankenstein story, it explores similar themes, but is about more than an eccentric scientist and his robot "monster."
With a lofty concept and a limited cast, the film's focus is squarely on Isaac, Gleeson, and Vikander as a kind of intimate three-person play. Despite its thought-provoking premise, the real allure of the film is the tantalizing performances of the trio of talented actors, with Isaac giving a towering performance as the fierce, brooding genius and intellectual maniac. It's Isaac's volatile, obsessed, and eccentric Bateman who elevates the film from great science fiction to modern masterpiece.
Marc Spector/Steven Grant (Moon Knight)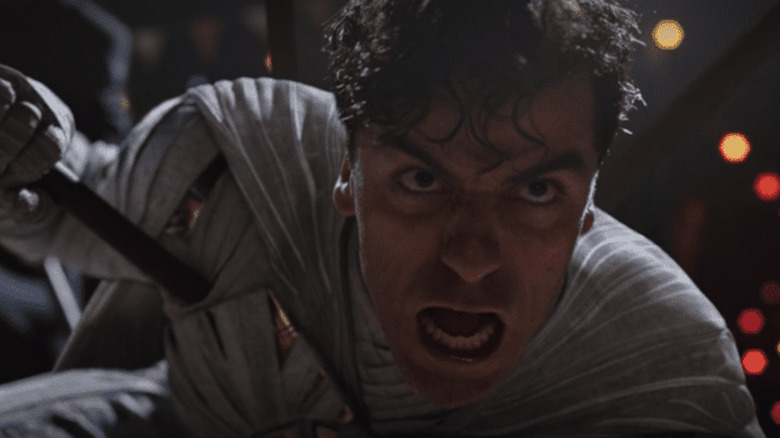 Disney+
Isaac's previous comic book effort "X-Men: Apocalypse" was lambasted by critics and was a nightmare for the actor to film, but he wasn't ready to swear off superhero stories entirely. So when Marvel came calling again, this time to join the MCU properly for the starring role in their latest Disney+ series, he kept an open mind. As the titular superhero in "Moon Knight," Isaac got a chance to play a hero this time — but not just one, as he took on dual roles in the series. 
As Marc Spector, Isaac got to play a brutal, skilled contract killer, recruited by the Egyptian god Konshu and granted the powers of his avatar, Moon Knight. Now, Marc is on a mission to thwart the villainous Arthur Harrow from resurrecting Konshu's nemesis, the ancient god known as Ammit. A man with a troubled past, his task is complicated when we learn he suffers from dissociative identity disorder and has a second personality. 
Spector's second persona, which he created in his youth to help him cope with childhood trauma, provides Isaac's other role in the series as the bumbling British museum worker Steven Grant. The polar opposite of Spector, Grant is knowledgable in Egyptian history but also naive, awkward, anti-social, and averse to violence. Forced to work with Marc's ex-wife Layla to stop Harrow, Isaac masterfully plays out two parts of a love triangle between himself and Layla as the two personalities fight to control his body.
To play two vastly different roles plus a costumed superhero in a big-budget series would be tough for anyone, but Isaac has proven more than up to the challenge.