The Marvels - What We Know So Far
Marvel Studios
The 2019 film "Captain Marvel" introduced the world to Carol Danvers, played by Brie Larson, a new superhero to the Marvel Cinematic Universe. After a small appearance in "Avengers: Infinity War," the solo movie is set in 1995, revealing Danvers's origin story, including how she gets her superpowers and her first run-in with S.H.I.E.L.D. and Nick Fury (Samuel L. Jackson). "Captain Marvel" was a great success, and Danvers will certainly play a key role in how the MCU develops going forward. With all this in mind, it was no surprise when Marvel Studios announced that a sequel was in development, with Nia DaCosta, known for "Little Woods" and the new "Candyman" remake, directing. 
While at first very little else was know about the second "Captain Marvel" film, Marvel revealed in a sneak peek reel of upcoming projects on May 3, 2021 that the official title for the new movie was "The Marvels." There was also the revelation that the upcoming will focus on not just Danvers, but also on Teyonah Parris's character Monica Rambeau, who debuts as an adult in "WandaVision," as well as Kamala Khan, a.k.a. Ms. Marvel, who will first be introduced to audiences in her own series, "Ms. Marvel," which will premiere on Disney+ soon. 
For Marvel fans eager to find out all there is to know about the upcoming "Captain Marvel" sequel, here's everything we know so far about "The Marvels."
What is the release date for The Marvels?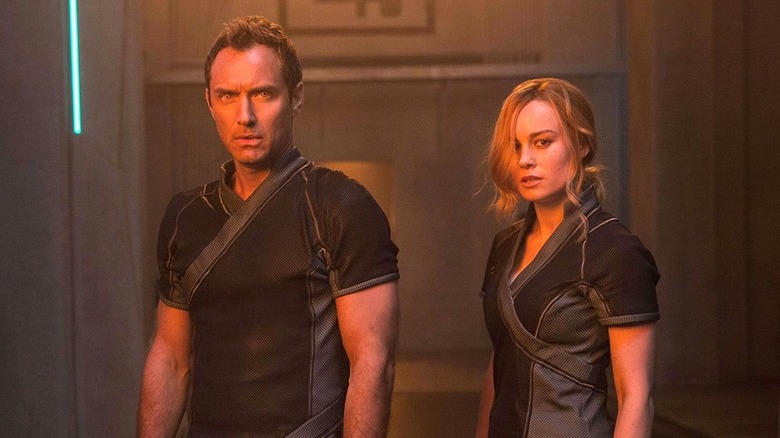 Marvel Studios
Luckily for Marvel fans who are desperate to see what's next for Danvers, there is already an official release date for "The Marvels" — though it's quite a ways away. The upcoming film will officially come out in theaters on November 11, 2022. Before we can see Danvers again, the MCU has a few films and television projects that need to set the stage for the upcoming movie. This includes "Hawkeye" and "Ms. Marvel" on Disney+, the latter of which will likely play a key role in the story that unfolds in "The Marvels," along with "Shang-Chi and the Legend of the Ten Rings," "Eternals," "Spider-Man: No Way Home," "Doctor Strange in the Multiverse of Madness," "Thor: Love and Thunder," and "Black Panther: Wakanda Forever." It's unclear right now how much each of those films will connect to "The Marvels, " but they are all an important part of the MCU's Phase 4, which is just starting to roll out now.
Who is in the cast of The Marvels?
As you'll be able to tell by the sequel's title, "The Marvels," Danvers will be sharing the stage this time around. If you look at the film's official logo, you also might notice the very distinct design for the "S" at the end. This purposeful choice reflects Khan's presence in the film, to be played by new MCU actress Iman Vellani, with the "S" a key part of her logo as well. The character of Khan will first premiere in her own television series on Disney+, with many people thinking that the show may be coming out in early 2022, though no official release date has been announced. 
Also joining them is Rambeau, played by Parris, who fans saw in "WandaVision" attempting to help Wanda Maximoff (Elizabeth Olsen) and the small town she takes over. Throughout this experience, Rambeau also develops strange abilities, which will likely feature in her storyline in "The Marvels." Jackson has also confirmed that he will be returning as Fury through a recent post on his Instagram. Zawe Ashton, who appeared in Netflix's "Velvet Buzzsaw," has joined the film as the movie's unrevealed main villain, as reported by Deadline, while South Korean actor Park Seo-joon, who some might know as the main character in "Itaewon Class" on Netflix, has reportedly signed on in an undisclosed role, yet nothing is officially confirmed (via Forbes).  
Of course, there's also the question of if any of the other fan-favorite characters in the first film will make an appearance, like Lashana Lynch as Maria Rambeau, Clark Gregg as Phil Coulson, or Ben Mendelsohn as Talos. While Maria supposedly dies during the Blip of cancer, she could possibly appear in flashbacks or another way, and Lynch was seen hanging out with the cast and director of "The Marvels" in London recently (via Marvel Updates on Twitter). 
What will The Marvels be about?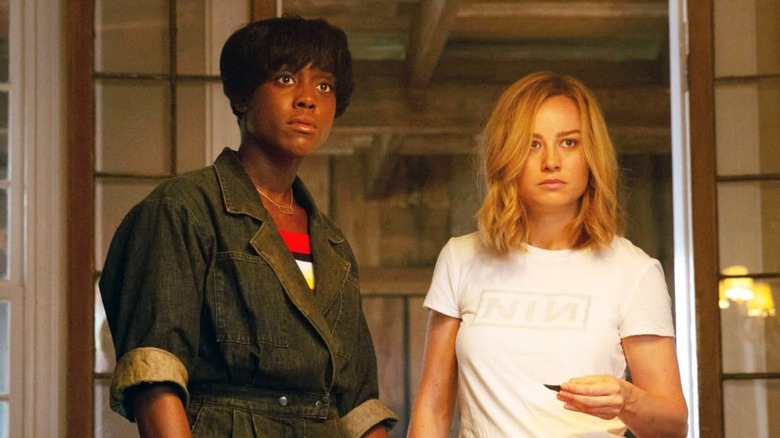 Marvel Studios
While no plot information has been released yet about "The Marvels," there are many theories about what the movie might be about. "Captain Marvel" is an origin story set in the past, but because of Khan and Rambeau's key roles, the sequel will probably be taking place in the present MCU timeline, after the Blip, Maria's death, and everything else that happens after that. In the comics, Danvers is Khan's ultimate role model, so much so that Khan takes on the moniker Ms. Marvel, which is Danvers's old superhero name before she changes it to Captain Marvel. From what we've seen about "Ms. Marvel" in the official sizzle reel, it looks like Danvers will still be that important figure in Khan's life, with "The Marvels" possibly uniting them in a mentor-mentee relationship. 
As for Rambeau, "WandaVision" reveals that she is angry at Danvers, but the reason behind these strong feelings is unclear. Considering what a stark change this is to the close relationship a younger Rambeau and Danvers display in "Captain Marvel," it will definitely be interesting to hear the story behind this shift and see how they might be able to repair their relationship. Since we now know that Fury will also be in the film, the story could be connected to his post-credits scene in "Spider-Man: Far From Home," which shows him out in space helping build S.W.O.R.D., also known as the Sentient Weapon Observation and Response Division. Also, in a "WandaVision" post-credits scene, Rambeau is contacted by a Skrull saying the an old friend of her mother wants to meet with her. As Fury has maintained a connection with the Skrull over all of these years, it might be him who she is referring to, but we will have to wait and see.
Fans excited for "The Marvels" should keep a close eye on all of the movies and TV shows coming out before next November, as they will absolutely hold clues as to what the "Captain Marvel" sequel will be about.