The Marvels Release Date, Cast, Trailer, Plot And More Details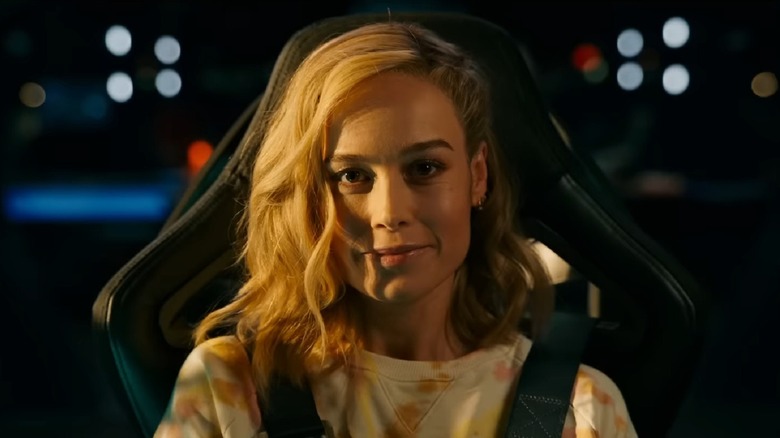 Marvel Studios
We may receive a commission on purchases made from links.
"The Marvels" is almost here, and it promises to take us higher, further, faster. 
The upcoming MCU flick will serve as a proper sequel to the original "Captain Marvel," but it will also introduce two Disney+ characters to the big screen for the first time. That's right — as the third film of Phase 5, "The Marvels" will focus on three of the franchise's most exciting heroes: Carol Danvers (aka Captain Marvel), Monica Rambeau (aka Photon), and Ms. Marvel (aka Kamala Khan) as they find themselves joining forces in a new cosmic adventure.
But what exactly do we know so far about the new superhero film? Will the Skrulls show up? Are there any other major MCU players involved? And who are the creatives working behind the scenes? Well, grab your magic bangle and get suited up as we take a look at everything we know so far about "The Marvels."
When will The Marvels be released?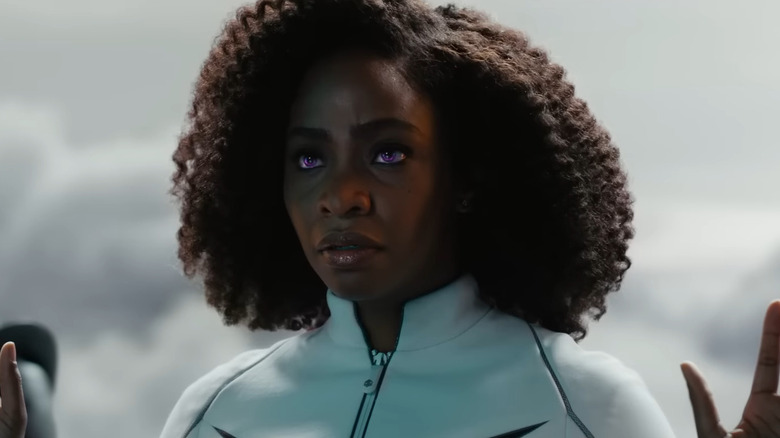 Marvel Studios
"The Marvels" has had a rocky road to theaters. Originally, the film was set for February 17, 2023, which would've made it the first installment of Phase 5. However, as reported by Deadline, the filmmakers needed more time to perfect the film, so Marvel decided to swap "The Marvels" with "Ant-Man and the Wasp: Quantumania," pulling the "Ant-Man" threequel from its July 28 release date and giving it "The Marvels'" original landing pad of February 17.
So, for the longest time, "The Marvels" was meant to be a big summer blockbuster. However, on the very day that "Quantumania" hit theaters, it was reported that Disney was shifting the film yet again, pushing it back to November 10, 2023, where it will eventually be competing against another Disney movie — the animated "Wish." But what was the reasoning behind kicking "The Marvels" further back in the year?
According to a report from The Wrap, studio insiders have said the movie needs additional time in post-production. And honestly, we can't complain too much about that. The MCU has come under a lot of fire recently for its shoddy VFX work, largely a result of the studio's hurried release schedule. So if it takes more time to get everything working smoothly, that's alright with us. This decision also coincided with comments from Marvel Studios president Kevin Feige that the MCU would be slowing down its Disney+ output to ensure higher quality, as well as the absolute shellacking "Quantumania" received from critics. Hopefully, this extra time will give "The Marvels" the boost it needs to shine on the screen.
What is the plot of The Marvels?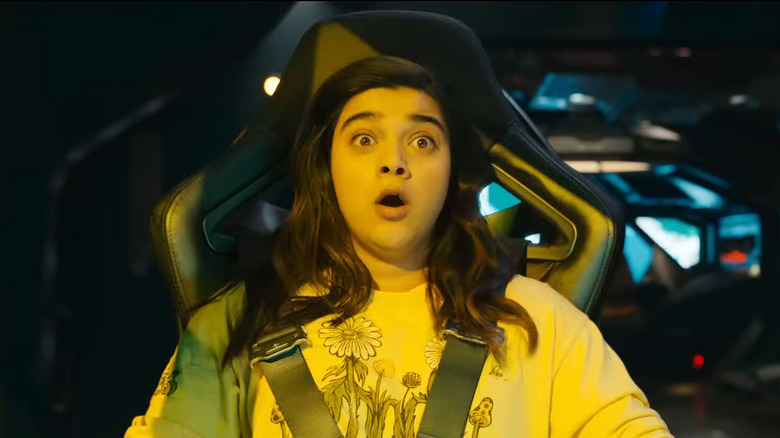 Disney+
In April 2023, Marvel announced the official plot synopsis for "The Marvels," which reveals that our three leading ladies are in quite the superpowered predicament. As the synopsis explains, "When [Carol Danvers'] duties send her to an anomalous wormhole linked to a Kree revolutionary, her powers become entangled with that of Jersey City super-fan Kamala Khan, aka Ms. Marvel, and Carol's estranged niece, now SABER astronaut Captain Monica Rambeau." 
This entanglement is pretty tricky stuff. Whenever one of these heroes uses their powers, all three switch places with one another. That's not great in the best of circumstances — it's even worse when you're dealing with a Kree warrior armed with a Ronan the Accuser-style Cosmi-Rod.
Of course, the most important element of the film will be the relationship between Carol Danvers, Kamala Khan, and Monica Rambeau. We know Kamala will be fangirling out upon meeting her idol, Captain Marvel, and she'll be pretty impressed by Monica too. As Kevin Feige explained to Entertainment Weekly, "The great thing about Kamala ... is that she's not unlike Tom Holland's Peter Parker in 'Civil War.' She can't believe she's with these other heroes and can't believe that she finds herself in these places." 
Perhaps more interesting will be the relationship between Carol and Monica. While Captain Marvel was an important part of Monica's childhood and best friends with her mom, the late Maria, "WandaVision" showed us that Monica harbors some resent against the space-bound superhero for disappearing from their lives. In short, there will be no shortage of drama in "The Marvels," from the personal to the cosmic, and we can't wait to see it go down on November 10, 2023.
Who is starring in The Marvels?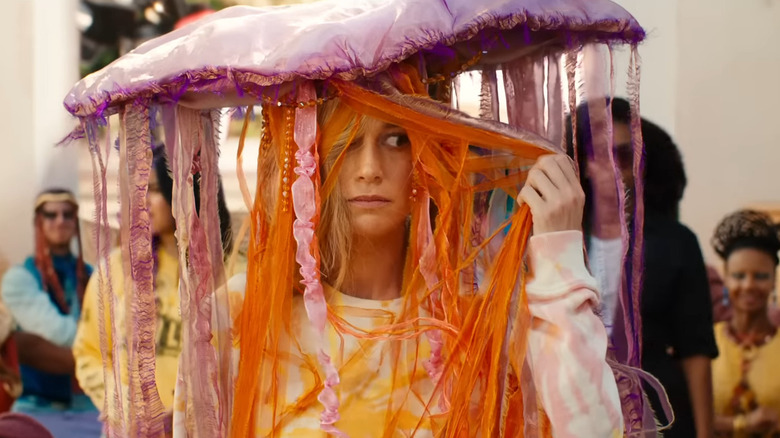 Marvel Studios
"The Marvels" boasts an incredibly talented cast, led by three female stars at various stages of their careers — from an Academy Award-winning A-lister to a rising young star.
Needless to say, Carol Danvers is played by the Oscar-winning Brie Larson, who's wowed critics and audiences in projects like "Room," "Short Term 12," and "Scott Pilgrim vs. the World." Then you've got Teyonah Parris as Monica Rambeau, who was introduced in "WandaVision." In addition to her superhero work, Parris has received plaudits for her turns in movies like "Candyman" and "If Beale Street Could Talk," along with AMC's "Mad Men." Then, of course, there's Iman Vellani as Kamala Khan. "Ms. Marvel" was Vellani's first professional acting job, and she absolutely wowed everyone with her turn as the wannabe superhero. 
But who will be joining Larson, Parris, and Vellani in the film? Well, Zawe Ashton will be playing the film's big bad, a Kree revolutionary named Dar-Benn. As for Ashton, you may have seen her in the horror flick "Velvet Buzzsaw," the period drama "Mr. Malcolm's List," or in the British dramedy series "Fresh Meat." Samuel L. Jackson will also be putting on the eyepatch to play Nick Fury. We can also expect to see Kamala Khan's family — played by Zenobia Shroff, Mohan Kapur, and Saagar Shaikh — as well as South Korean actor Park Seo-Joon of "Parasite." 
It's also possible that Lashana Lynch could make an appearance as Monica's mom and Captain Marvel's BFF, Maria Rambeau. While Maria died of cancer in "WandaVision," she could always show up in a flashback, and we suspect that might be the case as Lynch was seen hanging out with Teyonnah Parris and "Marvels" director Nia DaCosta in London, where the movie was filmed.
Who is directing The Marvels?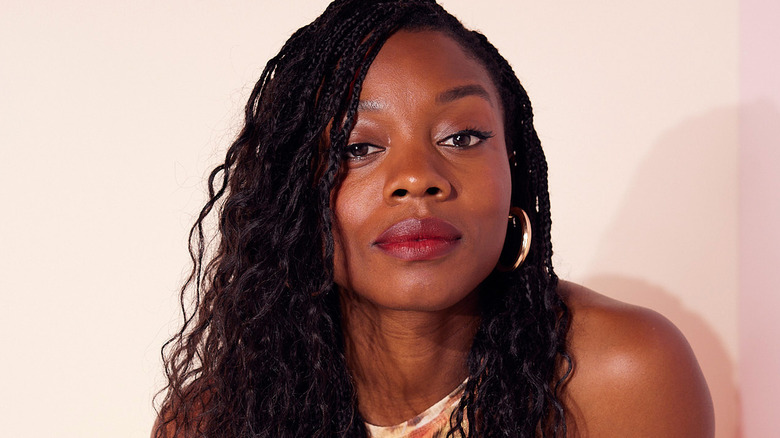 Corey Nickols/Getty Images
Nia DaCosta is making history by helming "The Marvels." Not only is she the fourth woman to ever direct an MCU movie, she's both the youngest person and first Black woman to ever direct a Marvel pic. Previously, DaCosta made a name for herself by directing the crime drama "Little Woods," which starred Tessa Thompson and Lily James and won the Nora Ephron Prize at the Tribeca Film Festival. She then impressed horror fans by directing 2021's "Candyman," based on a script co-written by horror maestro Jordan Peele.
Now, she finds herself handling the challenging task of making a "Captain Marvel" sequel while trying to balance screen time between three leads. Speaking with Inverse, DaCosta elaborated on this a bit, saying, "It's interesting, and something we thought about and worked through a lot, which was how do we get each of these really big, exciting heroes space in a two-hour film? ... A lot of what we've been thinking about is what part of the journey do we need to see for each of them? How do we honor the part of the story they're at in terms of the canon, while also within our story making them equal?"
In the same interview, DaCosta revealed why she's the perfect pick for the upcoming flick — because she absolutely loves this stuff. "I like to call myself Marvel trash," she said to Inverse. "Actually, my friends call me that. I will go see all the movies. Even if it's bad, I'm like, "Well, there are some good things about this." I grew up with the comics. I grew up watching the Spider-Man cartoon and the Fantastic Four. I knew a lot about the Marvel universe in general."
Who wrote the screenplay for The Marvels?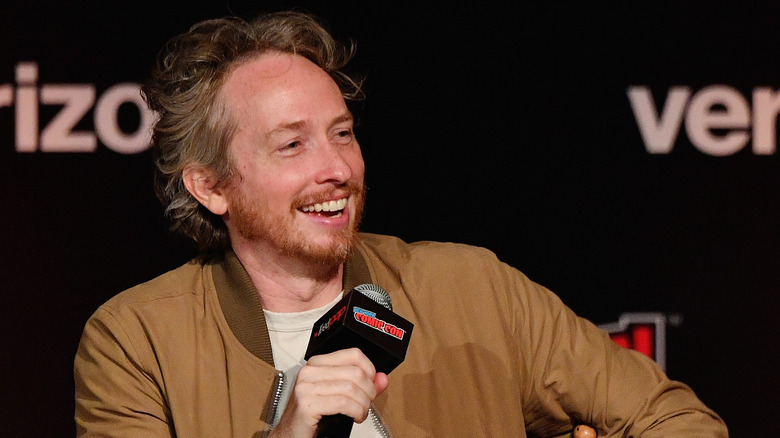 Dia Dipasupil/Getty Images
Just like it sometimes takes a team of superheroes to tackle a problem, sometimes it takes a team of screenwriters to produce the best possible story. For proof, look no further than "The Marvels," which boasts four scribes penning the script.
One of the screenwriters is director Nia DaCosta, and she's joined by Megan McDonnell, who became a Marvel darling after her work on "WandaVision." As a member of the writing team, McDonnell is the one who came up with the Ship of Theseus conversation between Vision and White Vision, and she's also working on the upcoming "Agatha: Coven of Chaos."
The third writer in the room is Elissa Karasik who worked on the Disney+ series "Loki," notably the episode "The Variant," where the god of mischief and Mobius M. Mobius search apocalyptic events for a murderous Sylvie. As for the fourth writer, that's Zeb Wells, who's worked on "Robot Chicken" and "She-Hulk: Attorney at Law." Plus, he's written a ton of comics, including "Venom: Dark Origin" and quite a few Spider-Man stories.
Where does The Marvels fit into the MCU?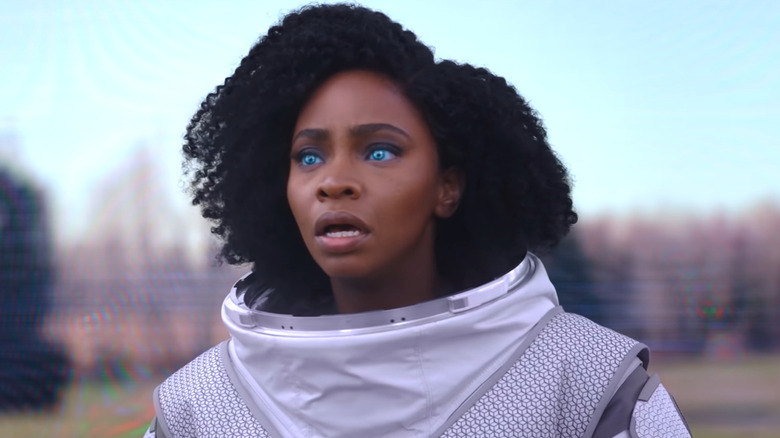 Marvel Studios
As it's going to be handling three different heroes, there's a lot to know before watching "The Marvels." The film will pick up in the immediate aftermath of "Ms. Marvel," where we saw Kamala Khan become a full-fledged superhero thanks to her mutant abilities and powerful bangle. At the end of the series, she suddenly vanished from her bedroom and was replaced by Carol Danvers, setting up the events of the upcoming film.
As for Carol herself, we were introduced to the superpowered space ranger in "Captain Marvel," where she was initially operating as a Kree soldier named Vers. After crash-landing on Earth and running across Nick Fury, she slowly learned her true identity, that the Kree were manipulating her, and that her sworn enemies — the shapeshifting Skrulls — were actually victims in need of a hero. After coming into her full potential and defeating the Kree, Carol joined the Avengers in "Endgame" and played an instrumental part in defeating Thanos during the Battle of Earth.
However, the character with the most emotional baggage will be Monica Rambeau, who was introduced in "WandaVision." A victim of Thanos' snap, Monica returned five years later to discover her mother, Maria, had died from cancer. Struggling with some serious grief — as well as anger towards Carol for seemingly abandoning her and her dying mom — she then became a key player in dealing with Wanda Maximoff, the witch who'd put an entire town under a sitcom spell. During her dealings with Wanda, Monica gained superpowers of her own, and after saving the town of Westview, she was approached by a Skrull agent and asked to join Nick Fury in space, as the former SHIELD agent had been spending his time in the cosmos.
Is there a trailer for The Marvels?
An official trailer for "The Marvels" dropped in July 2023, promising a cosmic blast for MCU fans. Set to the Beastie Boys' "Intergalactic," the trailer opens with Carol Danvers traversing the universe solo — alone in the cold of space. However, she quickly finds herself up against a brand new threat in Dar-Benn, who seems to have a serious grudge against our hero. "Captain Marvel — the annihilator," the Kree zealot growls. "You took everything from me, and now, I'm returning the favor."
It appears that Dar-Benn has a bangle very similar to the one worn by Kamala Khan, and after activating its power, the villain somehow entangles the light-based powers of Carol, Kamala, and Monica Rambeau. While that's bad news for our three heroes, it's absolutely delightful for MCU audiences, as we'll get to see these three switching places constantly when trying to fight their foes. It'll also force lone wolf Carol to work with a team, with Monica telling her, "You are not the only thing standing between this and the universe."
The trailer also highlights a giddy Kamala teaming up with Nick Fury to take out some bad guys, a whole bunch of adorable Flerken kittens floating through a spaceship, and Carol Danvers showing off some of her dance moves in what seems to be a fun musical number. The trailer ends with Goose the Flerken on the attack, gobbling up a bunch of bad guys to Kamala's horror.
What MCU movies and shows should you watch before seeing The Marvels?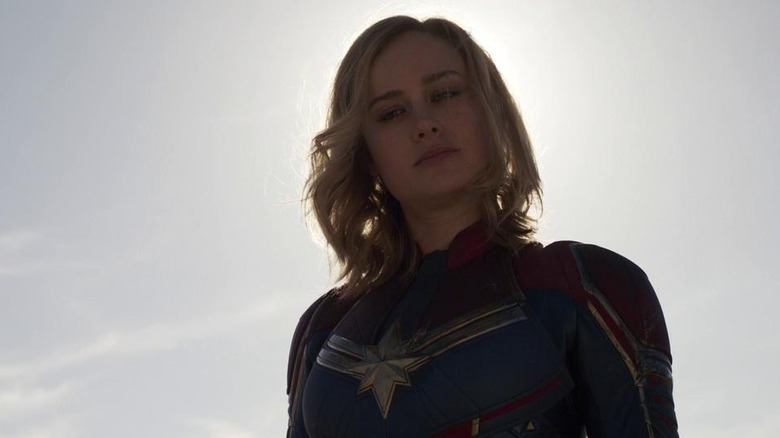 Marvel Studios
Before "The Marvels" hits theaters, there's quite a bit of content to get caught up on. First up, you'll need to check out "Captain Marvel," which introduced Carol Danvers to the MCU. In addition to watching Carol reclaim her identity and abilities in her quest to defend the Skrulls, you'll be treated to plenty of '90s references, the coolest cat in cinema, and a pretty awesome soundtrack. You can watch the film on Disney+, or you can rent it on Prime Video, Vudu, and YouTube. (It also wouldn't hurt to see her take on Thanos in "Avengers: Endgame," available on Disney+.)
You'll also need to check out "WandaVision." While the series mainly focuses on Wanda Maximoff struggling with grief and depression in the wake of Vision's death, it also introduces an adult Monica Rambeau, who previously debuted as a child in "Captain Marvel." Here, we watch Monica struggle with the loss of her mom, see that she has complicated feelings about Carol Danvers, and witness the hero gain her light-based powers. You can stream all nine episodes of "WandaVision" on Disney+.
Finally, you'll want to watch "Ms. Marvel." The series introduces us to the excitable Kamala Khan, who's the world's #1 Captain Marvel fan. In an attempt to win a Captain Marvel cosplay contest, she unearths a magical bangle that unlocks her own superhuman capabilities. Along the way, she has to battle djinn, deal with her high school crush, and juggle her superhero dreams with her responsibility to her family, religion, and culture. You can stream the six episode-series on Disney+.