Where You've Seen The Cast Of Star Trek: Strange New Worlds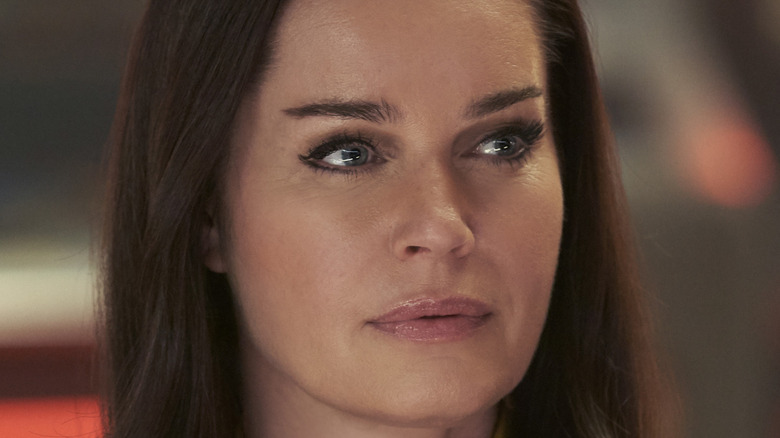 Paramount+
Returning to the early days of the starship Enterprise, "Star Trek: Strange New Worlds" reunites the original crew that creator Gene Roddenberry first dreamed up for the franchise way back in the 1960s. Though Pike and Number One would be jettisoned in favor of Captain Kirk and others for the eventual series that we've all come to know and love, they were never quite forgotten. Now they're back in a prequel series that has been met with near-universal critical acclaim and love from fans for its engaging stories, compelling characters, and return to episodic adventures. 
The series brings back a number of old favorites like Pike, Number One, Spock, Uhura, and more. But there are also plenty of new characters that flesh out the bridge of the original 1701. And just like its cast of characters, the roster of actors on "Star Trek: Strange New Worlds" features a mix of well-known names, rising stars, and fresh-faced newcomers. 
So prep a landing party and recharge the primary energizing coils, because this is a full rundown of the cast of "Star Trek: Strange New Worlds."
Anson Mount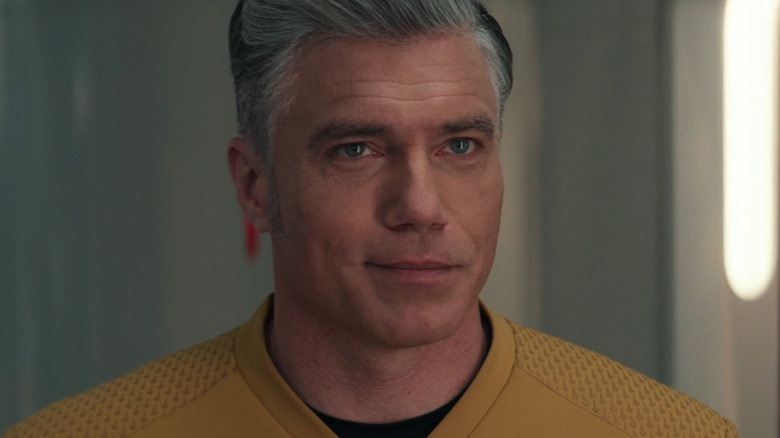 Paramount+
Captain Christopher Pike is first officially seen in the 1966 "Star Trek" episode "The Menagerie." That episode used recycled footage from an unaired pilot and starred actor Jeffrey Hunter as the hitherto unseen captain of the Enterprise. Replacing him in the role in the 21st century is "Strange New Worlds" star Anson Mount, who made his first appearance as Pike in the second season of "Star Trek: Discovery." 
A longtime leading man on television, Mount is best known as the former outlaw Cullen Bohannon on the hit AMC Western, "Hell on Wheels." There he starred for five seasons opposite "Star Trek: Deep Space Nine" star Colm Meaney, who played corrupt railroad owner Thomas Durant. But that's certainly not the only role you'll recognize Mount from. In 2017, he was the star of the much-maligned ABC series "Inhumans." In that series, he played a superhero known as Black Bolt, whose voice can topple buildings. Though "Inhumans" bombed, Mount's voiceless performance drew praise and Marvel stunned fans when they brought Mount back for a cameo as Black Bolt in "Doctor Strange in the Multiverse of Madness" in 2022.
Prior to all of that, Mount was a series regular on "Conviction," a short-lived spinoff of "Law and Order," and had memorable guest appearances everywhere from "Ally McBeal" and "Sex and the City" to "Smallville" and "Lost."
Rebecca Romijn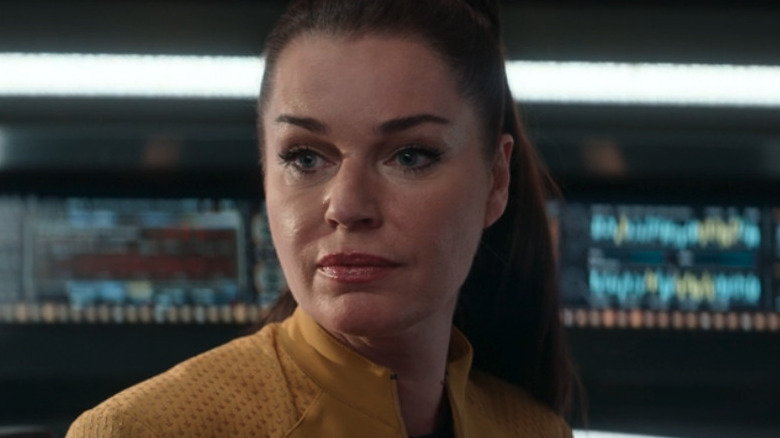 Paramount+
Taking over the role of Pike's first officer Number One — originally played by creator Gene Roddenberry's eventual wife Majel Barrett in that same unaired pilot episode from the 1960s — is actress Rebecca Romijn. Sci-fi fans will recognize Romijn by her name, if not necessarily by her face, from her part as the villainous mutant Mystique in the original "X-Men" trilogy from the 2000s. Covered entirely in blue body paint, you may not have realized it was Romijn appearing in all three films — although she looks more like herself in a cameo from the 2011 relaunch, "X-Men: First Class." But if you're too young to remember the 2000s, you may remember Romijn from her more human-looking role as the lead adventurer in four seasons of the family drama series "The Librarians," Eve Baird, a character she has compared to Number One (via Collider).
Before "The Librarians," Romijn joined the main cast of the television adaptation of the classic Jack Nicholson fantasy comedy "The Witches of Eastwick" in 2009. Though the series, simply titled "Eastwick," was cancelled after barely a season had aired, Romijn was a highlight as one of the three witches. As a guest star and recurring character on television, Romijn's appearances include roles on "Ugly Betty," "Chuck," and "Curb Your Enthusiasm." 
A self-professed Trekkie, at least according to her husband in an interview with Entertainment Weekly, Romijn may have found her favorite role yet in Number One.
Ethan Peck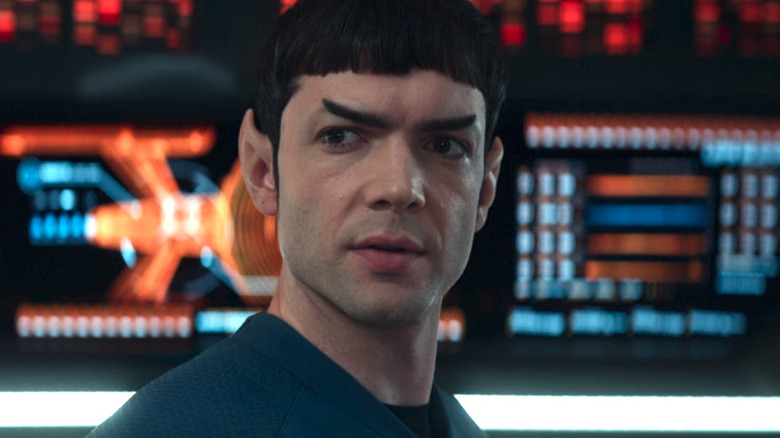 Paramount+
Along with Anson Mount and Rebecca Romijn, Ethan Peck debuted as the new Mr. Spock in Season 2 of "Star Trek: Discovery" before making the jump over to "Strange New Worlds." Though it certainly wasn't his first acting role, it was definitely his biggest, as Peck was largely unknown to most fans at the time of his casting as the Enterprise's resident Vulcan. But taking over a role associated with someone as famous as Leonord Nimoy was nothing new for Peck, as his biggest role prior to putting on the pointed ears was high school bad boy Patrick Verona — originally played by the late Heath Ledger – in the television adaptation of "10 Things I Hate About You," which ran for a single season following its 2009 premiere.
Outside of that one role, Peck was mostly a journeyman actor who appeared across a number of other series, with small roles in "Madam Secretary," "Gossip Girl," "That '70s Show" (where he played a younger version of Ashton Kutcher's Kelso), and "The Drew Carey Show" all the way back in 1999 when he was barely a teenager. But Peck's projects included more than just TV, as he also had bit parts in some major feature films including the Justin Timberlake thriller "In Time," and the teen fantasy drama "The Sorcerer's Apprentice." Suffice to say that now that he's this generation's Mr. Spock, he may not have to settle for bit parts any longer.
Christina Chong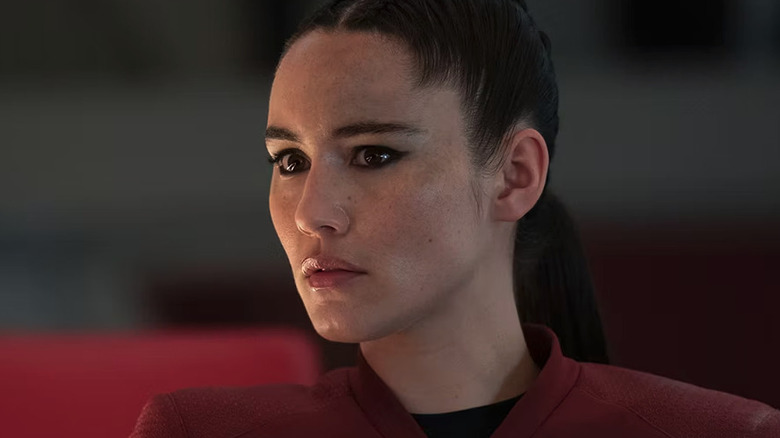 Paramount+
British import Christina Chong stepped onto the bridge of the Enterprise in "Star Trek: Strange New Worlds" to play the ship's chief of security La'an Noonien-Singh. Fans of science fiction likely recognize Chong from her small but key role in "Doctor Who" where she played mercenary soldier Lorna Bucket in 2011's "A Good Man Goes to War" or her part as Tamsin in the "Black Mirror" episode "The Waldo Moment." But those are hardly her only roles; in fact, those are technically some of her smallest parts.
Outside of the U.K., where she has made recurring appearances in crime dramas "Whitechapel" and "Case Sensitive," audiences may know her as Mariana in "24: Live Another Day," the 2014 miniseries revival of Kiefer Sutherland's "24." You might also have seen her in Season 2 of "Dominion" as Zoe Holloway, one of Vega's Archangel Corps. Her biggest role, though, wasn't on TV at all, as she was part of the main cast of the X-Box Live miniseries "Halo: Nightfall" alongside "Luke Cage" star Mike Colter. Chong came very close to completing the trifecta of appearing in the three biggest sci-fi franchises — including "Star Trek" and "Doctor Who" — when she filmed scenes for "Star Wars: The Force Awakens" that were ultimately cut from the film. Nevertheless, it all worked out, as her role as La'an in "Strange New Worlds" is far bigger than any cameo she may have had in "Star Wars."
Babs Olusanmokun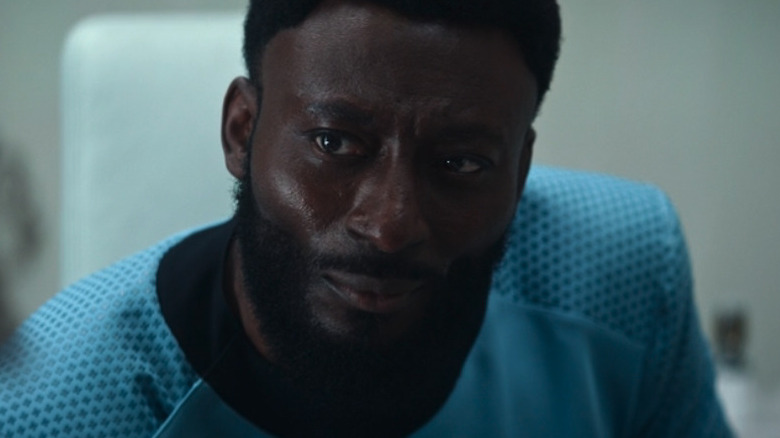 Paramount+
The chief medical officer of the USS Enterprise is Joseph M'Benga, a role that originated in a pair of episodes of the original "Star Trek" where he was played by Booker Bradshaw. In "Strange New Worlds," M'Benga is played by Nigerian American actor Babs Olusanmokun, who genre fans might recognize from his small role in Netflix's "Defenders" miniseries. In the Marvel team-up show, Olusanmokun played Sowande, an African warlord and member of The Hand who is ultimately beheaded in a gruesome scene by Daredevil mentor Stick. Like Christina Chong, the actor also had a role in an episode of sci-fi anthology series "Black Mirror" where he played Clayton Leigh, the holographic man at the center of the acclaimed episode "Black Museum," which also features "Short Treks" actor Aldis Hodge and "Black Panther" star Letitia Wright.
Outside of the sci-fi realm, Olusanmokun has appeared in the DC Comics crime drama "Gotham," the NBC James Spader hit "The Blacklist," Tom Sellek's "Blue Bloods," and the cult favorite "Veronica Mars."  He also had a multi-episode role as Kunta Kinte's father in the remake of "Roots," which was produced by original star and "Trek" veteran LeVar Burton. But Olusanmokun has shined outside of television, as he has also made memorable appearances in big screen outings like Paul Bettany's "Shelter," Guy Ritchie's "Wrath of Man," and the 2021 Denis Villeneuve science fiction epic, "Dune."
Bruce Horak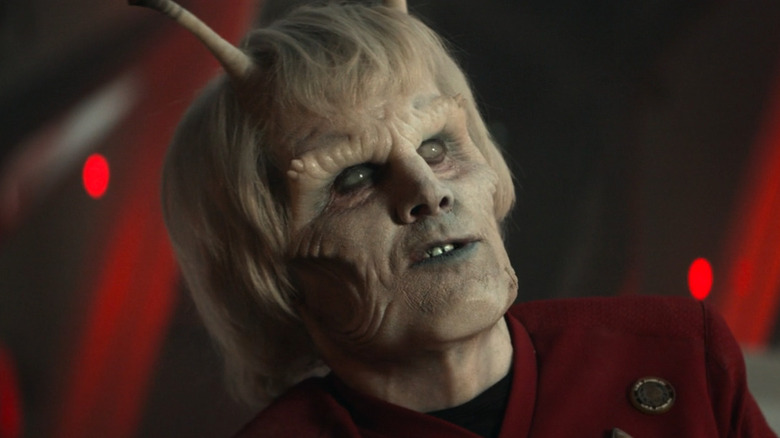 Paramount+
The first actor on our list that you had likely never heard of before "Star Trek: Strange New Worlds," Bruce Horak plays Hemmer, who is a member of  the Aenar, a subspecies of one of the classic "Trek" races, the Andorians. Hemmer's people hail from the subterranean ice caves of Andoria and lack eyesight while wielding powerful telepathic abilities. The producers thought it was important to cast a visually impaired actor to play a blind character, and Horak lost almost all of his eyesight due to a childhood illness (via CBC).
Before "Strange New Worlds," Horak had just a handful of TV and movie credits to his name, with a part in a 2010 episode of the sci-fi comedy "Warehouse 13" where he played Philo Farnsworth in the episode titled "Beyond Our Control." Horak also had a two-episode stint on the CW series "In the Dark" just prior to "Strange New Worlds," but acting was never Horak's first love. In fact, Horak is an artist by trade.
Celia Rose Gooding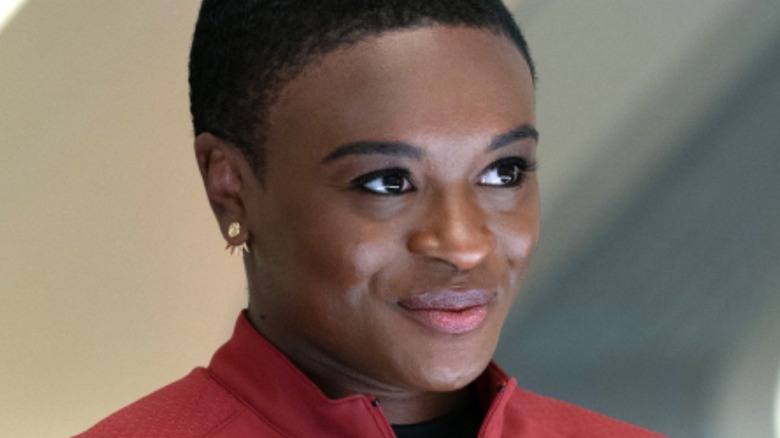 Paramount+
A surprise addition to the cast of "Star Trek: Strange New Worlds" was a younger version of the iconic Uhura, once played by Nichelle Nichols. Though we've previously seen her future-self serve as the Enterprise's communications officer, in "Strange New Worlds" Uhura is still a Starfleet cadet played by 22-year-old actress Celia Rose Gooding in her first ever onscreen acting role. 
During the years prior to Gooding joining the "Star Trek" family, she focused her career on live theater. In 2017, when she was just 17 years old, she appeared as one of the leads, Frankie Healy, in the Broadway production of "Jagged Little Pill," an original musical inspired by the songs of Alanis Morissette. The cast performed parts of "Jagged Little Pill" live on a few TV shows — "Late Night with Seth Meyers," "Dick Clark's New Year's Rockin' Eve," and "Good Morning America." After being nominated for a Tony Award in 2020 for her part as Frankie, Gooding received a Grammy Award for best musical theater album for her part in the "Jagged Little Pill" stage production's soundtrack.  
Melissa Navia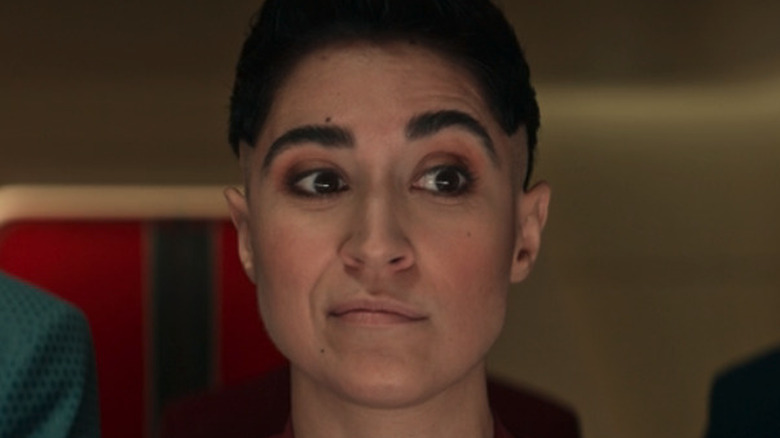 Paramount+
A new "Star Trek" character making her debut in "Strange New Worlds" is Erica Ortegas, operations officer on the bridge of the USS Enterprise. A snarky, wise-cracking straight shooter, Ortegas is played by actress Melissa Navia, an active Twitter personality who is just as lively and opinionated as her character. Though she's new to "Trek," if you're a big movie and TV watcher, you've probably seen Navia before.
You might know her from appearances on TV shows like "Billions," "Homeland," and "Bull." On the latter, she appeared just before her debut as Ortegas, playing the recurring character of Tidal, a devious hacker with dubious motives. Though "Strange New Worlds" is her first leading role in a series, Navia did have a seven-episode stint on the web series "Common Charges," and a leading role in the 2016 psychodrama "Hymns." Her screen debut in 2011 was also in a leading role, in the indie drama "Love Eterne," where she played a young woman who faces a turning point in her life and must look to her friends for support. But with her breakout role in "Strange New Worlds," Navia has finally found the spotlight she deserves.
Jess Bush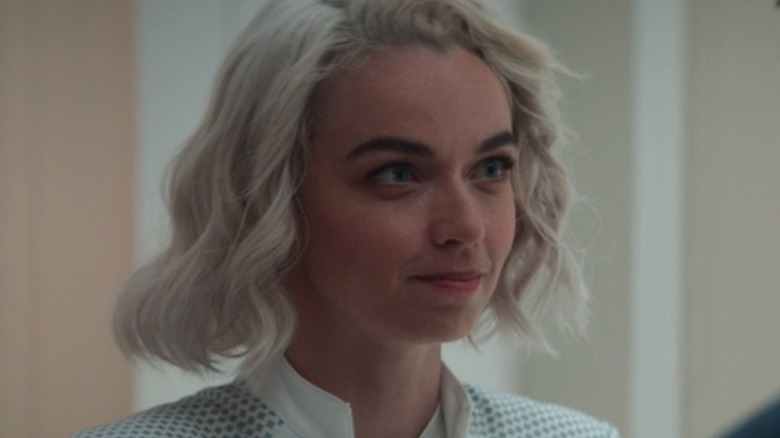 Paramount+
Another character that originated on the classic 1960s "Star Trek" series, Nurse Christine Chapel was — like Number One — originally played by Gene Roddenberry's future wife, actress Majel Barrett. Now, more than five decades later, Chapel returns to "Trek" as a main cast member of "Strange New Worlds," this time as a civilian researcher on assignment aboard the USS Enterprise. Here, Chapel is played by Australian actress Jess Bush, who puts on an American accent so convincing that you'd never know she was from Down Under if you weren't familiar with her previous work.
But if you are familiar with Bush's pre-"Star Trek" career, you're probably not among the majority of American Trekkies. In 2011, her showbusiness career began when she almost won the "Australia's Next Top Model" contest. It wouldn't be until 2017 that she'd take her first official acting role — a recurring character on "Home and Away," a soap opera that's practically a rite of passage for every actor who originates from Australia, including the likes of Chris Hemsworth, Isla Fisher, and Naomi Watts.
While she made a handful of appearances in shows like "Playing for Keeps" and "Secret Daughter," the new "Star Trek" series marks Bush's first major role.
Gia Sandhu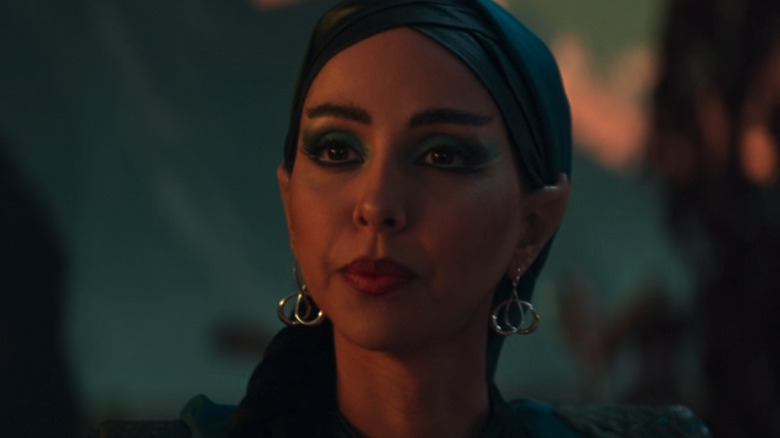 Paramount+
Actress Gia Sandhu made her mark on "Star Trek: Strange New Worlds" as the recurring character of T'Pring, Mr. Spock's betrothed on Vulcan. While the character appears previously in the classic episode "Amok Time," played by Arlene Martel, Sandhu has already eclipsed the original's screentime, appearing in three episodes of the first season of "Strange New Worlds." Though Sandhu's career has been varied and wide, she might be most recognizable to viewers in her native Canada where she performed in a number of television projects.
Sandhu had a small but recurring role in the comedic crime miniseries "The Indian Detective," which starred Russell Peters alongside fellow Canadian and godfather of "Trek" William Shatner. Sandhu also made appearances on Canadian shows like "Heartland," and "Kim's Convenience," where she played a woman pursued by Simu Liu's character. More recently, she starred in "The Mysterious Benedict Society" on Disney+, but her biggest role before "Star Trek" might have been a project that never came to fruition. In 2018 she was to have starred opposite Hannah Simone in the remake of the 1970s superhero comedy "The Greatest American Hero." Thankfully, on "Strange New Worlds," Sandhu has become a recurring actor who's made a real impact and is likely to return in Season 2.
Adrian Holmes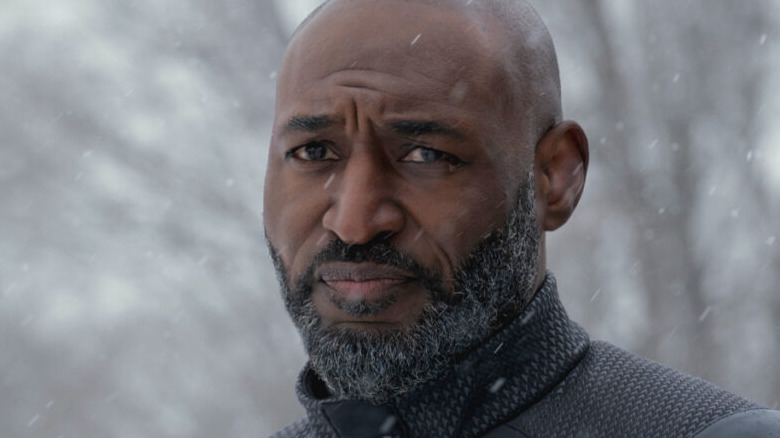 Paramount+
The fabled first captain of the USS Enterprise, Robert April finally makes his first live-action appearance in the premiere episode of "Star Trek: Strange New Worlds," played by actor Adrian Holmes. The character had been mentioned, but only ever seen on one occasion in the 1970s animated series. For longtime Trekkies, April's emergence on "Strange New Worlds" was both a stunning and familiar sight, at least for those who'd seen the actor's prolific body of previous work. Certainly, comic book adaptation fans might recognize him from his role in "The Boys" where he played Dr. Park in one 2020 episode, but it's even more likely they'd remember his recurring character Frank Pike, a police captain in Star City, on the DC television series "Arrow."
Before those appearances, Holmes was known mostly for the Steven Seagal action series "True Justice" and a recurring role in "Smallville." The actor also may be recognized from an important role in the "Battlestar Galactica" prequel web series "Blood & Chrome," as well as a variety of guest spots on any number of well-known TV shows like "Supernatural," "Letterkenny," and "Stargate SG-1." Suffice to say, Holmes has been around the block, and he's one of those faces you've probably seen whether you realize it or not. Here's hoping he gets his own spinoff series, and we get to see him in action as Robert April, former Enterprise captain.
Dan Jeannotte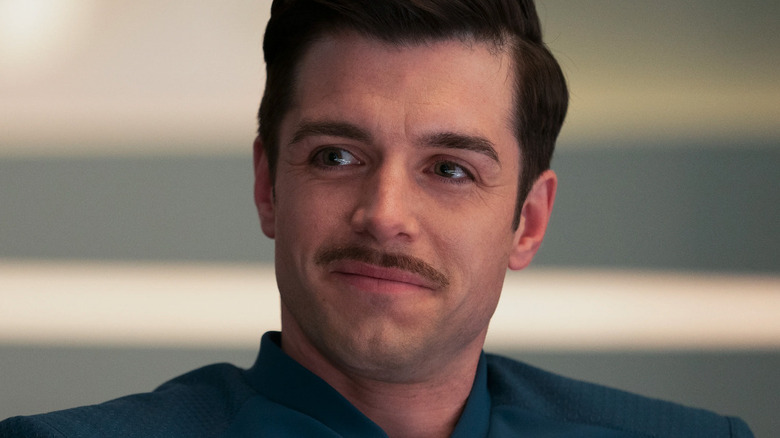 Paramount+
Dan Jeannotte joined the series in the final moments of the premiere episode of "Strange New Worlds" as the punchline of an episode-long gag. The imminent arrival of a "Kirk" was teased early in the episode, potentially setting up the reveal of the legendary James T. Kirk, only for it to be James' brother George "Sam" Kirk played by Jeannotte in all his mustached glory. Though originally appearing in the '60s series, where William Shatner played him while wearing a fake mustache, many viewers may have recognized the actor playing this new version. Jeannotte may not be a household name, but he's been seen in plenty of places outside of "Trek."
Jeannotte got his start with guest spots on "Being Human," "Dark Matter," "Fargo," and "Beauty and the Beast" while making background appearances in big films like "RED 2" and "Death Race." But he took bigger roles in more recent years, with a recurring role as James Stuart on the CW historical drama "Reign." Jeannotte was also a cast member of the Hallmark fantasy drama "Good Witch" for its first two seasons, then continued to appear as recurring character Brandon Russell throughout the rest of its five-season run.
From 2017 to 2021, the actor played freelance writer Ryan Decker on the Freeform drama "The Bold Type." With "Strange New Worlds," he's finally found his first franchise.
Jesse James Keitel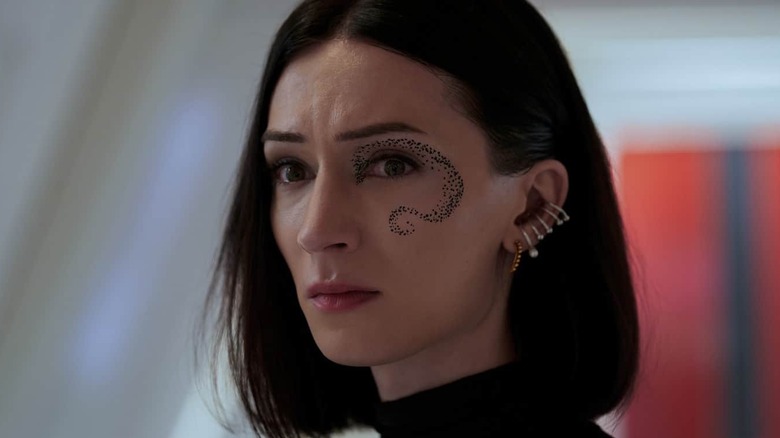 Paramount+
"Star Trek" is a franchise well known for its guest stars, with famous names like Joan Collins, Kelsey Grammer, Iggy Pop, and even Dwayne "The Rock" Johnson making major appearances over the course of its various series. "Strange New Worlds" had its best guest thus far in the episode "The Serene Squall" in the form of visiting Dr. Aspen, who is revealed to be a deadly space pirate named Captain Angel there to lure the Enterprise into a trap. Angel was played by guest star Jesse James Keitel, who has made a name for herself on the TV series "Big Sky" and earning serious accolades along the way.
Beyond her role as Jerrie Kennedy on "Big Sky," audiences might know Keitel for her recurring part as Ruthie, a transwoman and high school English teacher on the 2022 reboot of iconic comedy drama "Queer as Folk." But despite all the dramas that Keitel has starred in, "Strange New Worlds" isn't her first foray into science fiction. In "Forever Alone," she played a time-traveler facing a new personal mission.
In "The Serene Squall," we learn that Captain Angel has a connection to Mr. Spock as the lover of his half-brother Sybok, so there's a very real chance she'll return in Season 2.
André Dae Kim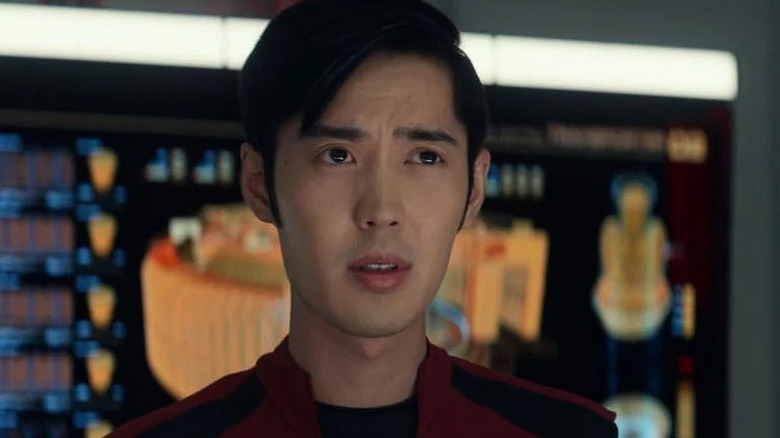 Paramount+
A lesser-known returning character who first appears on the original "Star Trek" series, transporter Chief Kyle made a comeback on "Star Trek: Strange New Worlds" in Season 1, played by actor André Dae Kim. Trekkies may not recognize the actor if their viewing habits limit them to more adult fare. But for many years, Kim starred on the hit teen drama "Degrassi: The Next Generation," where he played the snarky whiz kid Winston Chu in more than 50 episodes.
Outside of "Degrassi," Kim has appeared in a variety of guest roles on genre shows, including the horror drama "Locke & Key" and the supernatural drama "American Gods" from "Star Trek: Discovery" creator Bryan Fuller. Alongside "Strange New Worlds," Kim is a main cast member on the 2022 Peacock original "Vampire Academy" where he also plays a previously established character — this time Christian Ozera, played by Dominic Sherwood in the "Vampire Academy" film.
Sage Arrindell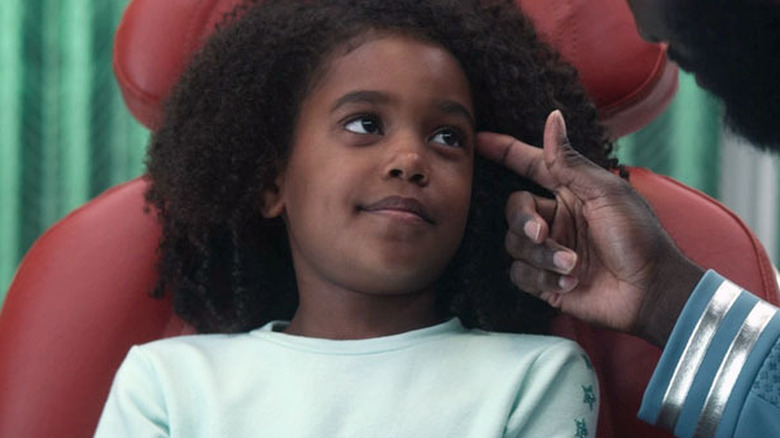 Paramount+
The youngest star of "Star Trek: Strange New Worlds," little Rukiya M'Benga is in many ways the heart and soul of the series' first season. The center of the most emotionally charged season-long subplot, Rukiya suffers from an incurable and terminal illness that drives her father Dr. M'Benga to search for answers among the stars. Rukiya was played by actress Sage Arrindell, and if you're thinking that someone so young wouldn't have many other acting credits on her resume, think again. 
Outside of "Star Trek," Arrindell has voiced a number of animated roles, most notably the recurring role of Julia on the Nickelodeon animal adventure "PAW Patrol." She also played two different characters in "Xavier Riddle and the Secret Museum," created by graphic novelists Brad Meltzer and Chris Eliopoulos. There she voiced child versions of two famous real-life figures — poet Maya Angelou and 19th century archaeologist Mary Anning.
In live action, Arrindell joined a different long-running franchise in 2021, appearing in an episode of the TV series "Chucky," based on the big-screen horror icon.