Where You've Seen The Cast Of The Man From Toronto Before
"The Man from Toronto" tells the story of inept idea man Teddy (Kevin Hart) who, in addition to messing up his business life, manages to wreck his personal life when he plans to take his wife Lori (Jasmine Mathews) to a cabin on a lake for her birthday. Due to a badly printed reservation confirmation, he goes to the wrong place and is mistaken for the terrifying hitman Randy, known professionally as "The Man from Toronto" (Woody Harrelson).
While the action-comedy received harsh reviews from critics and audience alike as evidenced by incredibly low scores on Rotten Tomatoes, the film did manage to pull in plenty of viewers on Netflix and even has the director Patrick Hughes contemplating a sequel crossover with his other action comedy franchise "The Hitman's Bodyguard" (per ComicBookMovie.com).
Whether you liked the film or not, the cast is full of faces that might look familiar. Continue reading to figure out just where you've seen these cast members from "The Man from Toronto."
Woody Harrelson (Randy aka The Man from Toronto)
The titular Man from Toronto is a hitman named Randy who is violent and efficient but harbors a softer side that wants to get out of the business and open his own restaurant. Bringing this comedic contradiction to life is the incredibly versatile actor Woody Harrelson.
Harrelson began his career joining the cast of the classic sitcom "Cheers" in its fourth season, playing bartender Woody Boyd. The role won him an Emmy in 1989, as well as five additional nominations, including one for a guest spot on the spin-off "Frasier." Other major television credits include a recurring role as Grace's boyfriend Nathan on "Will & Grace" and Emmy-nominated performances in the television film "Game Change" and the hit HBO series "True Detective."
However, Harrelson is better known for his work in countless movies, starting with his film debut as a football player in the 1986 Goldie Hawn comedy "Wildcats." He reunited with "Wildcats" co-star Wesley Snipes in 1992's "White Men Can't Jump" before taking a turn for the dramatic in 1993's "Indecent Proposal" and 1994's controversial "Natural Born Killers." Since then, he's been Oscar-nominated for "The People vs. Larry Flynt," "The Messenger," and "Three Billboards Outside Ebbing, Missouri," as well as featuring in films like "Kingpin," "No Country for Old Men," and "The Highwaymen." Harrelson has appeared in many popular franchises, including all of the "Hunger Games" films, "Zombieland," "Now You See Me," "Venom," and their respective sequels, as well as the spin-off "Solo: A Star Wars Story."
Kevin Hart (Teddy)
Teddy (Kevin Hart) tries to jump-start various half-brained fitness schemes but only finds failure. His marriage seems to be the only good thing going for him. However, even that is threatened when he winds up being confused for, then later working with, a legendary hitman.
Hart is a Grammy- and Emmy-nominated standup comedian who got his acting breakthrough as Luke on the Judd Apatow-created sitcom "Undeclared." His television credits include numerous comedy specials, the reality show spoof he created for BET, "Real Husbands of Hollywood," as well as the Quibi-Roku series "Die Hart" and the Netflix crime thriller "True Story."
In films, he has appeared in multiple spoof movies like "Scary Movie 3," "Epic Movie," and "Superhero Movie" as well as other popular comedies, including "Soul Plane," "The Wedding Ringer," and "Get Hard." He appeared alongside Michael Ealy in "Think Like a Man," Ice Cube in "Ride Along," and a cast of animated animals in "The Secret Life of Pets," all of which received just as popular sequels. He can frequently be seen with co-star Dwayne "The Rock" Johnson in films like "Central Intelligence," "Hobbs & Shaw," and the "Jumanji" series. In addition to comedy films like "Captain Underpants: The First Epic Movie" and "Night School," he has also taken a stab at more dramatic roles in films like "The Upside" with Bryan Cranston and "Fatherhood" with Alfre Woodard.
Jasmine Mathews (Lori)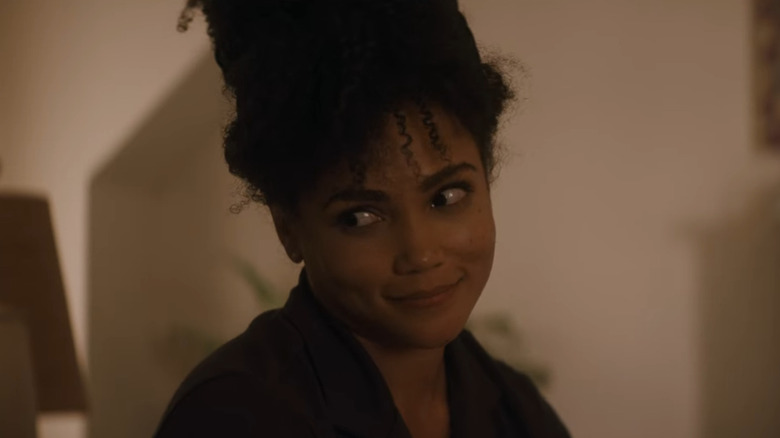 Netflix
Teddy has a romantic getaway planned for his wife Lori's (Jasmine Mathews) birthday, but while she is spending time at a day spa, Teddy winds up getting mixed up with the FBI. In an effort to keep Teddy working for them, the FBI offers to take his wife on a shopping spree in Washington, DC, to which he reluctantly agrees.
Mathews only has a handful of credits to her name, but she's already landed some quite prominent roles. After appearing in a 2017 episode of "Blue Bloods," Mathews landed the part of Heather McNamara in the 2018 television series remake of the cult classic "Heathers," though the show's release was consistently delayed and ultimately premiered in a heavily edited version. Mathews played an altogether different Heather in the 2018 Starz series "Sweetbitter" before landing a recurring role as Rachel Hall on the Nathan Fillion show "The Rookie."
Mathews made her feature film debut alongside Chris Pratt and J.K. Simmons as Lt. Hart in the science fiction film "The Tomorrow War." Though "The Man from Toronto" is only her second film, according to Cinema Daily she has been cast in an upcoming George Foreman biopic.
Kaley Cuoco (Anne)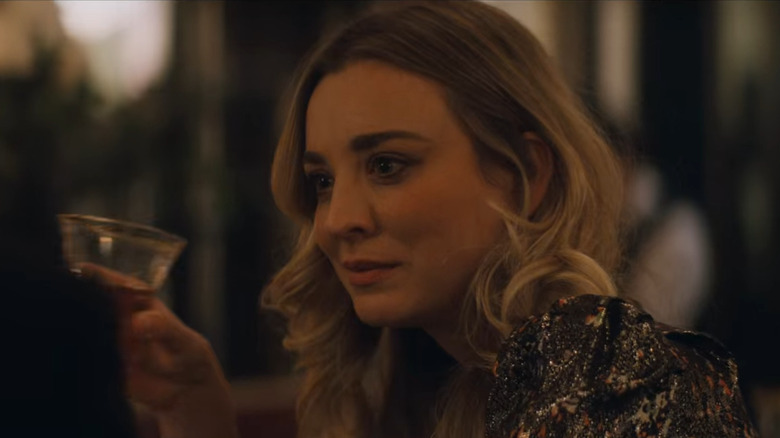 Netflix
When Teddy's wife, Lori, is taken away to Washington, DC for a shopping spree courtesy of the FBI, she is joined by her free-spirited friend, Anne (Kaley Cuoco). When Teddy and Randy meet up with them for Lori's birthday dinner, Anne connects with Randy and even gets him to reluctantly dance with her.
Cuoco has been acting in films and television since she was a child, starring in the Disney Channel original movie "Alley Cats Strike" and playing Marcia Brady actress Maureen McCormick in "Growing Up Brady," but it wasn't until her role as Bridget Hennessy on the ABC sitcom "8 Simple Rules" that she finally became a star. She soon played a witch on the final season of "Charmed" before landing her most popular role as Penny on the CBS smash hit "The Big Bang Theory." She most recently starred in the HBO Max original "The Flight Attendant," which earned her three Emmy nominations — two for her performance, one for producing.
Cuoco transferred her talents to the big screen, appearing in the family film "Hop," the Hank Williams biopic "The Last Ride," and "The Wedding Ringer" alongside her "The Man from Toronto" co-star Kevin Hart. Cuoco is also a talented voice actress, having portrayed Kirstee Smith in the "Bratz" franchise, the chipmunk Eleanor in "Alvin and the Chipmunks: The Road Chip," and the titular DC Comics icon in HBO Max's "Harley Quinn."
Pierson Fode (The Man from Miami)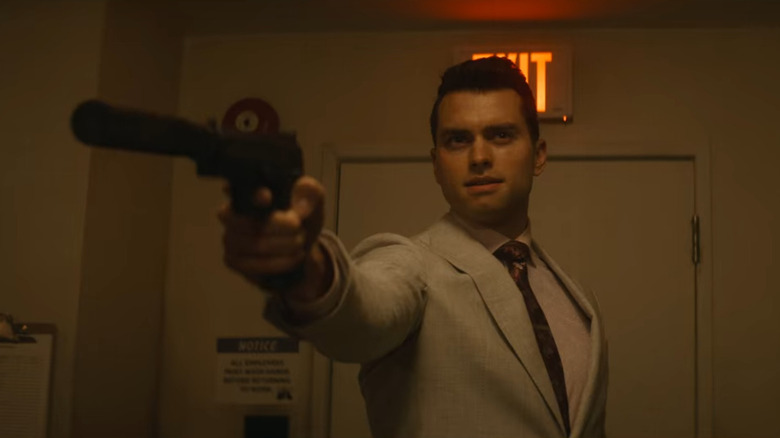 Netflix
When things seem to not be going well for Randy, his handler calls in another hitman to take over the operation. Armed with deadly golf clubs, The Man from Miami is a dangerous man with incredible skills.
Pierson Fode began his acting career appearing in web series like "Runaways" and "Storytellers" before appearing in the 2014 horror film "Indigenous." Afterward he appeared in a recurring role as the title character's ex-fiancé on the Disney Channel series "Jessie." In 2015, he starred as Ely Diamond opposite Victoria Justice's Naomi Mills in the romantic film "Naomi and Ely's No Kiss List" as well as landing the role of Thomas Forrester on the CBS soap opera "The Bold and the Beautiful," which he played for four years, earning him two daytime Emmy nominations.
Recently, Fode landed recurring roles in the Facebook Watch web series "The Real Bros of Simi Valley," the prime-time soap opera "Dynasty," the truTV sitcom "Tacoma FD," and the TNT drama "Animal Kingdom," which stars his "The Man from Toronto" co-star Ellen Barkin.
Ellen Barkin (The Handler)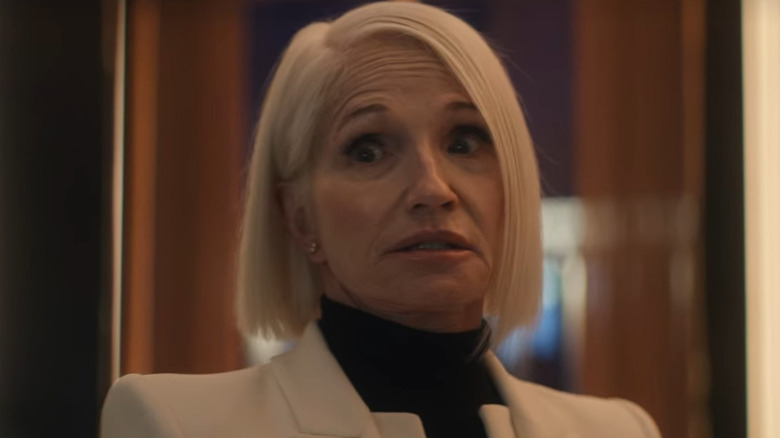 Netflix
Ellen Barkin plays Randy's Handler, who sends him out on assassinations and to torture targets for information. Though they've been working together for many years, Randy begins to question her motivations after Teddy points out some manipulative tactics she uses.
Barkin's first credited role was as Beth in the 1982 Oscar-nominated Barry Levinson film "Diner." The following year, she played Sue Ann in the Oscar-winning film "Tender Mercies" as well as television reporter Maggie Foley in the musical drama "Eddie and the Cruisers." She went on to appear as the long-lost twin sister of a rock star scientist's dead wife in 1984's "The Adventures of Buckaroo Banzai Across the 8th Dimension," state district attorney Anne Osborne in the 1987 romantic thriller "The Big Easy," and as the lead in the 1991 body-swapping comedy "Switch," for which she was nominated for a Golden Globe.
Barkin was also nominated for a Golden Globe and won an Emmy for her role in the 1997 television film "Before Women Had Wings." Since then, she has appeared in films like "Fear and Loathing in Las Vegas," "Ocean's Thirteen," and "The Cobbler" in addition to landing lead roles in the NBC sitcom "The New Normal," the Showtime comedy-drama "Happyish," and TNT's crime drama "Animal Kingdom."
Jencarlos Canela (Agent Santoro)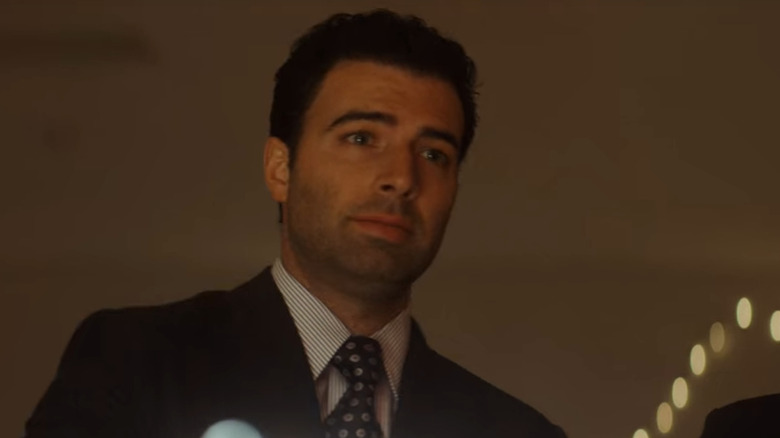 Netflix
Escorting Lori to Washington, DC is the incredibly attractive Agent Santoro (Jencarlos Canela). While he's only taking her and her friend shopping and to dance classes, Teddy is highly suspicious of him spending any amount of time with his wife.
Canela, a Cuban pop star, began his musical career at the age of 12 in the band "Boom Boom Pop" before going solo two years later. He featured in many festivals, multiple Miss World pageants, and the 2012 Summer Olympics, as well as releasing three popular albums, the first of which, "Búscame," went gold in 2009.
In 2007, he landed his first acting role as Alfredo "Freddy" Torres on the telenovela "Pecados ajenos," also known as "A Chance to Love." He went on to star in more telenovelas, including "Más sabe el Diablo," "Mi corazón insiste en Lola Volcán," and "Pasión prohibida." This experience translated well when he was cast in the 2015 sitcom "Telenovela" as Eva Longoria's ex-husband. Continuing in American television, he played Jesus Christ in the Fox television film "The Passion: New Orleans," landed a recurring role as El Rey in 2019's "Grand Hotel," and starred as the uncle of a child genius on Netflix's "The Expanding Universe of Ashley Garcia."
Ronnie Rowe Jr. (Agent Davis)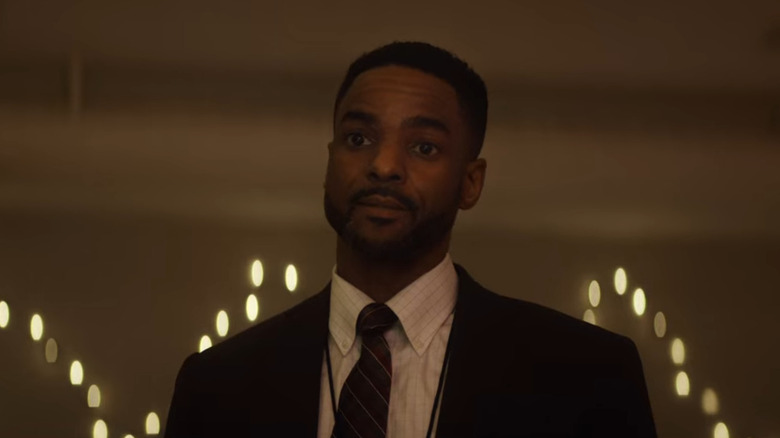 Netflix
When Teddy is confused for the dangerous Man from Toronto, the FBI asks him to continue to pretend to be him to help them in their operations. One of these agents, Davis, is played by the actor Ronnie Rowe Jr.
Rowe appeared in small parts in episodes of "Warehouse 13," "Murdoch Mysteries," and "The Expanse" before landing his first major role starring in the 2017 film "Black Cop," for which he earned a Best Actor award from the Vancouver Film Critics Circle. The following year, he landed a recurring role as A.D.A. E.J. Dashay on the BET legal drama "In Contempt" and a small part as a police officer in the Paul Feig film "A Simple Favor."
Currently, Rowe can be seen in his recurring role as Ronald A. Bryce on "Star Trek: Discovery" and as Pullman porter Zeke Garrett in the Canadian series "The Porter."
Alejandro De Hoyos (Colonel Marin)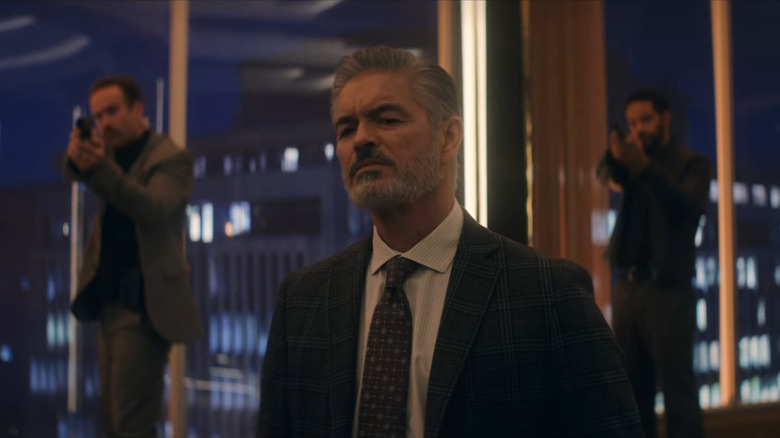 Netflix
Randy and Teddy have been getting information and severed thumbs for the exiled Colonel Marin (Alejandro De Hoyos), who plans to assassinate the Venezuelan president with a high-tech superweapon. But before he can execute his plan, Marin has to contend with Teddy and The Man from Toronto.
In his 20s, Alejandro De Hoyos was the manager of The Magic Circus, the largest private club in Mexico City. After hosting kickboxing events and musical shows, he got the acting bug, and in his 30s, he began appearing in commercials, television shows, and movies. In 1994, De Hoyos made his feature film debut as a reporter in the Jack Ryan sequel "Clear and Present Danger." He went on to appear in the soap operas "The Bold and the Beautiful" and "General Hospital" and landed a lead role in the 2008 web series "Ylse." In 2018, he produced and starred in the action film "The Contractor."
Most recently, De Hoyos appeared in the interactive Tinder app web series "Swipe Night," played a business mogul in an episode of "I Think You Should Leave with Tim Robinson," and starred in the 2022 film "Free Dead or Alive."
Lela Loren (Daniela Marin)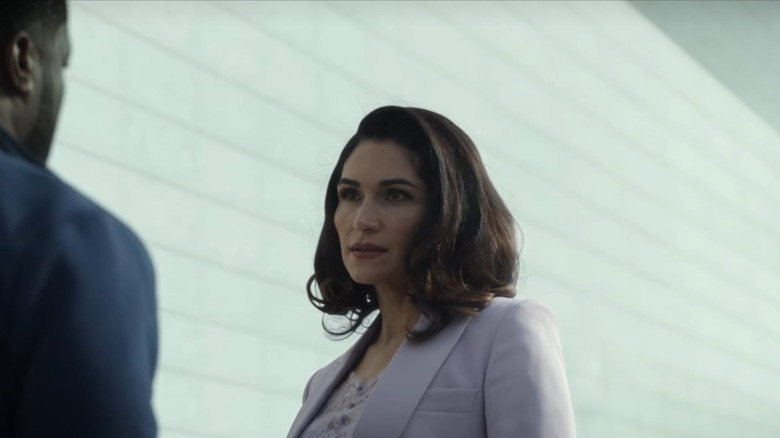 Netflix
When Teddy reluctantly agrees to help the FBI, his first task is meeting with Colonel Marin's wife, Daniela. However, when she suddenly whisks Teddy away to Puerto Rico, the FBI is unable to follow him.
Lela Loren got her start appearing in episodes of crime shows like "Cold Case," "CSI: Miami," "The Shield," and "NCIS" as well as landing bit parts in films like "Reign Over Me," "Snitch," and "The Hangover Part III."
She landed a recurring role in the 2012 Bryan Singer web series "H+." She followed that up in 2014 with a recurring role on the Fox show "Gang Related." The same year, she began playing Angela Valdes in the Starz series "Power," a role she played for six seasons. In 2020, she played Danica Harlan in Netflix's "Altered Carbon," and in 2022 she played Marguerite Olsen in the final season of "American Gods."
Kate Drummond (Agent Lawrence)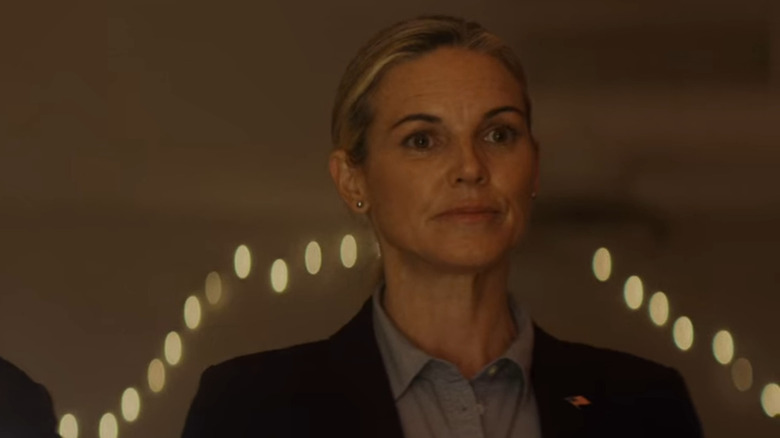 Netflix
Agent Lawrence is running the FBI investigation into The Man from Toronto in which Teddy winds up getting involved. She convinces Teddy to help them with their operation, but when he is taken to Puerto Rico, she scrambles to get things back under control.
Kate Drummond has had a successful career appearing in television movies since an uncredited role in 2006's "The Rival." She went on to co-star in the Hallmark trilogy of "Flower Shop Mystery" films alongside Brooke Shields. For Lifetime, she played lead roles in "Trapped: The Alex Cooper Story," "Pretty Cheaters, Deadly Lies," and "Secrets in a Small Town," the latter of which won her a 2020 Canadian Screen Award.
On the big screen, Drummond has appeared in 2015's "Room," the 2017 Canadian drama "Adam's Testament," and as Coach Edwards in 2021's "The Novice." She also landed the recurring role of Agent Lucado in Syfy's "Wynonna Earp," Authority Phydra in Hulu's "Utopia Falls," and Paula Westfield on CBC's "Heartland."
Martin Roach (Marty)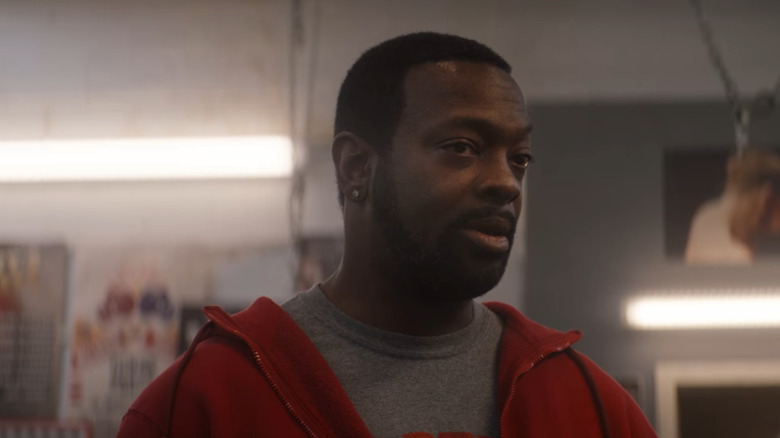 Netflix
At the beginning of "The Man from Toronto," Teddy works in marketing for Marty's Fitness. However, after he prints up a bunch of brochures with no address or phone number and continually pitches new unsuccessful workout regimes, Marty is forced to fire him.
Martin Roach has been appearing in films and television since 1996, but his first major role was in 1999 when he voiced Sam Wilson aka The Falcon in the animated Marvel series "Avengers: United They Stand." After a minor role in Vincenzo Natali's 2003 comedy "Nothing," Roach went on to co-star in "Cube Zero," a prequel to Natali's 1997 horror classic "Cube." In 2009, Martin landed another lead role on Disney XD's first original series "Aaron Stone" as the creator of the video game "Hero Rising." More recurring roles followed with Mike Thompson in 2011's "Falling Skies," the voice of Reginald Manderbelt in MTV's "Crash Canyon," King Oberon in Nickelodeon's "The Other Kingdom," and Dr. Claw in 2015's "Inspector Gadget."
More recently, Roach can be seen as Admiral Souther in the sci-fi hit "The Expanse," Captain Gosset in the Jason Momoa series "See," Detective Daniel Matuku in Netflix's "Locke & Key," and FBI Agent Picard in Amazon Prime show "Reacher."
Patrick Garrow (Brennan)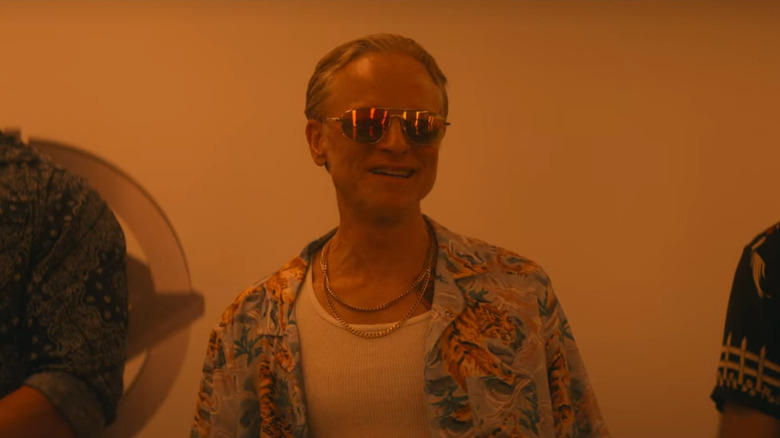 Netflix
When Teddy and Randy finally arrive in Puerto Rico, Teddy pretends to be The Man from Toronto and meets Brennan (Patrick Garrow). Brennan introduces Teddy to four men, one of whom is a Mr. Green with whom his boss, Colonel Marin, wishes to speak. After some unconventional techniques, Teddy manages to get the information. Or perhaps Brennan was Mr. Green all along....
Garrow is a character actor who has appeared in tons of movies and television series, usually in smaller roles. You can see him as a detective in the Bruce Willis action film "16 Blocks," as a friend to the Bowen family in 2015's "Poltergeist," as gay rights activist Bob Kohler in "Stonewall," and as Ivan in the Tom Holland film "Chaos Walking." However, his most prominent film role was probably as Antoine Vallon, the crime boss responsible for Alex Murphy's disfigurement in the 2014 "RoboCop" reboot.
On television, Garrow has appeared in episodes of everything from "Monk" to "Hannibal" to "The Umbrella Academy." He also landed recurring roles on Syfy's "Bitten" as Victor Olson, "12 Monkeys" as James Cole's father Matthew, "Killjoys" as RAC officer Turin, and "Reacher" as corrections officer Spivey.
Jason MacDonald (Coughlin)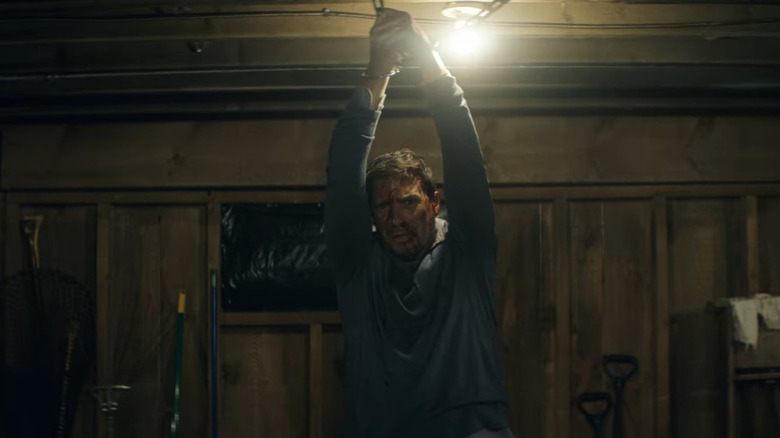 Netflix
When Teddy arrives at what he thinks is the cabin he's rented for his wife's birthday, he is taken downstairs, where he is surprised to see a beaten man (Jason MacDonald) tied to the rafters. He soon realizes he has been mistaken for someone called The Man from Toronto. Teddy is now expected to torture information out of the captured man, who he learns is named Coughlin.
MacDonald started out appearing in small parts on multiple soap operas, including "Another World," "Guiding Light," "As the World Turns," and "One Life to Live," and his biggest soap opera stint was as Bailiff Evans on "All My Children." His next big role was mostly relegated to flashbacks as he played Grayson Gilbert, the deceased adoptive father of Elena on the hit CW drama "The Vampire Diaries."
Recently, he had a recurring role as Tom Patterson on Netflix's "Sweet Magnolias," appeared in the 2022 HBOMax film "Moonshot" with Cole Sprouse, and plays Kelly's tree farmer father, Bobby, in the Fox sitcom "Welcome to Flatch."