The Kevin Hart Crime Thriller Killing It On Netflix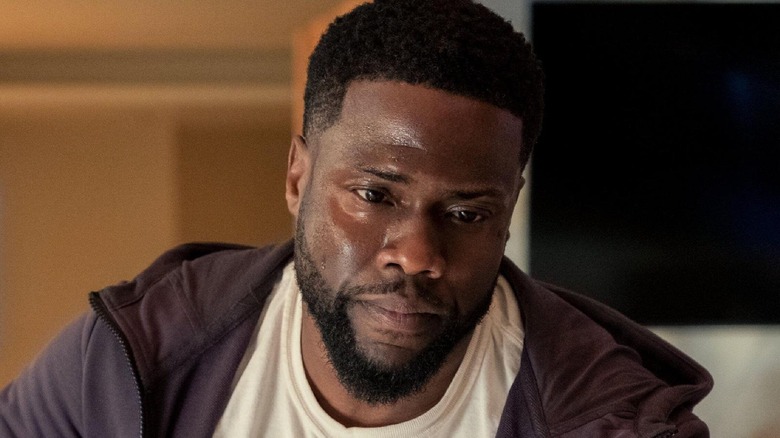 Netflix
In the last few years, Netflix has upped the number of original shows and movies that it's putting out. And the streaming service isn't just sticking to one genre; it's touched on science-fiction, horror, superheroes, rom-com, documentaries, drama, and crime thrillers. As such, Netflix seems to be able to tap into a vein of entertainment that audiences didn't even know they wanted. Just look at the huge success of shows like "Stranger Things" and "Squid Game" — they're two very different properties, but they've managed to dominate pop culture in similar ways. The streamer continues to work with big stars on fascinating projects, like Dwayne Johnson and Ryan Reynolds, who recently teamed up for the action-comedy "Red Notice."
Netflix has also worked with one of Johnson's frequent collaborators, Kevin Hart, on several occasions, including two original comedy specials and the 2021 drama "Fatherhood." Aside from his stand-up routines, the actor has shown that he can handle action comedies like "Ride Along," "Central Intelligence," and "Jumanji: Welcome to the Jungle." 
Clearly, Hart is committed to showing audiences how versatile he can be onscreen. As further proof of this, his latest project, a surprising crime thriller co-starring Wesley Snipes, is currently killing it on Netflix.
Kevin Hart's crime thriller True Story is gripping viewers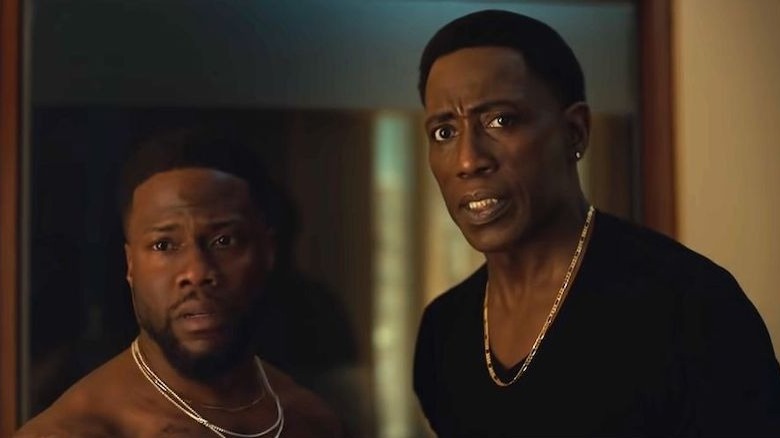 Netflix
Kevin Hart stars in "True Story" as Kid, an up-and-coming comedian whose life is changed when his older brother, Carlton (Wesley Snipes), shows up during his tour. One wild night of partying later, and everything Kid has worked for is in jeopardy. Created by Eric Newman and released on November 24, the limited series is produced by Hart's company, Hartbeat Productions, and the star is also an executive producer on the seven-episode show. "True Story" isn't based on a true story (per Decider), although audiences would be forgiven for thinking so since Hart plays a stand-up comic.
"True Story" has already impressed Netflix subscribers. At the time of writing, it's currently sitting in the streaming service's Top 10 most-watched list at number one. Fans took to Twitter to praise the show, with @TrailerTime_ writing, "Wow. Kevin Hart really delivered something memorable in 'True Story.'" It's a sentiment echoed by @TariqNasheed, who thinks the comedian will win awards for his performance in the thriller, saying, "I'm watching this 'True Story' series starring Wesley Snipes & Kevin Hart on Netflix, and it's phenomenal." He also added, "Kevin Hart's dramatic acting chops are amazing, and I can see him getting an Emmy nod for this."
Additionally, @SlickSAB remarked, "Extremely impressed with the acting of [Kevin Hart] in 'True Story' on Netflix it's been riveting to watch thus far 3 episodes in and it's safe to say it's been quality viewing!" and went on to say they were happy to see Snipes return to the screen with such an interesting role.
You can stream "True Story" on Netflix right now.