Hadley Robinson Discusses The Complicated Role Of Jeanie Buss In Winning Time - Exclusive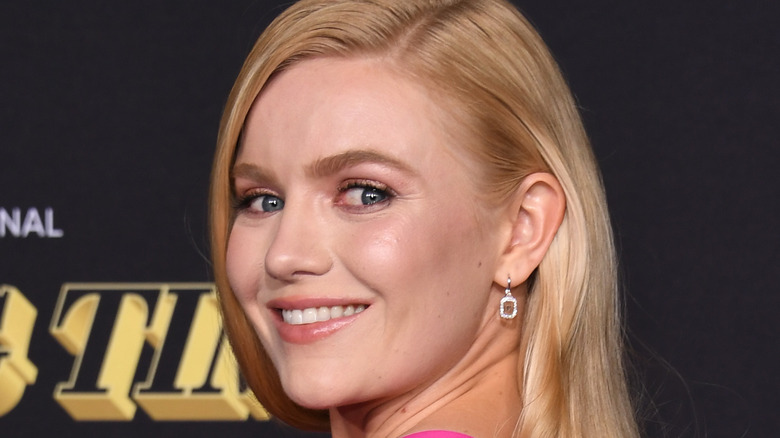 Jon Kopaloff/Getty Images
Without question, one of the most interesting aspects of the new series "Winning Time: The Rise of the Lakers Dynasty" is that it's not all about what transpires on the court with the "Showtime Lakers" in 1980s, but the pivotal roles some behind-the-scenes personnel played in helping the team get there. Among those key players is Jeanie Buss (Hadley Robinson), the daughter of new Lakers owner Dr. Jerry Buss (John C. Reilly). Together with LA Forum general manager Claire Rothman (Gaby Hoffmann), Jerry and Jeanie Buss aimed to turn the Lakers' sparsely-attended home games into a showbiz venture in a creative effort to get fans in the stands.
New on HBO and HBO Max, "Winning Time" chronicles several different stories about the legendary sports franchise, starting with Jerry Buss' first big move to select Earvin "Magic" Johnson (Quincy Isaiah) as the No. 1 overall pick in the 1979 NBA draft. Bringing the NCAA superstar aboard didn't ensure the team instant success. The beginning of Buss' ownership was tumultuous, starting with the departure of former Lakers all-star-turned-head-coach Jerry West (Jason Clarke), a tragedy involving West's replacement, Jack McKinney (Tracy Letts), and the sudden ascension of McKinney's assistant, Paul Westhead (Jason Segel) to the top position.
However, getting the team ready for the 1980 season was only one part of the equation. Jeanie Buss, who was about 18 years old when her father bought the team, joined the organization but wasn't taken seriously until Rothman — who at first spurns her young assistant's ideas to bolster attendance at the Forum — suddenly realizes Buss has huge potential. As such, Buss' suggestion of using the Forum during the Lakers' away games as a concert venue garners attention; plus the enterprising assistant discovers a then-unknown choreographer named Paula Abdul (Carina Conti), who helps transform the team's cheerleading group into the Laker Girls dancing squad.
Robinson says Winning Time is about Jeanie Buss finding her footing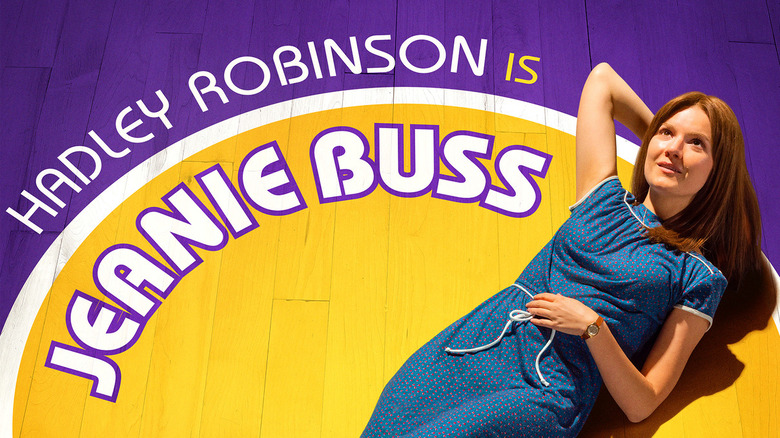 HBO Max
While the actor is portraying Buss in her early years, Robinson told Looper in an exclusive interview that she's proud to be portraying the woman who would eventually become the Lakers' team president. "She is so prolific in the NBA and she's such an incredible woman, and to see where she was at the genesis at the very beginning and what sparked it all is really interesting to me, and, I hope, is interesting to other people as well," Robinson enthused. "It's not just her starting at this workplace. It's not just a new job, but it is her father as the boss, this great man, this known man who has bought the Lakers, and he has this dream for them, and he wants to bring it to fruition."
As Robinson discovered, Buss' early days with the Lakers were just as much about her own career growth and the obstacles that go with it, so it wasn't always smooth sailing.
"I think she's just as passionate [as her father], but she doesn't really know how to express it yet, and she's trying to find her footing," Robinson explained. "She's also trying to navigate the sexism and how people are treating her because of her privilege within the workplace as well ... having a boss who's as intense as Claire Rothman is. Seeing all these little dynamics has been really interesting to play."
Also starring Sally Field, Solomon Hughes, Tamera Tomakili, DeVaughn Nixon, Adrien Brody, and Michael Chiklis, "Winning Time" airs on HBO and streams on HBO Max, with a new episode dropping every Sunday through May 8.