Winning Time's Michael Chiklis On Playing Red Auerbach And His Fantastic Four Lakers Encounter - Exclusive Interview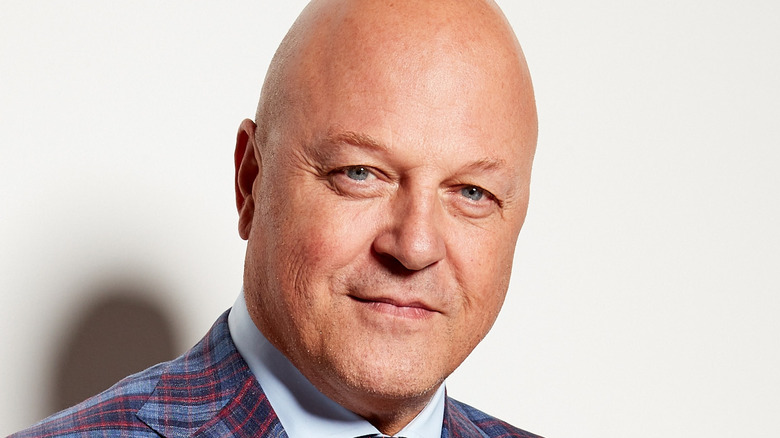 Rich Fury/Getty Images
After amassing nearly 70 screen credits in his 30-plus years in film and television, Emmy-winning "The Shield" star Michael Chiklis is finally getting to honor his home state of Massachusetts with a portrayal of one of the state's biggest legends.
That giant is none other than Arnold "Red" Auerbach, the iconic head coach of the Boston Celtics who brought greatness to the city with nine NBA championships as the head coach of the team in the late 1950s and most of the 1960s. Auerbach also earned several more league championships as the general manager of the Celtics in the 1970s and 1980s — the latter the time period of the new series "Winning Time: The Rise of the Lakers Dynasty."
Debuting Sunday, March 6, on HBO Max, "Winning Time" chronicles the dominance of the Los Angeles Lakers franchise in the 1980s after the team was purchased by Dr. Jerry Buss (John C. Reilly). A freewheeling investor who infused some showbiz pizazz into the team's home games to get people into the seats at the LA Forum, Buss made Earvin "Magic" Johnson (Quincy Isaiah) the first overall pick of the NBA draft in 1979 to compliment Lakers legend Kareem Abdul-Jabbar (Solomon Hughes).
"Winning Time" also examines the tumultuous coaching shuffle after Johnson was drafted, which began with the resignation of Lakers player-turned-head coach Jerry West (Jason Clarke), and the short-lived runs of head coaches Jack McKinney (Tracy Letts) and Paul Westhead (Jason Segal), the latter of which would go on to be replaced by Pat Riley (Adrien Brody). Auerbach is the Celtics GM when he's introduced in the series, as he begins to build a new team dynasty by drafting Johnson's rival, Larry Bird (Sean Patrick Small). In an exclusive interview with Looper, Chiklis reveals what went into his cigar-chomping turn as Auerbach, who begins the series by messing with the mind of rookie owner Buss.
Winning Time was a time for fake cigars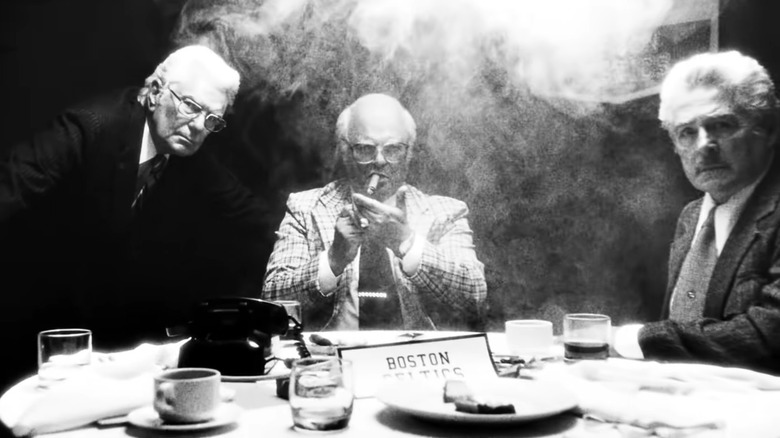 HBO Max/YouTube
I don't know if you smoke cigars for real, but one of the signature traits, obviously, of Red Auerbach is that he was always smoking cigars. The NBA Coach of the Year trophy has him holding a cigar. The statue in Boston, he's got a cigar. How many stogies do you think you consumed during the filming of "Winning Time"?
Quite a few, and the thing is, that's horrible. It's good, but it's horrible. I was an original member at the Grand Havana Room back in the day, so I did smoke my share of cigars, and I love them, but I quit because I was smoking too many of them, and I want to live, and so I quit ... 22 years ago, so I was a little concerned about this. You can't smoke cigars on set anymore, so they had ... It's this horrible clove that ... Oh, it's awful. That's what I had to smoke to play Red. They look right. It looks right, but boy, oof, not good.
Seeing Red ... Auerbach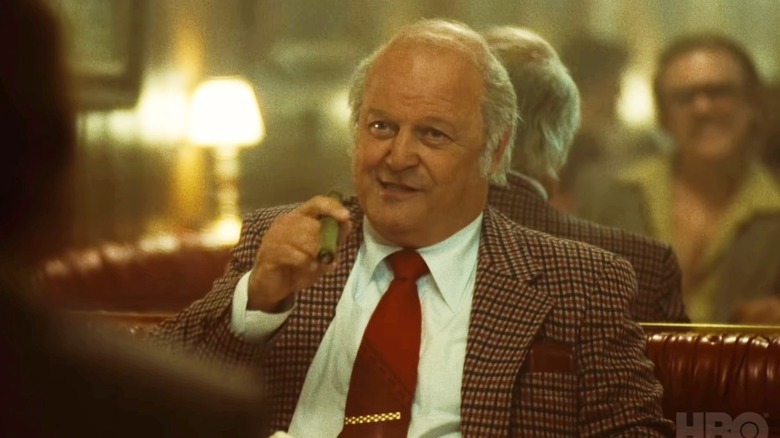 HBO Max/YouTube
Talking about Red — what a legend. Does the fact that you're a Massachusetts guy make playing Red maybe a bit more intimidating than other gigs? We're talking Celtic pride here, and you don't want to let the hometown down.
I guess it would've, had I not been through this kind of thing a number of times before. I've played a number of iconic people in my career, so I'm familiar with that feeling. I approach it the same way every time. Do your due diligence. I studied him. I read the books. Be as truthful and as forthright and true to the man as possible, and you should be okay. Born, raised, and educated in the Boston area, my dad ... I hate that my father isn't alive to see this because he would freak out for this series! He loved Red Auerbach.
You have to understand, I knew that he would be portrayed as a villain, if you will, at least initially, because he's the principal antagonist, one of the principal antagonists, but I know that Red Auerbach was loved and revered by his teams, by the administrations, and the fans of the Boston Celtics. Conversely, if you were on the other side of that, you f***ing hated this guy because he was so formidable and he was so incredible, and he played to win. You know what? That's a fun role to play. It's great to slip on that jacket and smoke those stogies.
A 'Magic' encounter while playing the Thing in Fantastic 4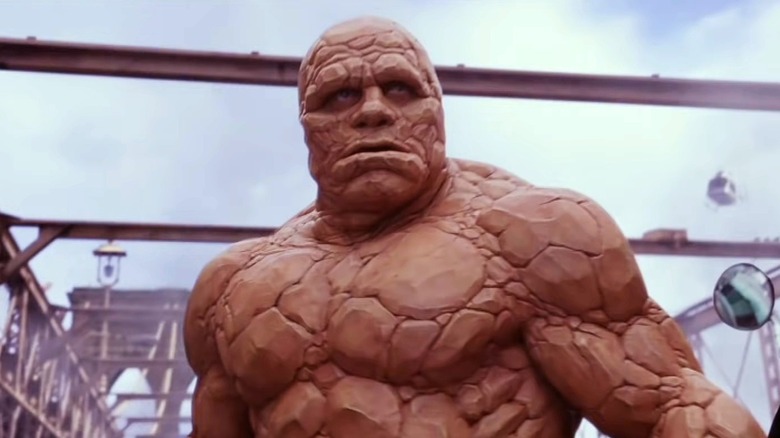 20th Century/YouTube
I had the wonderful opportunity to talk with you back in the day for "Fantastic Four." I loved your portrayal as Ben Grimm, AKA The Thing, and I'm wondering, the fact that you were in that film, and you were in Gotham for the DC Universe, tells me that you love that sort of material. Would you take a role back in the Marvel Cinematic Universe or DC if you had the opportunity?
I never say never. It would depend on, first and foremost, the script and the circumstances, but I'd never say never to anything like that. In a word, "Sure."
Well, whenever I see you, I think of these words: "It's clobbering time, baby!" I loved you in the "Fantastic Four."
Thank you. A quick tie-in to that, really, really quickly. I met Magic Johnson as a result of the first "Fantastic Four" movie. They did an NBA tie-in, and we did an ad with him, where the Fantastic Four had to play against Magic Johnson, and it played during the games as a promotion for the "Fantastic Four" movie, interestingly ... [It was] a little foreshadowing [for "Winning Time"].
Also starring Sally Field, Hadley Robinson, DeVaughn Nixon, Tamera Tomakili, and Gaby Hoffmann, "Winning Time: The Rise of the Lakers Dynasty" debuts Sunday, March 6 on HBO and HBO Max, with a new episode every Sunday through May 8.
This interview was edited for length and clarity.