Jason Segel, DeVaughn Nixon And Tracy Letts Detail Their Roles In Winning Time - Exclusive Interview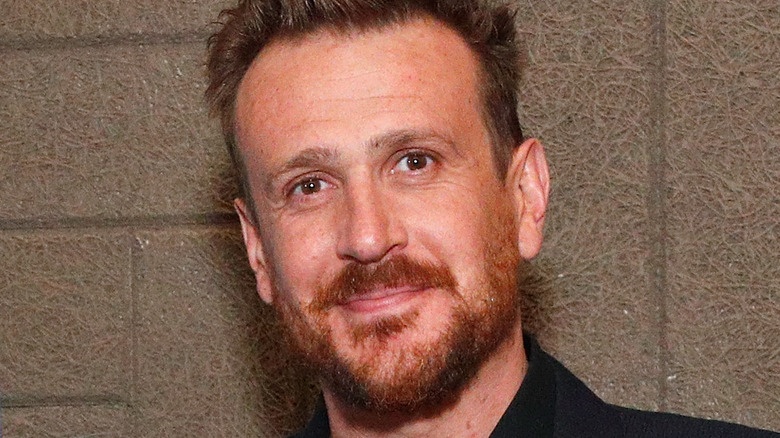 Astrid Stawiarz/Getty Images
While the new series "Winning Time: The Rise of the Lakers Dynasty" chronicles one of the most memorable decades in NBA history with the turnaround of the Los Angeles Lakers franchise, there's a lot more going on than what is depicted on the court. In addition to the game, there's plenty of action involving what's happening courtside and behind the scenes, involving the likes of such players as Earvin "Magic" Johnson (Quincy Isaiah) and Kareem Abdul-Jabbar (Solomon Hughes); as well as coach Pat Riley (Adrien Brody) and the man who turned the team into a showbiz venture, owner Dr. Jerry Buss (John C. Reilly).
Consisting of ten hour-long episodes, "Winning Time," dives much deeper into the dynamics of the time-honored squad than your average sports drama. The series also peers into the complex inner workings of the team after Lakers legend-turned-coach Jerry West (Jason Clarke) suddenly gives up the reigns of the team to Jack McKinney (Tracy Letts) and then Paul Westhead (Jason Segel) — two head coaches whose wildly different styles defined the "Showtime Lakers" era that ruled the NBA in the 1980s. On top of that, "Winning Time" highlights the important role such stalwarts as Norm Nixon — played by the esteemed point guard's real-life son, DeVaughn Nixon — had in the team's success.
Just ahead of the debut of "Winning Time" on HBO Max Sunday, March 6, Segel ("How I Met You Mother" and "Forgetting Sarah Marshall"), Letts ("Lady Bird," "Ford v Ferrari," and Pulitzer-winning playwright of "August: Osage County"), and Nixon (Marvel's "Runaways" and "The Secret Life of the American Teenager") sat down for an exclusive interview with Looper to discuss their roles in the series.
Keeping the Norm Nixon role in the family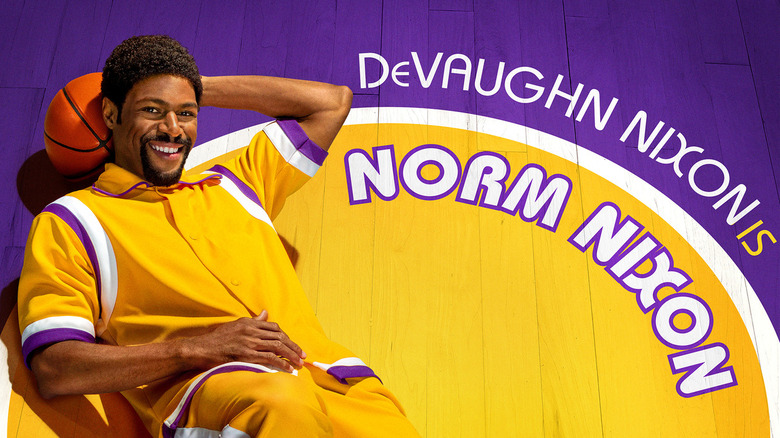 HBO Max
DeVaughn, out of the entire cast, I think nobody knows the story of their character and the story of the Lakers better than you because you play your father. How emotional was that for you to be cast as your father in "Winning Time"?
DeVaughn Nixon: It was emotional for me for two reasons. One, because HBO [is] behind it. They produce some of the best television shows in the world, in my opinion. To be a part of that family, ... I'm going to tear up now ... it truly hit me hard ... First of all, since [the book it was based on] was called "Showtime," and I actually thought I was on Showtime. I was like, "'Showtime' on Showtime. That makes sense." Then my manager was like, "It's on HBO, stupid!" [Laughs] I was like, "Oh, okay." It took a moment, and yeah, I thank God, thank all the obstacles that I had to face to get to this point ... It really sunk in during the Super Bowl. When I saw [the spot for the series], I was like, "I know how much those ads are."
My [agent] texted me like, "You're on the Super Bowl commercial! Your show's on a commercial!" That was when I was like, "Whoa, okay." It definitely hit home. And then second, playing my dad, man, is a dream come true. It is cool. There's no other person I would rather play. I think I'm the only one that can really do him justice aside from my brother [because] me and my brother look alike. He's a little more fair-skinned than me, though, and me and my dad pretty much look like twins. If you put pictures of us side to side, and you put me in my wig and my dad in his wig, we look pretty much identical. It's a dream, man, it's a dream come true. Truly.
Jack McKinney finally gets his due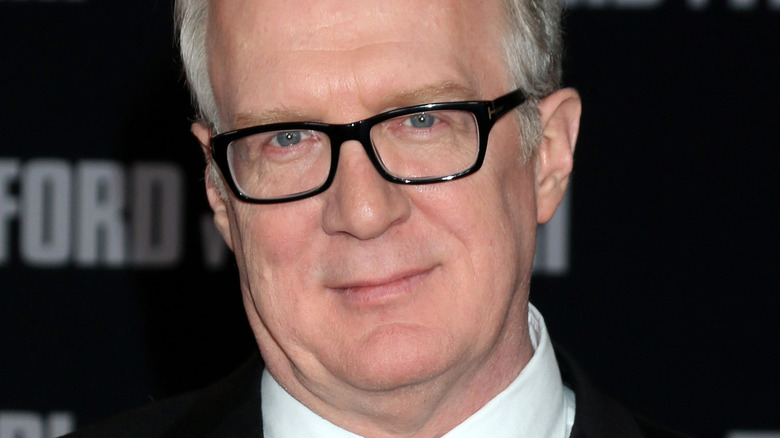 Kathy Hutchins/Shutterstock
Tracy, you have to feel good knowing that one of the episodes is named after your character, The episode is titled, "Who the F is Jack McKinney," except for it says more than "F." What's great about "Winning Time" is that it really does shed a light. People find out "Who the F" Jack McKinney is because he is a footnote in Lakers' history, but what a pivotal footnote he turns out to be. I would go so far as to say guys like Jack McKinney and Paul Westhead, they really did help create the Showtime Lakers.
Tracy Letts: It's one of the great things about the show. It not only gives us so much of the public face of the show, and the games and so much of the history that we already know, but a lot of what went into making it, the unknown history, the secret history of it. Jack McKinney, [it] would seem, was not only an important architect of the Lakers and the Showtime Lakers, and the success they had for years and years after that, but really [was a] pretty important figure in the development of basketball — fast-break basketball.
He's denied any credit for that because of the terrible tragedy that befell him, and I didn't know any of the history of that. I don't think most people know the history of it. I'm really glad that Mr. McKinney's going to get some attention as a result of this series. I hope his family is pleased to see that, because I'm sure for them, it becomes important that he's remembered for his contribution.
A tale of two coaches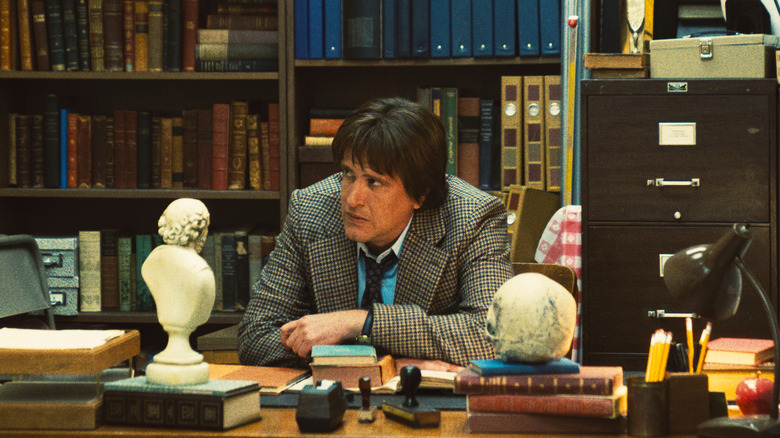 HBO Max
I love seeing people getting their just due and for you, Jason, I think the interesting thing about Paul Westhead, he seems too nice to be an NBA coach, especially in the shadow of Jack McKinney. Did you stop a minute to think how the dynamic between those two guys worked? Because their personalities really are polar opposites.
Jason Segel: Yeah, I did. There is some intentionality behind the way that you meet Paul Westhead in this series, where exactly, as you said, for a million reasons, he seems like the last choice to be the head coach of the Lakers. That's by design because when Jack McKinney goes down, the idea that this guy is going to take over should feel like the worst idea in the world when you reach that moment in the series. It's actually really exciting because you then watch somebody have to summon some mettle that they don't know if they have, and it's a pretty cool story.
Why Winning Time is more than a sports story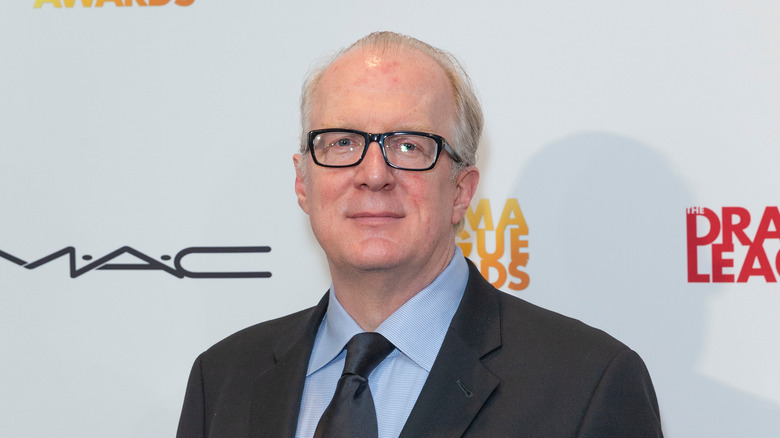 Lev Radin/Shutterstock
Tracy, being a Pulitzer Prize-winning playwright, it must be thrilling to see a compelling story, because when people think of sports dramas, they generally think of whether it'll be on the court, on the gridiron or wherever. The sport itself is actually secondary to the human stories within in "Winning Time." That must be thrilling for you as a writer coming into a situation like that.
Letts: The scripts were so well written, the stories so well told — it's not about the sport, the best examples of sports movies and sports stories are rarely about the sport themselves. They're about the human story underneath. There's a great human story here. To really take the time the way the television series can, more so in this case than a movie — to take the time to establish why each one of these people needs this team, not only to come together, but ultimately to win.
It's a beautiful way to establish the stakes for everyone. The stakes are so high for everybody involved. That's very involving for an audience so that, by the time you get to the championship game, whether you know the result or not, you've got so much more invested in it emotionally as an audience member because you know what it's taken everybody to get there.
Stepping into his father's shoes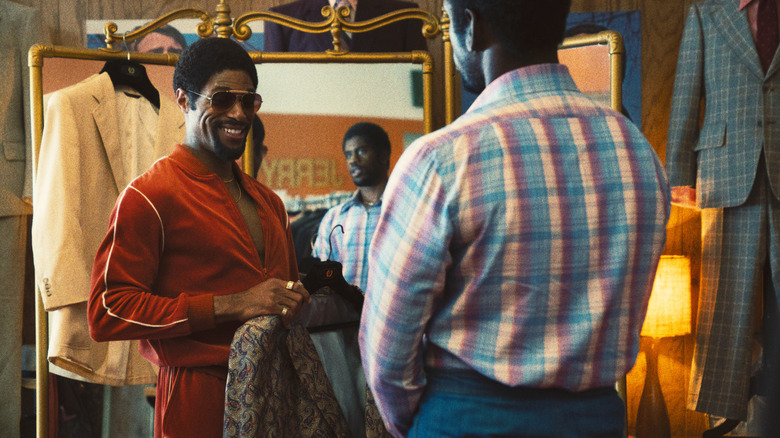 HBO Max
Jason and DeVaughn, you must feel the same way. It makes the project that much more important and that much more exciting to become a part of.
Nixon: Yeah, man. When I first read the pilot, I was like, "Wow." I was like, "This is an incredible story." I love how they showed my dad and he was a cool character. Making me step into those shoes, I felt cool. The way they told his story, how he was a beast on the court and he was the best dressed — "Savoir Faire" is what they called him — all of these elements, they added to when I got mentally prepared to play my dad, because there was some preparation, you know what I mean? [I prepared] physically, and trying to find out how to follow the writing as well as trying to have the mannerisms and keep my dad true to himself.
That was probably the hardest part for me. The way the story was told and when I read all of the scripts — because we had them before we started filming — when I read all of them, I was like, "Whoa." It comes to a great conclusion, the character arcs of each of our characters, all interesting stories to follow. There's so many people that people didn't know about, and there's so much story to cover and they did it so efficiently. Everybody gets to shine. The ensemble here is extraordinary, especially the actors playing the characters, and it was truly an incredible long journey; a very long journey because the show was supposed to come out in 2020. We shot the pilot in 2019.
[The] wait of finally everything being here and finally us being able to present it to the world, yeah, it's truly incredible. Even if you're not a sports player, there are characters that people are going to connect to whether it be Westhead ... who comes on and falls into a position that he now has to ... it challenges him mentally, him being the head coach; and then McKinney, who was respected and sought out, who is responsible for the Lakers style of play. He changed the game, in a way. With all of these characters, I feel like somebody is going to connect to [someone in the series, because it's] a great and well-rounded show. We have a really well-rounded cast and like I said, it's truly a blessing to be a part of [it]. It was fun to film.  
"Winning Time: The Rise of the Lakers Dynasty" debuts Sunday, March 6 on HBO and HBO Max, with new a new episode premiering every Sunday through May 8.

This interview was edited for length and clarity.