Quincy Isaiah Gets His Head In The Game Playing Lakers Icon Magic Johnson In Winning Time - Exclusive Interview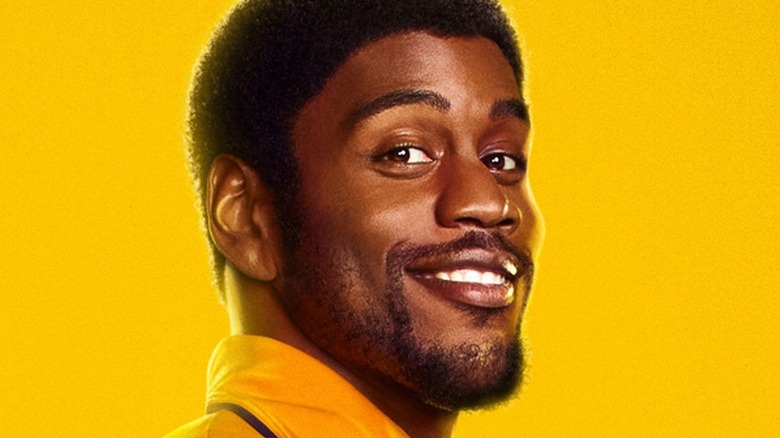 HBO Max
Screen newcomer Quincy Isaiah is about to tip-off his screen career in earnest, and it couldn't come with a higher-profile project and character. With only one short film — 2018's "Corporate Coffee" — under his belt, Isaiah is starring in the pivotal role of Earvin "Magic" Johnson in the new series "Winning Time: The Rise of the Lakers Dynasty."
Debuting on HBO Max Sunday, March 6, "Winning Time" delves deep into the wild behind-the-scenes events that led to the formation and domination of the "Showtime Lakers" of the 1980s, beginning with the purchase of the team by freewheeling businessman Dr. Jerry Buss (John C. Reilly). Buss' first big move is to reinvigorate the flailing Lakers by making Johnson the No. 1 overall pick in the NBA draft in 1979 — a move that meets the resistance by the Lakers' volatile player-turned coach Jerry West (Jason Clarke), as well as team stalwarts Norm Nixon (DeVaughn Nixon) and Kareem Abdul-Jabbar (Solomon Hughes).
Based on the bestseller "Showtime: Magic, Kareem, Riley, and the Los Angeles Lakers Dynasty of the 1980s," by author Jeff Pearlman, "Winning Time" is loaded with an impressive roster, including Oscar-winner Adrien Brody as famed Lakers coach Pat Riley; Gaby Hoffmann as LA Forum general manager and Buss confidant Claire Rothman; Sally Field as Buss' mother and Lakers accountant, Jessie; Hadley Robinson as Buss's daughter and future Lakers team president, Jeanie; and Tamera Tomakili as Johnson's future wife, Cookie Kelly. The series also stars Jason Segel and Tracey Letts as former Lakers coaches Paul Westhead and Jack McKinney, respectively; and Michael Chiklis as Lakers rival Red Auerbach — the legendary coach of the Boston Celtics.
Isaiah sat down with Looper in an exclusive interview to discuss the magic that went into playing the iconic Johnson, as well as the actors who helped him shape the role.
Getting into the psyche of Magic Johnson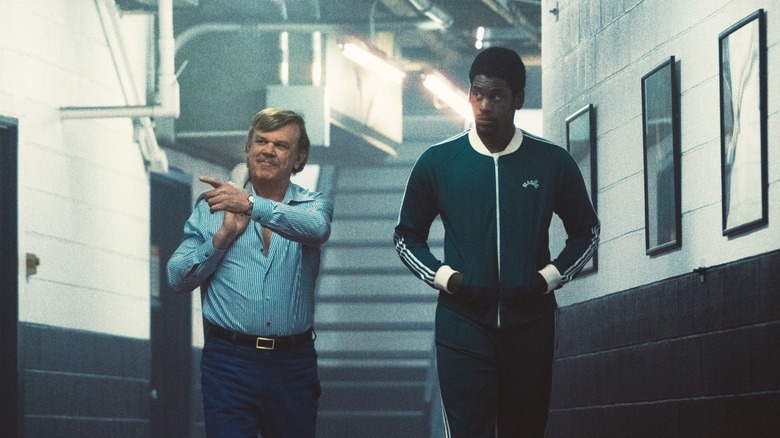 HBO Max
There are a lot of extraordinary stories in this series, but the way it begins, with Magic Johnson and one of the most earth-shattering moments, clearly in the franchise's history if not world history, as far as I'm concerned, that will unfold with Magic's revelation that he is HIV positive. There's a lot to wrap your head around with this role.
Yeah, man. It's a lot. Knowing all the things ... Who he becomes, and dealing with him at such a young age, it could be a lot.
Magic's story is extraordinary before that moment, and it's even more extraordinary after that moment. How helpful was Magic to you personally to get your head in the game so to speak?
I wasn't able to meet him, but the producers really helped me in terms of getting me all the material I needed. He did help me by writing his biography, ["32 Ways to be a Champion in Business" and] his other books and his documentaries that he's done, and all these other interviews and pieces of information that he's let out there. It really helped me build the character. Yeah, it was fun trying to figure it out and getting to the psyche of a 20-year-old Magic Johnson.
Isaiah says his co-stars set him up for success in an intimidating situation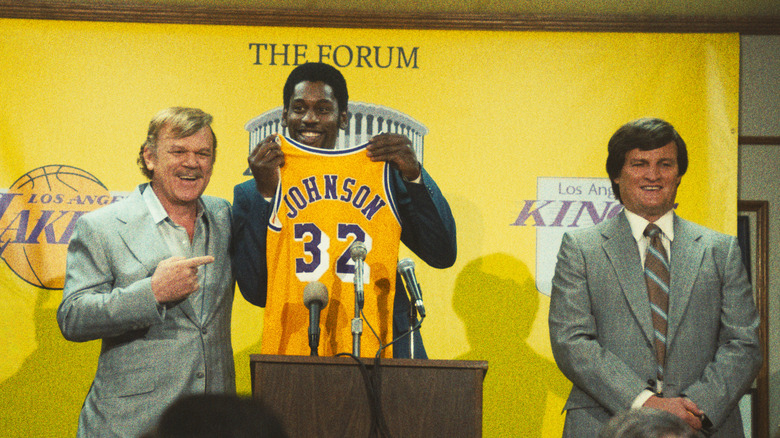 HBO Max
Apart from the HIV storyline, what was the most intimidating part of playing Magic where you felt, "I got to get this right." Was it the on-court play? Was there an important moment or moments off-court where you said, "I got to nail this"?
I think it was still being Magic Johnson around all these great actors and not being shy by the moment. There's a scene in the pilot where we're doing the lunch scene, and being in that moment with John C. Reilly and Rob Morgan [who plays Johnson's father, Earvin Sr.], and Michael O'Keefe [Lakers owner Jack Kent Cooke, who sells the team to Buss], really owning that space. That is difficult as a newer actor being in that space, to be Magic Johnson, and bring that level of charisma and confidence. I like to think I held my own. 
Again, with the other actors, Adrien Brody and Jason Clarke, and Wood Harris [as fellow Laker Spencer Haywood], it can be intimidating at times. Knowing that the people around you are setting you up for success is what I really leaned on, which helped me feel more comfortable as days went by. Now, I feel like I can slip in and out of them at a moment's notice.
Isaiah's heart is with the Lakers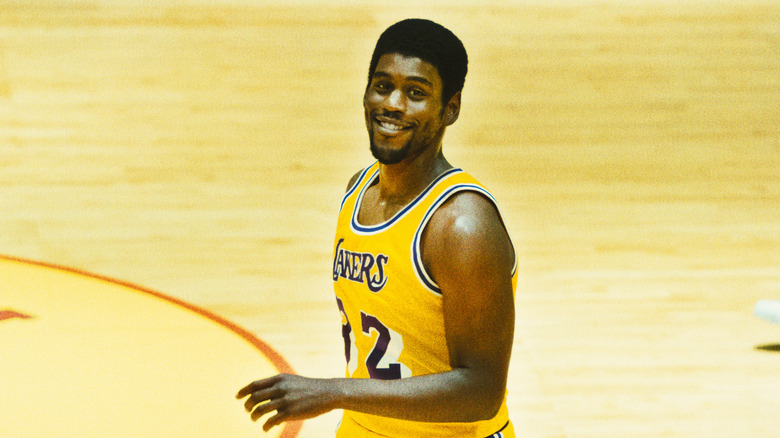 HBO Max
I find it interesting that you got a guy like Adrien Brody being from New York, playing a New Yorker Pat Riley, you got Michael Chiklis from Massachusetts playing Red Auerbach. Then, you're from Michigan, much like Magic Johnson is. I'm wondering, though, because Magic went on to Lakers greatness, did you root for Magic growing up, being that he was from Michigan or were you a Pistons guy?
I could talk about my dad during that era, because I wasn't born until '95. I'm past the Magic Johnson, Kareem era. My favorite player was Shaq growing up, but with that being said, [Magic is] one of the greatest point guards of all time. You knew who he was. I rooted for the Lakers again with Shaq, but I started to realize that ... I liked the players more than actual franchises, you know, like LeBron ... I live in the age of player empowerment. Players change teams a lot, and I always [have a] real fondness to players as opposed to franchise, but I noticed that's not the case in LA. So, I'm going to say ... I'm an adopted Lakers fan.
Created by Max Borenstein and Jim Hecht, and executive produced by the pilot episode's director, Adam McKay, "Winning Time: The Rise of the Lakers Dynasty" debuts Sunday, March 6 on HBO and HBO Max, with new episodes dropping every Sunday through May 8.
This interview was edited for length and clarity.