Actor Edwin Hodge Teases His Upcoming LA Lakers Miniseries - Exclusive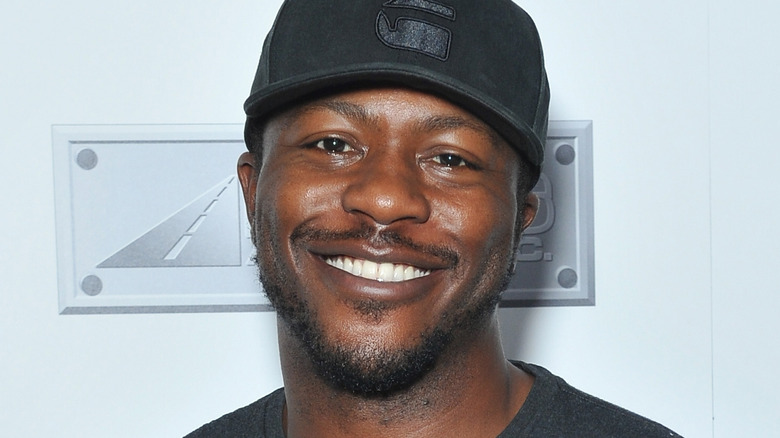 Rachel Luna/Getty Images
Currently in the heat of battle with aliens in 2051 in the sci-fi action thriller "The Tomorrow War," Edwin Hodge's next big project has him traveling back in time a few decades to take part in a whole new ballgame. Hodge is currently filming his role as NBA star Ron Boone in an upcoming and still unnamed miniseries about the Los Angeles Lakers in the 1970s and '80s. In an interview with Looper to chat about his work on "The Tomorrow War," Hodge gave a peek into what fans can expect from the tale about the NBA powerhouse.
"Full disclosure, I'm not a Lakers fan, I'm a Spurs fan," Hodge told Looper, laughing. "So, I'm going to catch a lot of heat for that, but I'm a fan of the game all around. This show is doing something special. I can't really talk too much on what's going on, but I was able to see some old footage from a couple of the episodes and whatnot. We're telling the story of the Lakers, how they came to be, and I was fortunate to book this role of Ron Boone."
Hodge admitted that he wasn't aware of Boone's accomplishments in the NBA but did his due diligence to do his portrayal of the Lakers alum justice. "What I found out about this guy, and kind of his position on the team, and how he interacted with the team," Hodge said. "It was pretty interesting. I really kind of fell in love with playing this character."
An all-star cast for a project about an all-star team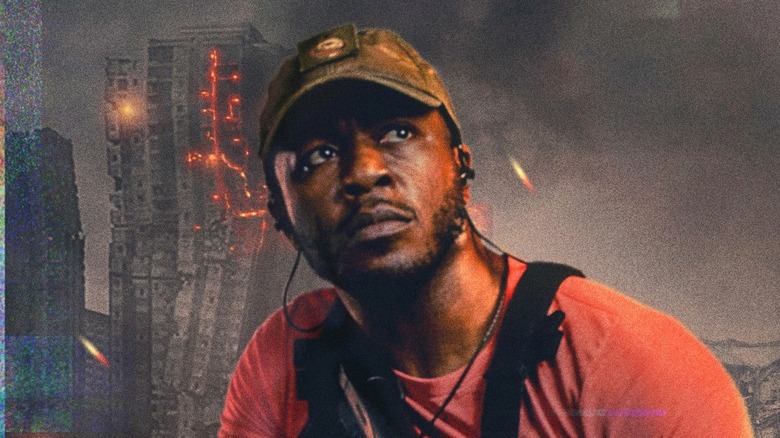 Amazon Prime Video
Set for a 2022 release, the L.A. Lakers miniseries has mixture of established talent as well and up-and-coming actors. Joining "Tomorrow War" star Edwin Hodge in the miniseries are such acting stalwarts as Adrien Brody as Lakers coach Pat Riley, John C. Reilly as team owner Jerry Buss, and Sally Field as Buss' mother, Jessie. The miniseries also stars Bo Burnham as Boston Celtics star Larry Bird, Michael Chiklis as Celtics coach Red Auerbach, and Jason Clarke as Lakers star Jerry West. The miniseries even depicts celebrities who followed the team, including Max E. Williams as Lakers courtside staple Jack Nicholson, and Mike Epps as comedy legend Richard Pryor.
While the miniseries largely concentrates on the Lakers, Hodge believes NBA fans as a whole will find interest in the highlights of the storied franchise that relocated from Minneapolis to Los Angeles in 1960. "It's high intensity, it is the grounding and the foundation of how these basketball guys came to be, essentially," Hodge said. "So, I think the Lakers fans, basketball fans all around, they're going to really, really enjoy the story."
A veteran actor of 25 years, Hodge said he's thrilled with how the younger members of the cast have stepped up to deliver for the high-profile project. "The actors are absolutely killing it," Hodge shared with Looper. "I'm surprised, the guys that they have playing Kareem [Solomon Hughes], Mike Cooper [Delante Desouza], and Magic Johnson [Quincy Isaiah], this is their kind of first big gig. These cats are ... I mean, I'm impressed. So, we got the newbies on here, we've got the vets, and we're just having a fun."
Fun, Hodge added, despite being a San Antonio Spurs fan. For the record, the actor noted that he knew better than to wear his favorite team's hats and jerseys to the set. "Yeah, I kept all of the Spurs gear at home. My Duncan jersey's still in the drawer here. I do have Kobe's jersey, but yeah, man, I'm going to catch heat," Hodge said, laughing. 
"The Tomorrow War" is streaming exclusively on Amazon Prime Video.