Adrien Brody, Jason Clarke And Solomon Hughes Portray Lakers Legends In Winning Time - Exclusive Interview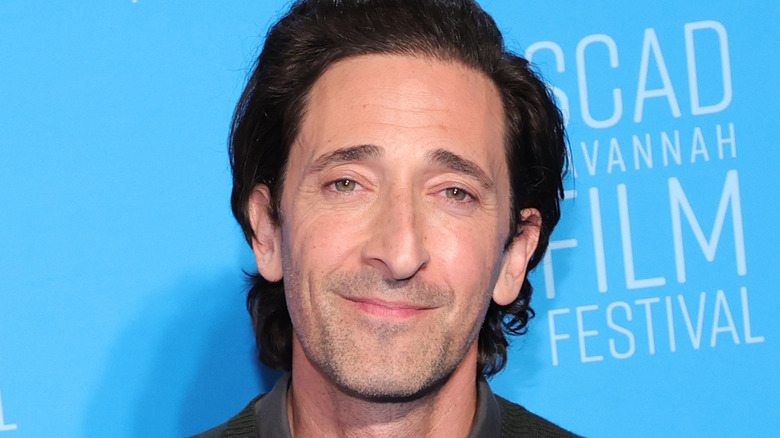 Cindy Ord/Getty Images
With a title like "Winning Time: The Rise of the Lakers Dynasty," it shouldn't come as a surprise that the new ten-episode HBO Max series tells the stories of many legends associated with the esteemed NBA franchise, including players-turned-coaches Jerry West (Jason Clarke) and Pat Riley (Adrien Brody), as well as NBA icon Kareem Abdul-Jabbar (Solomon Hughes).
Based on author Jeff Pearlman's best-seller "Showtime: Magic, Kareem, Riley, and the Los Angeles Lakers Dynasty of the 1980s," "Winning Time" chronicles the rise of the "Showtime Lakers," a team that dominated the NBA in the 1980s under the new ownership of splashy investor Dr. Jerry Buss (John C. Reilly). Buss — along with LA Forum general manager Claire Rothman (Gaby Hoffmann), and Buss' daughter, Jeanie (Hadley Robinson) — aimed to bring some showbiz pizazz to the games of the struggling Lakers in a bid to get fans into the stands. The new Lakers owner's first big move was to make NCAA superstar Earvin "Magic" Johnson (Quincy Isaiah) the first overall pick in the 1979 NBA draft, a move met with resistance by West and Abdul-Jabbar.
Following West's surprising exit as head coach heading in the next NBA season, the Lakers began to find their footing under new coaches Jack McKinney (Tracy Letts) and Paul Westhead (Jason Segel), who laid the groundwork for Riley to take over the team in the early 1980s — a move that forever transformed the franchise. In an exclusive interview with Looper, Clarke ("Zero Dark Thirty" and "Terminator Genisys"), Brody (Best Actor Oscar winner for "The Pianist") and newcomer Hughes, who holds a doctorate in higher education and teaches at Duke University, reveal their approaches to playing their iconic, real-life counterparts.
Clarke says West is 'always a Laker'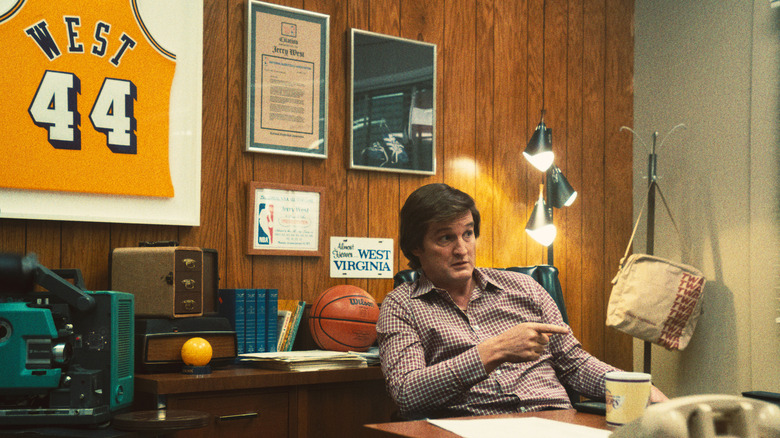 HBO Max
Jason, I'm wondering, growing up in Australia, how aware were you of this storied franchise of the Lakers and of Jerry West? Plus, when it comes to Jerry West, did you have access to him? It's publicly known that he was volatile as a player, as a coach and his relationship with the franchise is pretty fraught, if it exists at all.
Jason Clarke: Jerry, to address that last one, I think it's terrible. It's gotten to that, but Jerry's always a Laker and he has a right to be. There's a difference between ownership, players and fans, and who actually owns a club. The man's contribution — he's always going to be a Laker regardless of whether he's got his tickets or not. I reached out to him. He didn't want to [talk], which was fair enough, and I expected that in a way. 
Growing up, I had no idea, really [about the Lakers] ... but with Magic, we all remember 1991 when he was diagnosed [with HIV]. That reverberated everywhere in the world. I was in Sydney at the time. It was like a wake-up call for us all to go, "You know what? There are people dealing with this, [but] it's okay. The grim reaper is not going to knock us all over here." That was it. As for the journey of understanding [NBA basketball], it was tape delayed in the 1970s. I had no idea of what it was. The leather ball [wasn't available to] kids in poorer communities because it was expensive leather that could only be played on a wooden board. That changed with the rubber ball, and it really gave me a deeper understanding of ... the American journey and the things that America's given to whole wide world, and I've loved every step of it.
Brody says he identifies a lot with Riley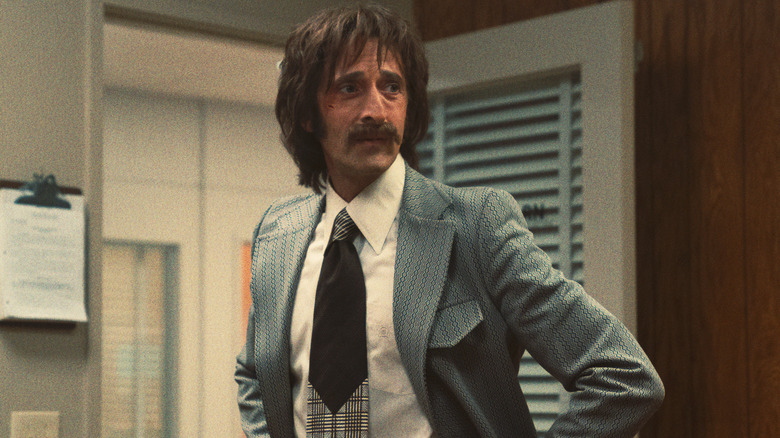 HBO Max
Adrien, how valuable was Pat Riley to you as a resource? Do you think the fact that both of you are native New Yorkers gave you a little extra edge playing the role? After all, you don't want to replicate his looks and repeat — or "Three-peat," as he would put it — what he says. You want to embody who this guy is. You want to be the guy that commands greatness.
Adrien Brody: I'm sure coming from the same state helps. Actually, Riley was born in Rome, New York, which is very close to a place that I lived for many years. I know the city well, and I'm from Queens. We both come from pretty humble beginnings, and I identify a lot with him and what he strives for. I'm very impressed by him, and I feel a sense of responsibility in that, in trying to capture the essence of the man that I'm trying to represent, not to do an impression of a man [for whom] there's wonderful resources at our disposal, including great books by Pat himself [holds up a copy of Riley's "The Winner Within"] that are helpful. They're incredibly valuable tools. We have the writing that is based on Jeff's book, which also was well researched at the time and has a point of view. Also, we have the time period itself, which is almost a character in this story that is very much representative of what, universally, all these characters are going through.
There are lots of parallels with all of them that I find, and all of them speak to me in different ways ... I would imagine those are things resonate with Pat Riley as well, what he can gain from another individual, what that person's struggles are and how he triumphed them or failed, and how to strap up your boots and pick up where you left off and go after, and more in a manner than those are all lessons to learn. You have to be observant about those. I feel there's a lot that he's provided. That's given me a lot of insight.
Hughes has always admired Abdul-Jabbar on and off the court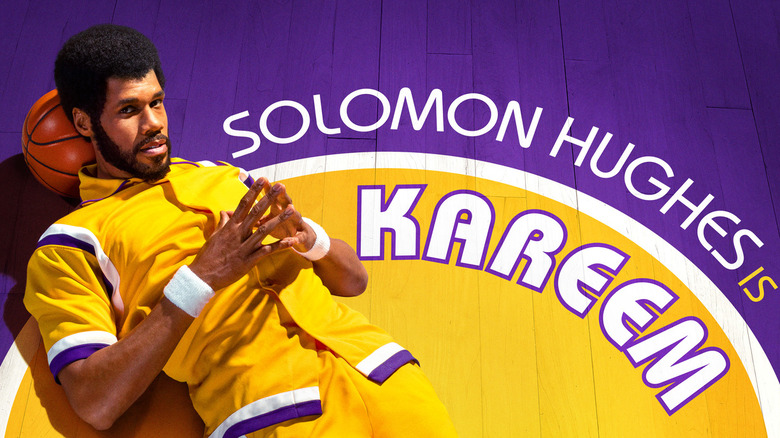 HBO Max
Solomon, congratulations on a big debut here as Kareem Abdul-Jabbar. He's an iconic basketball player, but really to this day, an invaluable contributor writing about the social fabric of today with his essays and he makes other appearances. Because Kareem's presence is so strong — it was strong then and is strong now — did you look to the full Kareem of yesterday and today to inform your performance?
Solomon Hughes: That's a great question. I definitely read some of the books that he's written recently, where in retrospect, where he talks a little bit about his time in the NBA, but I primarily feel like we're in this age where you can pull up interviews on YouTube. It was fascinating to go back and look at how he interacted with the press, the way he spoke about himself when he was with the Bucks, when he was at Lakers, etc. I definitely feel like I was at an advantage with resources like the media resources that are available to really sit with Kareem of the 1970s and the 1980s — his autobiography, "Giant Steps," was one of the first autobiographies I read growing up, right up there with Malcolm X.
I grew up an hour outside of Los Angeles, and so I was the kid that was very spoiled because all I knew was Lakers success. He was smack dab in the middle of all that because my dad really admired him for who he was, how he stood up socially. When you think about the stances that he took at such a young age, when he joined the Cleveland Summit and supported Muhammad Ali along with others or athletes [when] he was a sophomore in college, when he boycotted the Olympics, these are profound stances to take in the time when the idea is, "You really should just shut up and dribble." It was an incredibly rewarding journey, deep diving into the life of someone that I've admired since I was a child.
Deep diving into that film "Airplane," and you had the great opportunity to recreate Kareem's famous pilot scene. I didn't realize that Kareem was none too happy with that kid actor after that scene. Is that true? Or was that something that was made up for the series?
Hughes: Yeah. I feel like our writers do a great job creating ... there's enough of a mystery to where you're not worried about whether or not it happened, but you can dive into the moment essentially. We actually shot that in the same cockpit that he was in when he filmed "Airplane," so that was pretty special.
It's a jump ball for Brody's and Clarke's NBA favorites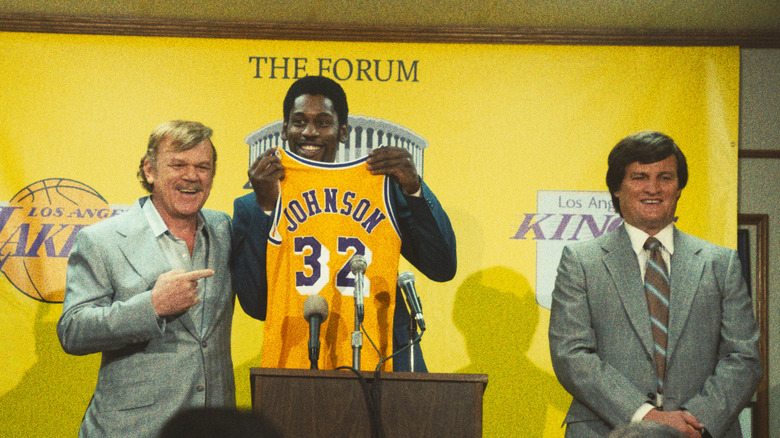 HBO Max
Jason and Adrian, I would imagine you're a Knicks fan. Maybe you could correct me — and Jason, who are you a fan of in real life?
Clarke: Yeah, the Lakers, I'm with Jerry [West] over at the Clippers at the moment though, why not?
Adrian, how about you? 
Brody: Well, I'm a Knicks fan, but I have a lot of appreciation for Lakers, and I have over the years. I've spent a lot of time out West, I've been invited to a number of games, and they've had an amazing team, they've had amazing players, [I'm] always watching these great players. It's hard not to be a fan of that.
Also starring Sally Field, DeVaughn Nixon, Tamera Tomakili, and Michael Chiklis, "Winning Time: The Rise of the Lakers Dynasty" debuts Sunday, March 6 on HBO and HBO Max, with new episodes dropping every Sunday through May 8.
This interview was edited for length and clarity.