15 Shows Like Mare Of Easttown Fans Need To See Next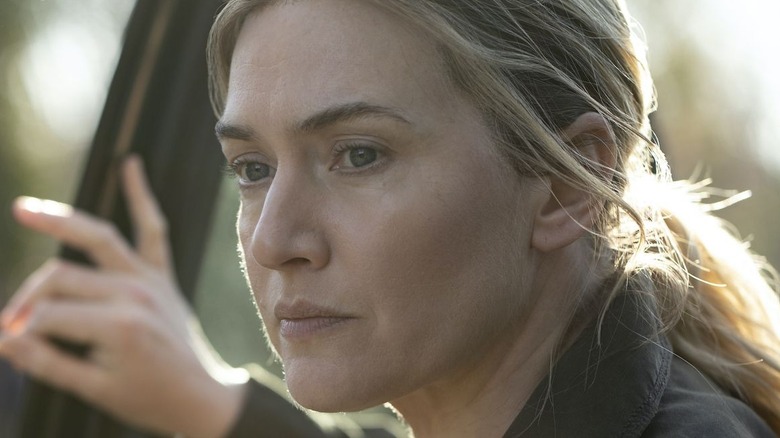 HBO
HBO's "Mare of Easttown" was such a big hit in the spring of 2021 that HBO Max crashed during the finale. The miniseries crime drama stars Kate Winslet as Mare Sheehan, a detective in Easttown, Pennsylvania, a fictional small town outside of Philadelphia. While Mare investigates the murder of a local teenager, she's also dealing with the dramas that plague a small town where everyone knows everyone.
Her ex-husband lives in the house behind hers and is getting remarried. The mother of the missing teen whose kidnapping Mare couldn't solve is on her old high school basketball team. Her daughter is recovering from finding her older brother had hanged himself in the attic. Then there are the two gentleman callers in her life: the mysterious professor played by Guy Pearce, as well as the young county detective sent to help Mare out on the murder case, played by an adorable Evan Peters.
The series is a dark and twisty crime mystery, with treacherous family ties, that leaves you guessing who did what in every episode. Winslet plays Mare with the utmost sympathy and bravery, even nailing that Philadelphia accent. It's no wonder that the platform crashed: Everyone loved "Mare of Easttown." There hasn't been a definitive yes or no on whether there will be more, but if you're yearning for some other mysteries, thrillers, and cop shows with strong female leads, here are 15 shows like "Mare of Easttown" to check out while we wait.
The Killing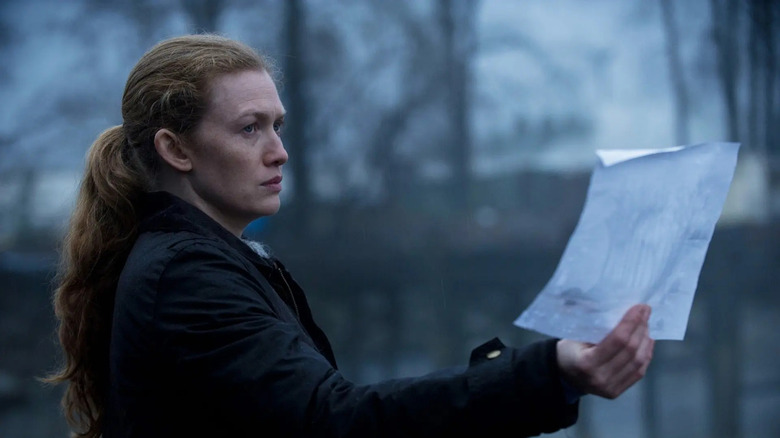 AMC
AMC's gloomy, moody "The Killing" is based on the Danish show "Forbrydelsen," which roughly translates to "The Crime." Set in rainy Seattle, Washington, the U.S. version of the series stars Marielle Enos as homicide detective Sarah Linden and Joel Kinnaman as her partner, Stephen Holder, a newbie to homicide who's set to take over after Linden retires early. The two investigate the murder of teenager Rosie Larsen who was found dead in a politician's trunk. The season-long investigation of a young woman's murder and the aftermath is definitely reminiscent of "Twin Peaks," but more grounded in reality like "Mare of Easttown."
The series became one of the most addicting things on TV in 2011, and fans were confused and enraged when (minor spoiler alert) the crime of who killed Rosie Larsen wasn't solved by the end of the first season. Indeed, the LA Times called the Season 1 closer "one of the most frustrating finales in TV history."  Don't worry, though: it does get solved. But "The Killing" went through a little bit of network hopping afterward. AMC canceled the series after Seasons 2 and 3, but Netflix stepped in to offer up a fourth and final season. 
The Fall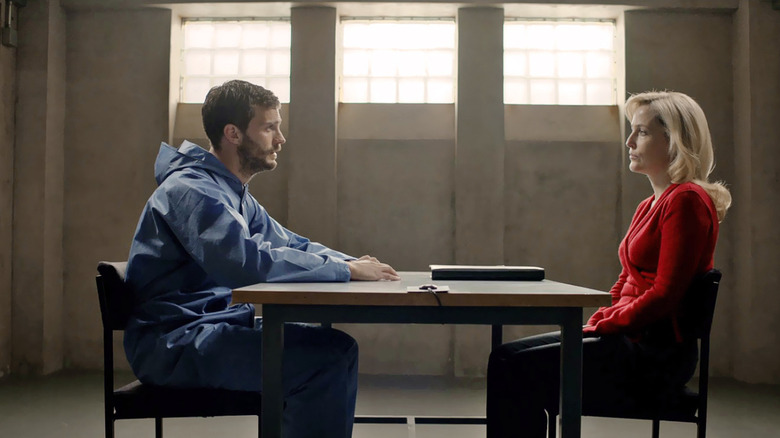 BBC Northern Ireland/RTE
Much like Kate Winslet from "Mare of Easttown," Gillian Anderson can do no wrong. In "The Fall," Anderson sports her notorious and sometimes natural British accent to play English Metropolitan Police Superintendent Stella Gibson. She's dispatched to Northern Ireland to look into any murder cases that have gone unsolved over a long period of time and comes to the conclusion that there's a serial killer on the loose in Belfast. That serial killer, Paul Spector, is played by Irish heartthrob Jamie Dornan.
"Fifty Shades of Grey" fans might be surprised to realize that their S&M-obsessed Christian Grey got his big break playing a super-creepy serial killer in "The Fall." Throughout its run, "The Fall" plays around with a bit of a cat and mouse game as Stella tries to hunt Paul, and the show definitely gives off vibes similar to "The Silence of the Lambs," though Stella is definitely more assertive than rookie Clarice. "The Fall" ran for three seasons, and while the third season was the final one for Dornan, Anderson told Digital Spy she's open to exploring where Stella Gibson goes from there and how she's faring a few years after the Spector case.
The Wire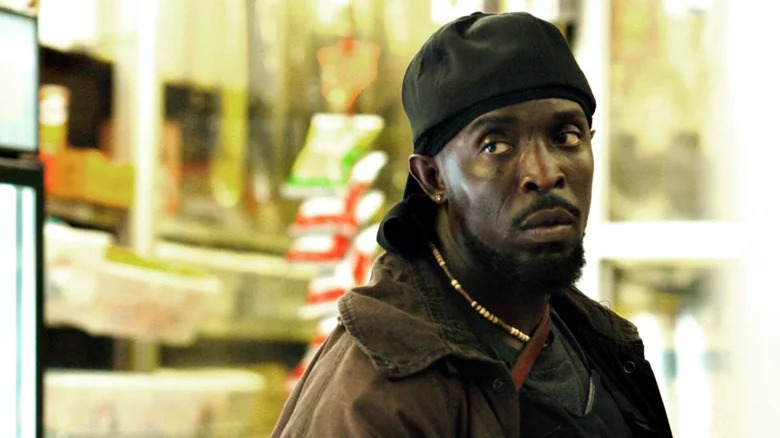 HBO
HBO's "The Wire" will forever be remembered as one of the best dramas ever in the history of television. But what made "The Wire" so interesting was how it set up each season so differently from the last. The main premise follows drug-related crime in the Baltimore area. But while the first season focuses on the dealers, users, and the drug trade itself, the following seasons branch out, showing how the drug ecosystem affects more than just those who use or sell. 
Season 2 moves to the shipyards where the product is being brought in, and how a mob mentality in that system involves the measly street dealers in a larger enterprise. Season 3 then goes wider, exploring the politicians who make the laws, lock up the criminals, and attempt to deal with the issue at hand. Season 4 goes back to the education system, examining the school-to-prison pipeline that creates the players. Season 5 follows the journalists who turn it all into the stories that Baltimore follows each and every day. The show won multiple Emmys during its run, and consistently lands on the lists of top TV shows ever.
Mildred Pierce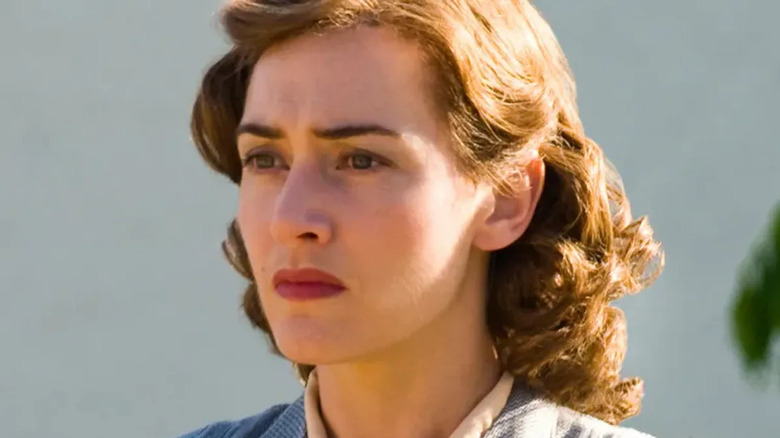 HBO
James M. Cain's hardboiled 1941 novel "Mildred Pierce" was made into a film four years later starring Joan Crawford. But the Hollywood "decency" standards of the day didn't allow for many of the more salacious plot points in the novel to appear on screen. This 2011 HBO miniseries was able to tackle it all and then some. It's not a crime mystery per se, but if you love to watch Kate Winslet's interesting, deep, and nuanced acting work, "Mildred Pierce" is worth checking out.
The story is set during and after The Great Depression. Middle-class Mildred must find a way to continue the life she and her children are used to after leaving her jobless husband. She starts out as a waitress, then opens her own restaurant. But Mildred's sneaky and spoiled daughter Vera (Evan Rachel Wood) has other plans, interfering with Mildred's attempts to survive and prosper, as well as her relationship with Monty (Guy Pearce). 
"Mildred Pierce" won Winslet and Pearce Emmy Awards for their performances, while Winslet also won a Golden Globe and Screen Actors Guild (SAG) statue to accompany the Emmy, so you can be sure that this is one of her best efforts. 
Broadchurch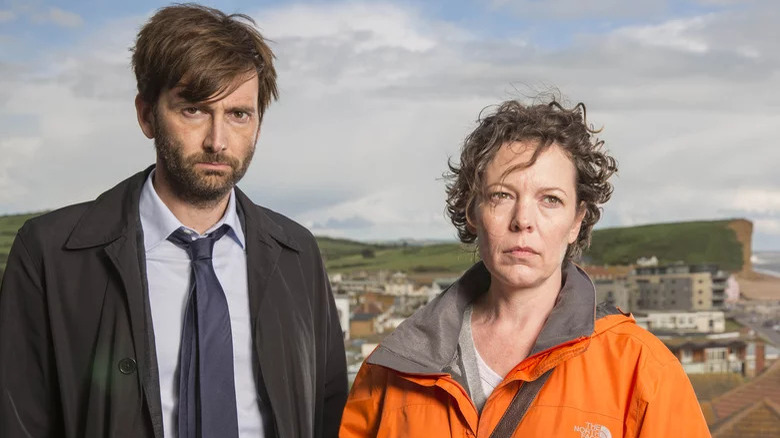 ITV
In the great canon of female police detectives, Ellie Miller of "Broadchurch," as played by the wonderful Olivia Colman, is one of the best. The BBC series takes place in the small English seaside town of the title, where everybody knows everybody and gets into everybody's business, much like in "Mare of Easttown." So when a young boy winds up dead, the whole town gets involved. Detective Miller and her partner Alec Hardy (David Tennant) must solve the case, but also weed through how the crime, the aftermath, and the media attention are affecting the residents of the small, usually quiet little town. Though the first season tackles one case, the following two also deal with the aftermath as other crimes pop up.
"Broadchurch" was a hit in the U.K., consistently earned great reviews, has a 92% critic and audience rating on Rotten Tomatoes, and won a whole bunch of British Academy of Film and Television Arts (BAFTA) awards over the course of its three seasons. In 2014, Fox tried to bring the magic of "Broadchurch" to the U.S., along with one of its stars, David Tennant. But the show, "Gracepoint," was a failure, and was canceled after only one season – which proves that when checking out "Broadchurch," you should probably stick to the original. 
The Alienist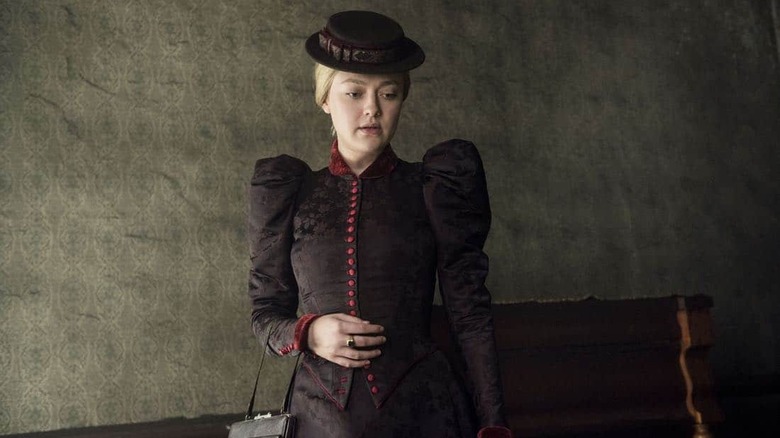 TNT
We're going to head back a bit in time for TNT's "The Alienist." Based on the novel of the same name by Caleb Carr, the period drama is set in 1896 and follows the team of detectives who are tasked with investigating the deaths of young sex-trafficked homeless boys. The story is based on true events and features characters directly based on or amalgamations of real-life people.
Brian Geraghty plays Theodore Roosevelt, who at the time was the commissioner of the New York City Police Department. He enlists Laszlo Kreizler (Daniel Brühl), an "alienist" — a 19th Century term for a psychiatrist — to investigate the murders, along with John Schuyler Moore (Luke Evans), a New York Times cartoonist who grows into a crime reporter, to help him with sketches. The final member of the team is socialite Sara Howard (Dakota Fanning), who works as Roosevelt's secretary but whose membership on the team effectively makes her the first woman in the NYPD. Howard is loosely based on Isabella Goodwin, a real person who became the NYPD's first female detective. In Season 2 of "The Alienist," Howard opens up her own private investigation agency, continuing this list's streak of innovative, gutsy, and compelling female detectives. 
The Night Of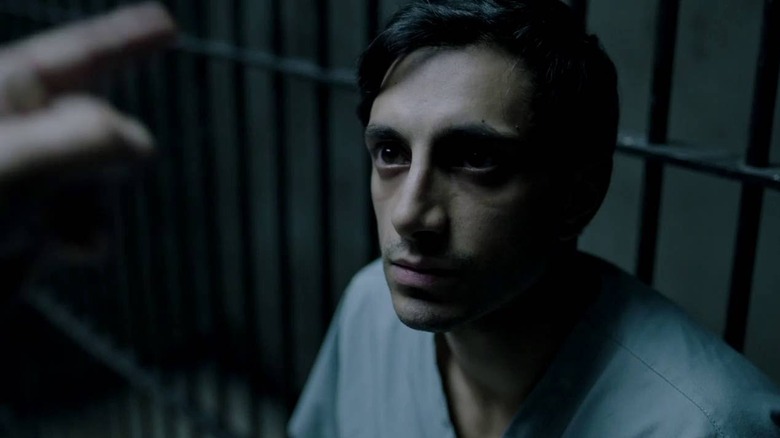 HBO
When HBO's "The Night Of" aired in 2016, it was an addictive hit that kept audiences glued to the mystery week after week and launched actor Riz Ahmed into the public eye. The eight-part miniseries follows Nasir "Naz" Khan (Ahmed), a Pakistani-American on trial for the murder of a young woman named Andrea. The first episode follows Naz on a night out. After borrowing his dad's cab, he meets Andrea on the way to a party and they spend the night together. Naz wakes the next morning to find Andrea stabbed to death. He is arrested and sent to jail, and what follows in the remaining seven episodes are how his legal team tries to figure out what happened on "The Night Of."
But the series also explores how even a short time spent in prison can completely change someone. For safety, Naz teams up with the wrong people, starts using drugs, and transforms into a completely different person than the one he was before he went in. The show is simultaneously a fascinating crime mystery and also a repudiation of the criminal justice system and its various corruptions. Ahmed won Outstanding Lead Actor in a Miniseries at that year's Emmy Awards. 
Hacks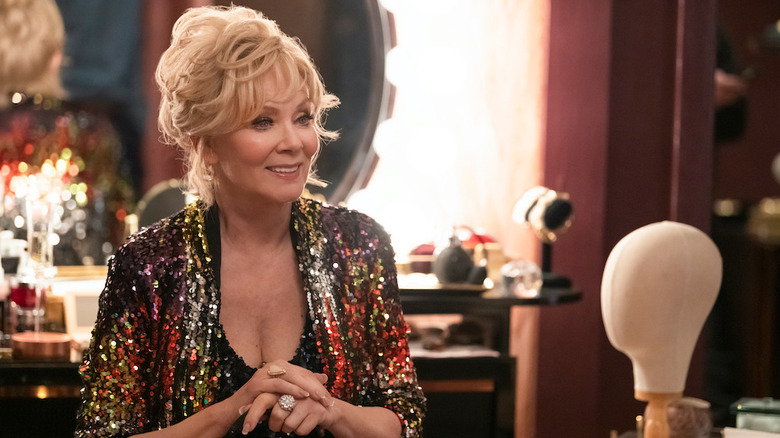 HBO
"Hacks" isn't really like "Mare of Easttown" at all. But if while watching "Mare of Easttown" you fell in love with Mare's acerbic, blunt, and hilarious mother Helen, "Hacks" might be for you. Jean Smart plays the loveable yet brutal Helen, who swipes away at her Fruit Ninja game while stashing ice cream inside a bag of frozen vegetables. She keeps Mare on her toes, and since she lives with her daughter, Mare can't avoid her. Helen is pretty much the only comedic relief "Mare of Easttown" has going for it, which is part of what makes Smart's performance so great.
"Hacks," on the other hand, tells a Hollywood story, but Smart's signature wit and abrasive attitude are front and center. Smart stars as Deborah Vance, a Las Vegas diva whose club wants to start putting her out to pasture. She teams up with Ava Daniels (Hannah Einbinder), a young female comedy writer who's having a hard time finding a job. Ava beefs up Deborah's material while Deborah shows Ava how to navigate a comedy career. Smart won Outstanding Lead Actress in a Comedy Series at the Emmy Awards and "Hacks" is returning for a second season hopefully soon.
Top of the Lake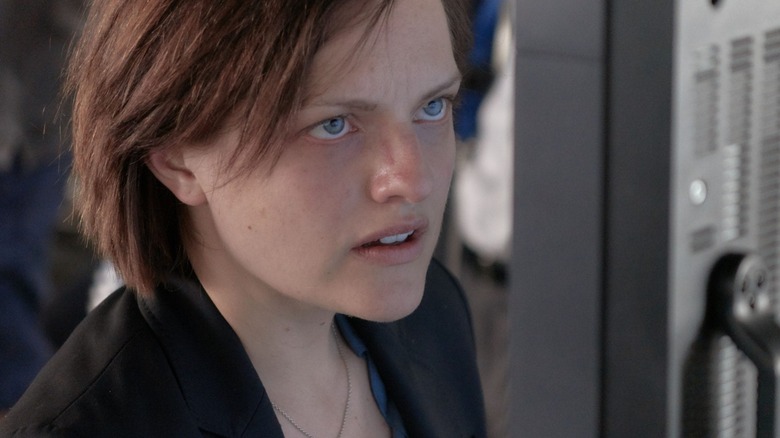 BBC 2
We're heading down under for this next entry. In Jane Campion's "Top of the Lake," Elisabeth Moss stars as Sydney, Australia detective Robin Griffin, who returns to New Zealand to help out her ailing mother but finds herself involved with a criminal case with obvious sexual assault characteristics. In Season 1, Griffin investigates the disappearance of a pregnant 12-year-old girl. The show was such a hit that Campion, who had previously said that "Top of the Lake" would only last a single season, returned along with Moss and some more star power. Nicole Kidman joined the cast for Season 2, as did "Game of Thrones" alumnus Gwendoline Christie. In Season 2, called "Top of the Lake: China Girl," Griffin investigates the murder of a young Asian girl who washes up on a popular Australian beach. 
"Top of the Lake" is gloomy and moody, just like "Mare of Easttown," and their lead female detectives share some personality traits. Both are dealing with trauma, both have interesting relationships with their mothers, and yet both try to do the right thing and help out in the gruesome reality of murder, crime, and death.
Hack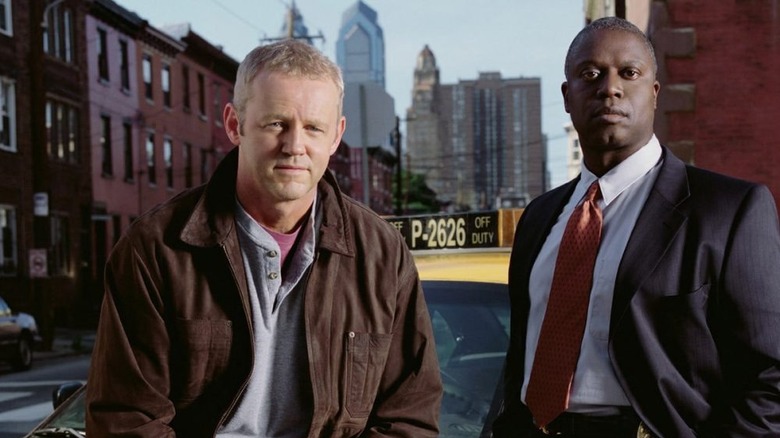 CBS
If the Philadelphia setting is something you dig about "Mare of Easttown," check out the early aughts drama "Hack." Not to be confused with "Hacks," which we covered above, "Hack" is a police procedural that aired on CBS for two seasons from 2002 to 2004. It stars David Morse as Mike Olshansky, a police detective who is forced to quit after being accused of corruption. Mike starts working as a taxi driver, but it's seemingly impossible to leave behind his past.
Mike knows that the police can't handle or solve every case, so he uses his knowledge, his inconspicuous role as a taxi driver, and his connections to help those that the cops can't. He becomes a kind of Philly taxi vigilante, and also gets some help from his old partner, Marcellus Washington, played by cop show veteran Andre Braugher. Unfortunately, Morse and Braugher didn't really nail the complicated Philly accent that Winslet did, but it's still an interesting procedural drama. 
How to Get Away with Murder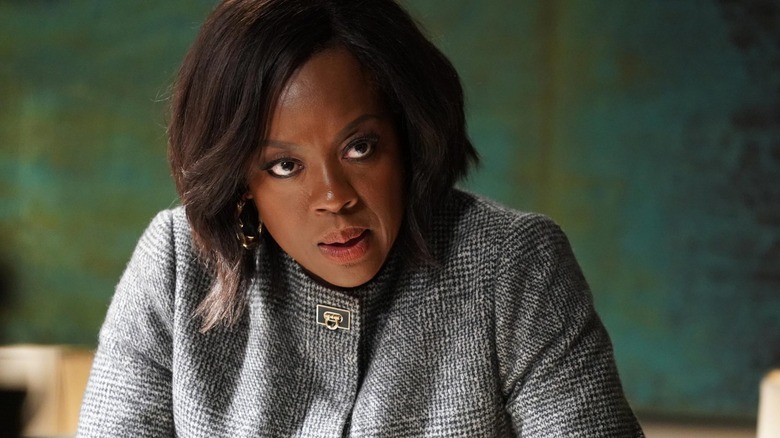 ABC
For this entry, we're hanging around Philadelphia, but heading out of the police world and into the realm of law. Viola Davis stars in this ABC drama as Annalise Keating, a lawyer and professor at Philadelphia's fictional Middleton University. She selects five students to intern at her firm during the semester: Wes Gibbins (Alfred Enoch), Connor Walsh (Jack Falahee), Michaela Pratt (Aja Naomi King), Asher Millstone (Matt McGorry), and Laurel Castillo (Karla Souza). But the "Keating Five," as they are called, find themselves not only knee-deep in the murders committed by others, but also turn into murderers themselves. 
Throughout the six seasons of "How to Get Away with Murder," the cases and stories unfold in a series of flashbacks and flash-forwards, with the viewer trying to piece things together just as the characters are. As a Shonda Rimes production, "How to Get Away with Murder" is definitely more pulpy and soapy than "Mare of Easttown." But with its compelling female lead and Philadelphia setting (albeit a bit more vague in its location), it's a fun watch. Not to mention super-bingeable and addicting.
Veronica Mars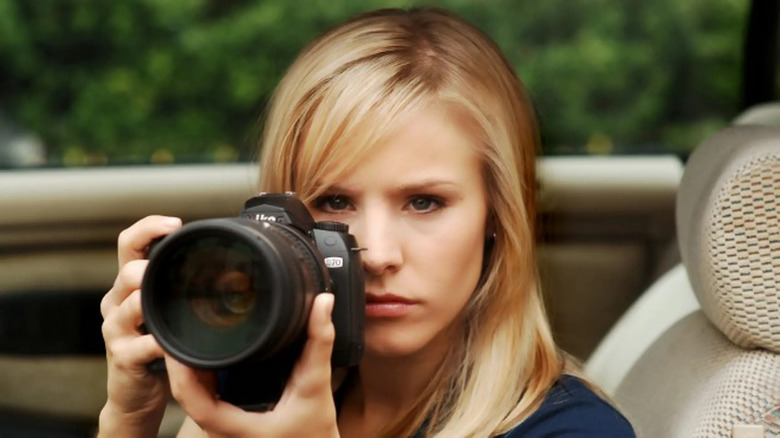 The CW
Want your female detective in a young adult (YA) show? "Veronica Mars" was one of the most successful teen dramas of the early aughts. Kristen Bell stars as the titular character, a Neptune, California high schooler who turns herself into an investigator after her best friend Lily (Amanda Seyfried) is murdered. She learns her skills from her private detective dad Keith Mars (Enrico Colantoni), who used to be the sheriff of their affluent town, but lost his job after botching the investigation into Lily's death.
Veronica takes it upon herself to not only solve Lily's murder, but also help out her classmates through various money-making tasks, schemes, and investigations. The show is set up as a California noir, with mysteries of the week as well as overarching season-long cases. There's also a bunch of teen drama and romance thrown in (hey, this did air on The CW). The original run lasted for three seasons from 2005 to 2007, followed by a 2014 crowd-funded movie and a fourth season on Hulu in 2019. The fourth season ends with a shocking death (that is still honestly up in the air) and yet there are no plans to bring Veronica back for a Season 5. But this show has been down and out so many times that fans can truly never say never.
Murder, She Wrote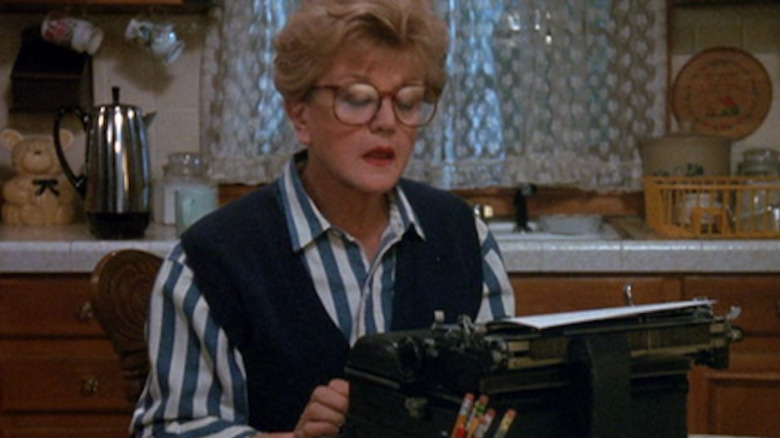 CBS/YouTube
Let's go back to a classic for this next entry. Perhaps the queen of all lady investigators has got to be Ms. Jessica Fletcher of "Murder, She Wrote." Played by the incomparable Angela Lansbury, Jessica is a mystery author and amateur detective whose novels come straight from her own investigations. Jessica, a widow, lives in the quiet seaside town of Cabot Cove, Maine and finds herself sticking her nose into various murders, robberies, and other crimes throughout the town and across the country. Something always seems to happen when Jessica takes a vacation, too! 
The series ran for 12 years, from 1984 to 1996, and won Lansbury four Golden Globes and tons of Globe and Emmy nominations. Jessica just kept solving those cases and writing those books, despite the truly unusual set-up that tons of murders were happening in a small, coastal Maine town. In fact, the term "Cabot Cove syndrome" was coined and, had it been a real place, the town might have been the murder capital of the world. Trouble with realism aside, watching Jessica fool criminals and cops alike and solve mysteries makes "Murder, She Wrote" a really fun series. 
Law and Order: SVU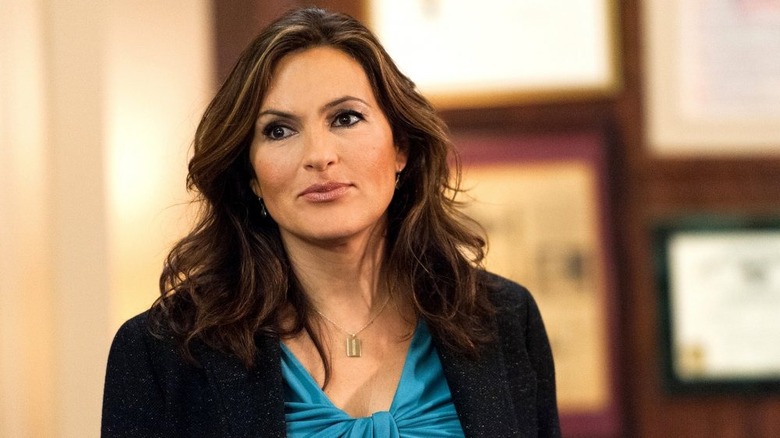 NBC
What list about persistent female detective shows would be complete without "Law and Order: SVU"? Mariska Hargitay stars as Special Victims Unit Detective Olivia Benson, one of the NYPD officers and detectives who investigate special crimes of a sexual nature with the most vulnerable victims. For the first 12 years of the show, she was partnered with Detective Elliot Stabler (Chris Meloni), with whom she had kind of a flirtatious partnership. Hargitay has played the iconic Benson for a whopping 23 seasons now, over the course of which Benson has gone undercover, gone into hiding, adopted a son, and been promoted to sergeant, lieutenant, and now Captain of the Manhattan Special Victims Unit.
Hargitay is the only "Law and Order" main cast member to win an Emmy Award (in 2006) for Outstanding Lead Actress in a Drama Series, and she's turned her work as Olivia Benson into real-life advocacy for victims of sexual assault. In 2004, she started the Joyful Heart organization to help survivors and in 2010 spoke before the U.S. House of Representatives on the issue. Good deeds aside, "Law and Order: SVU" is one heck of an addictive binge, and since it's a procedural, you can basically hop in anywhere.
Killing Eve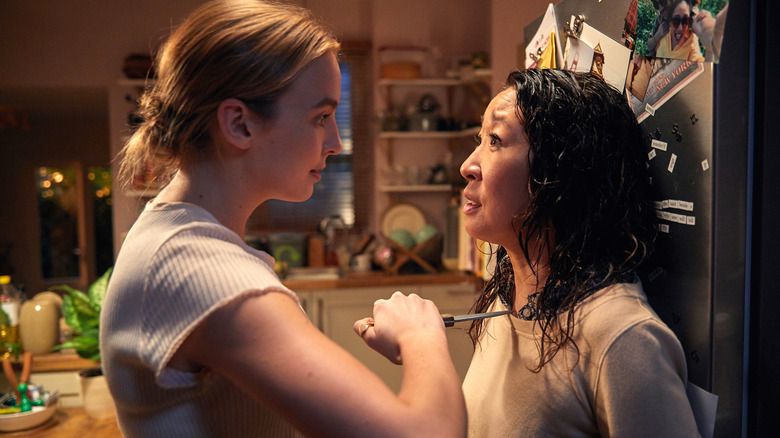 AMC
MI5 agent Eve Polastri (Sandra Oh)  has a somewhat unhealthy obsession with female killers. So when she levels up to MI6 to hunt down an international assassin named Villanelle (Jodie Comer), Eve is ecstatic. Her days in a boring position are over. But what Eve doesn't know is that she's being hunted as well. Villanelle isn't just any female assassin: she becomes equally obsessed with Eve, as their paths cross in the underground circles of crime and murder. 
"Killing Eve" has run for four seasons and each has been handled by a female head writer. Phoebe Waller-Bridge tackled Season 1, Emerald Fennell did Season 2, Suzanne Heathcote oversaw Season 3 and Laura Neal came aboard for the fourth and final one, which is still running. Jodie Comer won Outstanding Lead Actress in a Drama Series in 2019, and the show has been a popular hit throughout its run. "Killing Eve" is stylish, sexy, and scandalous, and fans love how twisted Eve and Villanelle become over the course of their game of cat and mouse.