The Unexpected Injury Jean Smart Suffered On Mare Of Easttown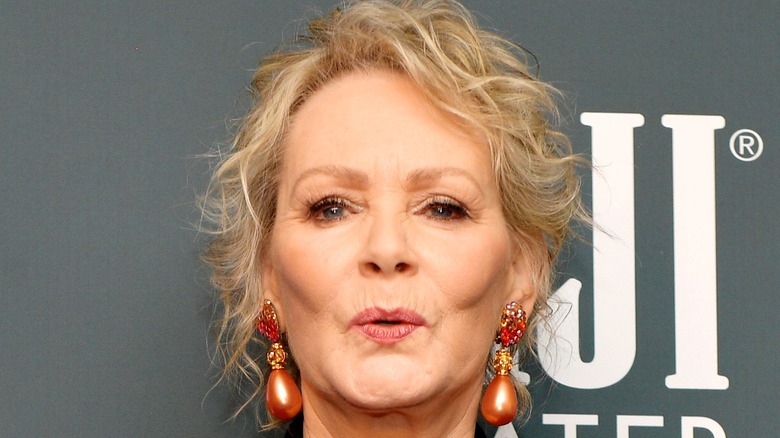 Matt Winkelmeyer/Getty Images for Critics Choice Association
There's no question that acclaimed actor Jean Smart pours her heart and soul into her roles, and she was handsomely rewarded this year with Emmy nominations for both "Hacks" and "Mare of Easttown." But in the case of "Mare of Easttown," Smart put her heart, soul — and as it turns out, ribs — into the role, too.
"Mare of Easttown," of course, is the enormously popular HBO drama starring Kate Winslet as Mare Sheehan, the grizzled detective in a small, Pennsylvania town that's first shaken by the disappearance of one young woman, and a year later, the death of another. As the former basketball star of the town's high school team from 25 years earlier, everybody in Easttown knows Mare, who is now feeling pressure from citizens and outside law enforcement agencies to crack the case.
Mare's personal life is a mess following a family tragedy of her own, and it's compounded by the fact that her divorced ex-husband has moved on and is getting married again. As such, the divorced and downtrodden detective lives with her daughter, grandson, and mother, Helen (Smart), a cantankerous matriarch constantly at odds with her daughter.
Diving into her role of Helen with vigor, it's easy to see how Smart was nominated for a 2021 Emmy for Outstanding Supporting Actress in a Limited or Anthology Series or Movie. But sometimes her passion for the role came with unintended consequences.
Jean Smart broke a rib filming a scene in Mare of Easttown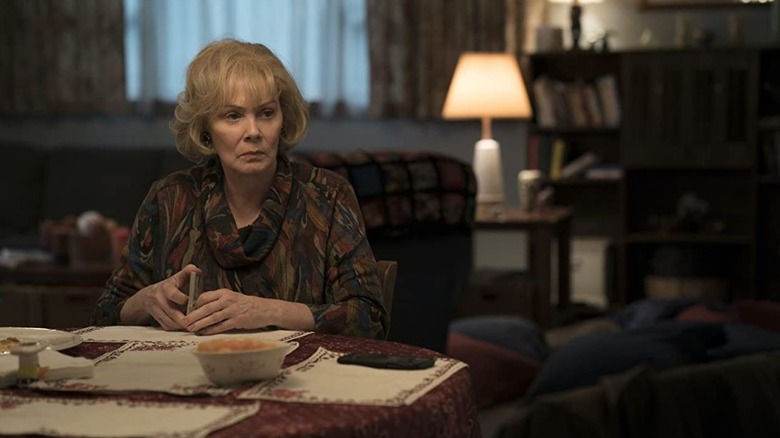 HBO
A lot of Mare and Helen's exchanges in "Mare of Easttown" take place in the family abode, and in one particular scene, Smart — who is often quite funny in the role — revealed to Variety that while going for a laugh, she leaned over a railing so hard that she broke one of her ribs.
"My doctor was amazed at how fast I healed because the rib was broken in half," Smart told Variety. "But I finally realized I can't do stupid things like that anymore. I don't need to be falling over railings and down flights of stairs. Although it might have looked cool."
Winslet told Variety that she loved her co-star's dedication, saying, "Jean was basically doing what Jean does best, which was to turn a small, simple blink-and-you'd-miss-it moment into something deliciously funny and cheeky."
From the sounds of it, Smart didn't sustain any injuries on her other HBO series, "Hacks." Smart plays Deborah Vance, an aging standup comedian forced to reinvent her Las Vegas act by bringing aboard a young, struggling comedy writer, Ava Daniels (Hannah Einbinder), who is looking for work after an insensitive tweet got her canceled.
Also an HBO production, "Hacks" earned Smart a second Emmy nomination this year— this one for Outstanding Actress in a Comedy Series. Smart has previously been nominated for nine Emmys, taking home statuettes for three series — two as an Outstanding Guest Actress on "Frasier," as well as one for Outstanding Supporting Actress in a Comedy Series for "Samantha Who?"
Both "Mare of Easttown" and "Hacks" are available to stream on HBO Max.