Veronica Mars Season 4 Ending Explained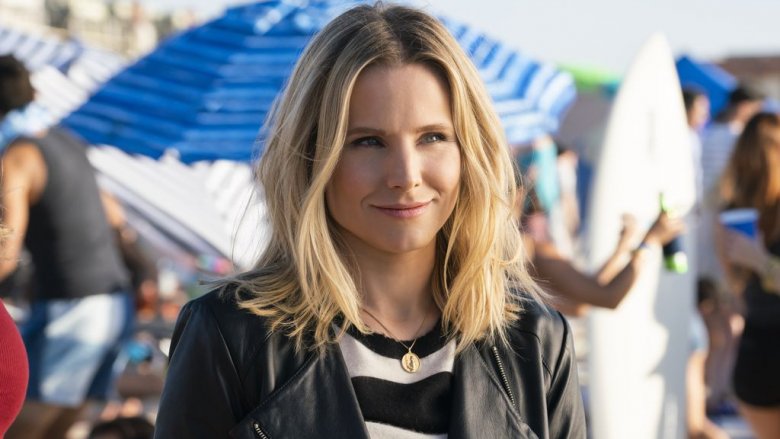 Since it premiered in 2004, Veronica Mars has been the little show that could, taking a twisting, turning journey through the small and big screens. Anchored by a powerful performance by Kristen Bell, who became a star thanks to the series, Veronica Mars explored the socioeconomic dynamics of a fictional wealthy California town as seen through the eyes of a whip-smart teenager who secretly assists her father, a local private investigator.
In the aftermath of its network run, Veronica Mars spawned a crowdfunded film, followed by a fourth — and much more adult — season that landed on Hulu in the summer of 2019. When the new season dropped on July 19, 2019, fans flocked to their televisions and computers to catch up with Veronica and her loved ones — and with the entire season available to binge, audiences knew how this new story ended for Veronica pretty quickly. If you're still mulling over the last few moments of the fourth season of Veronica Mars, look no further; we're here to break it down for you. Spoilers for all of Veronica Mars ahead!
How Veronica Mars started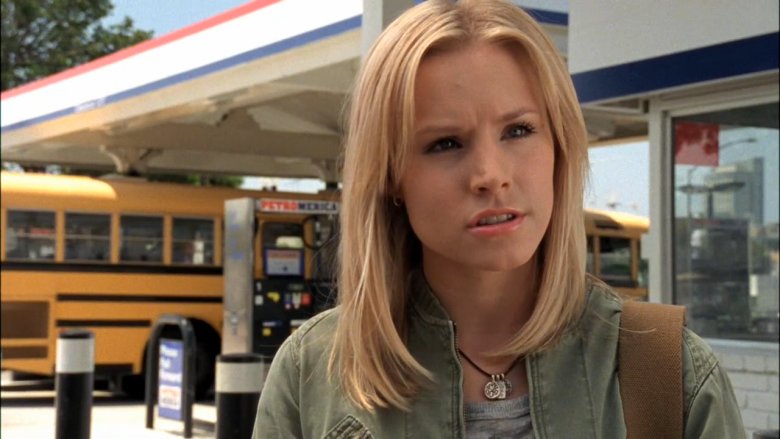 Originally, Veronica Mars creator Rob Thomas crafted a plucky, quick-witted young female character for a young adult novel, but before long, he was drafting television scripts around her. Veronica's story takes place in the fraught town of Neptune, California, which suffers from a huge class divide between the haves and have nots as well as plenty of personal intrigue — which is lucky for Veronica and her father, Keith, who run a bustling private investigator firm together.
However, Veronica is still in high school, so while she works as a junior P.I. by night, she must navigate the contentious halls of Neptune High, where she used to run with the popular kids. As the series begins, viewers learn that Veronica was once in the upper echelon of Neptune, thanks in large part to her best friend Lilly Kane (Amanda Seyfried), her boyfriend Logan Echolls (Jason Dohring), and Veronica's boyfriend Duncan Kane (Teddy Dunn). However, after Lilly is murdered, everything is thrown into disarray, Duncan suddenly breaks up with Veronica with no explanation, and Veronica is assaulted at a party. As she navigates two seasons worth of high school and one season of college, Veronica must balance her personal and professional life as well as solving crimes, with each season consisting of one larger mystery as well as standalones. After the UPN network came to an end in 2007, the show got axed, and Thomas' FBI-centered spinoff fell through in the aftermath.
The fan-service Veronica Mars film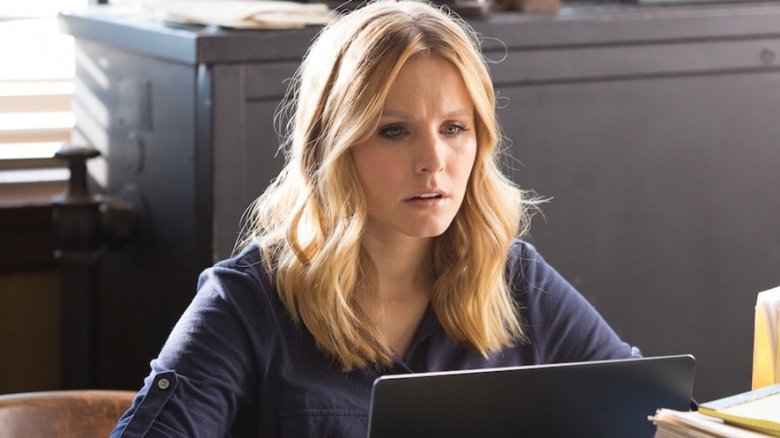 Veronica Mars fans, who christened themselves "Marshmallows," never gave up after the show was canceled, spending years organizing their efforts to revive the series with antics that ranged from skywriting to sending Mars Bars to studio executives. After several years, when a crowdfunded film was announced, fans were finally given the chance to give back — and they did so in overwhelming numbers: within 12 hours, the Veronica Mars movie funding campaign surpassed its $2 million goal. The film went into production shortly after that, and was released on March 14, 2014.
For the film, Thomas and the cast (nearly all of whom returned to their roles) had one goal in mind: making the fans happy. As Veronica unwillingly returns from New York to Neptune, putting off a huge law firm job to help her ex-boyfriend evade a wrongful murder charge, she encounters all of her old friends, gets closure on her romantic relationships, bonds with her father, and even finds time to punch her high school bully in the face. Reviews for the film were solid, but the consensus seemed to be that it was nothing more than total fan service — appropriate, considering they were the ones who made it happen in the first place.
The main Veronica Mars players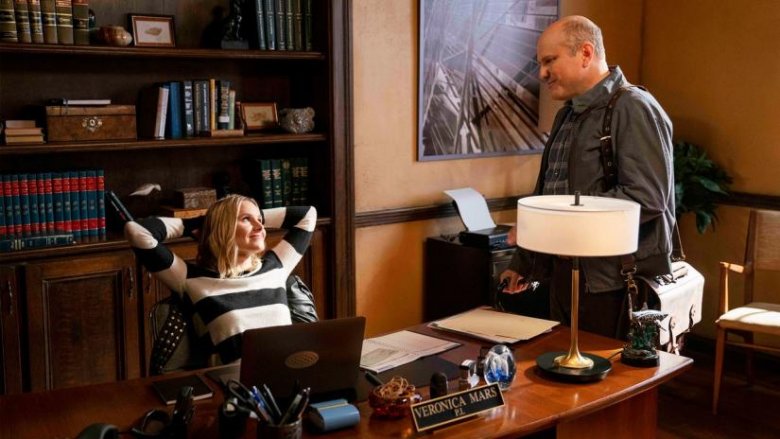 As Veronica, Kristen Bell has always been the obvious and undisputed heart and soul of the show, infusing the character with depth, grit, and toughness that make her relatable, endlessly watchable, and lovable, even when she's getting in her own way. However, the cast of characters that surrounds her is equally important.
Veronica's father, Keith Mars, a P.I. and the once-disgraced sheriff of Neptune, is undoubtedly the most important person in her life, serving as her biggest champion and undying confidante. Played by Enrico Colantoni, Keith is the platonic ideal of a great dad, and thanks to incredible chemistry between him and Bell, their scenes crackle with energy. Bell also shares particularly good — although entirely different — chemistry with Jason Dohring, who plays her on-again, off-again great love Logan, with whom she is firmly in a committed relationship by the beginning of season four. Another returning face crucial to Veronica's story is Wallace Fennel, played by Percy Daggs III, who befriends an unwilling Veronica during the pilot and remains her best friend from that day forward. These three characters make up the core of the show, but with supporting players like bad boy Weevil (Francis Capra), computer expert Mac (Tina Majorino, who did not appear in season four), and absurd rich boy Dick Casablancas (Ryan Hansen), the world of Neptune feels as full as ever, no matter how much time might have passed.
Falling in LoVe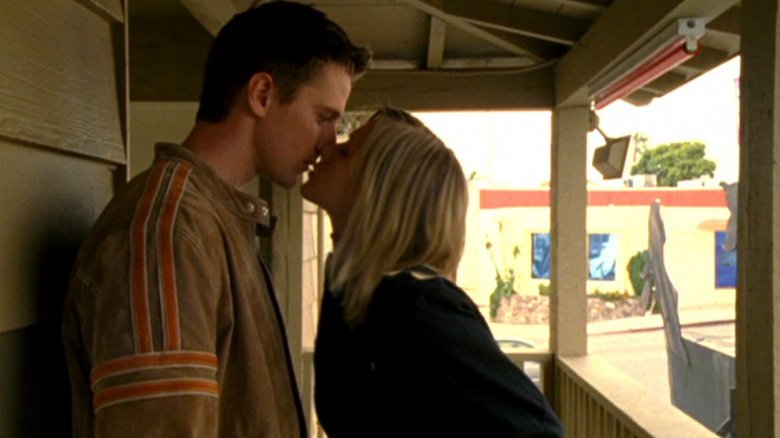 Even though Veronica begins the series pining for her ex-boyfriend Duncan, who abruptly broke up with her once he discovered the two of them could potentially be related (Veronica Mars has always had plenty of twists up its sleeve), she soon found a new boyfriend in Logan, Neptune High's "obligatory psychotic jackass" who also dated Veronica's late friend Lilly. Though the two seem to hate each other at first, after Veronica helps Logan try to find his missing mother (who we learn took her own life), the two only get closer, sharing a passionate kiss during the first season.
The two remain on and off for the entire series, making for some incredible moments — the most memorable of which is Logan's speech to Veronica just as high school is about to end, when he tells her their story was supposed to be "epic [...] spanning years and continents, lives ruined and blood shed" — but luckily for longtime fans of LoVe, the moniker given to the couple, they finally reunite for good during the movie. Veronica starts off the film still firmly with her college boyfriend, Piz, but by the film's end, she and Logan are back together, even as Logan sets off for yet another deployment in the Navy, and season four finds them living together in Neptune in a cozy apartment with their dog, Pony.
The main mystery of Veronica Mars season four
The fourth season of Veronica Mars picks up as Veronica is making her way in Neptune once again, working side by side with Keith at Mars Investigations and putting her brilliant analytical mind to use as she helps uncover philandering spouses and petty disputes. However, her seemingly peaceful existence is interrupted by a bombing at a local motel during Neptune's bustling spring break, which kills several people and leaves the town in a state of fear.
There are plenty of potential suspects on Veronica's radar after the bombing, considering that plenty of Neptune residents hate the scourge of "spring breakers" and want the town to crack down on tourism during that particular time of year, but as more bombs go off and the people around her are endangered, Veronica has to get to the bottom of the spring break bombs and find the culprit once and for all, putting her own neck on the line to solve the mystery (a typical Veronica move).
Veronica Mars season four's conclusion revealed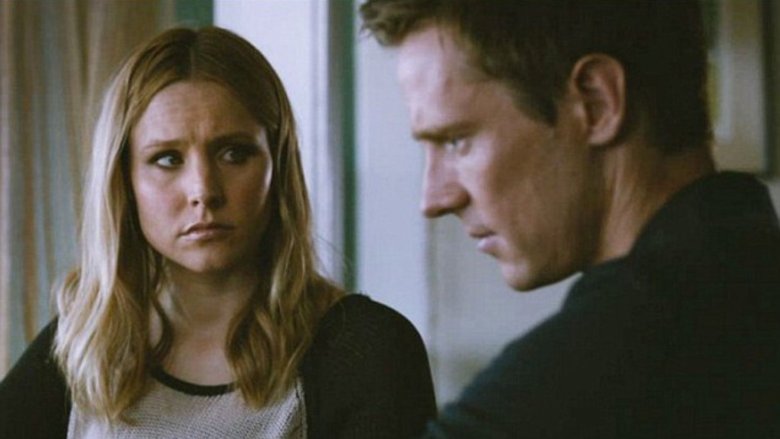 Thanks to returning faces, an impressive slate of guest stars, and a well-crafted mystery arc, Veronica Mars season four zips along at a gripping pace, and by the time you realize who's behind the bombings, you'll likely feel tricked and entirely satisfied at the same time. Throughout the season, Veronica focuses on a few potential bombers: "Big Dick" Casablancas, a developer with a grudge against spring break; members of a Mexican drug cartel seeking revenge for a family member who was killed in the first bombing; Nicole (The Good Place's Kirby Howell-Baptiste), a bar owner with a dark past; Clyde Pickett (J.K. Simmons), a fixer working for "Big Dick;" or even Penn Epner (Patton Oswalt), a pizza delivery man injured in the first bombing.
After plenty of twists and turns, the bomber turns out to be Penn, a self-professed "murderhead" hellbent on driving spring breakers out of Neptune, and after a harrowing final bomb is defused in the nick of time by Veronica's father Keith, it looks like Neptune is out of the woods now that Penn will be held accountable for his actions. However, the bomber still has one final trick up his sleeve.
The fate of our favorite Veronica Mars couple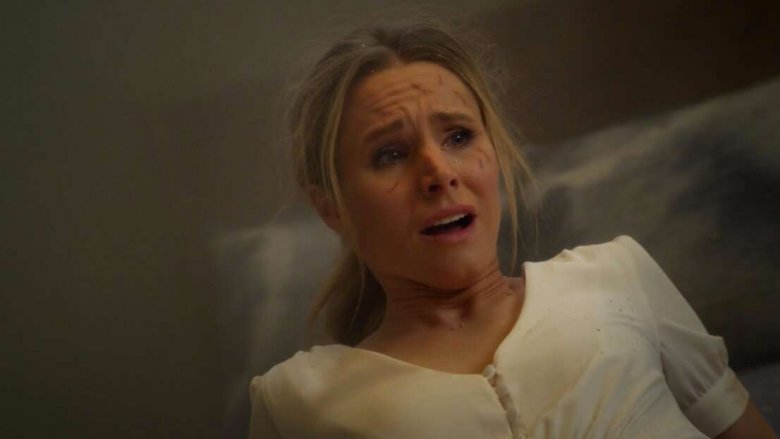 Even though Veronica solved the bomb mystery in Neptune, she had one other central struggle during season four — namely, her relationship with Logan. Over the years, shadowed to an abusive father and a troubled past, Logan was frequently prone to anger and violence, a tendency which kept him and Veronica apart time and time again, but season four finds him a totally changed man. When audiences meet Logan again in season four, he's just returned from yet another deployment, but he's very different from the Logan viewers knew and loved — he's in therapy, working on his anger issues, and even kicks the season off by proposing to Veronica (and in true Veronica fashion, she immediately says no).
This ill-fated proposal is followed by several episodes of push and pull between the couple — Logan wants to start a life and settle down, which frightens Veronica to her core — but by the show's end, Veronica agrees to marry the love of her life, and after a few false starts, the two finally make it to the altar, giving "LoVe" the happy ending fans desired... or at least, that's how it seems. Right after Veronica and Logan's wedding, he heads out to move their car for street cleaning, only to be killed by Penn's final bomb, which was meant for Veronica.
Why Veronica Mars season 4 needed a brutal ending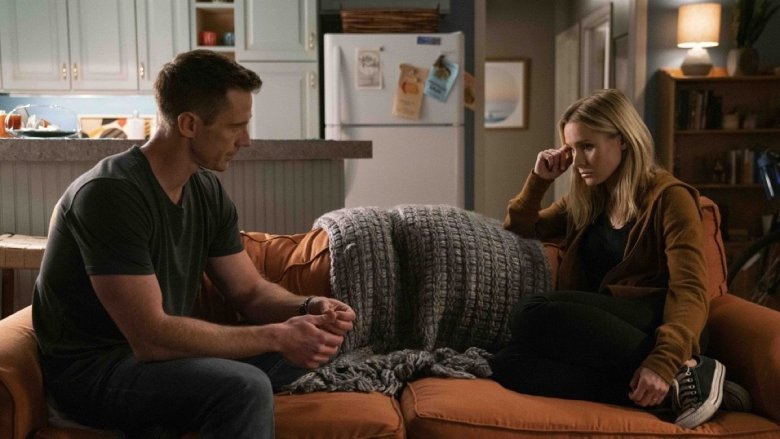 From the start, Veronica Mars was always an incredibly dark show, but killing Logan right after he and Veronica finally got married felt particularly brutal. Some critics (and plenty of fans) loudly disagreed with the choice, but as far as Thomas was concerned, the ending was completely correct.
In several post-mortem interviews after the new season dropped, Thomas admitted that he was deeply afraid of fan reactions to Logan's death — after giving one of the show's most beloved characters the ultimate redemption arc, it definitely felt extra cruel to kill him off just as he came into his own — but, as he told Vulture, "badass private eye and her husband back in Neptune didn't feel like the show that could sustain itself moving forward."
Thomas wasn't the only one who understood that this ending was necessary both to continue the show and to shape Veronica's overall character, sad as it may be. Dohring, whose time as Logan came to an end this season, said though he was sad about the choice, he understood, and Bell also agrees with Thomas, saying she wishes she could explain the choice to each fan individually.
Where all the Veronica Mars characters ended up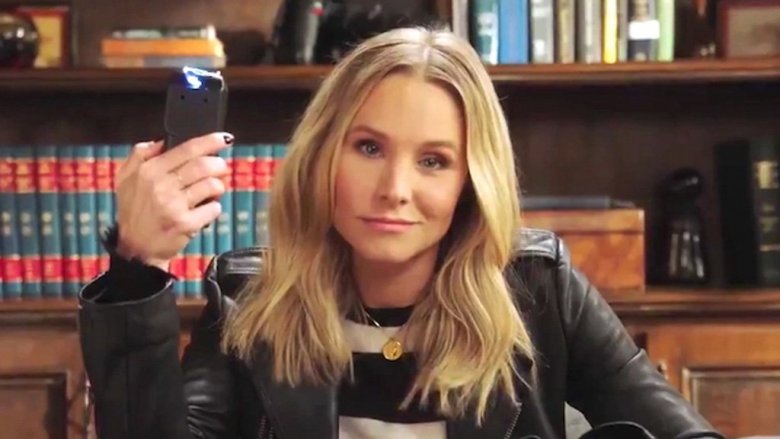 In the aftermath of that final bomb, the finale flashes forward one year, letting audiences know where their favorite characters have ended up. Wallace is still living in Neptune with his wife and child, as is Keith, who has a new girlfriend and has taken on a new protege — Matty (Izabela Vidovic), a young girl whose father died in the first bombing who is definitely reminiscent of a young Veronica. As for our titular hero, she's finally in therapy — a step Logan begged her to take during their time together — but is also setting off to take on new cases elsewhere. Thanks to the Mars team's work on the Neptune spring break bombings, they're in higher demand than ever, and there are cases outside of Neptune that Veronica can handle.
This might sound like the ending wraps everything up pretty neatly, but that couldn't be further from the truth. Logan's death might create new paths for Veronica, but the grief-stricken heroine is still recovering from losing her great love, and the season ends on a relatively somber note as she drives away from Neptune, escaping the town that has brought her so much happiness and so much pain.
How Veronica Mars season 4 came to be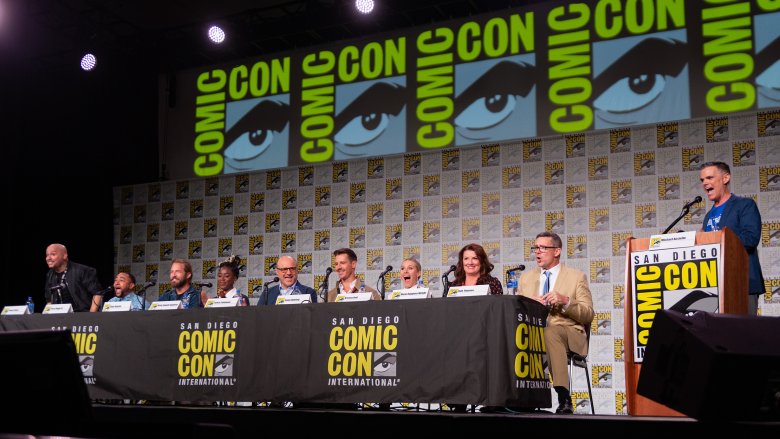 Daniel Boczarski/Getty Images
After the Veronica Mars film's release in 2014, fans waited patiently to see if another season of the series might eventually surface, and even though it took some time, it was definitely worth the wait. In September of 2018, streaming giant Hulu announced that it would not only provide an exclusive home for the first three seasons of the show, but it would also air a new season in the summer of 2019.
The eight-episode season was highly anticipated, with guest stars like Oswalt, Howell-Baptiste, and Simmons announced in the lead-up to the premiere, but since this is Veronica Mars, Thomas and his crew had one last trick up their sleeve. Shortly after the cast and crew assembled at San Diego Comic-Con 2019 to discuss the new season, it dropped as a surprise one full week ahead of schedule on July 19, 2019. Audiences flocked to Hulu to binge the new season as soon as it dropped, and all in all, it proved that Thomas still has what it takes to surprise his loyal fans.
Will there be a Veronica Mars season 5?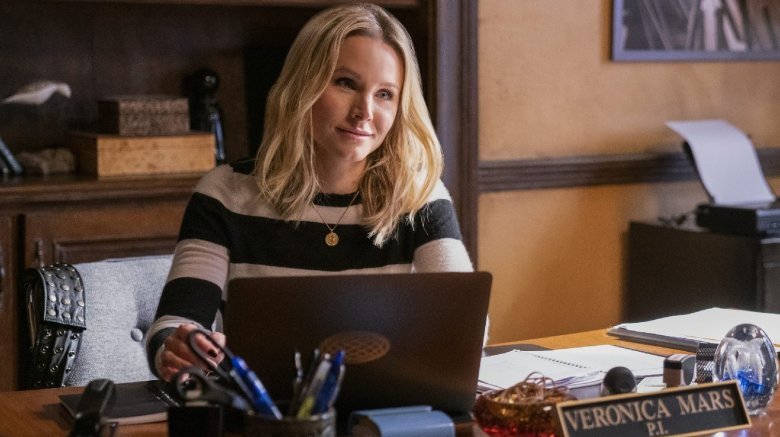 Some fans might still be holding a grudge about season four's rough ending, but that certainly doesn't rule out a potential fifth season; in fact, quite the opposite.
Kristen Bell is clearly the most important player in any future Veronica Mars projects, and for her part, she wants to return to the role until, in her own words, "everyone in Neptune is dead." She's said a fifth season isn't out of the realm of possibility, but that it depends entirely on scheduling — not just for her, but for the rest of the cast and crew. However, now that her acclaimed series The Good Place wrapped filming its final season, she may have more time available to step back into Veronica's gumshoes.
Thomas has also been unequivocal about how Logan's death will likely pave the way for many more Veronica mysteries, so whether she returns to Neptune or solves crimes elsewhere, it seems like Hulu, Thomas, and Bell may well come back together to tell even more stories set in Veronica's dark, twisty world — though, to be clear, a fifth season is still officially unconfirmed.