Power Of The Dog Director Jane Campion Finally Responds To Sam Elliott's Criticism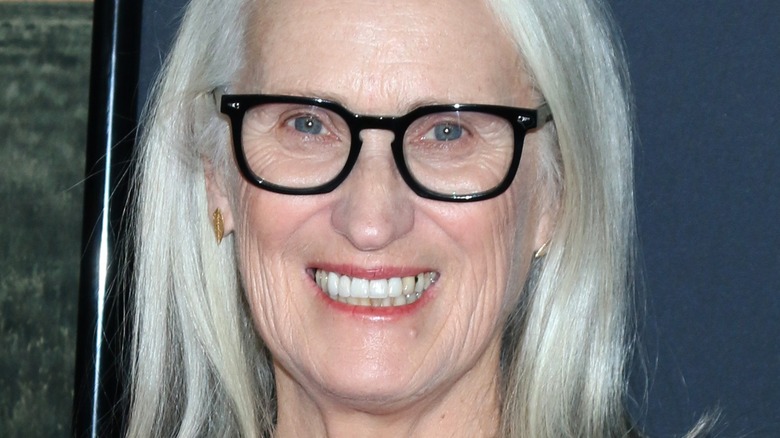 Kathy Hutchins/Shutterstock
Since its November 2021 release on Netflix, Jane Campion's Western drama, "Power of the Dog," has received all kinds of attention — and not just the good kind. In one of his best performances to date, Benedict Cumberbatch stars as Phil Burbank, a downright dirty cattle rancher with a penchant for cruelty. Alongside Cumberbatch Jesse Plemons co-stars as George Burbank, Phil's more considerate brother who shakes up the family dynamic when he brings his new wife Rose (Kirsten Dunst) and her son (Kodi Smit-McPhee) to the Burbanks' ranch.
The film has excellent awards cred. It already won Best Picture and Best Director at the Critic's Choice Awards and at the BAFTAs, and seems likely take home at least a few statues at the Oscars, as well, where it's up for a whopping 12 awards.
Despite all the acclaim, Sam Elliott's recent high-profile comments prove the film isn't for everyone. The actor, who stars on the "Yellowstone" prequel "1883," criticized the film for its "allusions of homosexuality," when he spoke on Marc Maron's "WTF" podcast. He also said of Campion, a New Zealand native, "What the f*** does this woman from down there know about the American West? Why the f*** did she shoot this movie in New Zealand and call it Montana? And say this is the way it was? That f****** rubbed me the wrong way," (via Variety). 
A few different folks have already weighed in on Elliott's ... contrarian take, and now Campion has finally leveled her own pitch-perfect response.
Jane Campion has one harsh word for Sam Elliott
While on the red carpet at the DGA Awards, "Power of the Dog" director Jane Campion decided to respond to her film's most prominent detractor. When prompted by Variety's Marc Malkin, Campion was brutally honest, and explained that the "American West" is a highly mythologized space with room for many different takes. "I'm sorry, he was being a little bit of a B****. He's not a cowboy; he's an actor," she said. "The West is a mythic space and there's a lot of room on the range." She also contended that Elliott's comments were, diplomatically speaking, "a little bit sexist." 
"When you think about the number of amazing Westerns made in Spain by Sergio Leone," she explained. "I consider myself a creator. I think he thinks of me as a woman or something lesser first, and I don't appreciate that."
"Power of the Dog" star Benedict Cumberbatch also had something to say about the criticism, although he didn't specifically mention Elliott by name. While at a BAFTA Film Sessions event, Cumberbatch said he was trying hard not to respond to an "odd reaction" and that he couldn't comment on it in detail (via NBC News). However, he did say about his layered character, "These people still exist in our world, whether it's on our doorstep or whether it's down the road ... There is aggression and anger and frustration and an inability to control or know who you are in that moment that causes damage to that person and, as we know, damage to those around them."