The Gillian Anderson Crime Drama You Can Stream On Amazon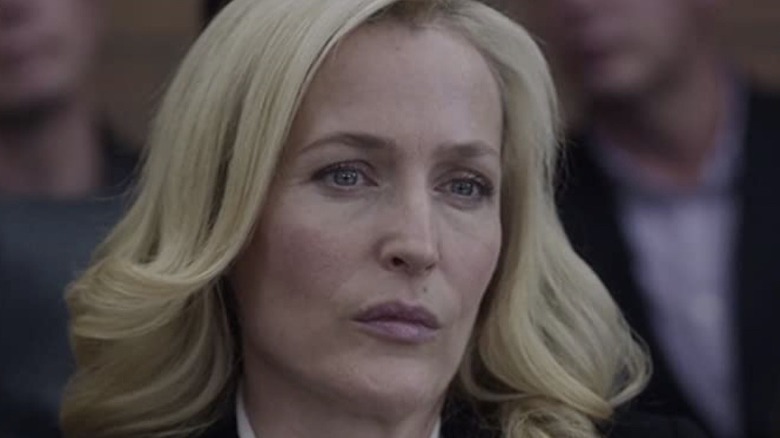 BBC2
Ever since "The X-Files" made her a household name on one of the best sci-fi shows of the 1990s, Gillian Anderson has been one of the most watchable actors around. Fans came to know her as the logical medical FBI professional Dana Scully on Fox's supernatural series, but since then she's appeared on many great projects, including 2011's "Great Expectations" miniseries, "Hannibal," "American Gods," and playing Margaret Thatcher on "The Crown." Anderson also starred in an Irish crime drama called "The Fall," which aired on BBC Two starting in 2013. The Killing Times called Anderson's acting in the slow-burning psychological thriller "a career best performance."
With an 84% critics score and an 86% audience score on review aggregator Rotten Tomatoes, "The Fall" is perfect for offering long-form, suspenseful drama without wearing out its welcome. Like many British series, it has fewer episode per season than its American equivalents, meaning you can binge the entire run of the three-season show in just 17 hours. So, if you're looking for a sexy binge-watch, don't mind provocative and tense mature-rated drama, and have access to Amazon Prime, you may be all set for the weekend. 
The Fall offers a look at an obsessive relationship between predator and prey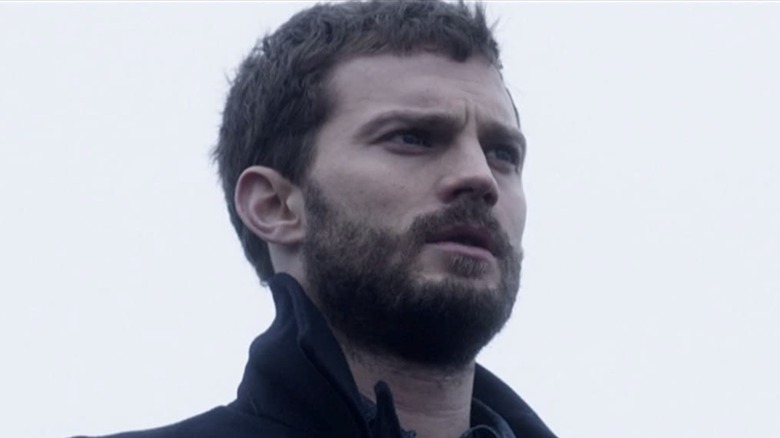 BBC2
Gillian Anderson isn't the show's only asset. "The Fall" also helped catapult Jamie Dornan — who was getting airtime in the "Fifty Shades of Grey" movies — to stardom. The show's plot focuses on Paul Spector (Dornan), a serial killer in Belfast. His brutal killings of women led some critics to claim that the series glamorized violence against women (via Criminal Element). Stella Gibson (Anderson) soon enters the mix as a cool London DSI (detective superintendent) who comes to Ireland to pursue the killer as head of a taskforce. Spector proves to be, in some ways, the yin to her yang, with the characters developing a very particular dynamic as perfectly matched forces — think Batman and the Joker. The Atlantic noted that "The Fall." in "subverting the formula, has shown what can happen when a truly poisonous villain is paired with a woman, and in doing so, it's become one of the most fascinating dramas on television."
The cat-and-mouse game between the two stars is what gives "The Fall" its steam, even though they didn't get a huge amount of screen time together in the first two seasons, and some thought the series slowed down a bit in its third season. Anderson has called the relationship between protagonist and villain strange and obsessive (via BBC's Media Centre). "They confound each other, frustrate each other, and infuriate each other. One of them is always slightly on top and I think that is the nature of their relationship at any given time. They've both caught each other out, surprised each other with their tactics and that psychological interaction is titillating for them at the same time," she said.
Could The Fall return someday?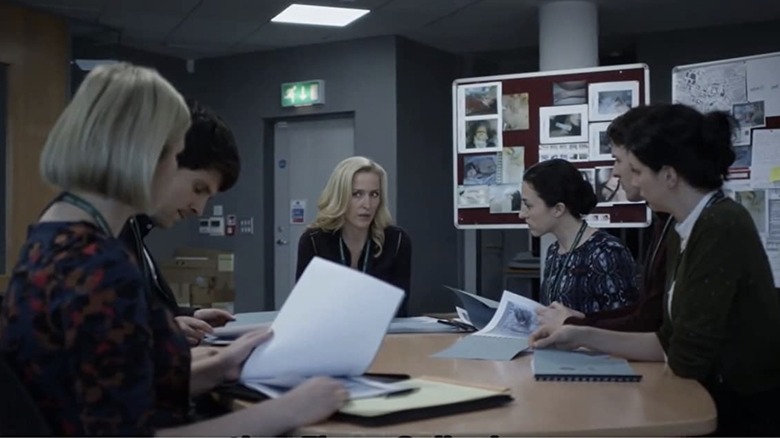 BBC2
If you need another reason to watch "The Fall," people involved in the series have hinted that Stella's story is not completed. Dornan described the final six episodes of the third season (via Digital Spy) as "a very appropriate and natural conclusion to the story" — Paul's story, anyway. ""It would've been very hard to continue the Gibson / Spector dynamic beyond a third series."
However, that doesn't mean Stella won't be back. Series creator Allan Cubitt told Digital Spy, "I don't think I'm giving much away in saying it's Jamie's last season. But that's not to say that we wouldn't do more of 'The Fall.'" He noted that he has "some thoughts" about a new series. Anderson confirmed the discussion has taken place: "One of the things that we've discussed is whether it would be more interesting to revisit her a few years from now," she said (via Digital Spy). "I'm excited by the idea of potentially revisiting it in a few years, to see what transpires in Stella's life afterwards. That would interest me — and certainly the thought that there is a possibility of playing her again is much more interesting to me than saying goodbye to her."