Winning Time's Quincy Isaiah Details The Most Challenging Part Of Playing Magic Johnson - Exclusive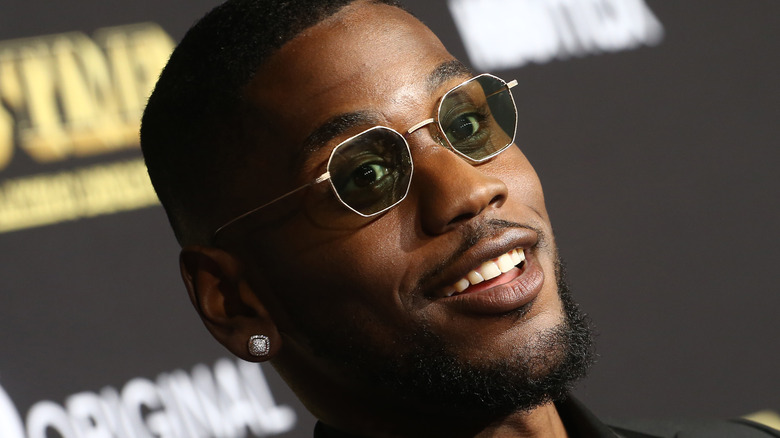 Tommaso Boddi/Getty Images
With only one short film to his name before he was cast as NBA legend Earvin "Magic" Johnson in "Winning Time: The Rise of the Lakers Dynasty," there's no question that Quincy Isaiah was under an immense amount of pressure to deliver in his first major role. However, Isaiah soon came to discover that, just like the real-life Los Angeles Lakers (if not also every high school, college, or professional sports team ever in existence), his teammates in "Winning Time" were part of the overall formula that would help him in his quest for success.
In the new 10-episode HBO Max series, which chronicles the dominance of the "Showtime Lakers" in the 1980s, "Magic" Johnson is selected by the team as the first overall pick in the 1979 NBA draft. Soon after, the player forms a strong bond with the team's new showbiz-focused owner, Dr. Jerry Buss (John C. Reilly), but the reception by the team's volatile player-turned-coach Jerry West (Jason Clarke) and superstar center Kareem Abdul-Jabbar (Solomon Hughes) gets a bit icy.
Ironically, as a relatively new kid on the block himself in Hollywood, Isaiah could have conceivably been subject to the same sort of isolating treatment when it came to being cast in a pivotal role in "Winning Time." Instead, for Isaiah — who, like Johnson, hails from Michigan — it was quite the opposite. As such, the welcoming atmosphere helped him meet the greatest challenge of playing the basketball icon simply known as "Magic."
Though doing so, Isaiah learned, came with a complicated set of tasks. Of course, there was the monumental undertaking of learning to replicate Johnson's style of play, but on top of that, Isaiah also had to find a compelling way to recreate Johnson's off-the-court life. That includes his relationship with longtime girlfriend-turned-wife Earlitha "Cookie" Kelly (Tamera Tomakili) — a "tough cookie," so to speak, who tries to keep him grounded in their long-distance relationship.
Isaiah strived to not be shy in the moment as Magic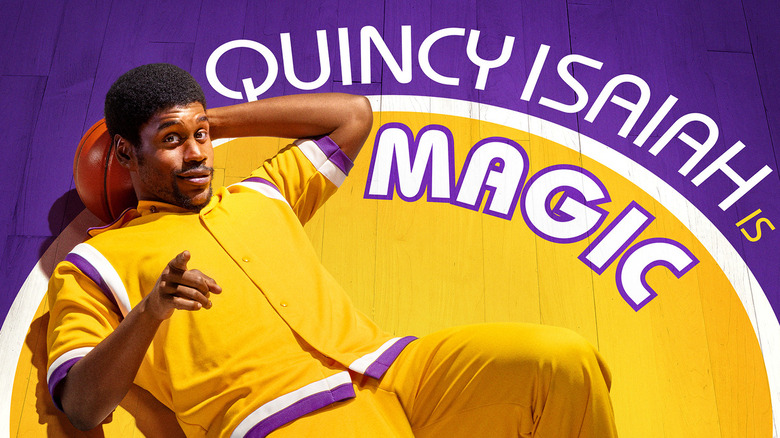 HBO Max
In an exclusive interview with Looper, Quincy Isaiah said there wasn't one specific part of playing Johnson he was intimidated by. Instead, he noted, it was more of the long-sustained challenge of maintaining the essence of Johnson in the company of so many "great actors and not being shy by the moment."
"There's a scene in the pilot where we're doing the lunch scene, and being in that moment with John C. Reilly and Rob Morgan [who plays Johnson's father, Earvin Sr.], and Michael O'Keefe [Lakers owner Jack Kent Cooke, who sells the team to Buss], [it was about] really owning that space," Isaiah recalled. "That is difficult as a newer actor being in that space, to be Magic Johnson, and bring that level of charisma and confidence. I like to think I held my own."
While Isaiah said acting opposite the likes of Jason Clarke, Adrien Brody (as Lakers coach Pat Riley), and Wood Harris (as fellow Laker Spencer Haywood) "can be intimidating at times," he discovered that "Winning Time" was ultimately a team sport where everybody wanted him to, well, win. "Knowing that the people around you are setting you up for success is what I really leaned on, which helped me feel more comfortable as days went by," Isaiah enthused. "Now, I feel like I can slip in and out of them at a moment's notice."
Also starring Sally Field and Hadley Robinson, as well as Jason Segel, Tracy Letts, DeVaughn Nixon, and Michael Chiklis alongside Gaby Hoffmann, "Winning Time" is now on HBO and HBO Max with a new episode every Sunday through May 8.