Why Jack Reacher From Amazon's Reacher Looks So Familiar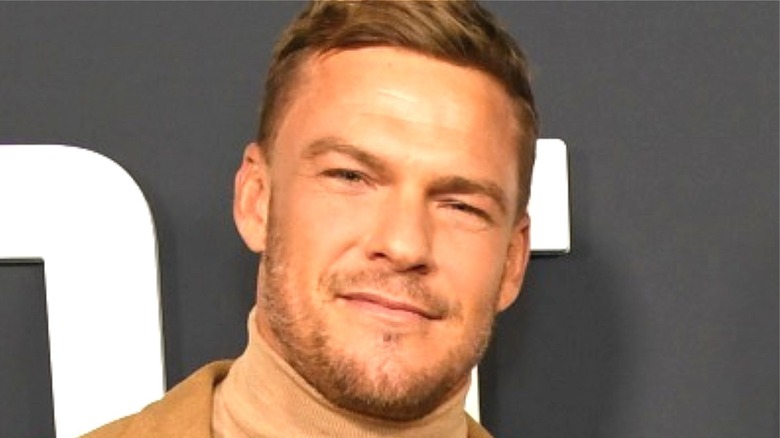 Jon Kopaloff/Getty Images
Amazon has yet another massive hit on its hands in the form of "Reacher." In moving away from the Tom Cruise-fronted storyline and rebooting the character with a more faithful adaptation of Lee Child's books, the series has given audiences a towering new action hero to (literally) look up to. The 1st season of "Reacher" proved an immediate success for the streamer, following the former soldier as a badass drifter who finds himself embroiled in a criminal conspiracy in a small Georgia town. The show has proven so successful, in fact, that it's already been greenlit for a 2nd season.
The titular soldier-turned-detective from "Reacher" might look familiar to fans of the series. That is because the action hero is portrayed by Alan Ritchson, an actor who has steadily built up a robust IMDb page of some great performances in the world of action and comedy throughout his career. With "Reacher" becoming the monumental hit that it is, and with more action on the way, now is the time to dive in and take a look at some of the most notable roles and performances that fans may know Mr. Ritchson from over the years.
He auditioned for American Idol before he was famous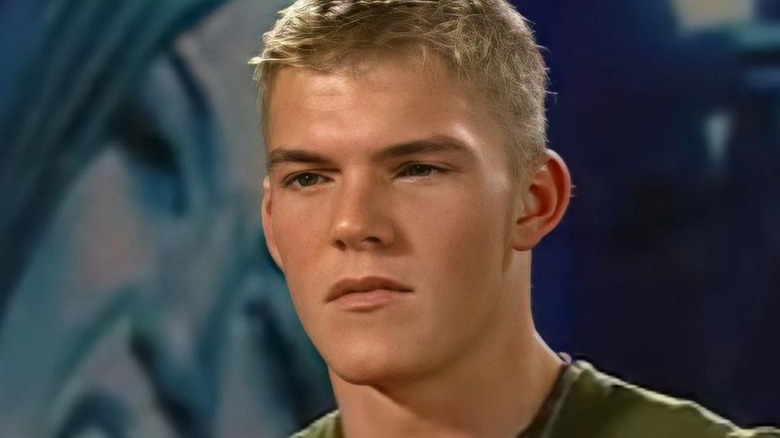 Fox
Alan Ritchson wasn't first known for playing fictional characters — rather, he was initially known as a contestant in a popular singing competition. One of the "Reacher" actor's first on-screen appearances was on the hit Fox series "American Idol" as a contestant in 2004, two years before his Hollywood acting debut. Though he did not go on to win the competition, he made a very strong impression on the judges –- particularly Paula Abdul.
Although Ritchson did not win "American Idol," his time on the competitive singing series did seem to help him along in his journey to becoming a star. In fact, in an interview with Parade earlier this year, he noted that his time as a contestant brought him to Los Angeles for the first time and ultimately helped him get auditions, which led to a career in acting. That said, Ritchson hasn't forgotten about his passion for singing, and he even noted that he has enjoyed acting experiences in which he has been able to sing on-screen — but more on those roles later.
Alan Ritchson played Aquaman on Smallville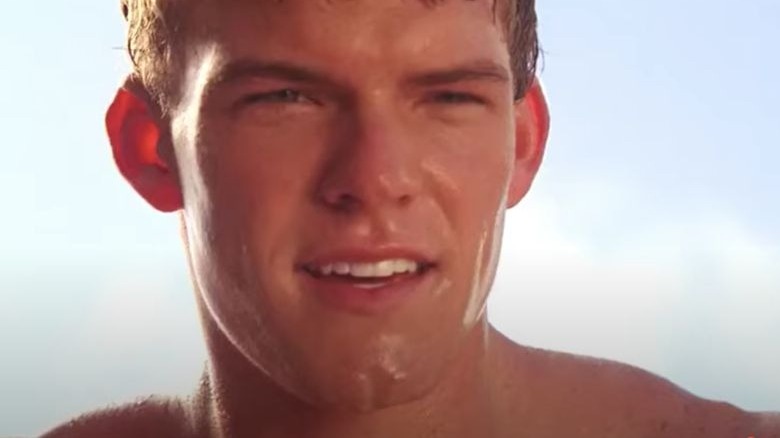 The WB
One of the first major on-screen roles that many audience members may recognize Alan Ritchson from is his role as Arthur "AC" Curry in "Smallville." Introduced to the show during Season 5 in 2005, Ritchson would go on to appear on The WB's Superman prequel series four times until 2010. During his run on the show, he would become a core member of the proto-Justice League, which also included Green Arrow (Justin Hartley) and Impulse (Kyle Gallner), and others.
The popularity of the Aquaman character on "Smallville" eventually led to a planned spinoff for the character. However, when the "Aquaman" series went to pilot, Ritchson was ultimately recast, with former Green Arrow actor Hartley stepping in for the role. That said, despite not playing Aquaman in live-action outside of his tenure on "Smallville," Ritchson would eventually go on to reprise his Aquaman role in voiceover for the animated film, "Justice League: The New Frontier," which debuted in 2008.
He played linebacker Thad Castle on Blue Mountain State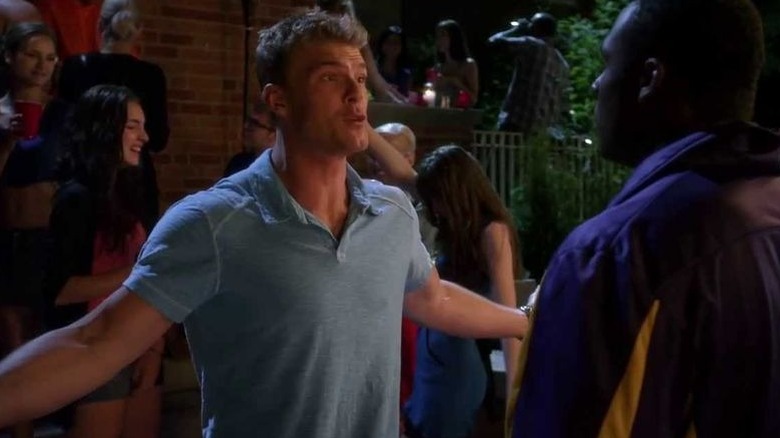 Spike TV
Alan Ritchson has played several athletes over the course of his career, but perhaps his most well-known athlete performance is his role as Thad Castle in the Spike TV comedy series "Blue Mountain State." Though initially pitched as a soft antagonist who bullied and hazed his teammates while shooting up rabies prior to D1 football games, Thad eventually became the co-lead of the series alongside Darrin Brooks' Alex Moran in the show's 2nd and 3rd seasons. "Blue Mountain State" went on to run for three seasons, with Ritchson appearing in a total of 39 episodes. The show solidified his comedic chops, proving that he could do more than just throw punches on-screen.
Outside of his work in the DC and "Reacher" universes, Thad Castle may arguably be one of Ritchson's defining performances as an actor. In fact, the character proved so successful that even after the end of "Blue Mountain State," Ritchson got to continue his work with the character. In 2014, he starred in the music video "Mojito," which starred Ritchson as himself in a musical tribute to Castle's favorite alcoholic beverage in the show. Later, in 2016, Ritchson reprised the role of Thad in earnest for the "Blue Mountain State" spinoff movie: "Blue Mountain State: The Rise of Thadland."
He played Gloss in The Hunger Games franchise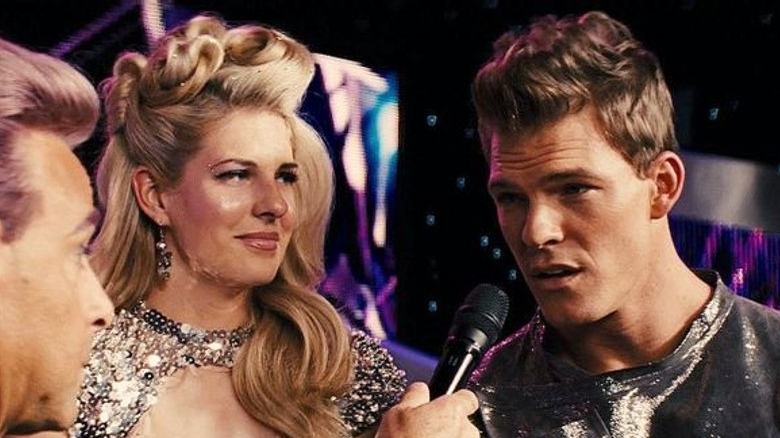 Lionsgate
The tributes in "The Hunger Games" ranged in capability and lethality over the course of the franchise. That said, some specific characters stood out as some of the deadliest to enter the titular tournament, which pitted citizens from the various districts of Panem against one another in a winner-take-all battle royale. One of the most gifted and talented tributes to appear on-screen in the films was Alan Ritchson's Gloss. A career combatant from District 1 specializing in throwing knives, Gloss returned to the games for the 75th Hunger Games to battle Katniss Everdeen (Jennifer Lawrence), Peeta Mellark (Josh Hutchinson), and the other returning winners in "The Hunger Games: Catching Fire" along with his sister Cashmere (Stephanie Leigh Schlund).
Ritchson's tenure in "The Hunger Games" franchise was ultimately short-lived due to the nature of his character. Like his literary counterpart, he finds himself put down by Katniss during the 75th Hunger Games. However, before he goes down, he kills Wiress (Amanda Plummer) which creates an opening for Katniss to shoot him in the chest with an arrow.
He played Hawk on Titans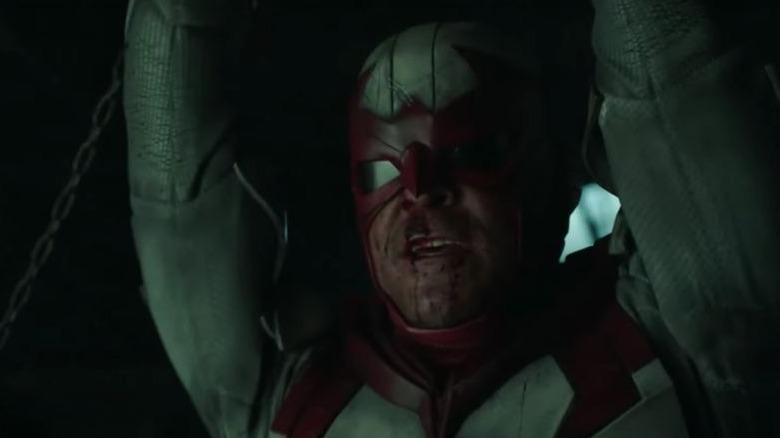 HBO Max
The "Smallville" iteration of Aquaman was not the only DC hero that Alan Ritchson would go on to portray in his career. In fact, the actor also took on the role of Hank Hall, a.k.a Hawk, in the Teen Titans series "Titans." A former football player who eventually became a vigilante, Hank was a brutal fighter who patrolled the streets in a Hawk-themed outfit. He was one half of the "Hawk and Dove" crime-fighting duo, balancing out the more nuanced and finesse-oriented fighting style of Dove (Minka Kelly) with a brute force approach.
As Hawk, Ritchson would make several appearances across various DC properties. In addition to his primary role on "Titans," he also briefly appeared on "Supergirl" during the "Crisis on Infinite Earths" crossover event. Unfortunately for Hawk, however, the character ultimately met his demise during "Titans" Season 3 when he was killed by a bomb placed on his chest by Jason Todd (Curran Walters). Ritchson has continued to appear on "Titans" in sequences following Hank into the afterlife, but at this time, the character remains canonically dead.