Steve Agee Chooses The DC Superheroes He'd Like His Peacemaker Character To Work With - Exclusive
HBO Max
The great part about stories set in the DC Extended Universe is that in addition to the time-honored superheroes like Superman, Batman and Wonder Woman, and supervillains including the Joker, Riddler and Penguin, there are endless amounts of characters in the comic book giant's library for filmmakers to access. In the case of the 2021 supervillain sequel "The Suicide Squad," writer-director James Gunn was able to import non-traditional characters like Peacemaker (John Cena), Bloodsport (Idris Elba), Polka-Dot Man (David Dastmalchian), and Ratcatcher 2 (Daniela Melchior) to join Harley Quinn (Margot Robbie), who established her presence in the first "Suicide Squad" film in 2016.
"The Suicide Squad" also introduced several new supporting characters who previously existed in DC comic book lore and brought them to the fore for the new HBO Max spin-off series "Peacemaker." Among those who've leaped over with Peacemaker to the series are A.R.G.U.S. computer genius John Economos (Steve Agee) and NSA Agent Emilia Harcourt (Jennifer Holland), who are now shoulder to shoulder with the vigilante as they try to protect to world from an alien species known as "Butterflies."
As "Peacemaker" reveals, the characters exist in a world where such DC icons as Superman and Batman also roam, even if they are only mentioned in passing. That means Economos could conceivably work with another superhero, supervillain or antihero in another mission in another screen project, and Agee already has some ideas of which super beings he'd like to partner with someday.
Steve Agee would like Economos to work with Superman or Batman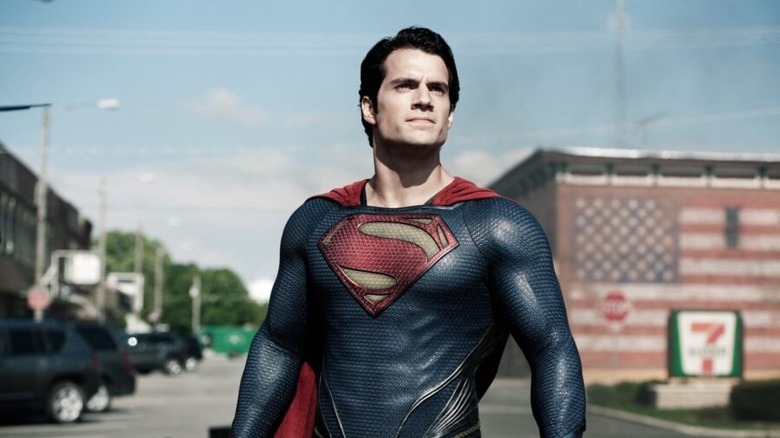 Warner Bros.
In an exclusive interview with Looper to talk about "Peacemaker," Agee said he'd like for Economos to work alongside DC's finest.
"I was never a comic book reader. It's something I actually regret, and I'll buy them now. My knowledge of superheroes is the very basic, the most popular [being] Superman and Batman," Agee revealed. "I would love more than anything to be in a Superman movie or a Batman movie or in a Justice League-type situation. Those are my favorites. That's not even based on my limited knowledge of superheroes and comic books. I think even if I did know comic books to the depth of James Gunn or Dave Dastmalchian, I would still want to do a Superman movie, just as a fan of that genre. I think Superman or Batman."
Until either one of those opportunities come about, Agee could be in line to work with another one of his castmates in "The Suicide Squad," especially now that Gunn has revealed that he's working on a second movie spin-off series after "Peacemaker."
Agee would love to work with Dastmalchian in a Polka-Dot Man prequel series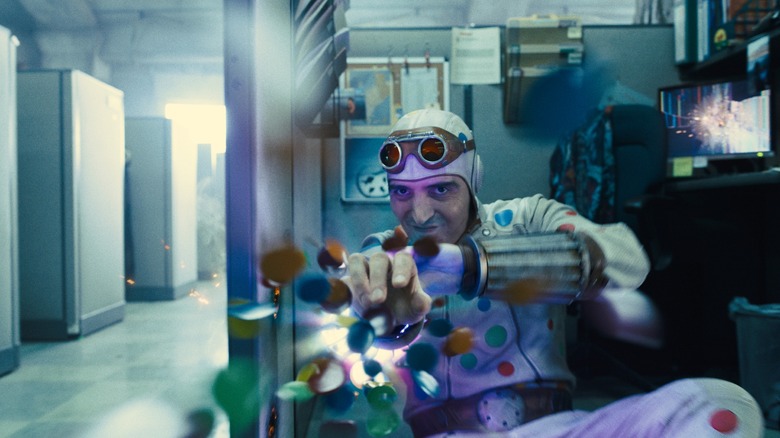 Warner Bros.
Although Polka-Dot Man met his sad demise in "The Suicide Squad," Agee told Looper that he'd love for Gunn to take the prequel route and conceive a series featuring Dastmalchian's tragic character. The series would have to include Economos.
"I got to say, Dave Dastmalchian is probably my best friend in real life. We've known each other for a while now. It was just amazing that James put us both in the same movie. I would love to, much like you, somehow see Polka-Dot Man used again maybe in a prequel, but I would love to work with Polka-Dot Man," Agee said. "I'd love to work with Dave just as a friend, but I thought the character of Polka-Dot Man was so deep and nuanced, that I would love to somehow work with Polka-Dot Man again — as a selfish person wanting to work with my friend again, but also, I thought the character was amazing."
"Peacemaker" is streaming exclusively on HBO Max with new episodes debuting on Thursdays.