The Suicide Squad's David Dastmalchian Reveals How His Polka-Dot Man Was Brought To Life - Exclusive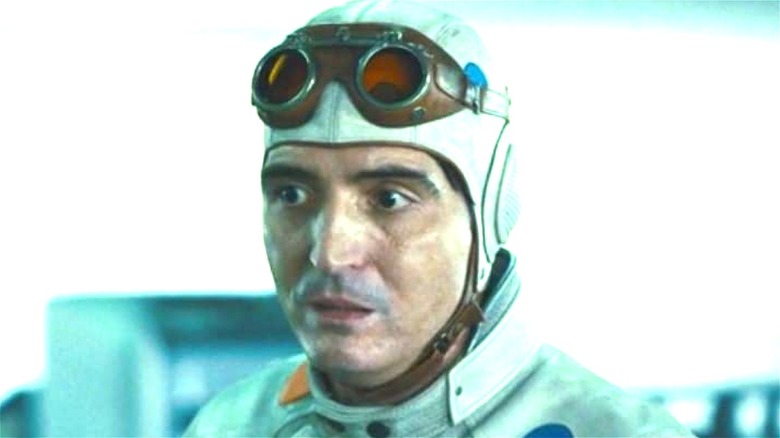 Warner Bros.
Computer-generated imagery is so slick now that it's nearly indistinguishable from practical makeup effects and fans may emerge from theaters asking themselves, "How did they do that?" It's easy to presume that writer-director James Gunn's DC supervillain hit "The Suicide Squad" relied quite a bit on CGI — especially to create the monstrous alien in the Project Starfish experiment, and realize such characters as King Shark and Weasel via motion capture. But in the case of David Dastmalchian's Polka-Dot Man, also known as Abner Krill, Gunn didn't lean on CGI to bring the pivotal member of the Suicide Squad to life on the big screen.
In the film, which is playing in theaters and streaming exclusively on HBO Max, Viola Davis stars as Amanda Waller, the unforgiving head of the of the secret government program Task Force X. Thanks to cruel experiments conducted by his mother on him and his siblings in their youth, the emotionally fragile Polka-Dot Man suffers from an inter-dimensional virus that causes painful, polka-dot-colored discs develop under the surface of his skin. It's a cruel fate Abner constantly lives with, as he must shed the discs twice daily or potentially die. One way Abner can rid his body of the discs is to use them as weapons, which have the power to obliterate people as well as inanimate objects.
David Dastmalchian realized a lifelong dream under the Polka-Dot Man makeup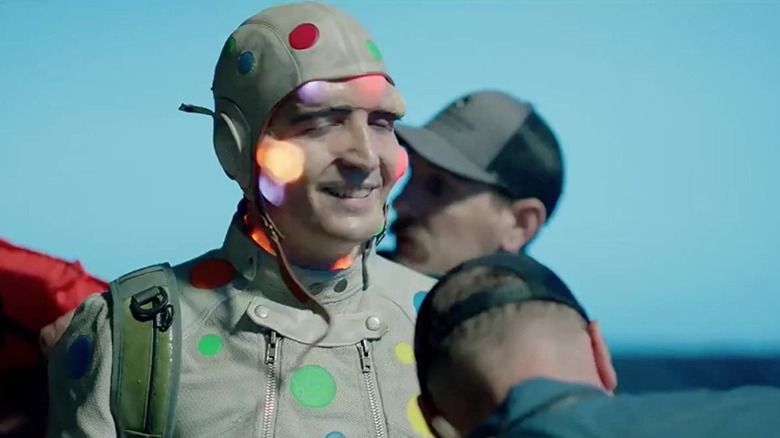 Warner Bros.
Given Polka-Dot Man's powers, "The Suicide Squad" features scenes where the polka dot-colored discs rage to the surface of Abner's skin, creating massive contusions on his head and face that resemble tragic real-life-people-turned-film-characters like John Merrick in "The Elephant Man." CGI was naturally on the table to create the disfigured Polka-Dot Man look, but instead, Gunn opted for practical make-up effects, a move that helped Dastmalchian realize a lifelong dream.
"Going back to my lifelong passion for horror, I always wanted to be Lon Chaney. Since I was a kid, I wanted to do that kind of work," Dastmalchian revealed to Looper in an exclusive interview. "When I went to work on this movie, I found out Legacy Effects was the company that was going to do the makeup for the polka dots and they applied it every day. One of them is my dear friend Greg Funk, who, if you saw the "Ant-Man" movies and you remember all the tattoos that my character had, Greg was my makeup artist and did all my tattoos. So then, getting to be with Greg and have him do these incredible prosthetics — and Greg is a legend in makeup — was such a treat. Also, a new friend, my buddy Matt [Sprunger], who was Greg's partner in applying my makeup, helped out."
Polka-Dot Man's makeup brought David Dastmalchian to tears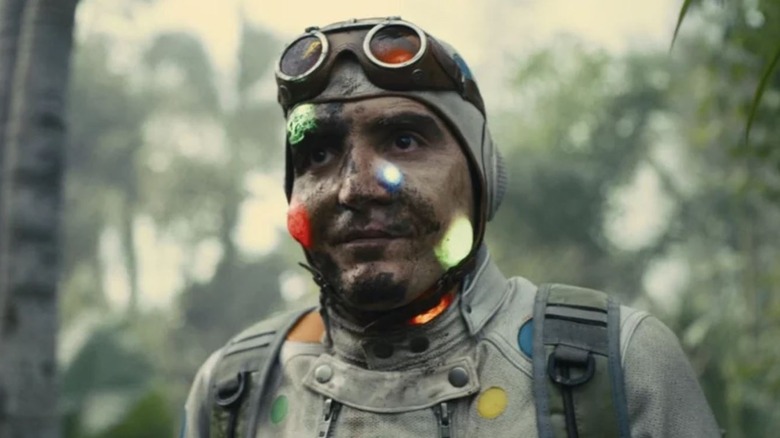 Warner Bros.
David Dastmalchian said the Polka-Dot Man make-up was designed by Shane Mahan and his team at Legacy Effects. The company's distinguished list of credits includes such Marvel blockbusters as "The Avengers: Infinity War" and "Avengers: Endgame," as well as the "Star Wars" smash series "The Mandalorian." Mahan and company also worked on Guillermo del Toro's Best Picture Oscar winner "The Shape of Water," so Gunn knew he was in good hands.
"James really insisted on having his effects as practical as possible in the film to help us in performance, and also for the style of film that he wanted to make, so the makeup is completely done practically," Dastmalchian explained. "That is latex and wires and lights. I mean, my face really would light up and I looked like a walking Christmas tree version of the Elephant Man at points. It was insane, and it was so cool. And the first time that I did the makeup, and I went down to do my camera tests with James, I had tears in my eyes. I was so excited because it was my Lon Chaney moment. That was a lifelong dream."
Polka-Dot Man's battle scenes were a combination of CGI and practical effects, David Dastmalchian says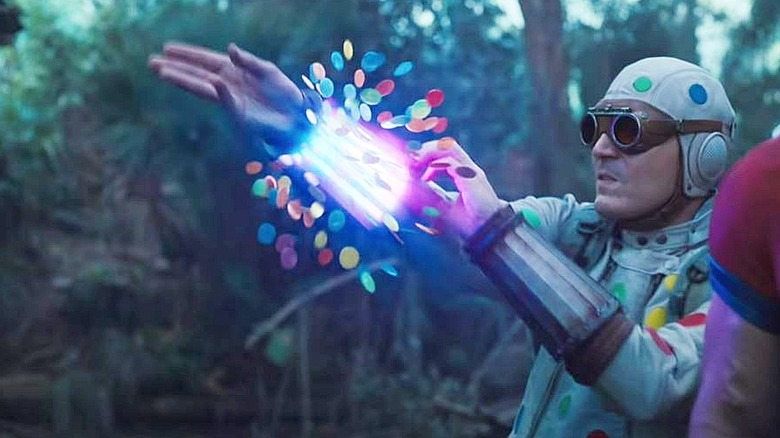 Warner Bros.
While Abner Krill's polka-dot malady was done through practical makeup effects, David Dastmalchian noted that the damage he inflicts upon structures and humans in "The Suicide Squad" was a combination of both CGI and practical means. The lethal discs Polka-Dot Man launches were computer generated, but the structure he took down in the film's jungle was real. As for the scenes involving people, it's safe to say no human was harmed in the making of "The Suicide Squad" — just bodies that were created to look like them.
"When we were on set shooting, the production designer, Beth Mickel, and James built an entire jungle on the stages at Pinewood in Atlanta — and in that jungle set, there was the whole guerrilla force encampment, where I totally blast down a lookout tower, that stuff really was done practically so I got to watch my polka dots bring down this tower," Dastmalchian recalled. "And then when some of the guys get kind of blown to bits by my polka dots, he had actors standing there and then parts of body parts were all over the place. It was so cool when we were shooting it. And then when I got to go finally see the film, seeing it all come to life on the screen, and with the actual polka dots ... Wow, man. So cool!"
"The Suicide Squad" is playing in theaters and streaming exclusively on HBO Max.