Where Else You've Seen The Cast Of Army Of Thieves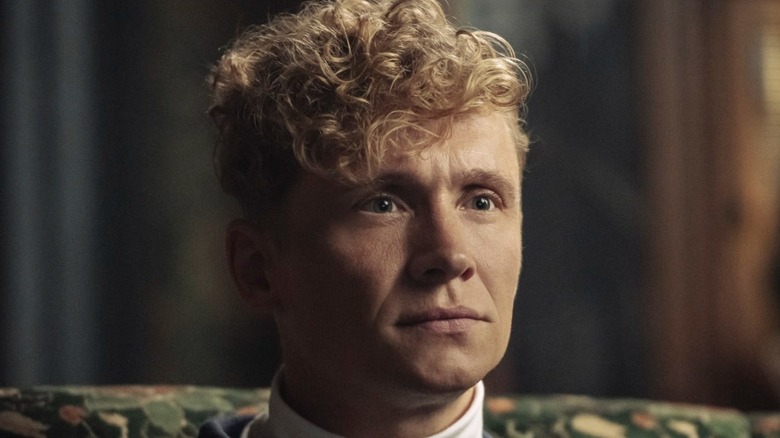 Netflix
After helping build DC's cinematic universe of heroes and villains, Zack Snyder jumped over to Netflix to create a universe of zombies. "Army of the Dead" put Dave Bautista in the role of Scott Ward, a man gearing up to plunge into the hazardous undead-ridden landscape of a quarantined Las Vegas at the behest of Bly Tanaka (Hiroyuki Sanada), a wealthy casino owner who requests that Scott and his team retrieve $200 million from a highly secure safe before the military nukes the city. If he's successful, Scott and each member of his team get to take a cut of the bounty.
In order to manage the issue of breaking into a secure vault, Scott hires Ludwig Dieter (Matthias Schweighöfer), a safecracking expert. As a character, Ludwig, in his whimsy, offers plenty of light-hearted moments in an otherwise dark scenario. He takes great pride in his task and is seemingly more concerned about his time cracking the safe than he actually is about the money inside.
With the promise of world-building spinoffs and further narrative continuity, Netflix released the prequel "Army of Thieves," which chronicles Dieter's exploits prior to joining Scott's team — though in this film, he goes by his birth name, Sebastian Schlencht-Wöhnert. With the new film comes a brand new cast, although you may recognize many of the new players in the "Army" Snyderverse. Let's take a look at the cast members and find out why they're so recognizable.
Matthias Schweighöfer as Sebastian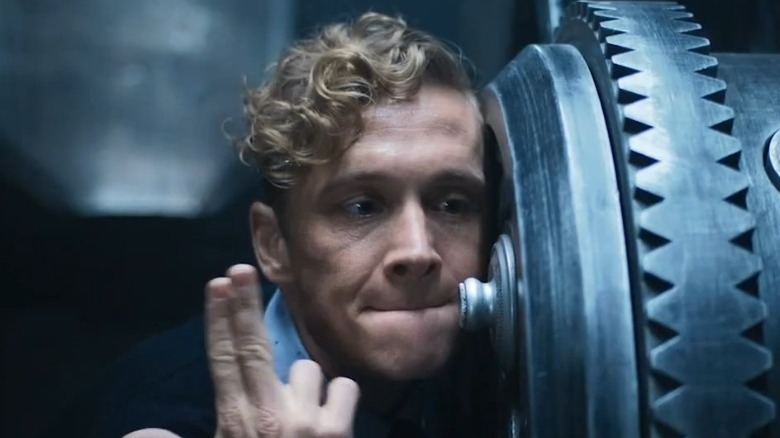 Netflix
The happy-go-lucky primary protagonist of the film, Sebastian Schlencht-Wöhnert is a bit of a loner who begins social outreach by making YouTube videos centered around his obsession with safecracking. He's contacted by an anonymous individual seeking to test his skills, and after he enters a competition and comes out the victor, the individual reveals herself to be Gwendoline Starr, a professional thief who explains that she and her team are attempting to break into three legendary safes. Eager to crack them, Sebastian agrees to join the team.
The actor who brings Sebastian to life, quirks and all, is none other than Matthias Schweighöfer. Obviously, he appeared in "Army of the Dead" as Ludwig Dieter, but Schweighöfer has also established a healthy career in international cinema and television, beginning with his earliest roles in German film productions such as "Raus aus der Haut," "Soloalbum," and "Das wilde Leben." After breaking into American film with an appearance in "Feardotcom" and the role of Lieutenant Herber in the Tom Cruise-led film "Valkyrie, Schweighöfer branched out from his acting career and joined forces with fellow German celebrity Joachim Winterscheidt to create the clothing label German Garment, a line of urban streetwear. 
Eventually, Schweighöfer worked his way behind the camera, directing films such as 2011's "What a Man," "Joy of Fatherhood," and "The Manny" — as well as "Army of Thieves," which he helmed while simultaneously playing the starring role.
Nathalie Emmanuel as Gwendoline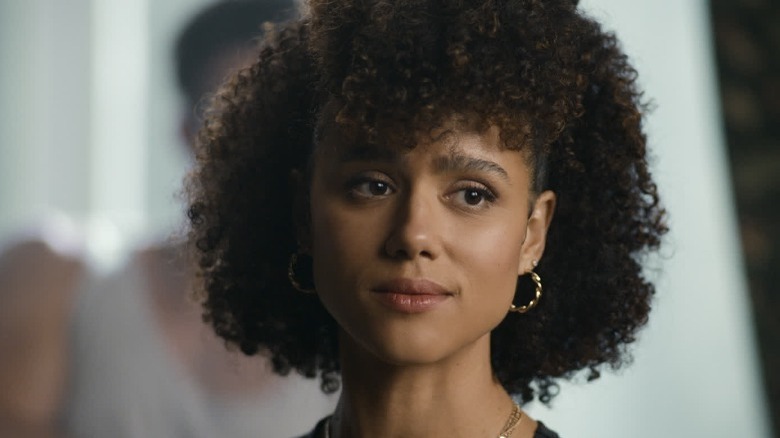 Netflix
Gwendoline Starr comes from a rich family, but rejected their lifestyle — and once she started stealing, she realized how thrilling it was. After the team engages in their first heist, Sebastian quickly learns that Gwendoline can easily take care of herself. As far as hand-to-hand combat is concerned, she's not a foe to be trifled with. While Gwendoline leads a life of deception and thievery, she ultimately drops any façade she may have cloaked herself in around Sebastian — the two form a connection that holds the promise of a possible reunion beyond this film.
Many "Army of Thieves" viewers may recognize Nathalie Emmanuel from her role on "Game of Thrones" as Missandei, friend and confidant to the mother of dragons, Daenerys Targaryen; her career really got started in 2008, however, on the British drama "Hollyoaks." Following Emmanuel's entrance into the world of Westeros, she joined the cast of 2015's "Furious 7" as the computer hacker Ramsey; that same year, she also appeared in "Maze Runner: The Scorch Trials" as Harriet. She's also appeared in the sequels "The Fate of the Furious," "F9: The Fast Saga," and "Maze Runner: Death Cure."
Emmanuel has continued to make a splash on the small screen voicing the character of Deet in the Netflix series "The Dark Crystal: Age of Resistance." She also appeared in the Hulu series "Four Weddings and a Funeral." Clearly, her star has only started to rise.
Ruby O. Fee as Korina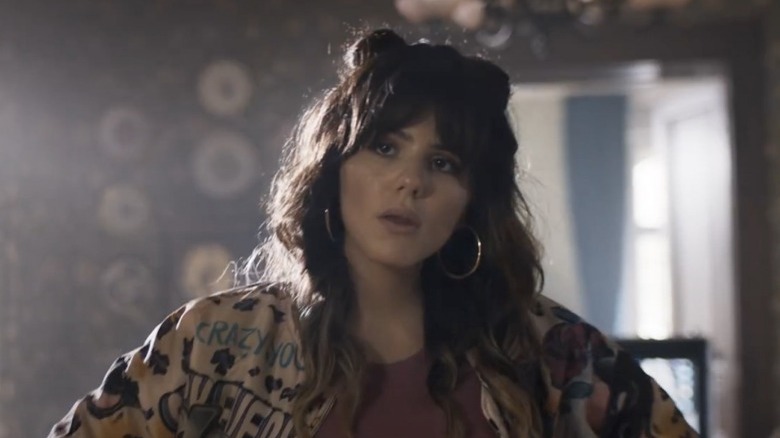 Netflix
Every heist crew needs a tech liaison. Korina is much deeper than that. The team considers her a master hacker. Upon introducing Sebastian to her, Gwendoline explains that when Korina was young, her brother saw the trailer for the first "Pirates of the Caribbean" sequel and longed to the see the film even though it hadn't been released yet. Quickly, she jumped on her laptop at the kitchen table and leaked the entire movie to the public.
In the field, Korina ensures there are no roadblocks for the team as far as security systems, biometric scanners, and cameras go. She plans her strategy out and executes it swiftly. Her technical prowess has foiled Interpol time and time again.
Like Matthias Schweighöfer, Ruby O. Fee is a German-born actor who began her career in German film and television. She got her first big break in 2010 with an appearance in the film "Womb"; that same year, also landed a role in the TV series "Allein gegen die Zeit" ("13 Hours: Race Against Time"). Throughout most of her career, she's continued to appear in German television and film with projects such as "Zazy," "Die Ketzerbraut," and "The Invisibles." In 2019, she appeared in the Netflix film "Polar," starring Mads Mikkelsen and Vanessa Hudgens. While Fee's work is largely German, she's definitely beginning to branch out.
Stuart Martin as Brad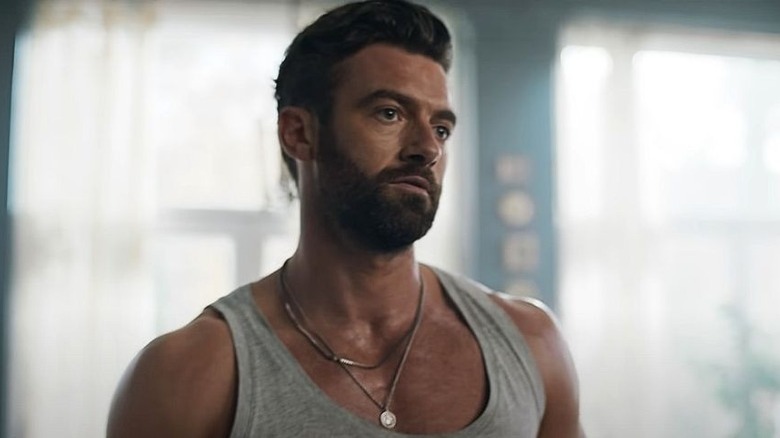 Netflix
Alexis Broschini, or Brad Cage as he prefers to be known, leads the crew in planning and carrying out the heists. He grew up on action movies of the '90s, hence his name, which is a mashup of Brad Pitt and Nicolas Cage. He not only fits the build of a meathead bro, he acts like one too, bullying Sebastian through words and alpha-male puffery like they're on the playground. Eventually, he targets the whimsical safecracker later in the film over Brad's jealousy of Sebastian and Gwendoline's blossoming relationship.
Brad Cage is ultimately a "shoot first and ask questions later" kind of guy. At one point in the crew's history, his disregard for inflicting harm on others led him to create a vengeful foe in the form of an Interpol agent who doggedly pursued them after Brad shot him in the leg.
"Army of Thieves" is Stuart Martin's full-length feature film debut, although he came with plenty of television experience. A Scottish actor, he began work in European television series, including small appearances in "Taggart" and "River City." He made the jump to American programming with an appearance in the History Channel feature "Hatfields & McCoys," and also made a brief appearance in an episode of "Game of Thrones" as a Lannister soldier. Martin had more screentime with his roles in the British dramas "Babylon" and "Jamestown" and the NBC series "Crossing Lines."
Guz Khan as Rolph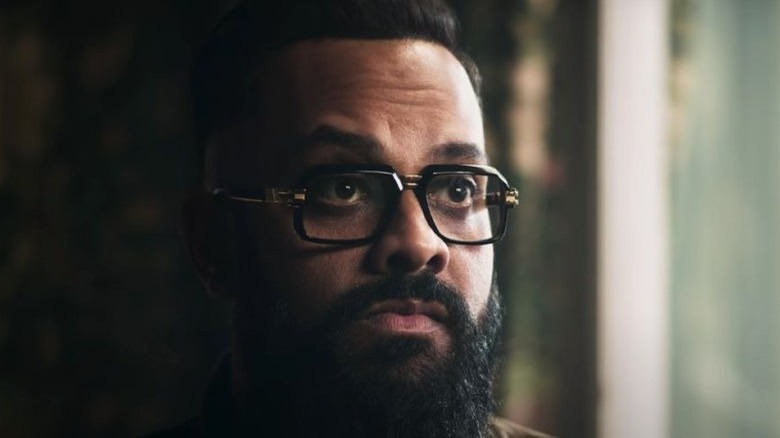 Netflix
Unlike the other members of the team, Rolph doesn't seem to have much of a voice in the operation. He's a talented driver capable of precision drifting and coordinated escape. Essentially, he's the crew's getaway driver, and he has his quirks: Whereever Rolph goes, he usually has a sandwich in hand, or at least close by. While generally a team player, he throws his lot in with Brad when Cage decides to take extreme measures.
The man who plays Rolph, Guz Khan, is a British comedian of Pakistani descent, and much of his career has unfolded in the realm of stand-up comedy or the videos he's posted as his character Mobeen. Khan also helped create a short film, "Roadman Ramadan," for the "British Muslim Comedy" series. Khan's first foray into the world of Netflix came courtesy of his appearance in the comedy "Turn Up Charlie" opposite Idris Elba. He also held a role in the 2020 limited series "Four Weddings and a Funeral." Khan's Mobeen character can also be seen in the British comedy series "Man Like Mobeen," which started airing in 2017.
Jonathan Cohen as Delacroix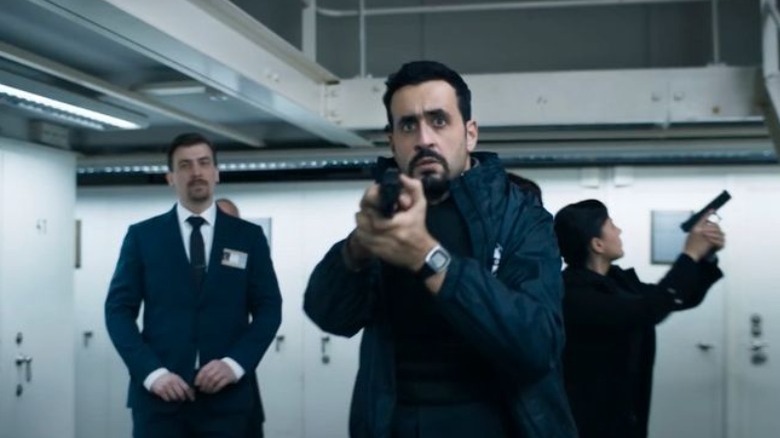 Netflix
Interpol Agent Delacroix is single-minded in his pursuit of Gwendoline and her team. He has a bone to pick with the crew, and Brad in particular. Not only do they rob banks across Europe, but Brad shot the agent, wounding him. Your standard hot-headed police character, Delacroix's emotions compromise his plans to thwart the crew and he inevitably ends up allowing the team to evade Interpol a majority of the time.
As an actor, Jonathan Cohen has been busy since he started his career — mostly in his native France, where some of his most significant television roles include "Mafiosa," "Les invincibles," "Hard," and "Serge le Mytho." Cohen has also appeared and starred in several French films, including "La Crème de la crème," "Almost Friends," "Amanda," and "Budapest." "Army of Thieves" is his first major foray in English film. Perhaps there's a chance for the vindictive Delacroix to return in future installments of Zack Snyder's "Army" franchise.
Noémie Nakai as Beatrix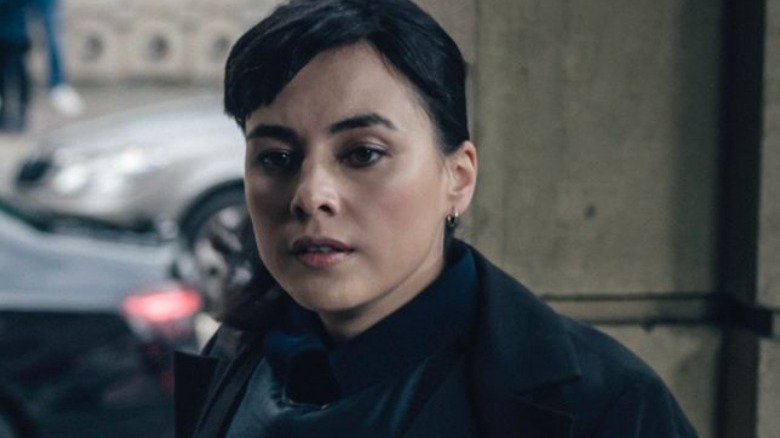 Netflix
One of Delacroix's subordinates, Beatrix, attempts to make sense of her superior's plan to take down the crew, asking why their exploits are a primary concern and adding, "Don't get me wrong, but lest we forget, there's a zombie apocalypse happening in the world right now." With an irritated deflection, Delacroix shouts, "Screw the zombies!" It's at this moment that we learn that Beatrix is perhaps Delacroix's best shot at catching the crew, being the only subordinate willing to speak her mind.
Noémie Nakai is a French-Japanese actor who was born in Tokyo, Japan. She is trilingual, speaking fluent English, French, and Japanese, and she's appeared in Japanese television series including "Shûden Bye Bye" and "The Emperor's Cook." Audiences may also recognize her from episodes of the Hulu Japanese series "Death Note: New Generation" and "Death Note: Light Up the New World" as the character J. She is also a filmmaker and director with shorts such as "Tears Teacher" and "Touch" under her belt. Both of these films premiered at indie film festivals and can be viewed through her official page.
Christian Steyer as Hans Wagner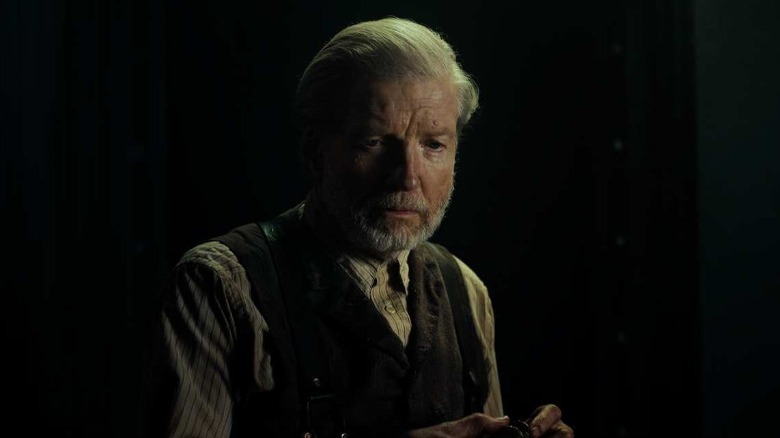 Netflix
Somewhat of a celebrity to Sebastian, Hans Wagner is the famous locksmith who constructed the four legendary safes known as the Ring Cycle, based on composer Richard Wagner's famous opera. Hans suffered the loss of his wife and child, and in his final years he began crafting his life's greatest work in the four safes, each representing one of the operas that comprise the Cycle. While the operas Germanic, the stories told within each them are based on Norse mythology, and the safes are named appropriately after each composition: Das Rheingold, Die Walküre (The Valkyrie), Siegfried, and Götterdämmerung (Twilight of the Gods). While the crew heads after the first three, the legendary Götterdämmerung's location is a mystery (until "Army of the Dead," that is.)
At the end of his rope and having completed his masterpiece, Hans did the unthinkable, creating a final safe and locking himself inside as his tomb before it was dumped in the middle of the ocean. Claustrophobics might cringe at such an awful demise, but beyond his death Hans Wagner became legendary.
A German actor, Christian Steyer began his career in German film during the 1970s with releases such as "It Is an Old Story," "Too Skinny for Love," and "Schach von Wuthenow." He's continued in German film and television for most of his career, so while most of his roles won't be recognizable to American viewers, Steyer has dozens of acting credits to his name — and audiences from all over may recognize him from his work in the popular Netflix series "Dark," in which he plays the role of H.G. Tannhaus.