Read This Before You See Army Of The Dead
This content was paid for by Netflix and created by Looper.
Zack Snyder is bringing audiences back to the zombie apocalypse, nearly two decades after his directorial debut with Dawn of the Dead — and this time, there's a twist with some real teeth.
His upcoming thriller Army of the Dead takes the new gnashing action to Sin City in order to test that old saying: does what happens in Las Vegas really stay in Las Vegas? That's right; Snyder is returning to the world of walkers when the Gambling Capital of the World becomes ground zero for a zombie outbreak, which means fans can look forward to seeing plenty of zombified Elvis impersonators and showgirls, as well as bachelor and bachelorette parties where everyone is drunk on brainnnns.
But it's not just these hungry shamblers that'll be taking over the place. The film centers on a group of all-star mercenaries who decide to roll the dice one more time and wager their own lives on a potentially life-changing heist amid all of the chaos. See, while Vegas is zombie-central, the rest of the world is comparatively normal — meaning all that tempting moolah is ripe for the spending. In addition to facing an untold amount of undead as they try to get to a cash-filled casino vault, they'll also have to race against the clock, as the government plans a nuclear strike against the walled-off city — whether they're still inside or not. Here's a look at what else you should know about Army of the Dead before it arrives on Netflix on Wednesday, May 21.
The long game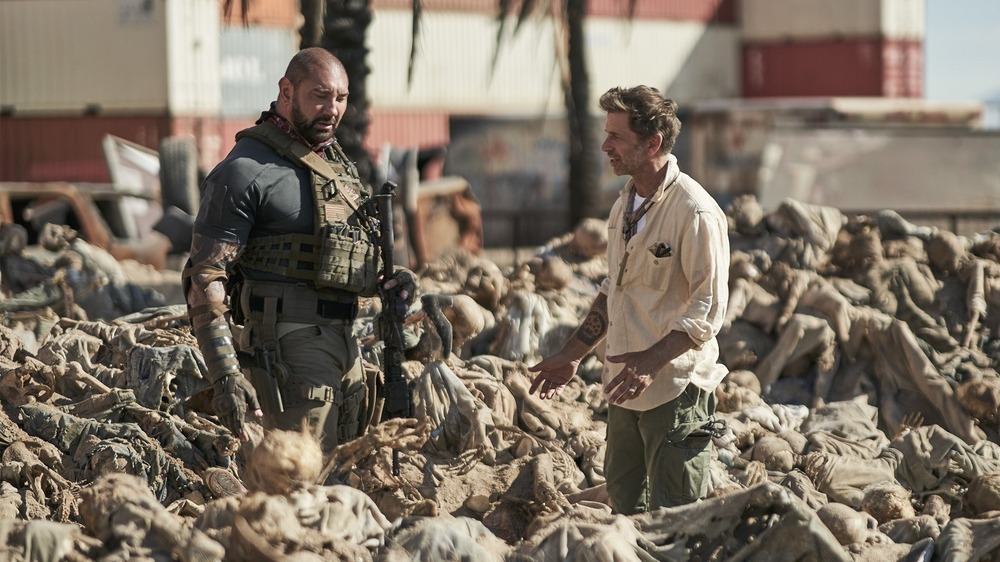 Clay Enos/Netflix
Not long after Zack Snyder first broke onto the scene with his gripping reimagination of George A. Romero's seminal classic Dawn of the Dead, the filmmaker first came up with his idea for Army of the Dead, his "zombie heist movie." As the writer-director explained to Entertainment Weekly, after he had success with his electrifying version of Dawn of the Dead, Snyder began to consider what other storytelling genres might pair well with the world of the walking dead and imagined a "tone where you have fun with the genre but you don't make fun of the genre."
What Snyder then came up with was a story which both brings on the "zombie mayhem" with jaw-dropping practical effects and sinks its teeth into some ensemble heist fun while presenting "really amazing characters on a fantastic journey." For him, the true strength of the story in Army of the Dead is the "warmth and real emotion" of his all-new characters as they take a dangerous journey through the quarantine zone in hopes of making a big score and changing their lives forever.
The movie also gives Snyder an opportunity to introduce a new breed of biters. As he teased to Total Film (via Gamesradar) audiences can look forward to some "evolved zombies" called Alphas in the film that are "semi-conscious" and thus more identifiable than most of their ilk. He told the magazine, "We treat them kind of like wolves, sort of like a dog. They're not necessarily fully realized and talk or anything. But they can organize."
After Snyder got the green light from Netflix to execute on his wild new vision, he wrote the script alongside Shay Hatton and Joby Harold and then set to work finding the right cast to bring the story to life.
A winning team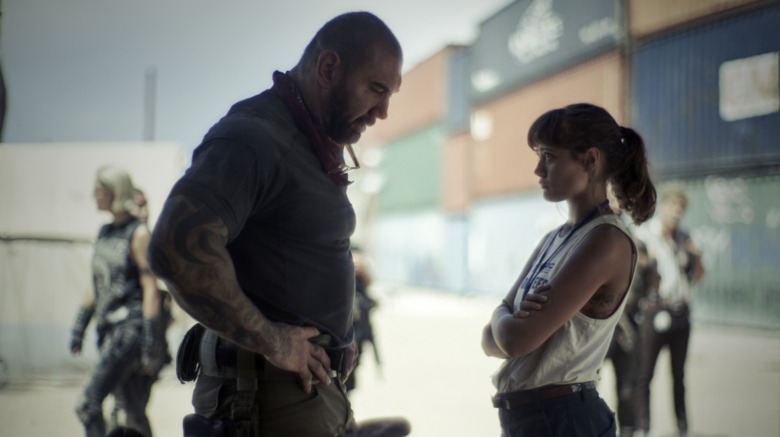 Clay Enos/Netflix
The cast of Army of the Dead is filled with standout stars who each get a chance to shine in the film. Dave Bautista leads the lineup as Scott Ward, the head of the heist crew, and the actor told Empire Magazine (via Syfy) that as a fan of zombies, he'd always been on the lookout for a role that was just the right fit for him, saying, "there had to be something special about a zombie film for me to sign up." 
Luckily, with Army of the Dead, there are "a whole bunch of different layers" to the story. One such layer is that the film will dig into Scott's complicated history with his daughter Kate, who is portrayed by Ella Purnell. As Snyder told Total Film, the movie is "incredibly personal and singular."
Meanwhile, celebrated comedian Tig Notaro was truly pumped to try a new genre out for size, telling Jimmy Fallon, "I'd never dreamed I would be in an action film, so I had no idea that I'd be having ammunition strapped to my chest, a big rectangular gas tank strapped to my back, a machine gun, [and] a pistol on my thigh." Notaro's character, Marianne Peters, is one of the several specialists that Scott recruits for his crew.
Meanwhile, Power's Omari Hardwick appears as Vanderohe, a survivor who sports a saw that can either save the day while slaying a horde of zombies. The truly international cast — including actors hailing from Mexico, the UK, India, Germany, Japan, and France — also features Samantha Win as Chambers, Ana de la Reguera as Cruz, Matthias Schweighöfer as Dieter, Raúl Castillo as Mikey Guzman, Garret Dillahunt as Martin, and Hiroyuki Sanada as Hunter Bly. And as with his last zombie feature, Army of the Dead marks another first for Snyder: this is the first time he worked as the cinematographer of one of his own films, in addition to writing, directing, and producing.
A second life
There's still much more to come from the Army of the Dead storyline after the film debuts this May 21. Fans can also look forward to an international prequel film and an animated series coming to Netflix, as there are lots of stories still to tell with some of the coolest characters we meet in the film.
The prequel film, for starters, will feature Matthias Schweighöfer reprising his role as the genius safecracker Ludwig Dieter. Schweighöfer also stepped behind the camera to direct the picture, which was produced in Germany and Prague in the fall and wrapped in December. In addition to Schweighöfer, the film's cast also includes Game of Thrones star Nathalie Emmanuel, Stuart Martin, Guz Khan, Ruby O´Fee, Jonathan Cohen, Noémi Nakai, and Peter Simonischek.
Meanwhile, the animated series Army of the Dead: Lost Vegas will see Bautista reprise his role for the series, alongside Ana de la Reguera as Cruz, Tig Notaro as Marianne Peters, Omari Hardwick as Vanderohe, and Ella Purnell as Kate Ward. And there are also several new stars and characters who have been added to the mix for this leg of the journey: Joe Manganiello as Rose, Christian Slater as Torrance, Harry Lennix as Boorman, Ross Butler as Chen, Anya Chalotra as Lucilia, Vanessa Hudgens as Willow, Jena Malone as Zeta, Yetide Badaki as Queen Meeru, Christian Wren as Nicole, Monica Barbaro as Meagan, and Nolan North as Clemenson.
In all, Army of the Dead and the rest of its related spin-offs marks the start of a major passion project for Snyder, and fans can expect his unique new characters and worldbuilding to get fleshed out even more in these forthcoming follow-ups.