Why Erin Greene From Midnight Mass Looks So Familiar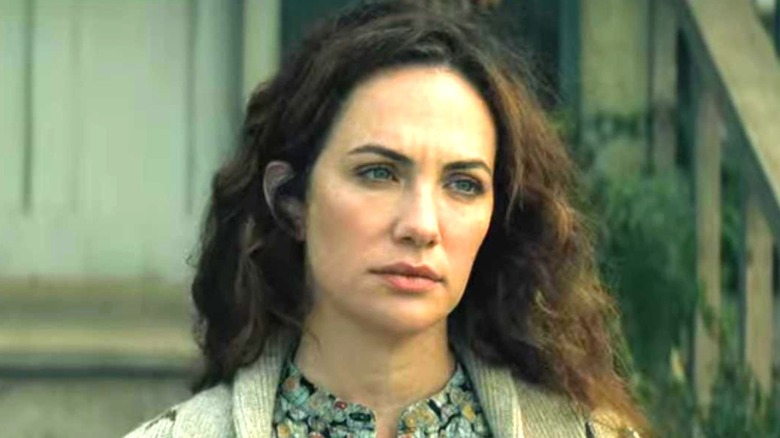 Netflix
This past week, Netflix released director and writer Mike Flanagan's "Midnight Mass," a limited series full of Biblical horror, twists, and unease that, as Roger Ebert's Brian Tallerico writes, "feels so distinctly like one of (Stephen King's) works that even fans will wonder how they missed its book release." Set in the small, struggling, quiet coastal hamlet of Crockett Island, the series leads viewers through an unnerving series of mysterious events that manage to examine and question elements of Christianity, and the concept of good and evil, without coming off as preachy or self-righteous. 
While Stephen King fans will appreciate the series' litany of homages to the writer (which range from the setting itself to the unnerving restraint with which the narrative unfolds), fans of Flanagan's "Haunting" series will recognize a number of faces in the director's latest project. If you're one of the many who've begun watching (or just finished binging) "Midnight Mass," you no doubt noticed that the actor playing Erin Greene has been popping up on the horror scene repeatedly over the last few years. Kate Siegel is no stranger to working with Flanagan (who just happens to be her husband), but she wasn't always the horror headliner we know her as today. 
2007 was a big year for Kate Siegel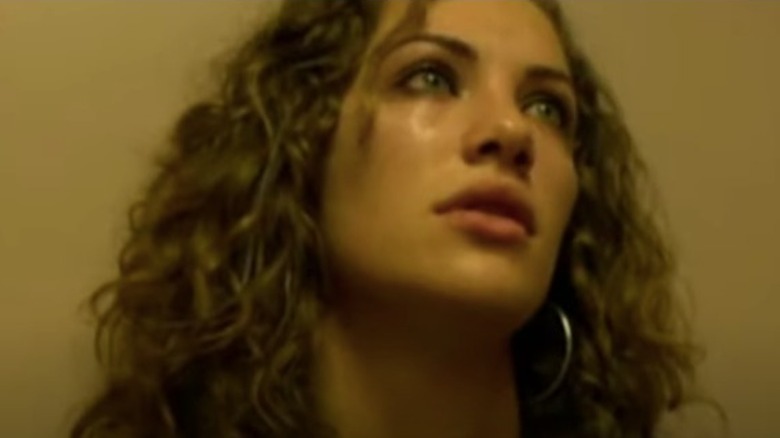 FenceSitter Films
At the start of her career in television and film, Kate Siegel burst onto the scene with a trio of wildly different projects. In 2007 alone, the Maryland native starred in Dan Goldman's "The Curse of the Black Dahlia," Antonio Negret's tension-filled thriller, "Towards Darkness," and Kyle Schickner's "Steam," wherein she worked alongside Ally Sheedy and the legendary actor and activist Ruby Dee.  
Following a debut that acutely illustrated Siegel's range, the actor went on to land a number of small roles in television series and shorts. From 2008 to 2012, Siegel popped up in the CBS shows "Ghost Whisperer" and "Numb3rs," and the Crackle original "The Unknown" before nabbing the role of Erica in André Gordon and Dale Fabrigar's "Wedding Day." Siegel then went on to star in the little-known, trope-fueled comedy "Man Camp" opposite Dean Cain.
While Siegel had already begun making a name for herself, her breakout role came in 2013 in a film that saw the actor's career trajectory altered forever.
Siegel starred in Flanagan's supernatural thriller Oculus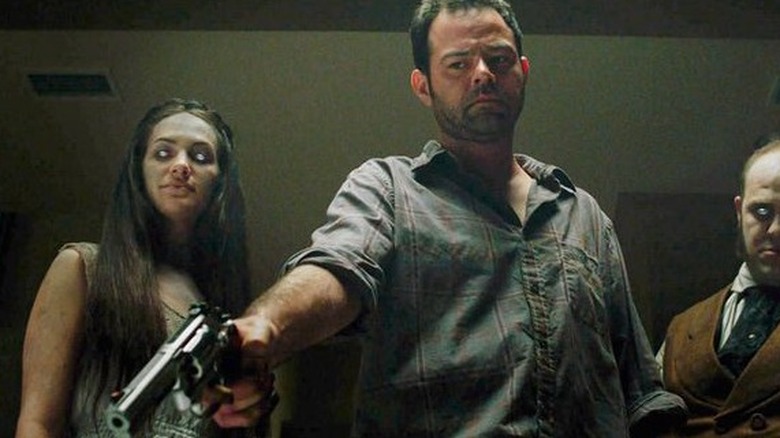 Universal Pictures
Although 2013's supernatural thriller "Oculus" was the first time audiences were treated to the now well-established dynamic between Kate Siegel and writer-director Mike Flanagan, it wasn't the first time the actor met the auteur. In an interview with Collider, Siegel explained that her introduction to the director (whom she married in 2016) forever changed the way she approached acting and auditions. 
Prior to auditioning for a role in a Flanagan project that was never ultimately made, Siegel explained that she was dealing with some career limbo. While she was auditioning "three to four times a week" and coming close to landing roles, "nothing was catching fire." Siegel explained she was focused, namely, on "being what somebody else wanted (her) to be." In her audition for Flanagan, however, the director asked her to give the script one more go, not for him or the casting director, but "just for (her)." Siegel told the outlet she was "taken aback because I didn't know what that meant. I had forgotten." Siegel continued, "something in me was brave enough to take the amount of time...and figure out what it was that I wanted...my acting changed forever on that day."
Though the life-changing audition didn't immediately lead to a role, Siegel soon went on to star in "Oculus," as its main antagonist Marisol Chavez. The role led to another horror film, "Demon Legacy," in 2014, but it was Siegel's 2016 working reunion with Flanagan that continued to accelerate her career.
Kate Siegel was integral to the success of "Hush"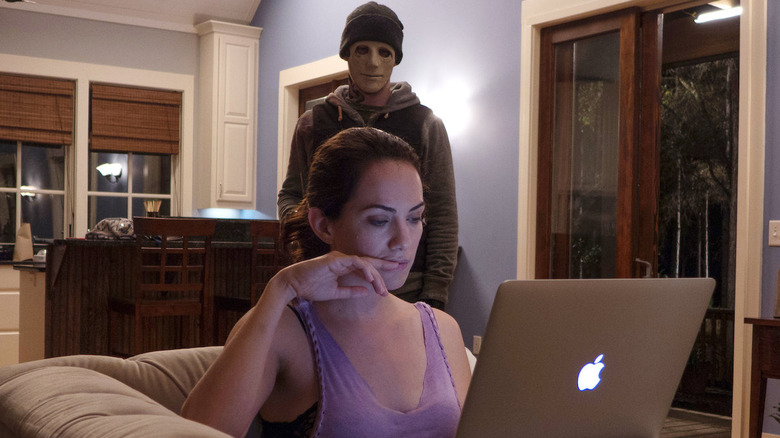 Netflix/YouTube
Kate Siegel and Mike Flanagan may have been an established couple by 2016, but it was the result of their working dynamic — as opposed to their personal relationship — that made headlines that year. Flanagan and Siegel co-wrote the screenplay for Netflix's "Hush," an anxiety-inducing thriller that garnered both critical acclaim and the attention of an author who would soon trust Flanagan to bring his work to life repeatedly: Stephen King (via his Twitter).
The film starred Siegel as a deaf and isolated writer named Maddie, who retreats from the chaos of New York City to a home in the remote wilderness. One night, a masked killer makes his way onto the property, and a tense, dialogue-free battle of wits and will ensues between the two.
"Hush" was a massive success for both Siegel and Flanagan, not least of all because it ditched the tired tropes that had previously plagued the depiction of disability in horror in favor of creating a thoroughly realized character. As Indiewire's Kristen Lopez reports, the duo hired a deaf consultant to offer advice, train Siegel on ASL, and vet the script— an approach that led to Maddie's character becoming deaf later in life, as opposed to being born deaf.  
"Hush" was not without its flaws — see: writer Rebecca-Anne Withey's critique on Limping Chicken — but it illustrated Siegel's ability to portray (and write) complex, layered characters placed in terrifying situations, and put the horror duo on Netflix's radar.
Kate Siegel has seen her share of hauntings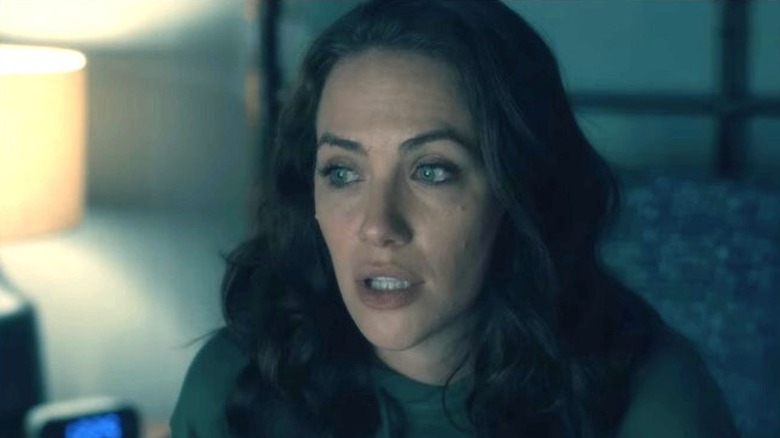 Netflix/YouTube
In relatively short order, Kate Siegel starred in Mike Flanagan's "Ouija: The Origin of Evil" (Universal Pictures) and in the director's Netflix adaptation of Stephen King's "Gerald's Game," starring Carla Gugino. But the Flanagan-piloted project that most served to make Siegel one of today's most recognizable faces in horror was undoubtedly 2018's "The Haunting of Hill House."
The Netflix series was Flanagan's adaptation of Shirley Jackson's 1959 novel by the same name, and Siegel portrayed the dynamic and conflicted psychologist Theodora "Theo" Crain, the middle sibling in the dysfunctional Crain family who quickly became a fan favorite.
While critics were split (The New Yorker's Emily Nussbaum wrote that it "abandon(ed) the pungent feminine anxiety that made the book so original") many reviewers and fans fell head-over-heels for the harrowing drama (via Rotten Tomatoes). Following the success of the miniseries, Siegel went on to star as Viola in Flanagan's second Haunting installment, "The Haunting of Bly Manor," before dazzling audiences once again as Erin Greene in "Midnight Mass."  
For now, at least, it appears the actor has found her niche, playing strong, nuanced, and multi-dimensional characters in tension-filled thrillers and horror series. But with a range like hers, we wouldn't be surprised if Siegel soon expanded beyond the genre.