The Horror Drama That Netflix Fans Can't Stop Binging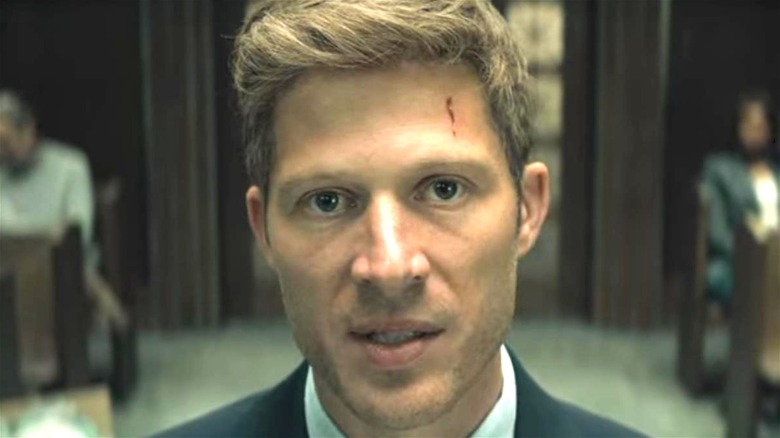 Netflix
As the sun sinks lower beyond the horizon — earlier and earlier with each passing evening — and as a chill begins to mingle with the dying days of summer, many of us begin the proud tradition of consuming as many horror stories as possible between now and All Hallow's Eve. Streaming services are certainly aware of this behavior, and you can tell, because there are new horror stories turning up seemingly every day. And while Amazon works with Blumhouse to build up their latest collection of "Welcome to the Blumhouse" films, Netflix has returned to one of their most successful horror creators — Mike Flanagan.
Flanagan is consistent in his success, especially at Netflix. His adaptation of the Stephen King story "Gerald's Game" is widely considered to be one of the better King adaptations. And, of course, there's Flanagan's most well known stories at Netflix — "The Haunting of Hill House" and "The Haunting of Bly Manor" — each of which reimagines classic tales while tackling complex issues like mental illness, feeling trapped in the closet, and grief. Both those stories deal with real-life challenges through the lens of ghost stories, and by telling those stories out of order. These trappings are what we could even refer to as "Flanaganesque" at this point.
But Flanagan departed from parts of his formula recently with his latest Netflix series "Midnight Mass." The seven episode limited series was released on September 24, and unsurprisingly, it's remained among the most watched shows on Netflix since. 
Let's talk about the show, why people are gravitating towards it, and why you might find yourself binging it, too.
Sobriety, serenity, and the dangers of an unexamined faith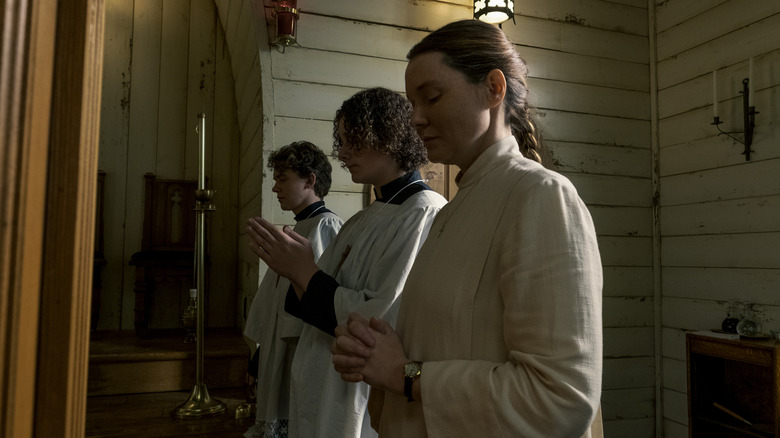 EIKE SCHROTER/NETFLIX
Four years after drunkenly committing vehicular manslaughter, a dried out Riley Flynn (Zach Gilford) is released from prison and returns to his home on the sparsely populated Crockett Island. The island is stricken by poverty and home to people who feel like they have no other place to go. And like many places where hope is in short supply, much of the community rallies itself through faith.
However, Riley isn't the only relatively new face on the island. After years of faithful service at St. Patrick's, Monsignor Pruitt, having taken ill and returned to the mainland, is replaced by Father Paul (Hamish Linklater). As Lent begins, Father Paul brings to Crockett Island a renewed belief in the resurrection, not just for Jesus, but for the citizens of the island themselves ... and he's brought far more than that.
"Midnight Mass" is, by Flanagan's own admission, a story about his own sobriety. More than that, though, it's a Socratic dialogue — the argument between faith and reason, the things we believe versus the things we can actually see. "Midnight Mass" takes the things we believe purely on faith and manifests them in ways both ghastly and wondrous.
"Midnight Mass" is a seven-hour Serenity Prayer, a meditation designed to help us accept the things we cannot change, the courage to change the things we can, and the wisdom to know the difference. It's dense and often unrelenting, but one thing it isn't is a ghost story. Flanagan dives in with a wholly different type of monster this time while retaining his unflinching examination of the human condition. And like all good horror, it is scary in ways we don't always expect.
All seven episodes of "Midnight Mass" are streaming on Netflix now.