Mike Flanagan Opens Up About The Process Of Writing Midnight Mass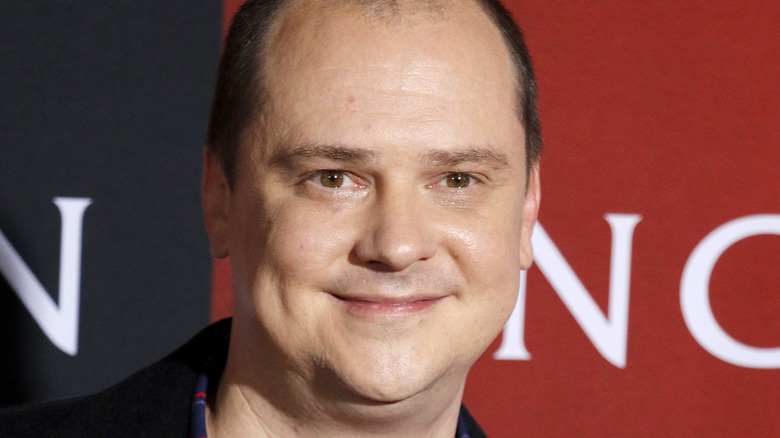 Tinseltown/Shutterstock
Horror is, by its nature, an elevated format designed to take hold of our anxieties and stretch them to their greatest extremes, so that we can see them in all their terror — and all their glory. Horror is how some of us face our fears, and begin to understand how we might conquer them.
Horror as catharsis has long been the format of storyteller Mike Flanagan, whose popularity blossomed with the release of his 2018 Netflix reimagining of Shirley Jackson's "The Haunting of Hill House." That series wasn't about literal ghosts so much as a family coming to terms with a history of mental illness: Essentially, how does the Crain family let go of Nell (Victoria Pedretti) after her suicide when they haven't been able to face the trauma that got all of them to that point? However, "The Haunting of Hill House" was neither Flanagan's first foray into emotional horror, nor would it be his least. While filming the 2013 film "Oculus" (which also deals with the trauma of mental illness across familial generations) Flanagan wrote his first pass for a story titled "Midnight Mass."
At the time, "Midnight Mass" was meant to be a very, very long film, but it was a story that wasn't ready to be told. Different networks passed on the project, but Flanagan continued working on it, and the term "Midnight Mass" appeared in different Flanagan films. 
Now, Flanagan himself has spoken up about the process, saying how — in retrospect — it's clear that it wasn't just that networks weren't ready to tell "Midnight Mass." Mike Flanagan wasn't ready to tell it yet, either.
The journey from Hill House to the Overlook Hotel to Midnight Mass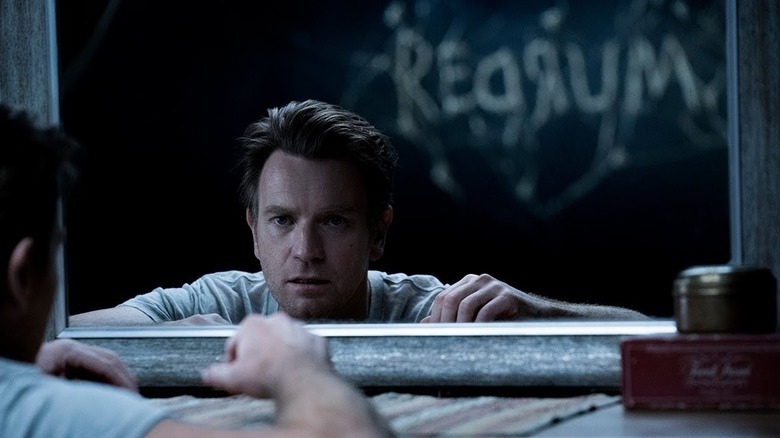 Warner Bros.
In 2019, between the releases of "The Haunting of Hill House" and its pseudo sequel series "The Haunting of Bly Manor," Mike Flanagan brought Stephen King's "The Shining" sequel "Doctor Sleep" from the page to the big screen. That story focuses on Jack Torrance's son Danny (Ewan McGregor). In "The Shining," we find out that Danny has a power to read minds and sense otherworldly forces around him (possessing what the story refers to as a "shine," hence the title). In "Doctor Sleep" — set decades after the incidents at the Overlook hotel — we see how Danny's father's death and those powers impact him. And much like Jack Torrance, Danny hides from his pain at the bottom of a bottle.
The clearest connection between "Doctor Sleep" and "Midnight Mass" is that book deal with alcoholism. And in an interview with Entertainment Weekly, Flanagan talks about a letter he wrote to critics when screeners for his latest series first went out — one that included him candidly speaking about his three years of sobriety, and how the journey which got him here influenced his latest project.
"I don't know how long I could have gone without writing it," Flanagan says. "There's a very natural thing that happens where, if you're writing anything that tiptoes into a personal place, you find yourself vomiting up all sorts of things into it. It's happened to me with Hill House in a pretty big way. It happened with [The Haunting of Bly Manor]. This one, though, was the story I always wanted to tell."
Flanagan discusses writing about sobriety, honestly, in Midnight Mass
Like with so many struggles in this life, the only way out is through. And the only way "Midnight Mass" could ever find its way out to us, Flanagan says, is by him finding his way through his own struggles. "I could write about alcoholism, but I couldn't write about sobriety, not intelligently," he says. "It's by far the most personal thing I've ever been lucky enough to work on."
The story has been in drafts of some form or another for over a decade. That long process, Flanagan says, allowed him to go directly into conflict with his past preconceptions and arguments, to face his own demons, and write something truly honest. "What made it exciting, and kind of scary and uncomfortable sometimes, was that I really wanted to make sure that I was playing both sides of the board as passionately as I could [...] Here's this long scene I had written about atheism," he says, giving an example. "Let me look at that a few years later and rebut it. Let me try to honestly come in and challenge my own idea."
Those conversations (on the page) with his past self extend to drinking, too. "Here's a long scene about alcoholism," Flanagan continues. "Let me really try to come in and talk about recovery. Being in conversation with my various selves over the last 11 years, that have all dipped into this story, that's what makes it so personal for me. I don't know that I'll ever be lucky enough to have that experience again with another piece of work."
"Midnight Mass" streams on Netflix beginning September 24.