Why Karen Gillan Was Never The Same After Oculus
Relativity Media
If you're a fan of Guardians of the Galaxy or The Avengers, you probably know Karen Gillan, the red-haired butt kicker who plays Nebula. Although she's now a huge star, Gillan started her career in entertainment long before she found success as Nebula. In fact, as a native of Scotland, Gillan landed her breakthrough role in the British science fiction TV show Doctor Who. She played the Doctor's companion Amelia "Amy" Pond, and though the role didn't turn her into an international super star, it afforded her plenty of opportunities to grow as a performer.
Soon after leaving Doctor Who, Gillan moved to the United States to pursue acting in Hollywood. Her first major U.S. role was in the 2013 horror film Oculus, where she played a woman whose family falls victim to a sinister mirror. The movie was one of director Mike Flanagan's first success stories, earning almost nine times its budget, and quickly changed Gillan's life. Let's discover how Oculus became such a turning point for her.
Oculus opened the door for Karen Gillan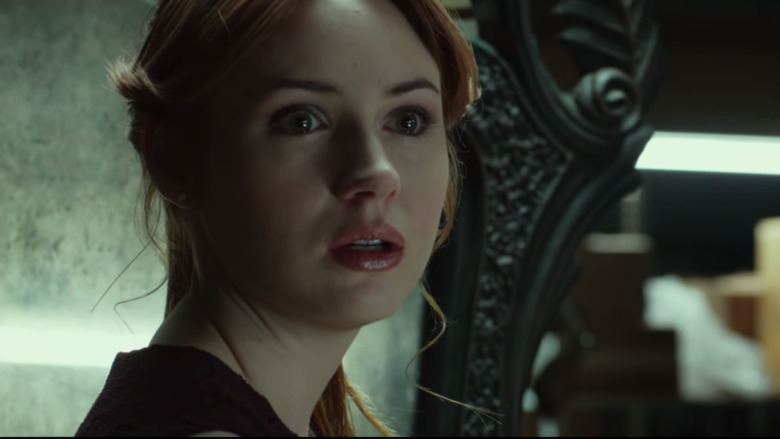 Relativity Media
While Gillan achieved moderate fame with her role in Doctor Who, Oculus put her on the American radar and allowed her to delve into the horror genre for the first time. As a lifelong horror buff, Gillan was quick to accept the role, but she faced a hefty obstacle during filming: a 13-page long monologue that she had to nail in one take. "To be fair, I jumped into it and I was like, 'I'm going to go for it and accept the challenge!'" she explained to Bloody Disgusting. "But there was a moment when I was working with my dialect coach and I remembered that I was going to have to talk for [ten] minutes straight, in one take, in an accent that was not my own." She nailed the scene and proved to herself that she could tackle the horror genre that she grew up enjoying.
Following her performance in Oculus, Gillan continued to appear in huge productions. That same year, she landed the role of the villain Nebula in Guardians of the Galaxy. She's gone on to reprise Nebula in four other Marvel projects already, with several more planned for the future. Another one of her biggest roles to date is her portrayal of Ruby Roundhouse in the Jumanji franchise. Though she's admitted that she isn't sure why she lands so many action roles, she assured everyone that she's definitely enjoying it (via Metro).
Karen Gillan wants to do more than act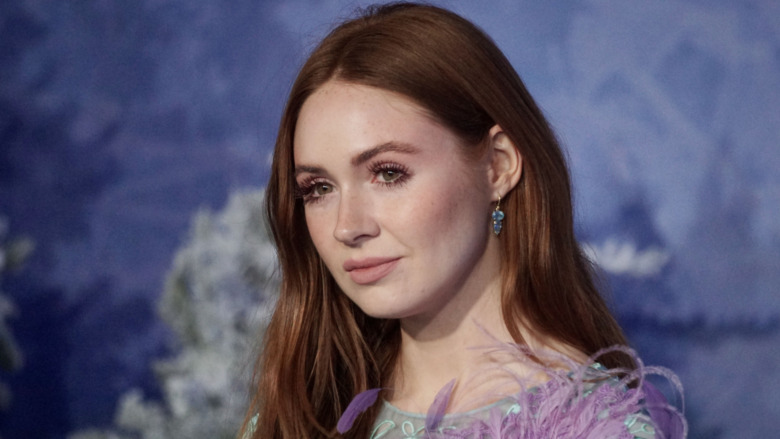 Shutterstock
Since her U.S. debut in Oculus, Gillan has made a name for herself as a successful actor. She's also branched out and explored other creative endeavors. In an interview with Collider, Gillan explained her desire to get into a different side of the entertainment world — directing. She spoke of her childhood hobby of shooting short horror films, but how she didn't quite picture a career as a director. "I don't know if that's a gender thing because I never saw any female directors, so I never thought it was a possibility," she said. "I didn't think I couldn't do it. I just didn't think of it, if that makes sense. And then, as I started acting more and learning more about how it is to make television or a film, then I just felt like, 'I could do this!'"  In 2018, Gillan wrote, directed, and starred in the dramedy The Party's Just Beginning, which received several award nominations.
As for the future? Gillan plans to direct more movies. "I feel like it's just exactly what I should be doing," she gushed to Women's Wear Daily. "I feel totally stimulated by it." Who knows — maybe we'll see her direct her own horror film one day.