The Hidden Horror Gem On Netflix You Shouldn't Watch Alone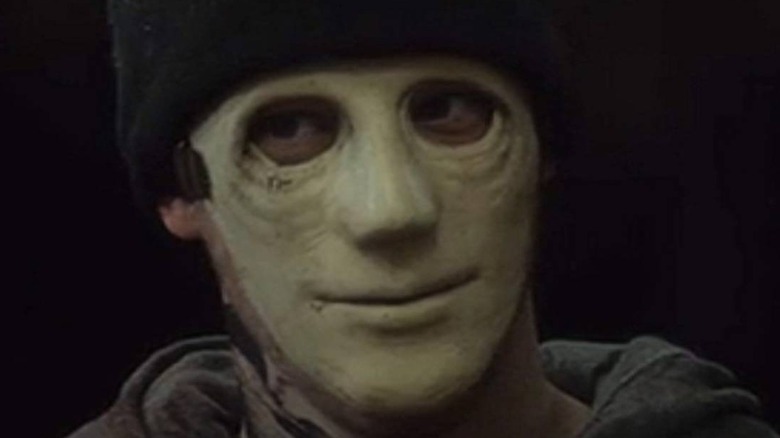 Netflix
A good horror movie will make you want to get up from the couch and turn on every light in the house. You may even want to pause the movie so that you can resume in the middle of the day when the sun's out. That's precisely the case when you turn on one of the creepiest horror flicks on Netflix — "Hush."
Hopefully, you live with someone who enjoys a good scare because you won't want to watch this movie by yourself. The plot follows a woman who's deaf and mute and lives by herself in the middle of the isolated woods. It may look like an idyllic life in the middle of the day, but when a masked murderer comes to her house and realizes she can't hear anything, he decides to make her his next victim.
It's a taut slasher film from director Mike Flanagan ("Ouija: Origin of Evil," "Doctor Sleep") that's light on dialogue and high on suspense. Plus, it clocks in at a brisk 81 minutes, so at least you won't have to keep your hands over your eyes for very long. 
Hush never lets up on the tension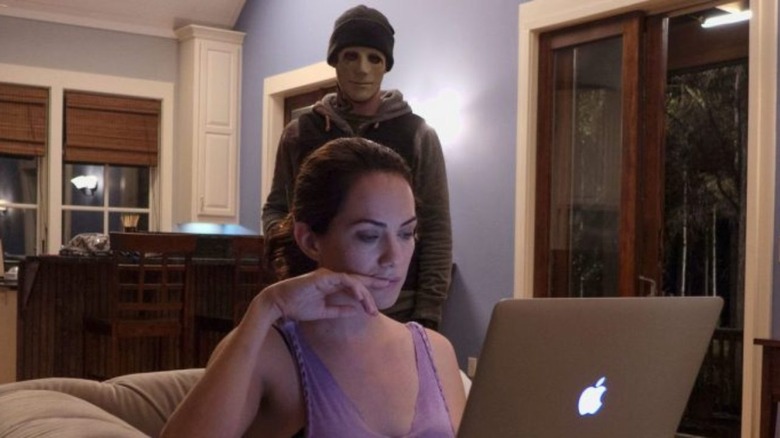 Netflix
It may have been a while since we've seen classic movie slashers like Jason Voorhees and Freddy Krueger grace a screen of any kind; however, the antagonist at the heart of "Hush," known only as The Man (John Gallagher Jr.), is more than terrifying enough to give you nightmares. His mask may call to mind Michael Myers, but this is one slasher who enjoys teasing his victims before going in for the kill. After he recognizes Maddie Young (Kate Siegel) lives all by herself, he decides to taunt her initially by cutting the power to her house. He even goes so far as to intentionally reveal his face when he didn't have to, making it so that he has to kill her to protect his identity.
"Hush" proves the slasher genre is alive and well and that you don't need to reinvent the wheel to deliver effective frights. You only need a creepy killer and an intimate setting to show people why they should never walk alone in the woods at night. Benjamin Lee of The Guardian praised what the film was able to accomplish with so little, writing, "It's a sharp, finely tuned thriller that goes down familiar paths but with flair and skill. Flanagan doesn't hold back on the gore, but he doesn't rely on it."
"Hush" may have come out in 2016, but it's still very much worth your time if you're in the mood for a haunting, violent escapade. If nothing else, the movie will make you rethink leaving the city to live by yourself in a big house in the middle of nowhere.