This Is Where You've Seen The Cast Of When They See Us
In 1989, during a series of attacks and robberies by teenagers in New York City, a white woman was raped and assaulted while jogging in Central Park. Five Black and Latino teenagers, later known as the Central Park Five, were arrested for the crime, and they faced intense media scrutiny and criticism — including a full-page New York Daily News ad where Donald Trump called for them to face the death penalty. When their trial concluded, all five were found guilty and sent to prison, but their convictions were overturned when in 2002, the real rapist confessed to the crime. Following this, the Central Park Five sued New York City for the emotional and physical distress caused by their false convictions and imprisonments, and were rewarded a $41 million settlement in 2014.
The story of the Central Park Five became a case study of racism in both the legal system and the mass media. In an effort to finally dramatize this story, director Ava DuVernay and producer Oprah Winfrey, the same team who previously behind the civil rights film "Selma," reunited on the project. Together, they made the 2019 Netflix miniseries "When They See Us," which received massive acclaim upon release and was subsequently nominated for 11 Emmys. 
Much like "Selma," DuVernay attracted an impressive cast for "When They See Us," featuring many of today's best character actors and most promising young stars, all in a combined effort to tell an important story. Below is a breakdown of just a few of their distinguished careers.
Asante Blackk (teenage Kevin Richardson)
Asante Blackk had never acted in front of a camera before when he was cast in "When They See Us." He had played Mowgli in a local theatre production of "The Jungle Book," taking on an agent after his performance in a play called "How I Learned To Be a Kid," but "When They See Us" was the first time anyone outside the Washington D.C. area had seen him act. It was an auspicious first impression. Not only did he get great reviews for the performance, but Blackk also became one of the youngest Emmy nominees in history for it.
After the premiere of "When They See Us," Blackk landed a recurring part on the fourth and fifth seasons of the hit NBC drama "This is Us," receiving a Critics' Choice Award nomination for his performance in Season 4. His most recent credit is the final episode of the Netflix series "Social Distance," an anthology series created remotely during the COVID-19 pandemic.
Jharrel Jerome (Korey Wise)
Jharrel Jerome's breakthrough came with the surprise success of Barry Jenkins' Best Picture winner "Moonlight", his debut film performance. There, Jerome was the co-star of the film's second section, playing the teenage version of the character who grows up to be Andre Holland. "Moonlight" would go on to become the most acclaimed film of 2016, not only yanking Best Picture away from "La La Land" in front of a stunned global audience but also getting Jerome and his cast members a Screen Actors Guild Award nomination for Best Ensemble.
Jerome has been one of the most in-demand and acclaimed "Moonlight" cast members since its Academy Awards success. In 2017, he was hired as part of the main cast of the Stephen King TV adaptation "Mr. Mercedes," which ran three seasons before its streaming service was discontinued. At the 2019 Emmys, he won Best Supporting Actor in a Limited Series or Movie for his "When They See Us" performance, the only win the show received at the ceremony. Since "When They See Us," he played a key role in the Netflix movie "Concrete Cowboy," starring opposite Idris Elba.
Caleel Harris (teenage Antron McCray)
Caleel Harris has been working regularly as a child actor since he was six years old. His first notable credits came at age seven with a multi-episode part on the Jada Pinkett Smith medical drama "Hawthorne." He then played Regina Hall's son in both "Think Like a Man" films, after which he became a regular voice actor on such cartoons as "The Loud House" and "Blaze and the Monster Machines." His most widely-seen credit before "When They See Us," however, may have been in 2018's "Goosebumps 2: Haunted Halloween."
"When They See Us" was the most substantial dramatic role Harris had received up to that point, and it would be several years before his next project got off the ground. Harris is slated to be a series regular on the forthcoming Apple TV+ show "Swagger," based on the experiences of NBA star Kevin Durant in youth basketball. Harris will star opposite O'Shea Jackson Jr. and Quvenzhane Wallis.
Jovan Adepo (adult Antron McCray)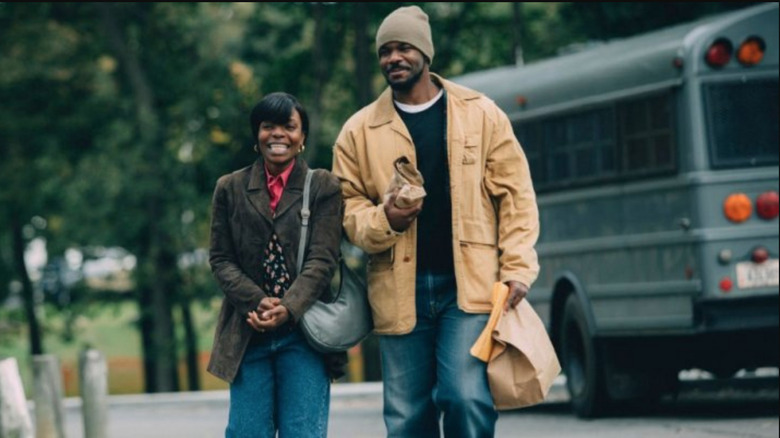 Netflix
After playing a recurring part on HBO's "The Leftovers," Jovan Adepo first came to many people's attention with his part in the 2016 movie "Fences," where he played the son of Denzel Washington and Viola Davis. In addition to the entire "Fences" ensemble getting a Screen Actors Guild nomination, Adepo was singled-out for praise by the Black Reel Awards, getting nominated for Supporting Actor and Breakthrough Male Performance. He followed "Fences" by landing the lead role in the World War II horror film "Overlord" in 2018, then did two seasons of the Facebook Watch drama "Sorry For Your Loss" alongside Elisabeth Olsen and joined the cast of Season 2 of Amazon's "Jack Ryan."
Following "When They See Us," Adepo reunited with "Leftovers" creator Damon Lindelof to play comic-book character Hooded Justice in an episode of Lindelof's "Watchmen" series, receiving his first Emmy nomination for the performance. He followed that up with a starring role in the miniseries adaptation of Stephen King's "The Stand." Currently, he's in production on "Babylon," a film centered around 1920s Hollywood written and directed by Oscar-winning "La La Land" director Damien Chazelle.
Marsha Stephanie Blake (Linda McCray)
Asante Blackk is not the only "When They See Us" cast member to be part of the "This is Us" ensemble. Marsha Stephanie Blake had a guest spot on Season 4 of the show, playing the Blackk character's mother. 
This continues a prolific career of small, recurring parts on TV shows, which started before "When They See Us" and continues after it. Her TV career mostly involved one- or two-episode guest spots until an eight-episode run on Season 3 of "Orange is the New Black," where she shared a Screen Actors Guild Award for Best Ensemble. On the back of that and her Emmy-nominated performance in "When They See Us," she has received more prominent roles. Her next project is the Apple TV+ miniseries "The Last Days of Ptolemy Grey," where she's part of the main cast opposite heavyweights like Samuel L. Jackson and Walton Goggins.
Blake works less frequently in film than she does in TV, though she has built up a strong catalog of films and filmmakers. Two of the most notable directors she has worked with are Quentin Tarantino (well, technically ... she shot a scene deleted from the final cut of "Django Unchained") and Steven Soderbergh (who cast her as Jeffrey Wright's wife in "The Laundromat"). Her most recent film appearance was a large role in Julia Hart's "I'm Your Woman," opposite fellow TV awards favorite Rachel Brosnahan.
Kylie Bunbury (Angie Richardson)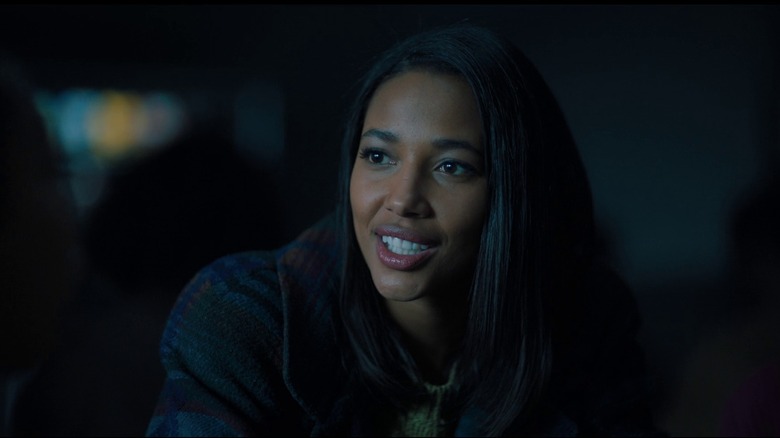 Netflix
Kylie Bunbury was the first of several "When They See Us" cast members to work with "This is Us" creator Dan Fogelman. In 2016, the same year "This is Us" premiered, Fogelman co-created the show "Pitch" for Fox, with Bunbury starring as the first woman to ever play Major League Baseball. "Pitch" received solid reviews but low ratings, and was ultimately cancelled after one season. Between "Pitch" and "When They See Us," Bunbury had a few TV guest spots and a supporting role in the 2018 Jason Bateman/Rachel McAdams movie "Game Night."
Since "When They See Us," Bunbury has continued to get showy parts on TV shows. In 2020, she played the lead in a Season 2 episode of Jordan Peele's "The Twilight Zone" reboot. That same year, she booked major roles in two other TV shows: "Brave New World," an adaptation of the classic Aldous Huxley novel (for Peacock) and "Big Sky," a crime drama created by David E. Kelley for ABC. "Brave New World" was cancelled after one season, but "Big Sky" has been renewed for a second season, which will start airing on September 30.
Aunjanue Ellis (Sharonne Salaam)
"When They See Us" gave Aunjanue Ellis the first of her two Emmy nominations. The second was for "Lovecraft Country," the HBO horror series that also featured the final TV appearance of fellow "When They See Us" actor Michael K. Williams. Williams was also Emmy-nominated for the show, as were the show's leads Jonathan Majors and Jurnee Smollett, but despite the show's acclaim and HBO being in active development of a second season, it was ultimately cancelled, much to the chagrin of the cast.
Ellis broke out on TV (although she has played supporting roles in films like the Jamie Foxx 2004 Oscar winner "Ray") in roles on the ABC series "Quantico," the Lifetime original movie "The Clark Sisters: First Ladies of Gospel" (where she played gospel singer Mattis Moss-Clark) and more. This November, she'll get one of her biggest showcases yet as the second lead in "King Richard," playing Venus and Serena Williams' mother Brandy Price in the film opposite Will Smith as their father, Richard Williams.
Vera Farmiga (Elizabeth Lederer)
Despite mostly working in dramas over her two-decade career, Vera Farmiga's two best-known parts have made her synonymous with horror. In 2013, she began a five-season run on the A&E show "Bates Motel," where she updated one of the most iconic characters in film history: Norman Bates's mother Norma. The show was well-received and Farmiga received an Emmy nomination for her performance in its first season. Also in 2013, she starred as real-life paranormal investigator Lorraine Warren in "The Conjuring," whose success made Farmiga the star of one of modern horror's biggest film franchises. She has reprised Warren in three movies since, most recently "The Conjuring: The Devil Made Me Do It."
Horror has made Farmiga a star, but her dramatic work has won her the most acclaim. She received an Oscar nomination in 2010 for her role in "Up in the Air," and her directorial debut "Higher Ground" (in which she also starred) was praised when it played the Sundance Film Festival in 2011. Farmiga plays another iconic mother, this time a young version of Livia Soprano, in the "Sopranos" prequel film "The Many Saints of Newark." She'll also play Hailee Steinfeld's mother on the Marvel Disney+ series "Hawkeye".
John Leguizamo (Raymond Santana Jr.)
In the early days of his career, John Leguizamo landed small parts in movies like "Casualties of War," but he was primarily known as an energetic stand-up, which landed him the part of Luigi in 1993's "Super Mario Bros" as well as his own signature TV series "House of Buggin'" and a breakthrough role as Benny Blanco (from the Bronx) in "Carlito's Way." By 1995, he was established enough to have his name above the title of such diverse films as "To Wong Foo, Thanks For Everything, Julie Newmar," and standout supporting moments in Baz Luhrmann's "Romeo + Juliet" and the Kurt Russell action flick "Executive Decision." 
Spike Lee later directed a film of his stand-up show "Freak," which won Leguizamo an Emmy. The filmmaker then cast him as the lead in 1997's "Summer of Sam," and from there he went on to voice Sid the sloth in the "Ice Age" movies, appear as pretty much the only character in the "John Wick" movies that Keanu Reeves didn't kill, and made a memorable guest appearance on the Season 2 premiere of "The Mandalorian." His next projects include the Amazon series "The Power" with Leslie Mann and "The Menu," a dark comedy starring Anya Taylor-Joy, Nicholas Hoult, and Ralph Fiennes.
Felicity Huffman (Linda Fairstein)
Felicity Huffman's most recent claim to fame didn't exactly help her career, nor her family. In March 2019, Huffman was one of 34 parents (including "Full House" veteran Lori Loughlin) accused of participating in a conspiracy to bribe college officials and create fraudulent test results to get their children into college. Huffman pled guilty to hiring someone to take the SAT under her daughter's name, sentenced to 14 days in prison and one year of supervised release, and fined $30,000. Her husband, fellow actor William H. Macy, also made headlines but was ultimately not charged. The saga was then dramatized with the Netflix film "Operation Varsity Blues: The College Admissions Scandal."
Huffman's brush with the law has overshadowed a distinguished acting career in film, TV, and theatre. Both she and Macy began their careers by collaborating frequently with playwright and director David Mamet, with Huffman winning an Obie Award in 1995 for her performance in Mamet's play "The Cryptogram." In 1998, Huffman reached a larger audience with a starring role in Aaron Sorkin's ABC series "Sports Night," for which she received a Golden Globe nomination. 2005 would be her breakout year, however, when she won an Emmy for her role on another ABC comedy-drama, "Desperate Housewives," and was nominated for an Oscar for her performance as a transgender woman in the film "Transamerica." She worked regularly up until the college scandal, but has not yet made another movie or TV show in the aftermath of her arrest. 
In December 2020, she reportedly landed her first post-scandal acting role, in an ABC comedy where she'll play the owner of a minor league baseball team.
Niecy Nash (Delores Wise)
"When They See Us" marked a rare dramatic turn for Niecy Nash, who's been working primarily in comedy and reality TV for more than two decades. Her big break came with a lead role on the "Cops" spoof "Reno 911!," which she stayed on for the show's six seasons on Comedy Central, plus the movie "Reno 911!: Miami" and the revival season for the short-lived streaming service Quibi. Around the same time, Nash also hosted the Style Network reality show "Clean House," for which she won a Daytime Emmy. Her first Primetime Emmy nomination came in 2015, when she was nominated for her performance on the HBO comedy show "Getting On."
Ava DuVernay is one of the few to have used Nash in a non-comedic context, having also cast her as civil rights activist Richie Jean Jackson in "Selma." Her part as Delores Wise (mother of the Jharrel Jerome character) in "When They See Us" earned substantial acclaim, as well as an Emmy nomination. Last year, she took another dramatic part as a real-life figure, this time playing feminist lawyer Flo Kennedy on the FX show "Mrs. America."
Michael K. Williams (Bobby McCray)
Michael K. Williams's startling death in 2021 left behind both an acclaimed body of work and a profound sense of sadness over the future performances that audiences would now never see from one of the most talented actors of his generation.  
In his eulogies, however, one role was mentioned more than any other: the iconic Omar Little on the TV series believed by many to be among the greatest achievements in the history of the medium: HBO's "The Wire." Williams was told that Omar, a robber exclusively targeting Baltimore drug dealers, would be killed at the end of the show's first season — but his swaggering, gay antihero quickly became the most beloved and recognizable character, spawning the catchphrase "Omar comin'!" and sticking around until the show's fifth and final season. As the show was finishing its run, then-presidential candidate Barack Obama even cited Omar as one of his favorite TV characters.
"That's not an endorsement," Obama was careful to point out. "He's not my favorite person, but he's a fascinating character."
The acclaim both "The Wire" and Williams received led to him having a fruitful film and TV career; he worked consistently in supporting parts in films including "Inherent Vice," "12 Years a Slave" and even the 2016 "Ghostbusters." In 2010 he became an essential part of another long-running, acclaimed TV series when he signed onto "Boardwalk Empire" playing gangster "Chalky" White opposite Steve Buscemi. 
Shockingly, Williams was somehow never nominated for an Emmy for either "The Wire" or "Boardwalk Empire," but he did finally land his first nomination in 2015 for the HBO movie "Bessie." He would receive three more Emmy nominations in his lifetime, including one for "When They See Us" and a potential posthumous win for "Lovecraft Country" this year.
Famke Janssen (Nancy Ryan)
Famke Janssen began her career as a model, retiring by 1992 so that she could begin a film career. It didn't take long for her to land a breakthrough role, as the female lead of Pierce Brosnan's inaugural Bond film, "GoldenEye." In the aftermath of "GoldenEye," she balanced more commercial projects like the monster movie "Deep Rising" with smaller films like Robert Altman's "The Gingerbread Man." She became known for balancing blockbuster films (she was Jean Grey in the "X-Men' series) with indies ("Love and Sex," "Made"), making her final appearance as Grey in 2014's "Days of Future Past." 
Janssen's career then carried over to the "Taken" trilogy, where she played Liam Neeson's imperiled wife. Since "Taken 3" closed the franchise in 2016, Janssen has mostly stayed in smaller films and TV, including "When They See Us" and the one-season "Blacklist" spin-off "The Blacklist: Redemption" in 2017. Her next film role is in D.J. Caruso's "Redeeming Love," a period romance where she stars opposite Logan Marshall-Green.