Will Smith's New King Richard Trailer Has The Internet Teary-Eyed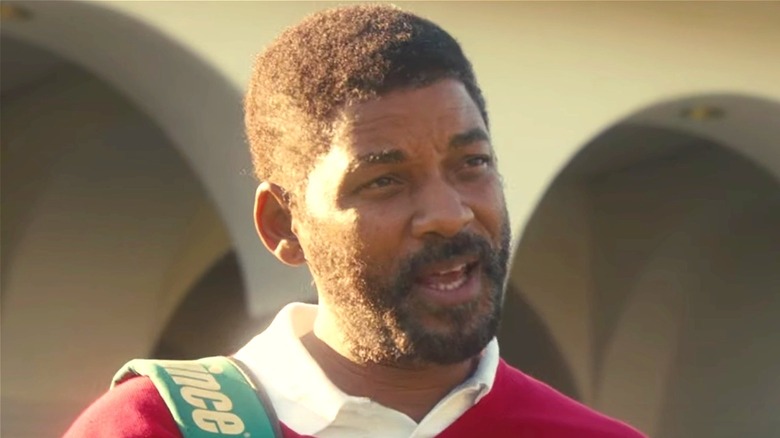 Warner Bros.
By most standards, and undoubtedly by those of the man himself, the 2010s were a disappointing time for Will Smith, with the superstar appearing in a string of high profile films deemed either middling ("Focus," "Suicide Squad," and "Concussion"), or downright bad ("After Earth," "Collateral Beauty," and "Gemini Man") by critics. Smith's steadfast fanbase has, however, continued to show up for the beloved performer, and he appears primed to reward their fidelity in the 2020s with a string of upcoming films set to satisfy those who wish to marvel at his big screen presence and those who know how powerful a performer he is when given the right material.
One of those films is 2021's "King Richard." It finds Smith portraying the father of not one, but two of the greatest tennis players to ever take up a racket. If the film's first official trailer is any indication, his portrayal as the head of the Williams household will be a simultaneously life-affirming and tear-inducing tale of prevailing against the odds. 
King Richard looks to be a powerful biopic with serious awards season potential
You may have read the words "tennis" and "Williams" and put together that "King Richard" is the story of Venus and Serena Williams' rise to dominance in the tennis realm. Likewise, you might've put together that the new film finds Will Smith portraying Richard Williams, the pair's fiery father who infamously tabbed them both for tennis superstardom before they were even born. All of the above will be lovingly depicted in "King Richard," which focuses as much on the man as it does his legendary progeny (portrayed by relative newcomers Saniyya Sidney and Demi Singleton). And yes, even the trailer for "King Richard" is proving a deeply emotional affair that's already melting the collective heart of the internet. 
Reactions to the new trailer have indeed been quite emotional, with @sindi_berry posting to Warner Bros. Twitter page "I'm teary watching this trailer?" and @Hanacapriccioso adding "I got goosebumps," accompanied by a teary-eyed emoji. YouTube reactions have been every bit as impassioned, with many already championing Smith's performance as an awards-worthy turn. Elton Miguel is among them, noting, "This may be the role that will get Will Smith his first Oscar win," and Restorethesnyderverse piggybacked that post with "Will Smith 100% will be nominated for this." 
It's obviously early in the year for such bold predictions, but "King Richard" certainly looks like a worthy offering. Find out for yourself when the film hits theaters and HBO Max on November 19, 2021.