Read This Before You See Concrete Cowboy
This content was paid for by Netflix and created by Looper.
You don't have to travel to the wild, wild west to find a community full of cowboys. In fact, there are generations of urban horsemen who can be seen trotting around Philadelphia right now, and the film Concrete Cowboy aims to shed light on that culture with a heartwarming tale about the bonds of family.
The movie features Caleb McLaughlin as Cole, a troubled teen from Detroit who is sent to Philadelphia to stay with the father he's never met before, Idris Elba's Harp. And once he's there, he finds out that the city has an unexpected amount of equestrians — which includes his dad. Even if Cole isn't used to traveling around the city on horseback, the charms of this rustic lifestyle — yes, even including shoveling manure from the streets — might just be what Cole needs to break away from the more dangerous temptations of inner-city life.
Concrete Cowboy builds upon a rich tradition of real-life riders and features an impressive cast — as well as some caring creatives — who have developed an intensely personal connection to the story that shines through in the film. Here's what you should know about Concrete Cowboy before it arrives on Netflix.
A creative spark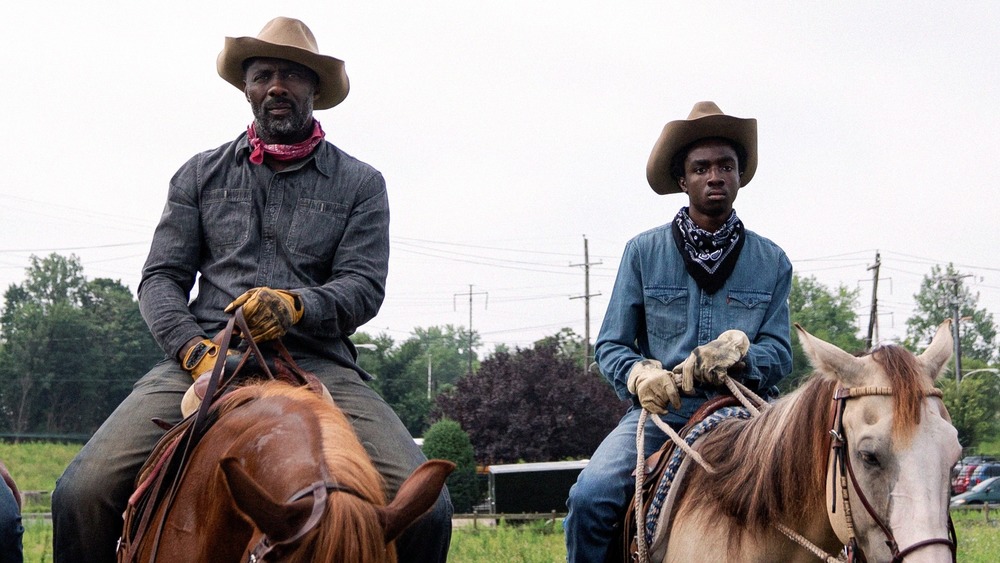 Jessica Kourkounis/Netflix
Concrete Cowboy marks the directorial and screenwriting debut of Ricky Staub, who co-wrote the script alongside his longtime professional and writing partner Dan Walser. Staub previously worked as an assistant to a producer on several notable films before walking away from the business in 2012 to start his Philadelphia-based Neighborhood Film Company, which creates memorable advertisements and offers paid apprenticeships to former non-violent offenders and homeless individuals who want a new chance at a professional life.
Though Staub had been mostly removed from the Hollywood scene over the last few years, he did quietly work on several visual projects in Philadelphia, including the 2017 short film The Cage. He was inspired to make Concrete Cowboy after a couple of chance encounters with the city's proud horsemen. The first was when he saw a man riding on horseback through the city several years ago and learned about the Fletcher Street Urban Riding Club and G. Neri's 2011 novel Ghetto Cowboy. Then, after meeting a returning prisoner who spoke up about his plans to buy a horse, Staub decided to engage him and other dedicated riders in creating this film, an adaptation of Neri's book. Thanks to Staub's standout work in The Cage, he had already secured an agent who then got him in touch with Idris Elba, and the two connected over the opportunity to lift up the voices of the incredible African American community members who are featured in the story.
Corralling a cast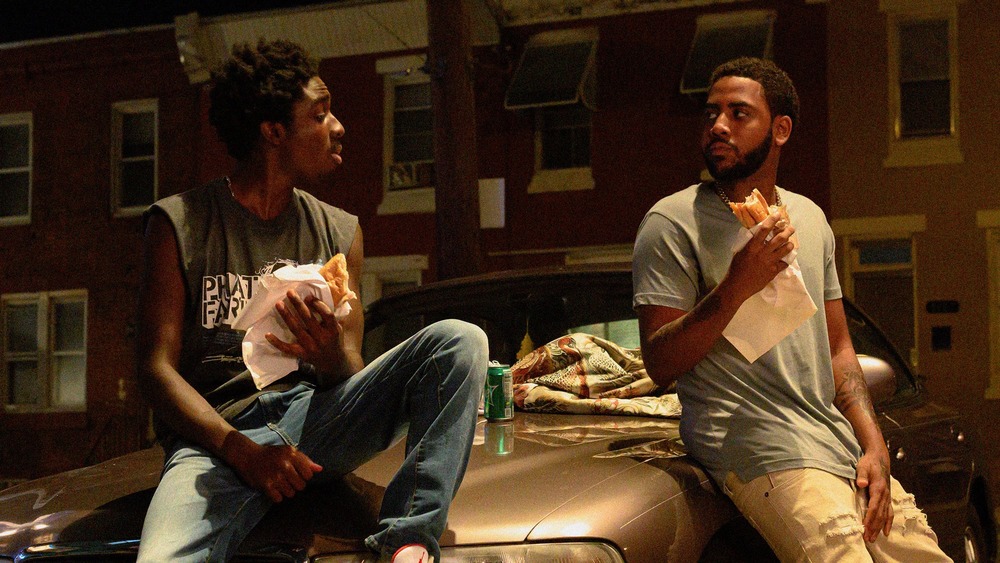 Aaron Ricketts/Netflix
After learning of the real-life urban cowboys of Philadelphia and the troubles the community is facing as their beloved pastures are threatened by development, Ricky Staub set out to make a film that might hopefully shed light on their lifestyle and help them protect their grazing lands.
That mission was a critical part of why Idris Elba decided to sign on for the film after speaking with Staub. At the film's first premiere at the Toronto International Film Festival in 2020, the actor told Variety, "It feels really apt to be able to tell a part of history that's been definitely buried, and in the case of Concrete Cowboy, that history is right now. Those stables — they face being taken away forever and, part of what Ricky said to me was that, 'I'm hoping that we made this movie and they keep the stables, based on the fact that people fall in love with the story and history and heritage of the stables.'"
Elba is, of course, one of the most revered actors of both film and television, thanks to his indelible performances in films like Beasts of No Nation and Mandela: Long Walk to Freedom and shows like The Wire and Luther. And he's in good company with his talented co-stars in the film, including Stranger Things and High Flying Bird's Caleb McLaughlin, Emmy-winning When They See Us star Jharrel Jerome, Orange Is the New Black favorite Lorraine Touissant, The Chi star Byron Bowers, and acclaimed rapper-actor Clifford "Method Man" Smith.
In addition to featuring well-known actors who are at the top of their game, Concrete Cowboy also incorporates some real-life riders into the picture to bring even more authenticity to the film. Meanwhile, the movie was also filmed on-site at Strawberry Mansion's Fletcher Street stables. That's one of the very locations Staub hopes Concrete Cowboy might inspire audiences to become aware of — and potentially help protect. 
Don't miss out on this gripping story about a father and son bonding within a very real, charming, and historic piece of Americana when Concrete Cowboy arrives on Netflix later this year.