The Movie Like The Help That Drama Fans Need To See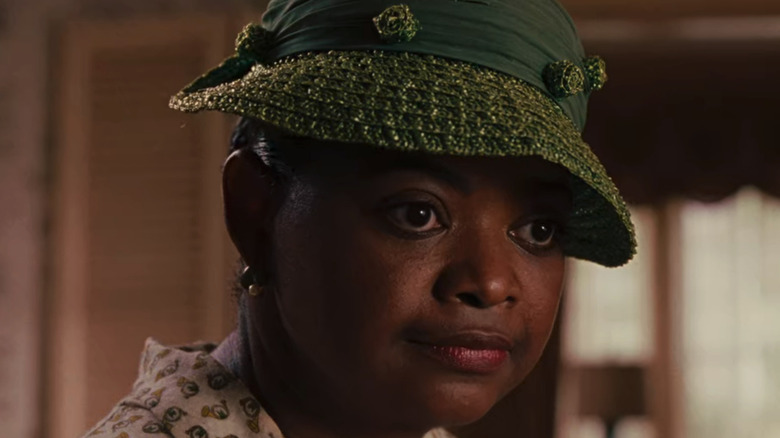 Walt Disney Studios
If you're a fan of period dramas, you've likely seen 2011's "The Help." Based on the popular novel by the same name, "The Help" tells the story of an aspiring white journalist named Eugenia "Skeeter" Phelan (Emma Stone) who forms relationships with two Black maids, Aibileen Clark (Viola Davis) and Minny Jackson (Octavia Spencer), during the Civil Rights Movement in 1960s Mississippi. Skeeter asks Aibileen and Minny to tell her about their experiences working for white families, and she writes a book from their perspective.
While "The Help" has received tons of praise over the years, some have deemed it as yet another white savior narrative since Skeeter is the one who gains recognition for giving Black women a platform, while Aibileen and Minny remain anonymous in her book. Viola Davis has even spoken about regretting her role due to the lack of an accurate representation in the movie. Thankfully, there are plenty of other great period dramas that don't succumb to the white savior trope while still informing audiences about real-life issues.
Selma stays true to the heart of its story
The 2014 historical drama "Selma" is a great watch for those who enjoyed "The Help." "Selma" is based on the 1965 Selma-to-Montgomery voting rights marches that were led by James Bevel (Common), Martin Luther King Jr. (David Oyelowo), Hosea Williams (Wendell Pierce), and John Lewis (Stephan James). The film follows Dr. King's three-month campaign for equal voting rights for Black Americans that culminated in President Lyndon B. Johnson (played by Tom Wilkinson) signing the Voting Rights Act of 1965.
"Selma" received overwhelming praise, with much of the recognition going to Oyelowo for his portrayal of Dr. King, as well as Ava DuVernay for her directing. It went on to win a number of awards, including an Academy Award, an Image Award, and several Black Reel Awards, per IMDb. Though some have questioned the movie's accuracy, the data visualization website Information is Beautiful conducted a scene-by-scene comparison of "Selma" to the true story and gave it a perfect score, adding, "This movie painstakingly recreates events as they happened, and takes care to include everybody who was involved."
The next time you're on the lookout for a drama based on a true story, consider watching "Selma" for a touching ode to the civil rights leaders of the '60s.