Small Details You Missed In The Hawkeye Trailer
Marvel Studios fans were given quite the surprise on September 13 when the first trailer for "Hawkeye" dropped. The new MCU series marks the fourth live-action show from Disney+, following "WandaVision," "The Falcon and the Winter Soldier," and "Loki." Clint Barton (Jeremy Renner) is also the only original Avenger to be given their own spin-off series, likely meaning a solo flick for the character won't be coming.
The new trailer proves that "Hawkeye" will be a fun, exhilarating watch set during Christmas time in New York City. We get to see what Clint has been up to since the events of "Avengers: Endgame," and it looks like things haven't slowed down for him one bit. Alongside Renner, Hailee Steinfeld is at the trailer's center, portraying Kate Bishop from the comics. Vera Farmiga is also briefly featured, who will be playing Kate's mother.
As with every Marvel Studios trailer ever released, there are tons of hidden details hidden in the teaser that are easily missed. We've broken down the whole thing, so you don't have to, and dissected each frame to find easter eggs and subtle nods to former MCU properties.
Clint is still affected by losing his family in the Blip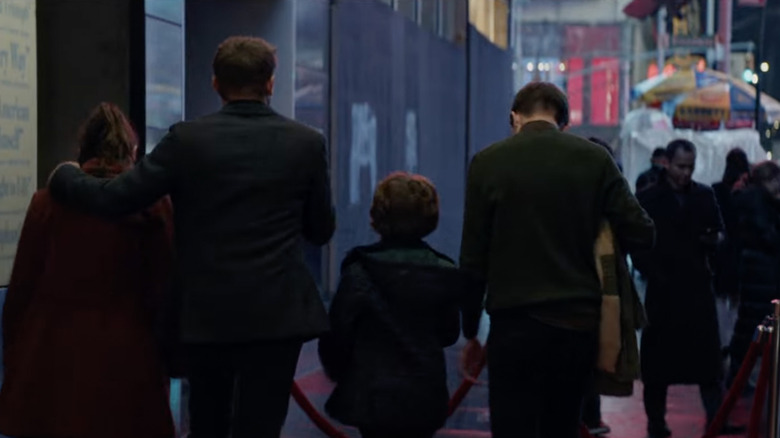 Marvel Studios/Disney+
The first 10 seconds of the trailer show Clint enjoying a festive meal with his children, and telling them, "I love you guys." Then, we hear a voiceover of Clint saying, "I'm making up for some lost time." It's a pretty generic turn-of-phrase — bordering on cliché — but in this context it takes on added meaning as an obvious allusion to the Blip.
In the opening scene of "Avengers: Endgame," we see a Barton family afternoon disrupted by Thanos to heartbreaking results: Clint discovers his entire family dusted by the Snap. This is a huge turning point for the character, and as we've seen, it will inform the events of this series. In the wake of the Snap, Hawkeye goes on a vengeful murder spree until Natasha Romanoff (Scarlett Johansson) brings him back to the Avengers.
Clint's double life as a SHIELD agent and family man sets him apart from the rest of the Avengers. We're excited to see the tension between the two in this upcoming series.
Rogers: The Musical has a familiar feel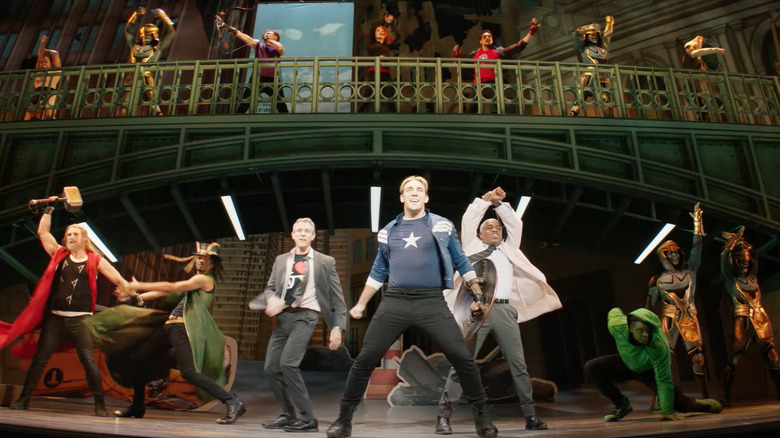 Marvel Studios/Disney+
As the trailer opens, fans get a glimpse of New York's famous Broadway theaters, although in this universe, a new musical is making waves — "Rogers: The Musical." Advertised with a photo of Steve Rogers (Chris Evans) himself and staged at what appears to be the real-life Lunt-Fontanne theater on 46th Street in Manhattan, "Rogers: The Musical" shows that Cap's legacy remains strong no matter who's currently donning the suit, and that nostalgia for Steve Rogers is apparently at an all-time high. 
Beyond that, the brief look at the musical itself looks pretty familiar to anyone who loved one of Disney+'s biggest 2020 releases — "Hamilton," Lin-Manuel Miranda's Tony Award-winning musical about one of America's founding fathers. Much like "Hamilton," this fictional musical seems to employ a relatively sparse stage and features every supporting character in Steve's life on stage at the same time for a seemingly epic number (including Clint, who can be seen on the second level of the stage wielding his signature bow and arrow). Whether or not "Hawkeye" features a longer look at "Rogers: The Musical" remains to be seen, but "Hamilton" fans might get an extra kick out of this potential subplot.
The Tracksuit Draculas are here, but not to drink your blood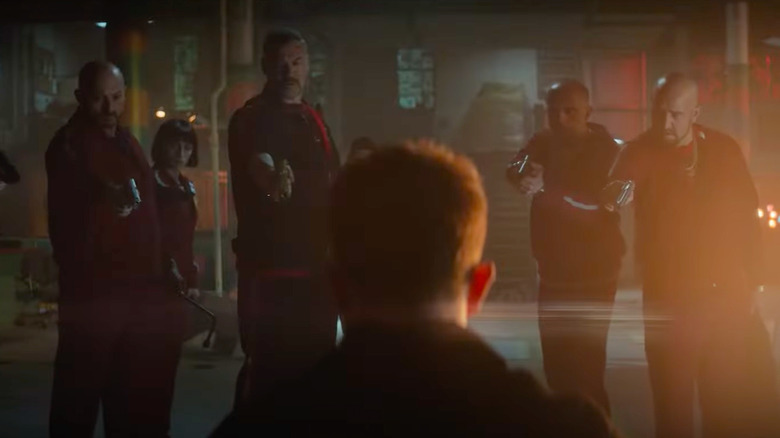 Marvel Studios/Disney+
Although Hawkeye's main arc in the show revolves around the archer teaching Kate Bishop the ropes, the duo will also have their own street-level threat to deal with over the holidays. Fans familiar with Matt Fraction's "Hawkeye" comics series will probably recognize the red tracksuit-wearing gangsters in the first trailer. They're clearly the Tracksuit Draculas, the thugs that Clint goes up against when he forcefully buys the apartment building from one of its members, Ivan Banionis. Suggestive name aside, they're not vampires.
"Tracksuit Draculas" is actually a pejorative derived by Clint and bestowed upon the goon squad. They're just regular thugs, but they have ties to bigger figures in the Marvel underworld like Wilson Fisk aka Kingpin. It looks like Banionis is also in the trailer, as we see a large man with a mustache in a black tracksuit jacket pointing a gun at Clint while he's tied to a chair.
Because the Tracksuit Draculas fail to defeat Clint in Fraction's run, Banionis also hires an assassin called the Clown to take out the Avenger. Irish star Fra Fee took to Twitter in December 2020 to confirm that he's playing the Clown in the series, although he doesn't show up in the first trailer.
A glimpse of Lucky the Pizza Dog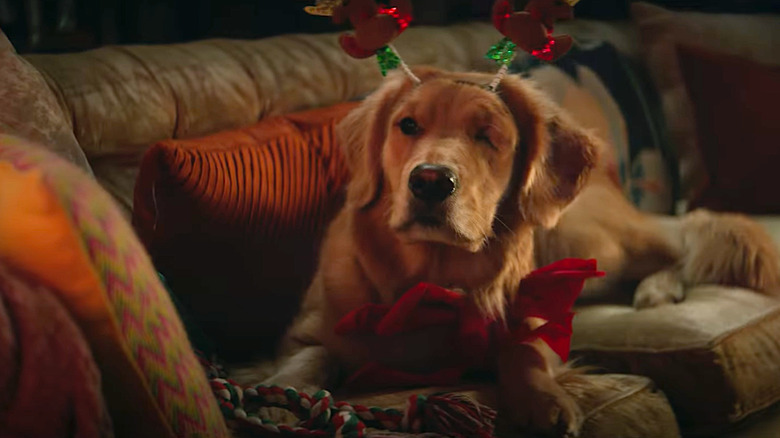 Marvel Studios/Disney+
Since Marvel Studios and Disney+ are clearly leaning on the Matt Fraction "Hawkeye" comics series, it's no surprise that the trailer shows off one of the most important characters from that run: Lucky the Pizza Dog. That's right true believers, Hawkeye's getting a canine sidekick. In Fraction's series, Lucky belongs to the Tracksuit Mafia. In a particularly brutal scene, the gangsters beat Lucky after he helps Hawkeye in a fight (via Fandom). Thankfully, Hawkeye rushes him to a vet and the lovable pooch survives, albeit without his left eye. You just can't put a good dog down.
Anyway, the trailer only provides a brief look at Lucky to assure fans that he's in the Disney+ series, but this glimpse confirms that he only has the one eye. It'll be interesting to see whether "Hawkeye" gives Lucky his comics-accurate backstory, or if it'll adapt it slightly to fit within the Marvel Cinematic Universe.
Hopefully the writers really take inspiration from Fraction's run where Lucky's concerned, and give him his own mini-adventure in one of the episodes. "Hawkeye #11" follows Lucky as he tries to solve a murder. Yes that's right, he's a detective — and a perfectly capable one. The issue doesn't feature captions or word balloons; instead, it shows how dogs perceive things via smell (via Fandom). It's an inventive comic book to say the least, and it'd be great if the show honors it in some way.
The first look at, possibly, Maya Lopez
In a blink-and-you'll-miss-it moment, a threatening face appears in the trailer covered in red light. This appears to be Alaqua Cox's character Maya Lopez, also known as Echo in the Marvel comics. The red glow around her face in the trailer matches the character's hue associated with her Phoenix Force abilities. First appearing in "Daredevil" Vol. 2 #9, Echo is a deaf Native American from the Cheyenne Nation. She has an arsenal of abilities, including photogenic reflexes, acrobatics, and is a master of martial arts.
Something important to know here is that Echo has ties to notorious Daredevil villain, Kingpin — aka Wilson Fisk. Her father once worked for the mobster, who Vincent D'Onofrio plays in the "Daredevil" Netflix series. For some time, rumors suggested the actor would be reprising his role as the mob leader (via MovieWeb), and without a true villain present in the trailer, it looks like this might prove true.
Echo also appears in the "Moon Knight" and "Secret Invasion" comic book storylines, meaning it's also possible the character could appear in those Disney+ series as well.