The AHS Performance That Fans Think The Emmys Snubbed The Hardest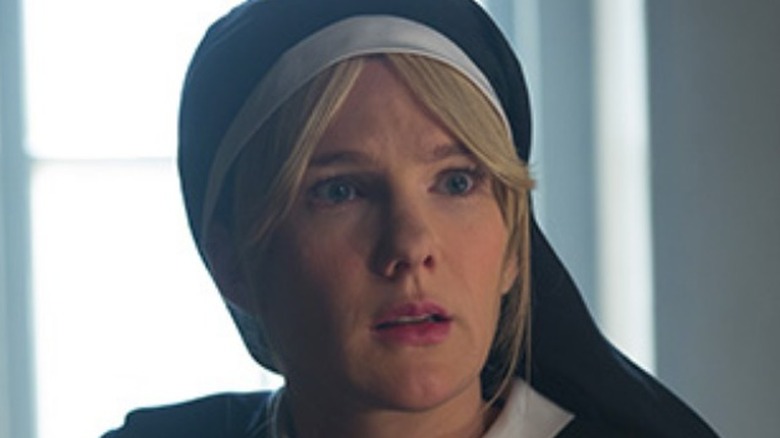 FX
A recent poll on the "American Horror Story" subreddit asked fans to weigh in on the "AHS" performances they felt the Prime Time Emmy Awards overlooked. The poll allowed fans to choose among five infamous and memorable performances over a number of seasons, and tallied votes from nearly 550 users. Although the Ryan Murphy and Brad Falchuk brainchild has received a litany of awards in its decade-long run, only three "American Horror Stort" mainstays managed to take home an Emmy thus far: Jessica Lange earned both an Outstanding Supporting Actress and an Outstanding Lead Actress Emmy for her portrayals of Constance Langdon in "AHS: Murder House" and Fiona Goode in "AHS: Coven," respectively. Meanwhile, for his portrayal of Nazi mad scientist Dr. Arthur Arden in "AHS: Asylum," James Cromwell took home an Outstanding Supporting Actor Emmy, and for her embodiment of grotesque, racist sadist Madame Delphine LaLaurie in "AHS: Coven," Kathy Bates also received an Outstanding Supporting Actress Emmy.
While the series has continued to rack up nominations in various categories straight-up through its most recent past season, "AHS: 1984," many fans feel that several of the show's actors were snubbed by the awards, and nearly a third of the users who participated in the Reddit poll are in agreement on which actor most-deserved an Emmy. 
Fans think Evan Peters blew the competition away in "Cult"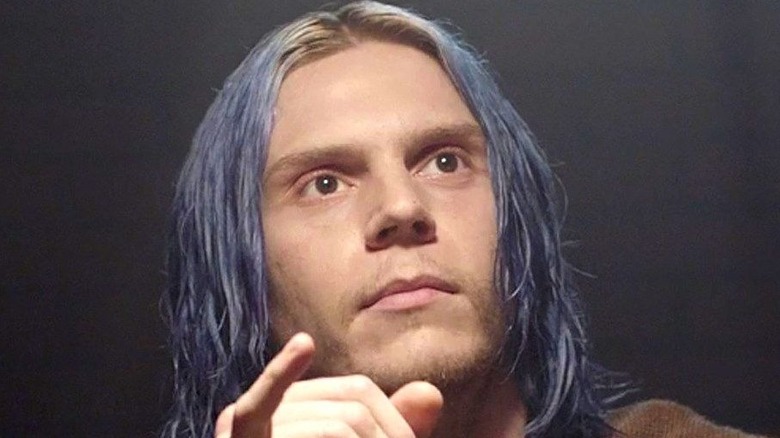 FX
As user JackInterrupted remarked in the subreddit thread, "Evan Peters in Cult was an acting masterclass. I really thought he deserved a nomination that year." In the somewhat polarizing and hyper-political season, Evans plays spiraling Angry White Man Kai Anderson — the dynamic, nuanced, terrifying, and diabolically charismatic cult leader around which the season's narrative revolves. Over the course of the season, fans witness Peters fly back and forth between a bereft but potentially redeemable and arguably well-intentioned victim of society to a bigoted, sadistic, egomaniacal sociopath willing to kill his own formerly-beloved little sister (Billie Lourd) in order to accomplish his goals. In addition to Peters' disturbing and all-too-believable portrayal of Kai's transformation from the disillusioned and ironical chat room troll he once was to the destructive, paranoid — and yet emotionless — anarchist he becomes, Peters is also tasked with embodying a number of other well-known historical monsters. 
In episode 9, titled "Drink the Kool-Aid," Peters slips seamlessly into the roles of other famous mental terrorists such David Koresh, Marshall Applewhite, Jim Jones, and Charles Manson, the last of which he plays in several episodes. With regard to the difficulty, range, and versatility of Peters' "Cult" performance, user steelerfaye wrote, "He was amazing, truly captivating to watch him in that role." 
Co-creator Ryan Murphy and co-star Sarah Paulson appear to agree. In a 2019 interview with Entertainment Weekly, Murphy mused that he "really loved Evan's performance so much, and so did Sarah. We still talk about it. Like once a week about how good he is? Evan is CRIMINALLY underrated in this role. He really suffered while making it, it took him I don't know ... two years to recover?" 
Horror fans feel the genre itself gets snubbed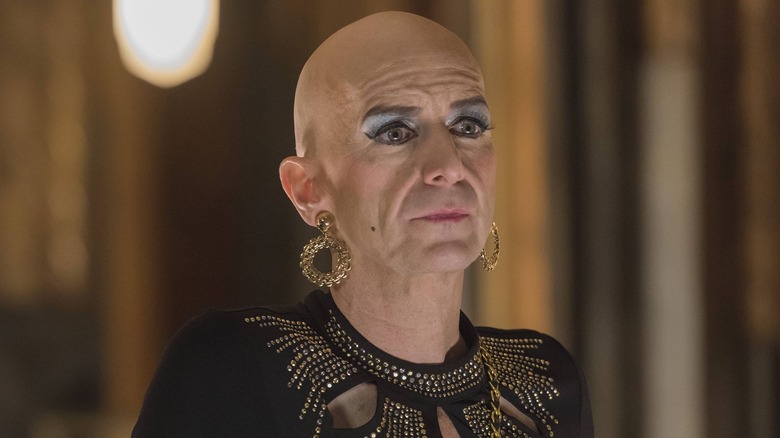 FX
Despite Evan Peters' ostensible snub from the awards show, he did manage to receive an Emmy nomination for Outstanding Supporting Actor in a Limited or Anthology Series or Movie for his portrayal of Detective Colin Zabe in HBO's "Mare of Easttown" (via IMDb) This gap in awards show acknowledgement seems to support Reddit user TootlesFTW's point that such contests "famously hate to give recognition to horror, sci-fi, and fantasy genres," a sentiment that has been echoed by horror fans repeatedly over the years. 
Perhaps this explains why the Reddit poll's first-runner-up for Biggest Snub was also ignored the by prime time awards show: namely, Denis O'Hare's riveting portrayal of Liz Taylor in the "Hotel" season received a massive 143 votes in the user poll. Although O'Hare was nominated for an Outstanding Supporting Actor Emmy both for his roles in the "Murder House" and "Freak Show" seasons, he lost to Tom Berenger in 2012 and Bill Murray in 2015. Unsurprisingly, neither of the ultimate winners were nominated for a role in a horror series. That O'Hare would be overlooked entirely for what many fans agree is his best performance in any "American Horror Story" season seems a combination of the Emmys having a lack of love for the genre, and perhaps the general audience's lack of love for "AHS: Hotel" on the whole (via Vulture). 
It's perhaps worth noting that both actors delivered their fan favorite performances in decidedly unfavored seasons, which begs the question as to what, exactly, goes in to awarding Emmy nominations and wins — and to what degree a show's ratings ultimately factor in to that decision.