Billie Lourd Opens Up About Her Role In American Horror Stories' Ba'al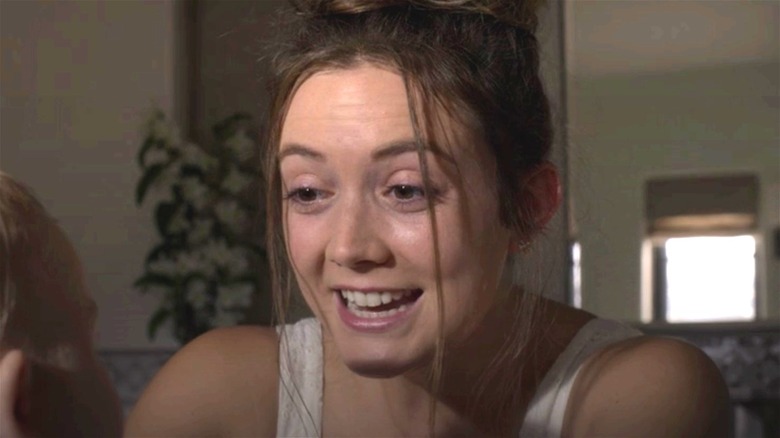 FX on Hulu
"Ba'al," the fifth episode of "American Horror Stories," chronicles the efforts of a young married couple, Liv and Matt (Billie Lourd and Ronen Rubinstein), to conceive a baby after a few failed attempts. During her search for a solution, Liv receives a small demon statue which she learns has a supernatural ability to aid in the conception of a child. It works, and Liv becomes pregnant with the statue's aid. She also begins seeing signs of a demon tied to the statue invading her everyday life.
The episode ends with something of a dual plot twist — first, the demonic fertility statue plan was devised by Matt and Bernadette (Virginia Gardner), who gave Liv the statue and with whom Matt is having an affair. They attempt to coax Liv into believing she is being visited by a demon in order to fast-track a divorce between her and Matt. However, the demon turns out to be real and ends up murdering Matt's friends as revenge for their plot against Liv.
Billie Lourd is no stranger to "American Horror Story." Lourd generally portrays supporting characters in her series appearances, but a Reddit poll determined her to be the actor fans most want to see in a leading role based on her past appearances. In Season 9, subtitled "1984," Lourd portrays aerobics instructor Montana Duke, an experience she revealed on "The Tonight Show Starring Jimmy Fallon" induced terror and laughter in equal amounts. The laughter, she explained, made the show's terrifying moments tolerable.
In an interview with The Wrap in the wake of her "Ba'al" appearance, Lourd similarly discussed how she prepared for and acted out her latest character to join the "AHS" canon.
Lourd drew from her personal experience while portraying Liv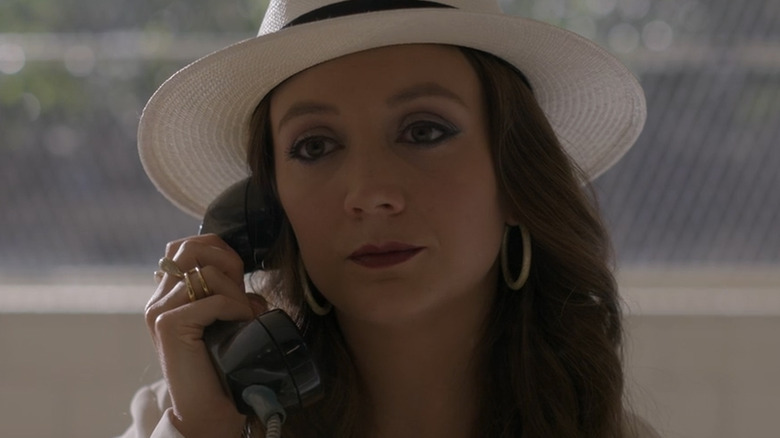 FX on Hulu
The Wrap opened the interview by congratulating Lourd for recently becoming a mother herself before asking if her real-life motherhood was an influence on her approach to embodying the character of Liv. "Any moms out there know having a baby is full of ups and downs. It is extremely exhausting but also the most incredible experience in the world," Lourd said. "I thankfully have never seen demons in my baby monitor, but my experience as a mom definitely gave me insight into how delusional sleep deprivation can make you feel."
In one of the episode's most heightened moments, Liv attempts to ritually banish the demon she believes is haunting her and ends up stabbing Matt with a ceremonial dagger. Lourd revealed that the ritual scene was shot at three o'clock in the morning, before which Lourd had awoken at 5 a.m. the previous day. Her real-life sleep deprivation fueled her character's frenzied state.
Finally, Lourd recounted feeling sorry for Liv and Matt meeting such a dark fate. "It was shocking and deeply devastating! Liv and Matt had gone through so much together and he seemed like he was the ultimate supportive husband but that was obviously NOT the case," she said.
Lourd will also be appearing in the upcoming "American Horror Story: Double Feature," the 10th season of "AHS" proper. However, Lourd is tight-lipped about the particulars of her involvement, meaning fans of the series will have to wait until its release date nears to learn more about her forthcoming character.