Denis O'Hare's American Horror Story Characters Ranked Worst To Best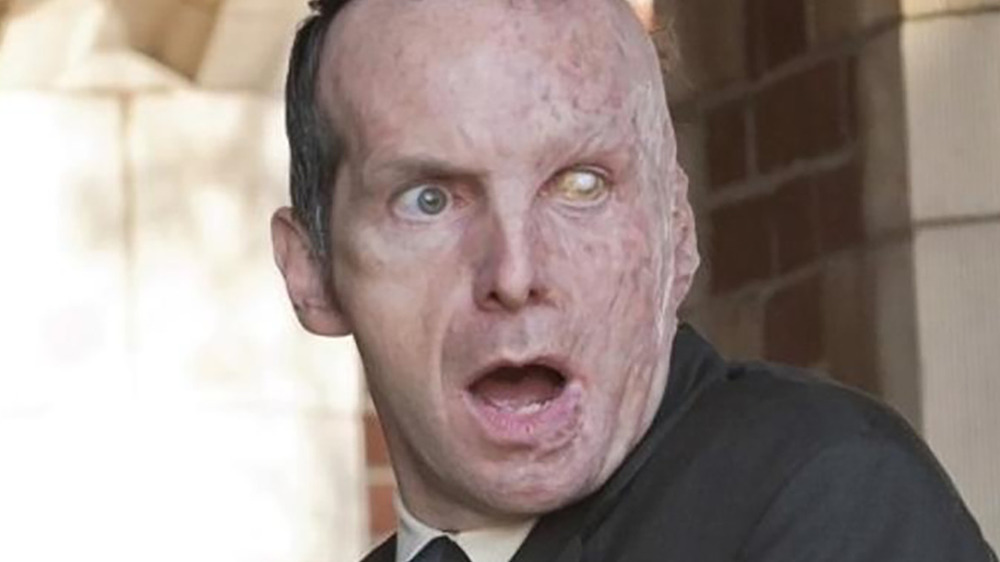 FX
Since the very beginning of American Horror Story, Tony Award winner Denis O'Hare has made appearances in some of the best seasons so far. Specifically, he's been in five seasons, and basically, all of them are brilliant and unique in their own way. But, O'Hare didn't receive his claim to fame as an AHS cast member — he has a résumé full of other notable acting gigs prior to Murder House. From his very first role as Keating in The Young Indiana Jones Chronicles to his appearances in Law & Order and True Blood, O'Hare has proven that his acting skills are versatile and suitable for a series like AHS.
Fast-forward to 2011, and O'Hare had begun his reign on the AHS set. While he hasn't starred in all nine seasons, his roles are memorable and some of the best. Unfortunately, for one reason or another, O'Hare hasn't made an appearance since Roanoke, but on account of his work so far, we can only hope he'll be back very soon.
Roanoke: Elias Cunningham's role was small and mostly an exposition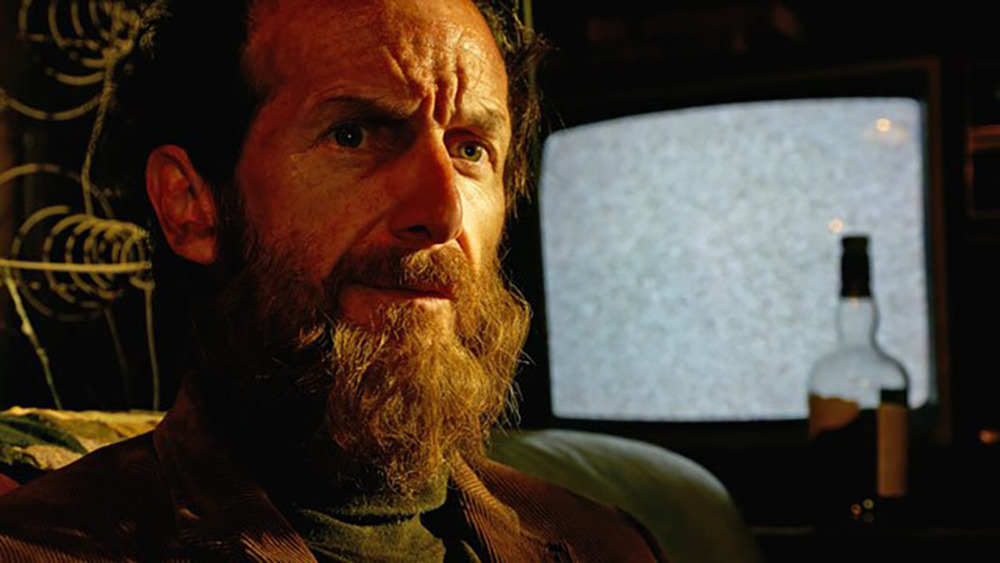 FX
Denis O'Hare's most recent role in AHS arrived in Roanoke. As fans know, this season had a lot of back-and-forth going on, with actors and actresses playing one role and then switching out for another in the faux reality show My Roanoke Nightmare. Overall, O'Hare's role as William van Henderson-turned-Elias Cunningham could've been much better, since his primary purpose was to explain what was going on with the haunted house while telling the story of two other characters, Matt Miller (Cuba Gooding Jr./André Holland) and Shelby Miller (Sarah Paulson/Lily Rabe).
For what it's worth, O'Hare worked with what he was given and reenacted the role of a novelist/educator rather well. Thankfully, his other roles in AHS were much "meatier" and contained the depth O'Hare deserves. To throw an additional bone his way, the reviews for Roanoke were sub-par compared to past seasons, so overall, the whole premise might've been the issue.
Freak Show: Stanley is smarmy and diabolical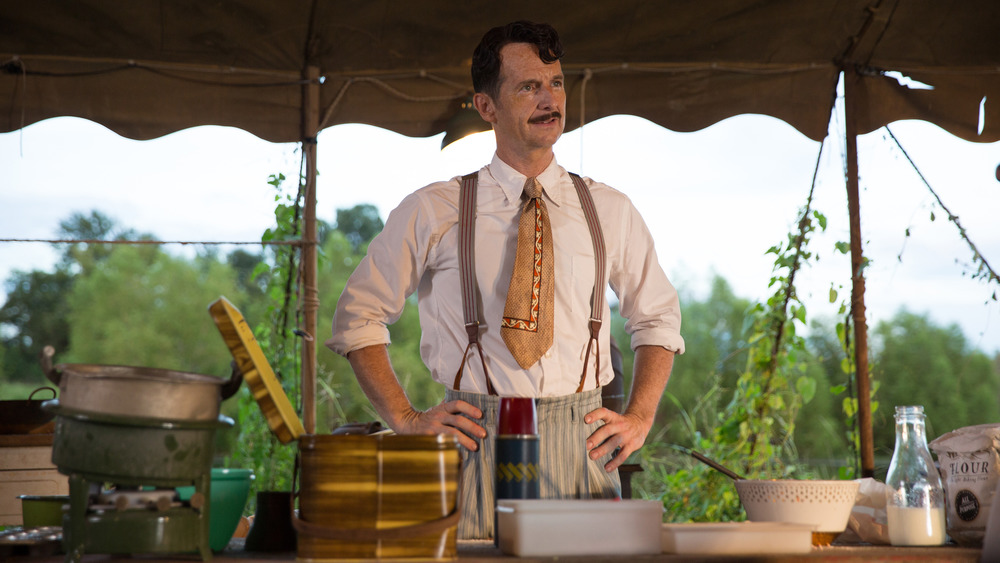 FX
Freak Show received decent reviews for the many memorable characters, including the terrifying Twisty (John Carroll Lynch) and even the storyline as a whole, but without a doubt, the worst type of villain wasn't dressed up as a horrifying clown or a circus performer — it was a good old-fashioned schemer named Stanley, played by Denis O'Hare.
Some of the best villains are made possible because of the actor or actress playing them, but when it comes to Stanley, he's kind of just an annoying con artist. Stanley changes personas when he needs to and doesn't care who he steps on to do it. Case in point: He murders Ma Petite (Jyoti Amge) for a quick buck but gets his karma in the end when he's eventually caught by the "freaks." O'Hare's role of Stanley isn't terrible, but Stanley's constant scheming and plotting gets a little old. In fact, there really isn't any breathing room to have a shred of liking for him. Next!
Murder House: Larry Harvey is bothersome, obsessive, and tragic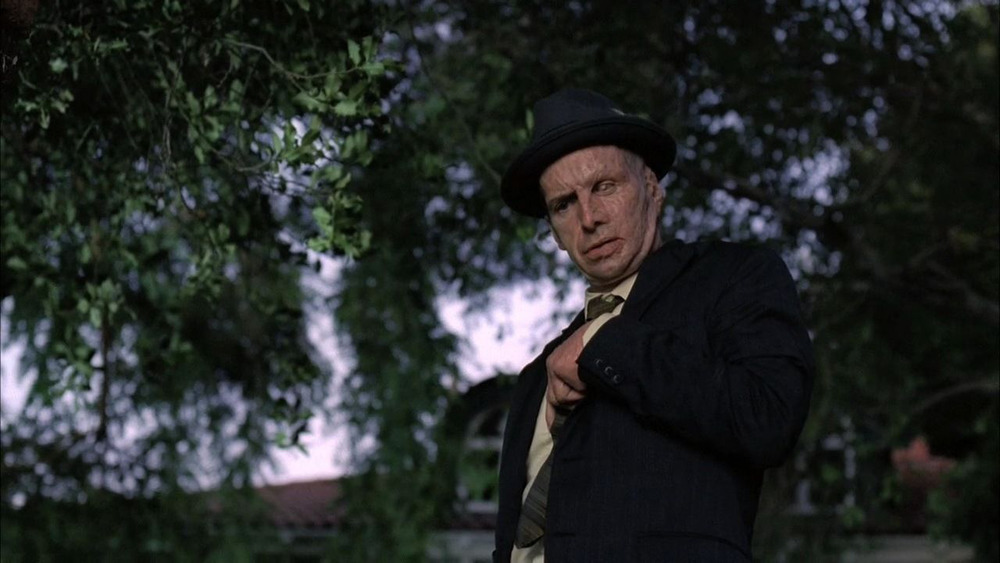 FX
The role of Larry Harvey in Murder House was Denis O'Hare's debut on AHS, and boy, was it memorable. Harvey was a previous owner of the infamous Murder House and has a knack for lying and spinning his past whenever it suits him best. His backstory is tragic but doesn't go without blame on his end. His "affliction" originates from a fire in the Murder House, which was caused by his wife, who douses their daughters' room in gasoline. Why? Because Harvey fell in love with the woman next door, Constance Langdon (Jessica Lange).
Harvey's decay of character was evident throughout the season, and O'Hare delivered when it came to portraying this on-screen. Harvey went from a pest trying to warn the Harmon family of the danger they were in to a psychotic murderer that will still do anything for Langdon. From the excellent makeup effects to the acting, O'Hare's Larry Harvey was a great introduction to what he could provide for American Horror Story.
Coven: Spalding is a loyal servant of the Coven and full of secrets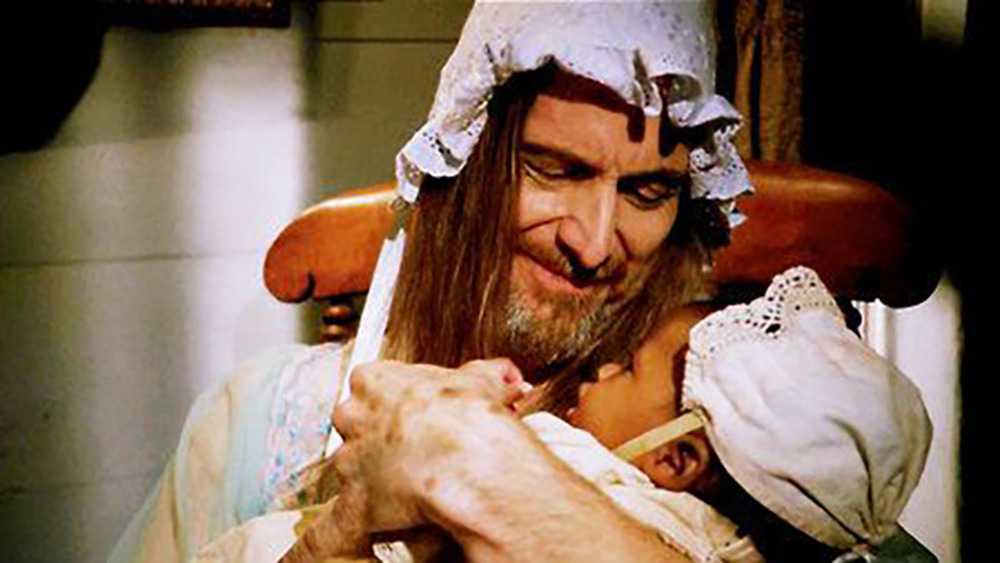 FX
When Denis O'Hare was asked to return to AHS after his stellar performance in Murder House, his next role was a little less ... vocal. Spalding, a butler at Miss Robichaux's Academy for Exceptional Young Ladies, comes from a family of loyal servants of the Academy and seemingly will do anything to keep it up and running. Spalding got really, really good at lurking around the drafty mini-mansion because he became accustomed to the silence. In 1971, he severed his own tongue to prevent himself from having to spill details on a murder Fiona Goode (Jessica Lange) committed. Oh yeah, he's very loyal to Lange in this season as well and also has a slight obsession with vintage dolls, which he keeps up in his attic room.
Even without speaking, Spalding is creepy and knows way too much about the secrets that line the walls of the Academy. O'Hare dove right into this role and made it delectably slimy, which makes it one of his best so far.
Hotel: Liz Taylor is complex, fabulous, and one of the best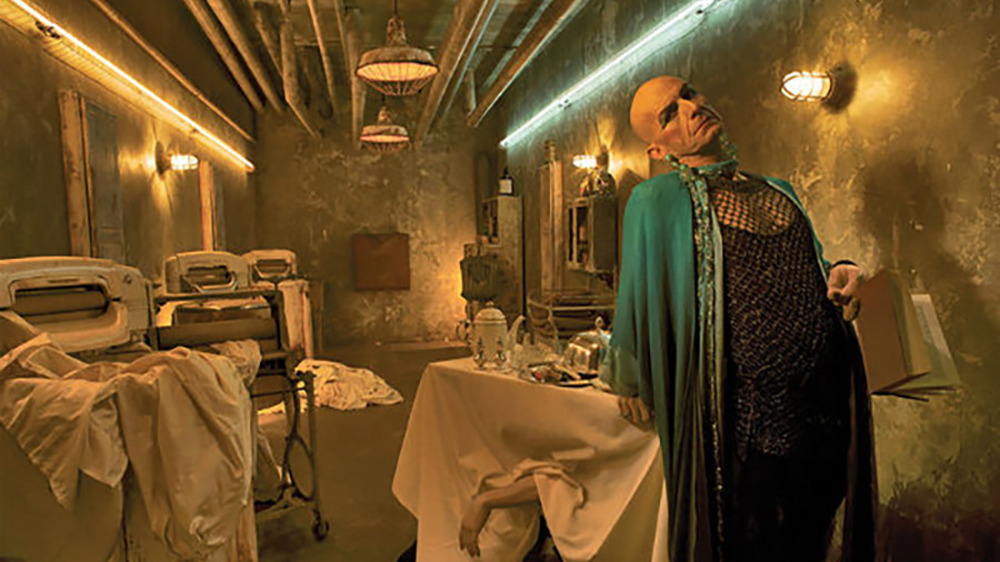 FX
Without argument or doubt, Denis O'Hare's best AHS character to date is Liz Taylor in Hotel. While Taylor is glamorous, beautiful, and the best (and only) bartender of the hotel bar, The Blue Parrot, she also has a tragic backstory. She was once Nick Pryor and had a wife and kids, but when she spends a night at Hotel Cortez, the Countess (Lady Gaga) helps her to realize who she really is and gives her the name Liz Taylor. Taylor doesn't feel safe or accepted in the "real world," but in Hotel Cortez, everyone and everything is welcomed. It's here where she finds her tribe, but some of her tribe consists of ghouls and ghosts that wreak havoc on the guests.
After her loyalty to the Countess falters, she learns she has cancer, and to stay in a place she truly considers home, she allows the Countess to kill her so she can remain in the hotel forever. O'Hare showed true depth as Taylor, and it will be extremely hard to one-up this beloved character from American Horror Story.