DC Fans Are Freaking Out Over The Supergirl Costume In The Flash Movie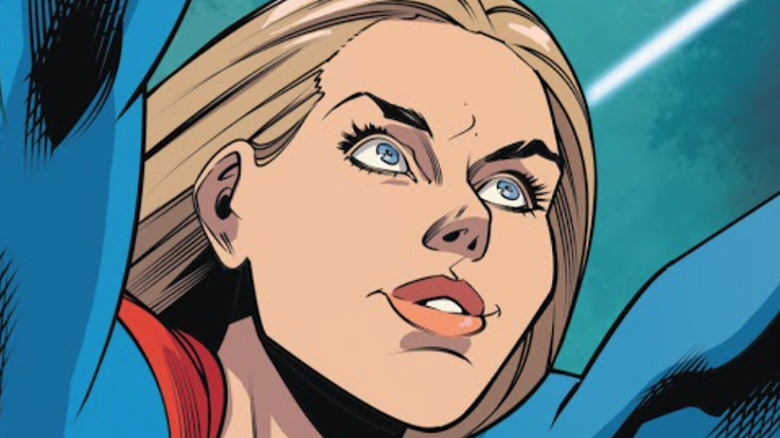 Rachael Stott/Cris Peter
The Scarlet Speedster's solo movie has been in the works for years, with a number of directors attempting to tackle the project before "IT" director Andy Muschietti signed on to put Barry Allen (Ezra Miller) in the spotlight in his own adventure. The story is said to be a loose adaptation of the "Flashpoint" storyline from the comics, which saw Barry face the reality-altering consequences of travelling back in time to stop his mother's murder. When he wakes up in the present day, the Justice League doesn't exist, Thomas Wayne is Batman after Bruce Wayne's death, and Barry has no powers. Long story short, don't mess with the timeline.
Earlier this year, production on "The Flash" finally started, and it's already got some big names attached to it. Both Michael Keaton and Ben Affleck will return to play their respective versions of Batman from throughout the multiverse, while Sasha Calle was announced as the DC Extended Universe's Supergirl back in Februrary 2021. For the moment, it's not clear how she'll be introduced as the Kryptonian hero, but it's pretty exciting nonetheless. 
Andy Muschietti previously revealed a close-up look at the symbols on The Flash's costume and Keaton's Batman suit, but he's now given DC fans a look at the suit Sasha Calle will step into as Supergirl.
A new Kryptonian
Like his previous photos from "The Flash" set, Andy Muschietti took to Instagram to reveal the first look at the Supergirl suit — with a design which matches the costume worn by Henry Cavill's Superman in the DCEU. Not only does the material have a similar texture to the Man of Steel's look, but it's also got a similar flourish that winds through the "S" symbol: "It stands for hope." However, the new suit has one major difference from Superman's.
The upper part of the suit has a bright red design which looks like it will stretch up over Sasha Calle's shoulders. Obviously, this is a pretty close-up image, so we can't see what the full costume looks like. But it's definitely unique enough that it doesn't just look like a simple copy-and-paste job of the Cavill suit. Of course, it would be brilliant to see Calle and Cavill share the screen as their respective Kryptonian heroes at some point in the future, but since there's an upcoming Superman reboot being worked on by J.J. Abrams and Ta-Nehisi Coates, it may not happen. 
For now, let's just be grateful that Supergirl is heading to the DCEU, as the hero hasn't been seen on the big screen since 1984, played by Helen Slater, although Melissa Benoist has done an excellent job of playing Kara Zor-El in the Arrowverse in her own solo series. Hopefully, the director keeps revealing more about "The Flash" as production continues.