Hidden Action Gems On Netflix You Won't Want To Miss
This content was paid for by Netflix and created by Looper.
There's nothing like a good action flick to get your heart pumping. Watching movies with high-octane chase scenes and edge-of-your-seat adventures from the safety of your couch can be a truly invigorating experience. And right now on Netflix, there are a ton of great action flicks that you might be overlooking. Whether you're a fan of traditional action fare — with big heists, extended fight sequences, and brawny villains with muscles for days — or if you prefer to sprinkle your action cinema with elements of fantasy, horror, or even comedy, there's a little something for everyone just waiting to be added to your queue.
As we inch ever nearer to the summer season, there are plenty of great action film choices you might not have seen before that are just one click away from making your day. Here's a look at some of the hidden action gems on Netflix you won't want to miss.
Peppermint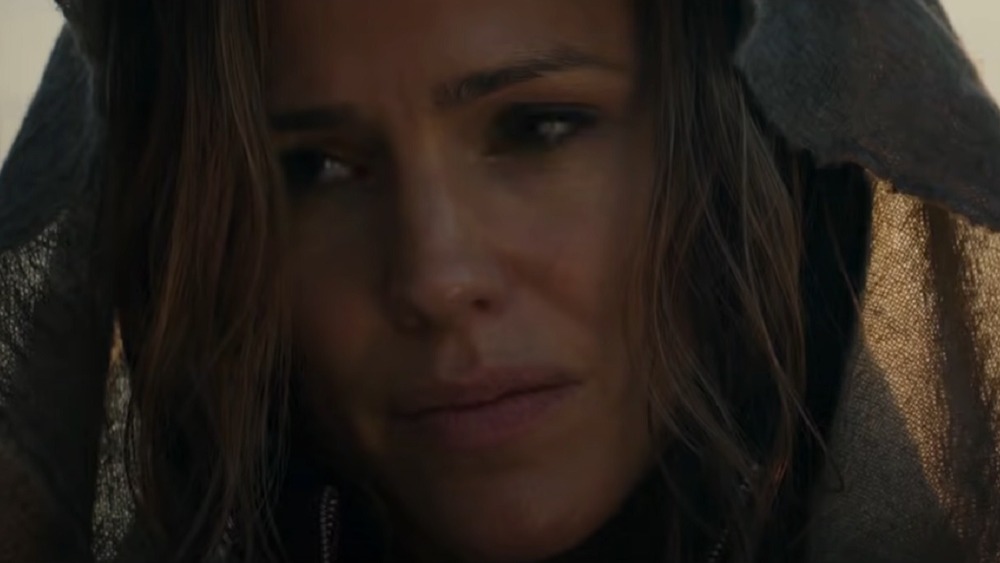 STX Films
If revenge is sweet, then Peppermint ought to satisfy your sugar quota for an entire week. The 2018 film features Jennifer Garner as Riley North, a woman whose life is shattered when her husband and child are killed by the hitmen of a vicious drug boss named Diego Garcia (Juan Pablo Raba). Even though Riley is also badly injured during the attack on her family, she manages to recover and identifies the murderers while she seeks justice through the court system.
Despite her eye witness account, however, Garcia's goons have managed to intimidate and even corrupt many officials in the proceedings, and Riley's testimony is undermined. Once it's clear her family's deaths will not be avenged by the legal system, Riley then goes on the run for several years and only returns when she is ready to deliver some long overdue punishment with her own two hands. As Riley serves up some cold hard justice to those who wronged her, she faces a formidable foe in Garcia, who has eyes and allies everywhere, which makes the events of Peppermint a tasty little dish of vengeance.
Self/Less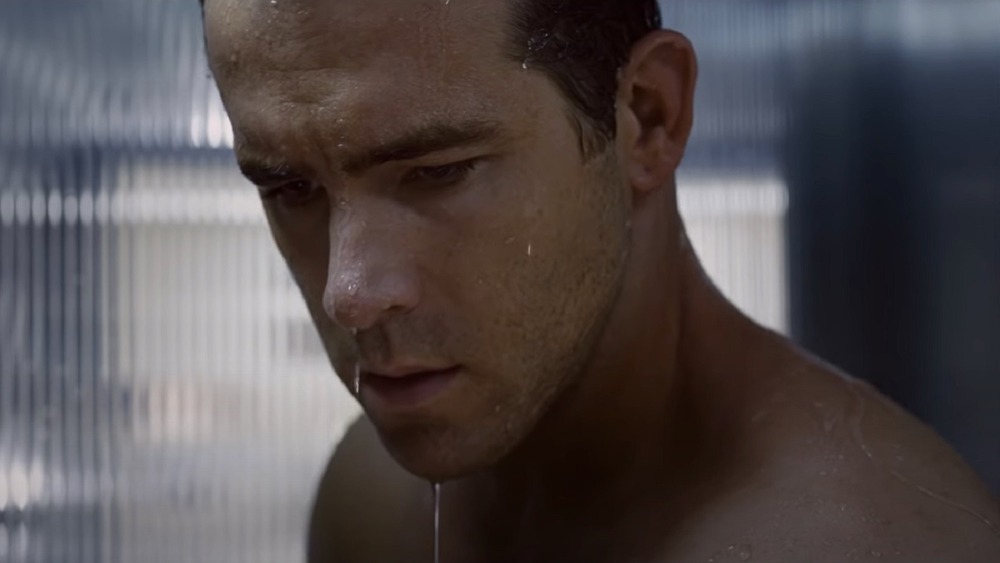 Focus Features
There's no such thing as a miracle healthcare cure, and our protagonist in Tarsem Singh's sci-fi/action thriller Self/Less finds that out the hard way. The 2015 film features Sir Ben Kingsley as Damian Hale, a billionaire who is diagnosed with terminal cancer but is offered a whole new lease on life when he learns of the so-called "shedding" treatment. This secret medical operation transfers his mind into a newer, healthier body, so when Damian wakes up, he finds himself with an all-new physique, with Ryan Reynolds now portraying the revitalized Damian Hale.
The trouble is, this perfect body was not created in a laboratory, as Damian previously believed, but instead belonged to a man whose memories begin to resurface when Damian fails to take his prescribed medications. Damian learns that his body once belonged to a man named Mark, who has a loving wife and child who are very much still alive. Damian must then race against the clock to find out the truth of this novel "shedding" procedure before Mark's mind either takes over or fades from his body altogether. But the people who are behind this elite procedure don't exactly want the gory details of their methods to become public, so Damian is in for a gnarly fight if he really wants answers. Get ready for some serious existential thrills when you queue up Self/Less.
Adrift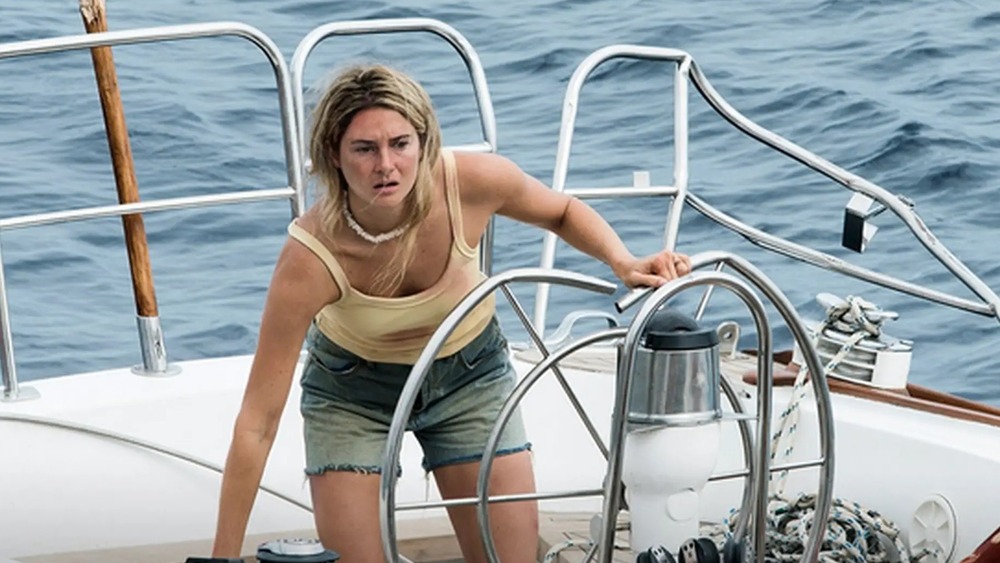 STX Films
There's something especially unnerving about a disaster movie that's based on a true story, and the 2018 film Adrift features one of the most terrifying ordeals of all — being lost at sea with no hope of rescue. The film stars Shailene Woodley as Tami Oldham, a young woman who falls in love with Sam Claflin's Richard Sharp, an avid sailor who is offered a small fortune to sail a luxury yacht from Tahiti to San Diego so it can be sold. Richard invites Tami to join him for this voyage across the ocean, and it's all smooth sailing — until Hurricane Raymond comes along.
As they face the monstrous waves and whipping winds of the storm, Richard sends Tami below deck, and she's knocked out by the commotion. She later wakes up to find herself alone on a battered boat, with no hope of rescue in sight. So even though Tami is a novice at sailing, she'll have to take a deep dive inside herself to find the will and the way to survive. Prepare for heart-pounding action-adventure if you set sail with Adrift.
Mr. Right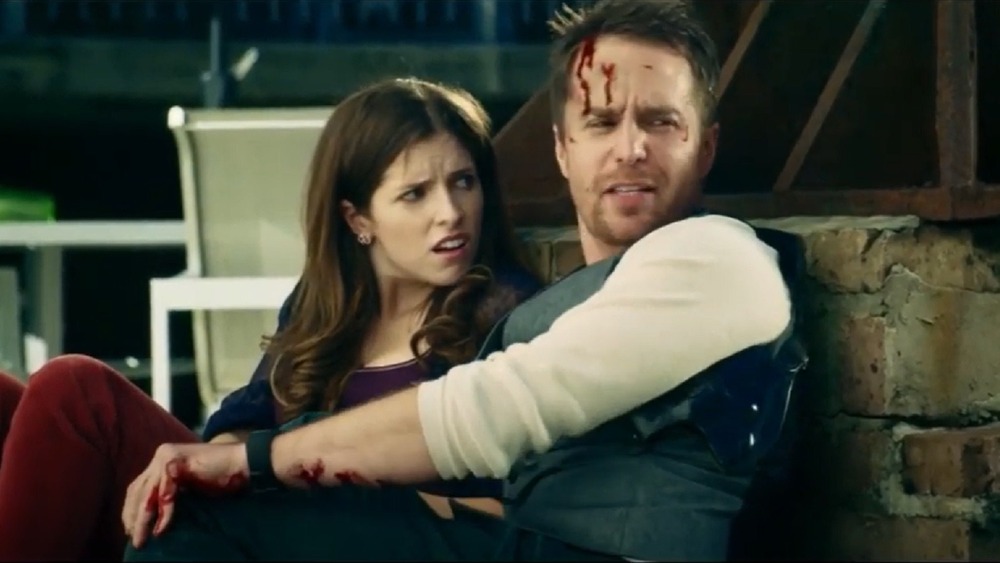 Focus World
For audiences who enjoy a little rom-com flair with their action-adventure stories, Mr. Right is the movie for you. The 2015 film features Anna Kendrick as Martha McKay, a woman who is unlucky in love until she meets Sam Rockwell's Francis Munch. The two have an instant connection, and they oddly bond over their similar precognitive gifts for catching flying knives. Martha thinks she may have finally found the one — until she finds out he's actually a violent hitman.
But Munch isn't just any old hired gun. He just so happens to be an ex-CIA agent and an ex-mercenary. And these days, the only killing he does is of those who try to hire him to hurt others. Naturally, this makes some of Munch's former associates pretty upset with him, and soon both he and Martha find themselves on the defensive, as they have to find out what their new relationship is made of the hard way. Mr. Right gives all-new meaning to "fight or flight," so don't miss out on this thriller with some humor and heart.
Unknown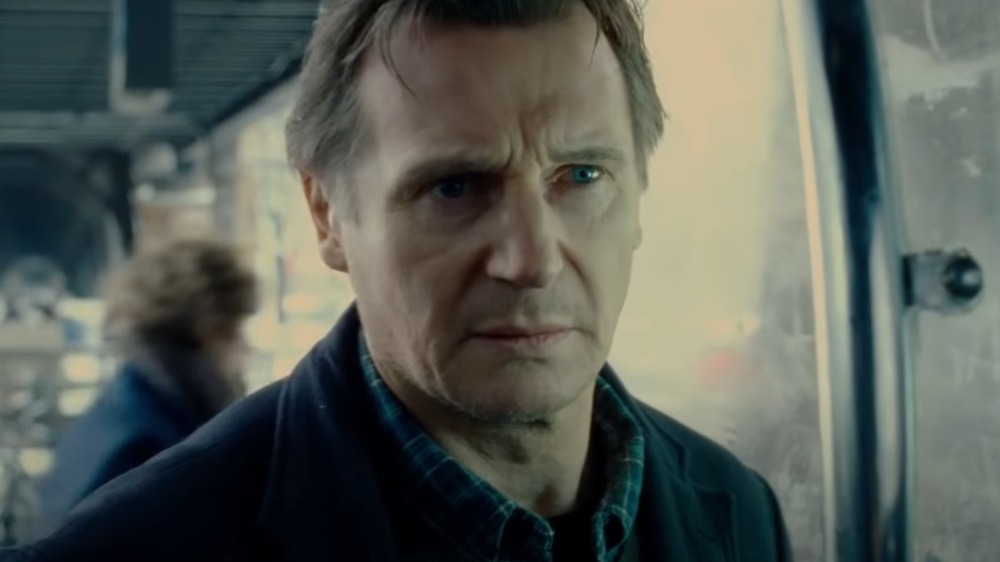 Warner Bros. Pictures
No one plays a man on a dangerous mission in Europe quite like Liam Neeson. The actor stars in Unknown as Dr. Martin Harris, a biotechnologist whose business trip to Berlin gets very bizarre very quickly. After a taxi accident leaves him unconscious for several days, he wakes up to discover his wife has cozied up to another man who claims to be Dr. Martin Harris. Pretty soon, the situation escalates from an unusual case of identity theft into a full-on caper involving everything from an assassination attempt on a prince to genetically modified corn crops that can withstand the worst of climate change.
Neeson is joined by an all-star cast in the film, including Mad Men favorite January Jones as his suddenly estranged wife Liz, Aidan Quinn as the man who takes over his life, Frank Langella as a shady professor, and Diane Kruger as the taxi driver who decides to step up and help Harris get to the bottom of his identity crisis. The film is also the first in a series of Neeson's action-thriller collaborations with director Jauma Collet-Serra, followed by Non-Stop, Run All Night, and The Commuter, so action fans will definitely want to catch this head-spinning adventure.
Double World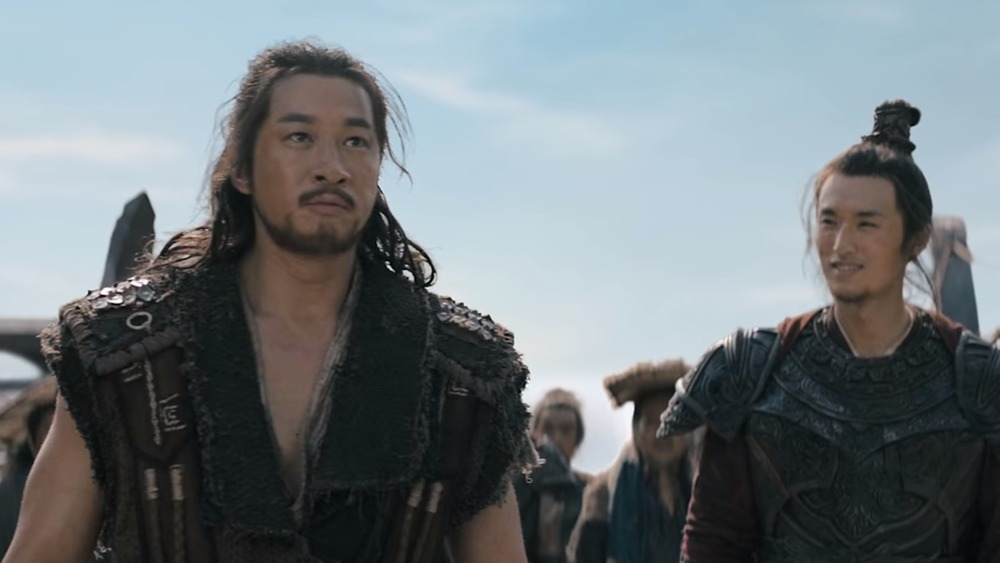 Netflix
This 2020 adaptation of the popular Double World MMORPG game centers on a world in which a delicate peace agreement between the Northern Yan and Southern Zhao regions of a reimagined ancient China is coming to a bitter end. After an assassination attempt on the young king of the South is foiled, three champions from each clan across the kingdom are summoned to compete in a tournament for the chance to become the kingdom's Grand Field Martial.
Representing the cliffside clan of Qingyuan are Henry Lau's orphan boy Dong Yilong, Peter Ho's mysterious warrior Chu Hun, and Chenhan Lin's street thief Jinggang. The film, which was directed by Hong Kong's Teddy Chen, is multi-layered, and tells a story of honor, friendship, and one's ability to shape his or her own destiny. It's also teeming with stunning landscapes, remarkable visual effects, and, perhaps most importantly, a series of riveting fight scenes.
Triple Threat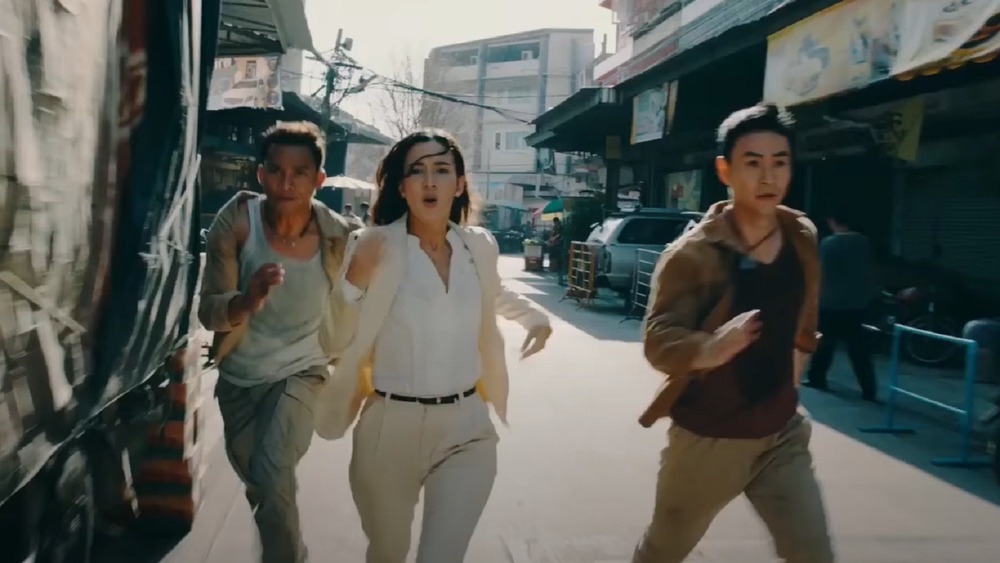 Well Go USA Entertainment
The 2019 martial arts film Triple Threat is stacked with talent and amazingly choreographed action sequences. The film features Tony Jaa and Tiger Chen as Payu and Long Fei, a pair of ex-special forces operatives who are hired by Michael Jai White's Devereaux to complete a humanitarian mission. However, the operation is actually just a cover for Devereaux and his goons to rescue their terrorist leader, Scott Adkins' Collins, by attacking a village full of innocents. Iko Uwais also stars in the film as Jaka, a man whose wife is murdered in the melee and vows revenge against Payu and Long Fei, not knowing that they weren't actually responsible for the violence.
The plot thickens when Celina Jade's rich philanthropist character Tian Xiao Xian comes into town with the intention to help alleviate the local corruption, and soon the trio must unite to protect her from Collins and Devereaux's team while seeking revenge. With its all-star lineup and some very slick fight scenes, Triple Threat is a must-see for martial arts movie fans.
Inside Man: Most Wanted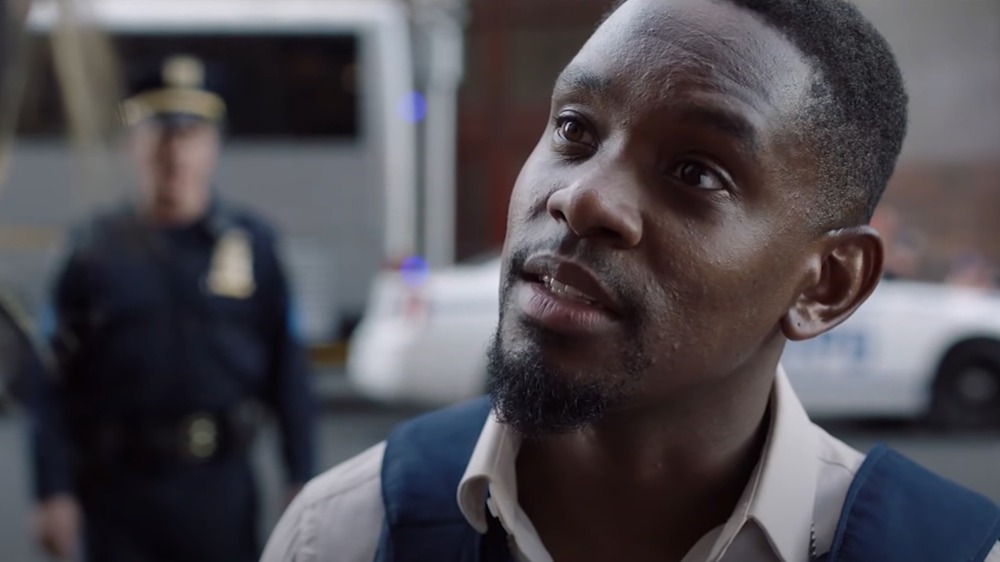 Universal
Taking place five years after the events of Inside Man, the 2019 sequel Most Wanted centers on a new bank heist of the New York Federal Reserve. Roxanne McKee stars as Ariella Barash, the ringleader of the operation who is ostensibly after the bank's stash of gold but has another motivation for committing this crime.
Aml Ameen stars in the film as Remy Darbonne, an NYPD hostage negotiator who joins a joint task force run by Rhea Seehorn's Dr. Brynn Stewart to rescue the hostages of Ariella's heist. Together, the two discover the truth behind Ariella's robbery: She has a family connection to Clive Owen's Dalton Russell, the criminal mastermind of the first film. Dalton has been taken hostage by Greg Kriek's Dietrich, the son of Christopher Plummer's Arthur Case, in retaliation for his father's arrest. So not only do Darbonne and Stewart have to grapple with the serious crime underway, but they must also contend with what's happening overseas with Dalton and Dietrich and how that might further motivate Ariella. With its tense storyline and intriguing cast, Inside Man: Most Wanted is a stirring follow-up to the classic action of the original.
The Outpost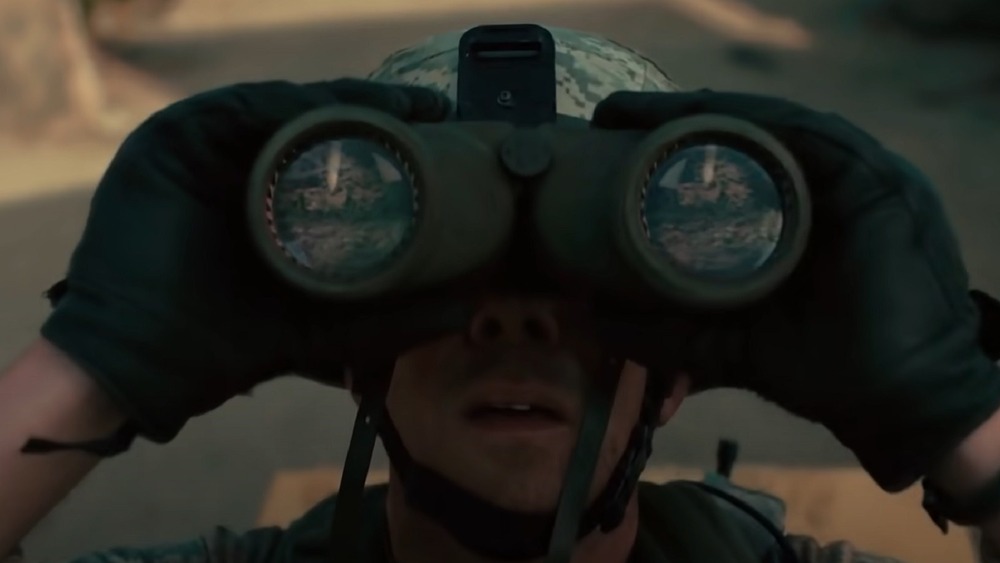 Screen Media Films
Based on the book of the same name by CNN's Jake Tapper, the 2019 adaptation of The Outpost centers on the true story of dozens of brave soldiers who were stationed at a dangerous American Army outpost in Afghanistan during the Battle of Kamdesh. Scott Eastwood, Caleb Landry Jones, and Orlando Bloom lead the cast as some of the key soldiers who were deployed with the unit as they attempted to keep the peace with the neighboring villagers by engaging in trade agreements with the Afghan elders.
However, just as the often-targeted outpost neared closure by the government, the soldiers unexpectedly found themselves surrounded by hundreds of Taliban fighters and insurgents who engaged the soldiers in a bloody firefight where many casualties were suffered. The film offers a breathtaking depiction of this violent conflict, refusing to flinch as it takes audiences through the true events of the harrowing scenario these troops faced in their final hours at this beleaguered base.
Tremors: Shrieker Island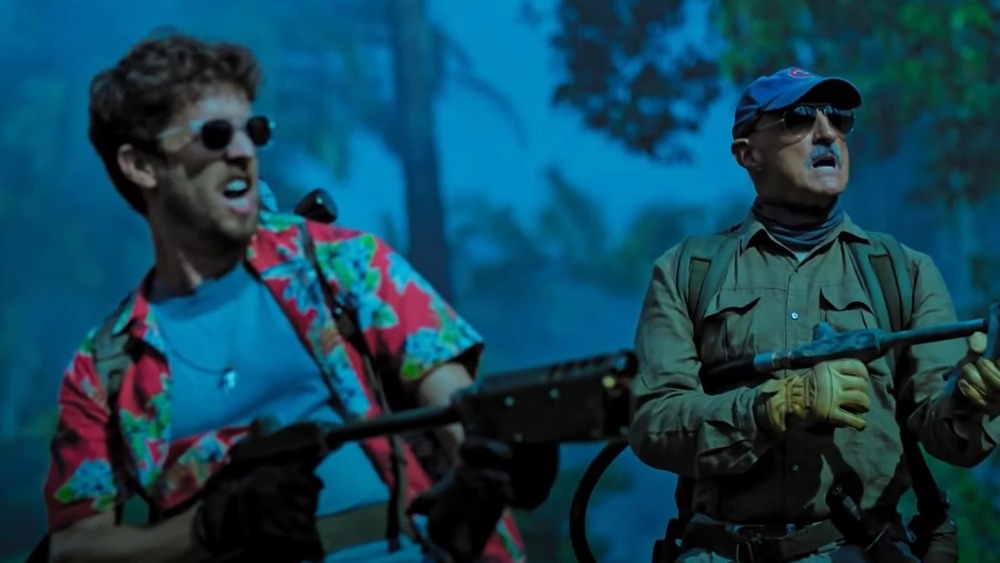 Universal
The Tremors franchise gets a tropical makeover in its seventh and most recent installment, 2020's Shrieker Island. The film features the return of Michael Gross' iconic Burt Gummer as he comes out of retirement to grapple with an all-new group of graboids one last time. The situation is especially sticky for Burt this go-round, as he'll have to deal with a haughty big game hunter who has created an even more dangerous version of the sound-sensitive creatures for his pay-for-play sport. On top of that, Burt's own ex, Dr. Jasmine "Jas" Welker (Caroline Langrishe), is secondarily involved in the misadventures, since works at a research site nearby all the ill-advised activities on Dark Island.
Jon Heder's Jimmy also steps up to help Burt to deal with this new danger, and they soon discover that the hunter's re-engineered versions of graboids are smarter and more deadly than the ones he's used to dealing with. What's worse is they've created an all-new breed of monsters called shriekers, and the slimy sportsman at the center of so much mayhem refuses to back down from his dangerous little enterprise. As with all of the Tremors films before it, the pic is filled with campy fun and action, and it's an especially important installment for Burt Gummer fans. Don't miss it.
Prospect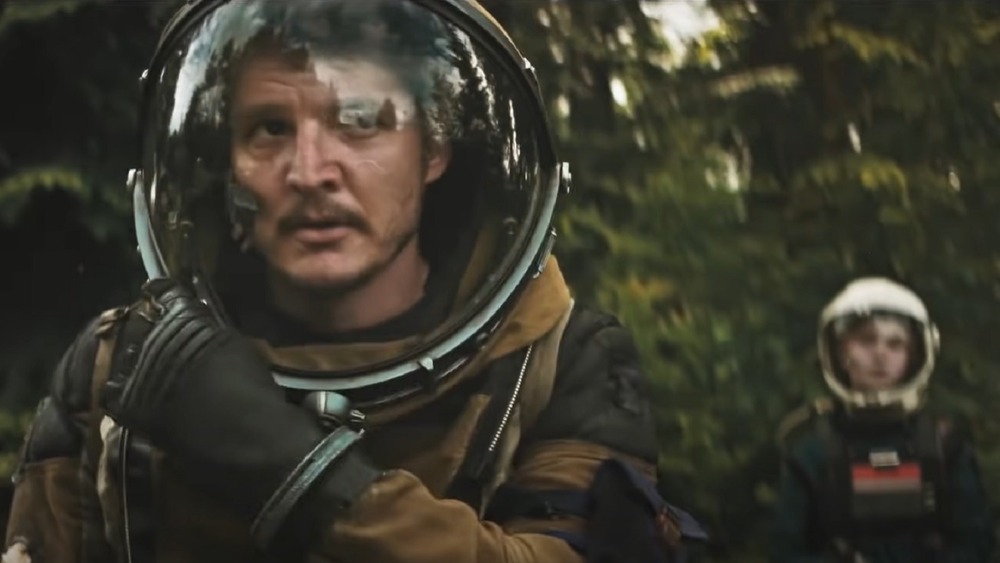 DUST
The 2018 sci-fi/action-adventure film Prospect takes the fight for essential resources straight into outer space, as excavators mine distant moons for precious resources. Pedro Pascal stars in the film as Ezra, a prospector with questionable morals, who partners with Sophie Thatcher's Cee after a robbery-gone-wrong leaves them both alone and in jeopardy on an alien moon. The two decide to work with a group of mercenaries who want them to dig at a dangerous but promising site called the "Queen's Lair." But greed and distrust makes their partnership problematic right from the start.
As they each try to survive this locale with inhabitants who are less than hospitable, the stakes of their success get higher and higher, and soon their digging abilities won't be the only skills that come in handy as they search for a way out. In addition to being a tense and emotional thriller, Prospect also features the kind of unique worldbuilding that truly transports audiences into the story, no matter how far away it takes place.
Hold the Dark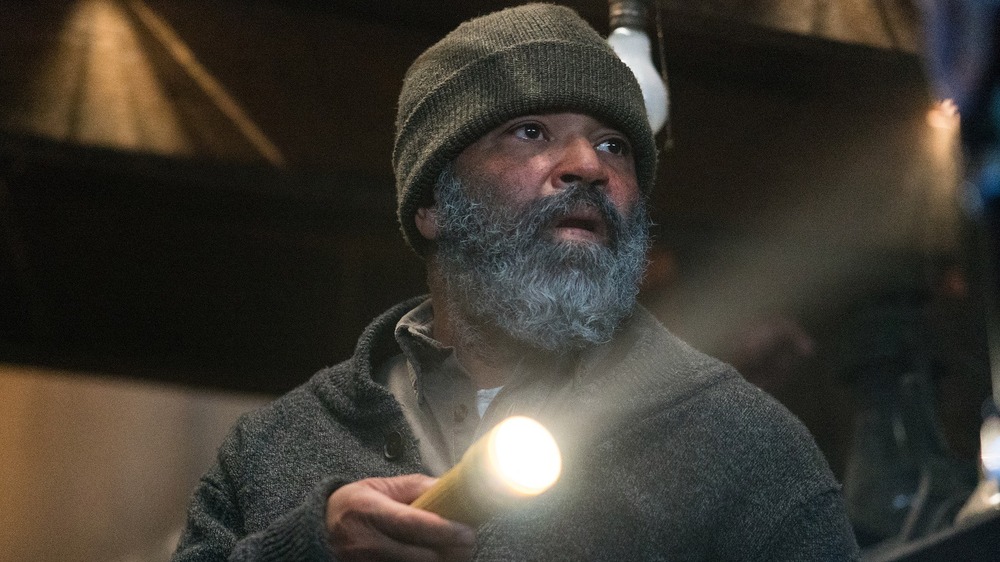 David Bukach/Netflix
The 2018 action thriller Hold the Dark is an adaptation of the hit novel of the same name by William Giraldi and was helmed by Jeremy Saulnier, the director of the critically revered thrillers Blue Ruin and Green Room. Set in a fictional remote town in Alaska, the film features Jeffrey Wright as Russell Core, an expert on wolves who is summoned to study the local wildlife by Riley Keough's Medora Stone, a woman who claims the local wolf population has resulted in three children's deaths, including that of her own young son.
But when Medora's husband Vernon, portrayed by Alexander Skarsgård, returns to town after a difficult war tour and finds out what happened to his child, things take a very violent turn. Fans of Saulnier's previous work will find some similarly gritty and grisly moments in Hold the Dark, but the film digs even deeper into the concept of evil — and how to stop it — with a high-stakes game of cat — er wolf — and mouse driving the action all the while.
Point Blank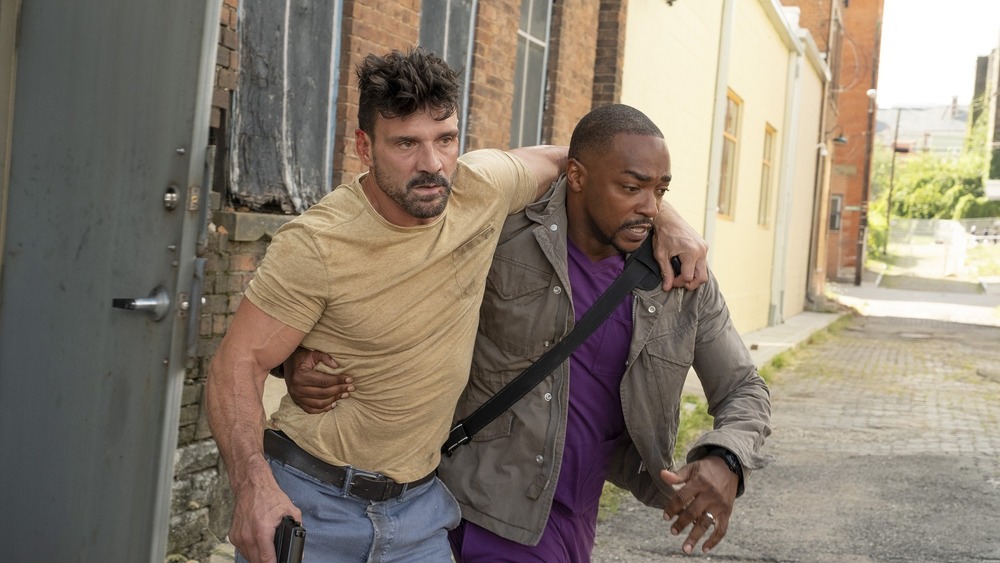 Patti Perret/Netflix
Desperate times call for desperate measures, and that's certainly the case for our hero in 2019's Point Blank. The film features Anthony Mackie as Paul, an unassuming emergency room nurse whose life is turned upside-down when his pregnant wife Taryn, played by Teyonah Parris, is kidnapped. Paul then learns that he has unwittingly become involved in a major underground coverup operation because he was assigned to treat Frank Grillo's Abe Guevara, a man who was injured in a firefight after trying to expose a group of crooked police officers in the city.
Abe's brother Mateo, played by Christian Cooke, has nabbed Taryn in order to coerce Paul to help Abe escape the hospital and his police escorts. But that's just the start of the brutal journey as Paul and Abe join forces to save Taryn and finish what Abe started by getting his evidence about the implicated officers into the right hands. With compelling action sequences and an unlikely alliance at the center of the story, Point Blank is an action feature that'll have you hooked from start to finish.
Burning Sands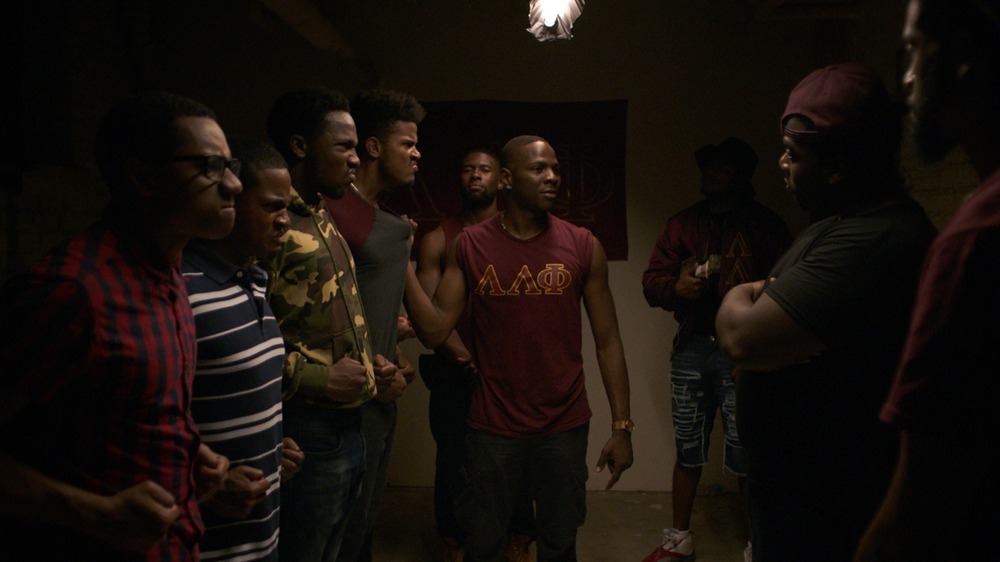 Netflix
The perils of pledging a fraternity are on full display in the riveting 2017 film Burning Sands. The movie centers on the newest recruits for Lambda Lambda Phi at Frederick Douglass University as they endure the trials of their lives to prove their commitment to the brotherhood of the organization. Trevor Jackson stars as Zurich, the leader of his pledge class, who along with his fellow recruits experiences both the highs and extreme lows of vying for a place in Greek life.
But as the pledges try to make it through hell week, they face more than just the threat of humiliation; the hazing rituals also prove to be quite painful and even dangerous. The problem is, even if the students speak up about their concerns, the code of silence in the school runs all the way to the top, as even the dean is an alum of the chapter. So the pledges must choose to either endure these abuses or lose their place in the community they've committed to, and neither option comes with any kind of guarantee. Burning Sands is a gripping look at the strength of brotherhood and the controversial ways those bonds are forged.
Polar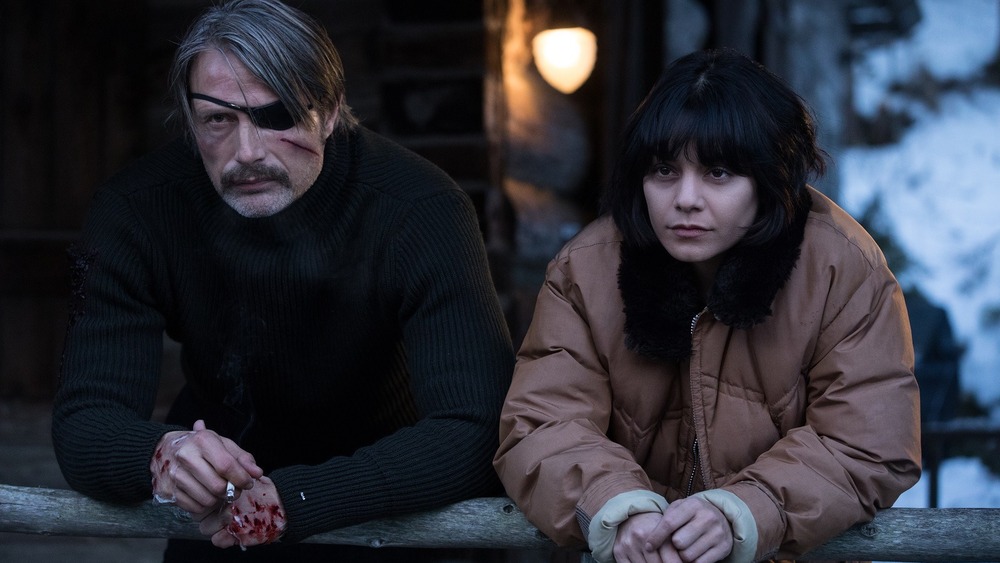 Jasper Savage / Netflix
Most movie fans don't need to be told that it's pretty unwise to pick a fight with any character portrayed by Mads Mikkelsen, but that's especially true in Polar. In this gritty action flick, Mikkelsen stars as Duncan Vizla, a world-class assassin known as the Black Kaiser, who is now attempting to retire to a quiet life in the snowy wilderness of Montana. There, he makes acquaintances with his friendly neighbor Camille, who is played by Vanessa Hudgens, and tries to escape the demons of his past deeds.
However, Duncan is brought back into the business for one final contract overseas — and finds out that it's actually a setup, as his former boss in the Damocles organization of assassins, Mr. Blut (Matt Lucas), plans to have him killed to keep his pricey retirement payout for himself. But the Black Kaiser isn't going to make it easy for his former colleagues to take him out, and the elaborate sequences of events that follow make for a rip-roaring good time to watch.
The Outsider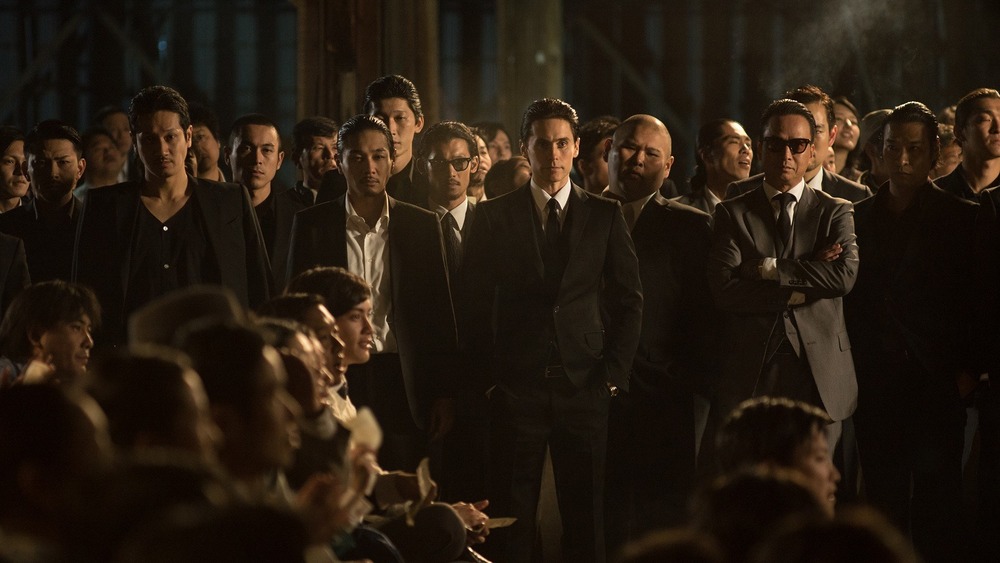 Netflix
Acclaimed director Martin Zandvliet stepped behind the camera for the 2018 action thriller The Outsider, which features Jared Leto as Nick Lowell, a former World War II Marine who, while serving time in a Japanese prison, saves and befriends a man named Kiyoshi, portrayed by Tadanobu Asano. Kiyoshi is an influential member of the yakuza criminal clan Shiromatsu, so his friends spring Nick from jail, and he then decides to join forces with Shiromatsu and proves to be quite a prolific enforcer for the group.
As the Shiromatsu grapple with a bitter rivalry with the Seizu clan, who wish to eliminate the clan in order to expand their own power, Nick finds that his own allies may have questionable loyalties to their patriarch. However, Nick himself is considered an "outsider" by some, due to the fact that he is not Japanese-born, so he must tirelessly work to prove his commitment to the clan, through an increasingly bloody series of confrontations that will keep you on the edge of your seat.
Space Sweepers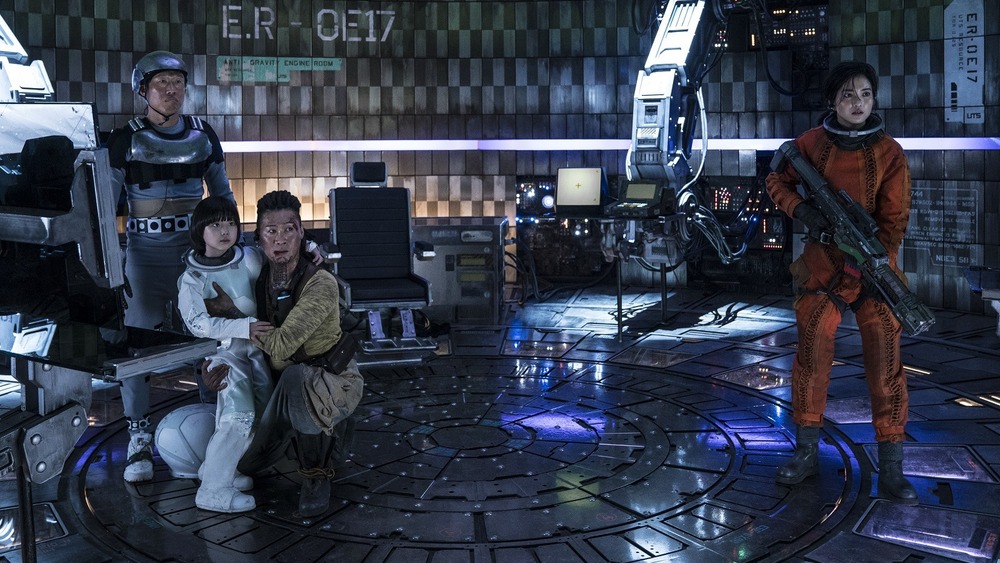 Netflix
Set in the year 2092, Space Sweepers takes place in an era when Earth is no longer habitable. people have moved into outer space to live in a new orbiting epicenter for humanity that's very selective about which members can become citizens. The film centers on a group of misfits on the spaceship Victory who scour space for debris they can salvage and sell to the new corporate colony to make ends meet.
Pilot Kim Tae-ho (Song Joong-ki), Captain Jiang (Kim Tae-ri), engineer Tiger Park (Jin Sun-kyu), and their sassy robot Bubs (Yoo Hae-jin) get much more than they bargained for when they snag a defunct shuttle and find a small child onboard. But this cherubic tot is much more interesting than these space pirates initially expected; they soon discover that the girl is considered to be a deadly robot that's very valuable to the organization at the center of life in space. But as the group attempts to collect a ransom for her life, they learn that there's even more to this little one than that, and soon they become engaged in an intergalactic battle to save themselves and everyone else. With stellar landscapes and sprinkles of humor, Space Sweepers is the sweeping new space western you've been waiting for.
Free State of Jones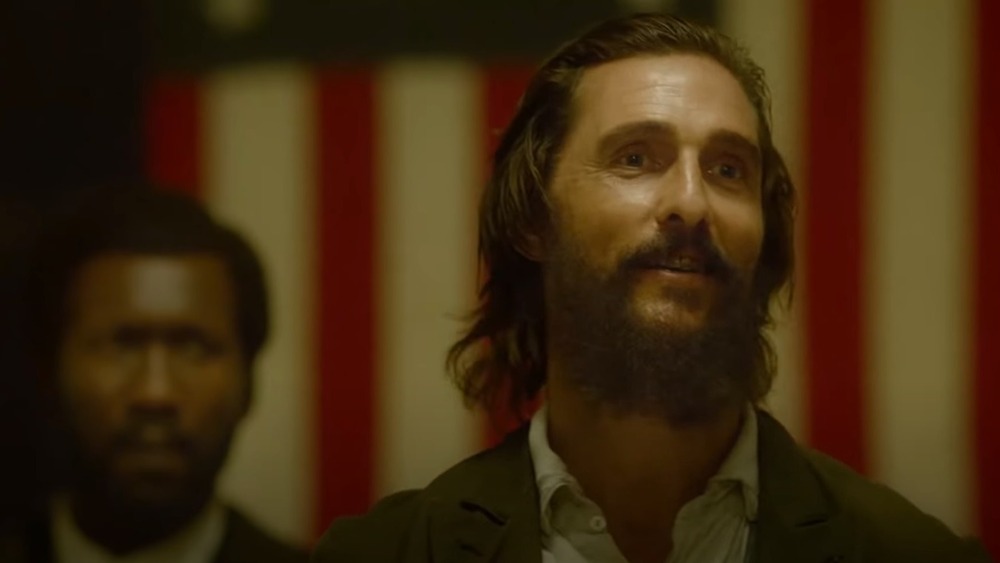 STX Films
Based on the true story of Mississippi revolutionaries who fought back against the encroachment of the Confederate army amid the Civil War, the 2016 action-drama Free State of Jones is a breathtaking production. In the film, which was directed by The Hunger Games' Gary Ross, Matthew McConaughey portrays the historical figure Newton Knight. Knight was a southern farmer who opposed slavery and deserted his post as a medic for the Confederate army after the 1862 Battle of Corinth. Along with like-minded ex-soldiers, he worked with enslaved people who were fleeing for their lives — including Gugu Mbatha-Raw's Rachel and Mahershala Ali's Moses Washington — to carve out their own parcel of land where the rebel army was not welcome.
With tense fight sequences and genuinely emotional character development, the film's depiction of these real-life events is invigorating, showing a group of ordinary folks risking it all to stand by their morals and dedication to liberty at a time when doing so was a truly dangerous, but worthwhile venture.
Seventh Son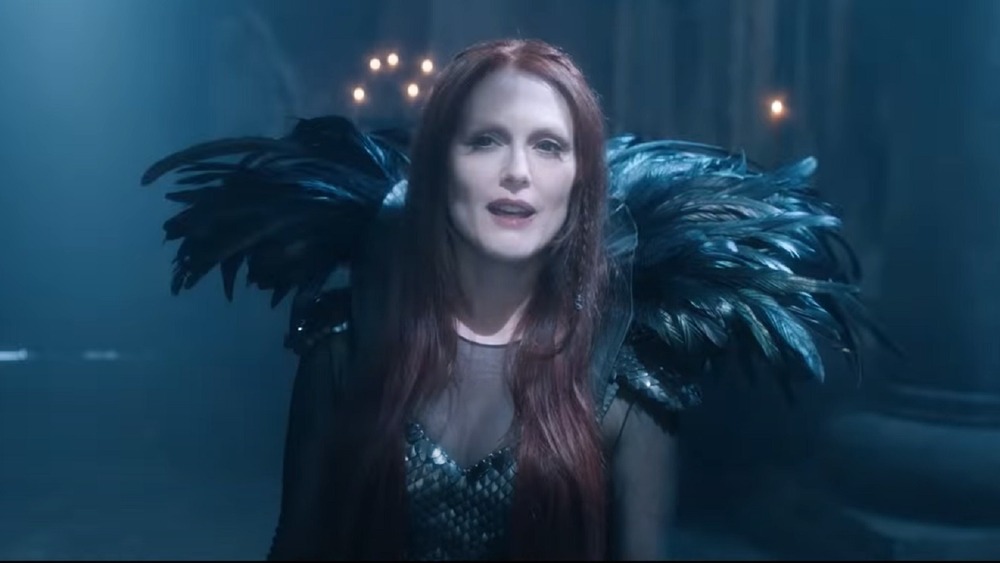 Universal
If you thought Game of Thrones' final season was the only time you'd get to see Kit Harington fight a super-powered dragon, well, you might have overlooked the 2014 fantasy-action film Seventh Son. The film features Julianne Moore as Mother Malkin, a witch who is imprisoned by the Falcon knight Master Gregory, portrayed by Jeff Bridges, but regains her power as a result of the centennial blood moon. Harington appears in the film as Gregory's apprentice William Bradley who, unfortunately, has to grapple with the new and improved Malkin as she takes the form of an influential winged firebreather.
The Seventh Son is partly based on the 2004 novel The Spook's Apprentice and also features Ben Barnes as the titular seventh son, Thomas Ward, who steps up to help take on the increasingly powerful Malkin. But Ward experiences some personal conflicts with the mission when he falls in love with Malkin's niece Alice, portrayed by Alicia Vikander. With a veritable who's who of acting all-stars and some sublime imagery, Seventh Son is a fun fantasy romp that fans of the genre won't want to miss.
American Assassin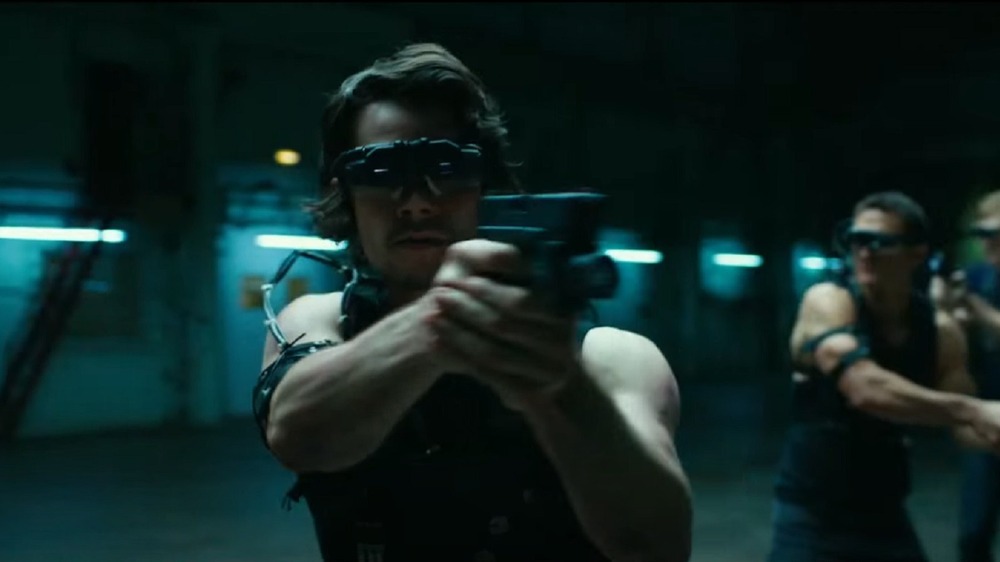 Lionsgate
Dylan O'Brien stars in the 2017 action-thriller American Assassin as Mitch Rapp, a young man who loses the last person he's ever loved when his fiancée is killed during a terrorist attack in Spain. Mitch then devotes his life to getting revenge against the cell which was responsible for the violence, but along the way Mitch accidentally attracts the attention of the U.S. special forces. Instead of finding himself in trouble, Mitch's passions earn him an invitation to meet with the CIA's deputy director, portrayed by Sanaa Lathan, who decides he may be suited to join a secret operatives group led by Michael Keaton's Stan Hurley.
From there, Mitch is trained to become an elite enforcer for the government, signing on to carry out those missions that are the most dangerous and discreet. With nothing left to lose, Mitch soon devotes himself to the cause of course-correcting the world in secret, and he finds himself in some explosive new situations as a result of this work. This tight, well-acted thriller is based upon Vince Flynn's 2010 novel of the same name and breathes new life into the international espionage thriller sub-genre.