The Untold Truth Of Matthew McConaughey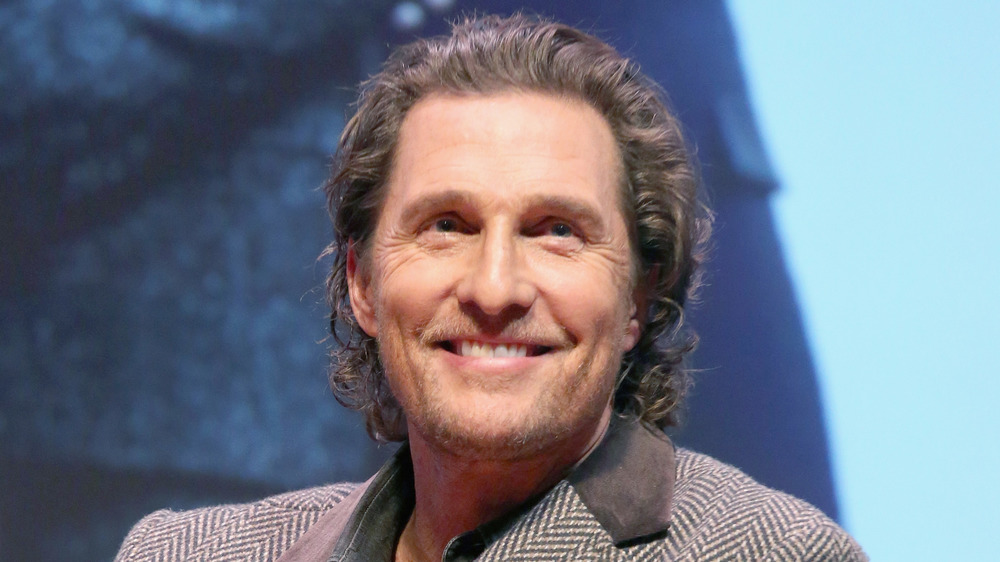 Gary Miller/Getty Images
Matthew McConaughey, currently one of Hollywood's most in-demand and celebrated leading men, has played every sort of role under the sun. He portrayed a go-with-the-flow stoner in Dazed and Confused, a shirtless leading man in countless early '00s romantic comedies, a cowboy with AIDS in Dallas Buyers Club, and a bereaved astronaut in Interstellar. And yet, he's as famous for his real-world persona (and his inimitably friendly Texan drawl) as he is for his actual career.
Everything about him may scream "effortless cool," but life hasn't exactly been a walk in the park for Matthew McConaughey. From his rough childhood in a dysfunctional home to his early career struggles, he's lived a fascinating and sometimes frustrating life. We've got the full, untold story on Matthew McConaughey right here. And hey, look at us! We made it through a whole intro about Matthew McConaughey without saying "Alright, alright, alright" ... oops.
McConaughey's father almost played for the Green Bay Packers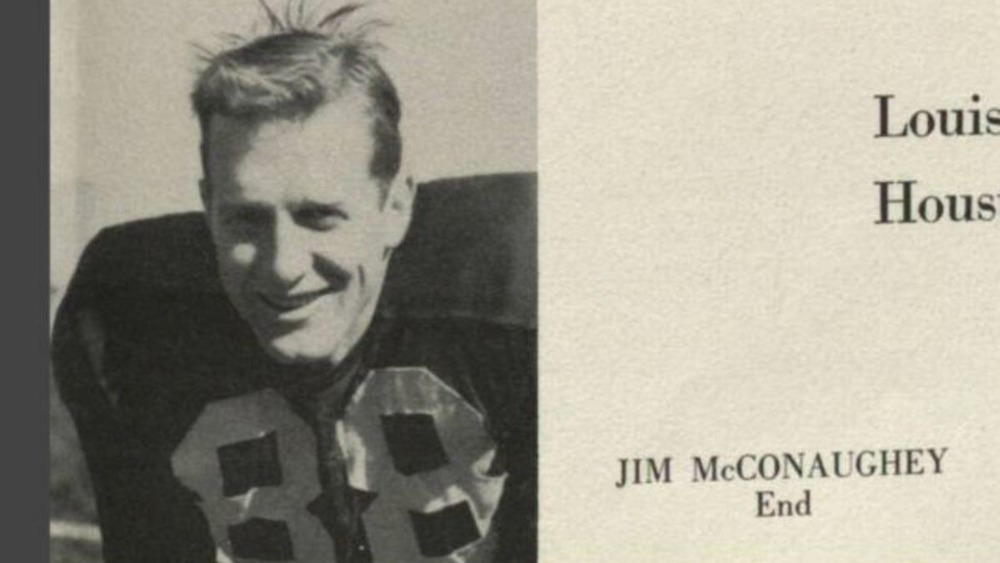 Matthew McConaughey's ties to good ol' American football go back surprisingly far. His father, James Donald "Jim" McConaughey, played some serious ball back in the day. Before running an oil pipe supply business (which he was doing when Matthew was born), the Mississippi-born, Louisiana-raised Jim had played for both the Kentucky Wildcats and the Houston Cougars college football teams. And guess what? He wasn't half bad, either.
In 1953, Jim broke his streak of playing for teams named after big cats by becoming a 27th round draft pick for a little team from up north, known as the Green Bay Packers. Yes, Matthew McConaughey's pop was drafted into the NFL, and was even selected two spots ahead of future Hall of Famer, left tackle Rosey Brown. Sadly, his football dreams went no further: Jim was released before the 1953 season actually began, having never played a professional game. Still, though — how many people can say they made it that far, or even close to it? We say the McConaughey family has earned its pigskin bragging rights, and then some.
McConaughey's parents got married to each other three times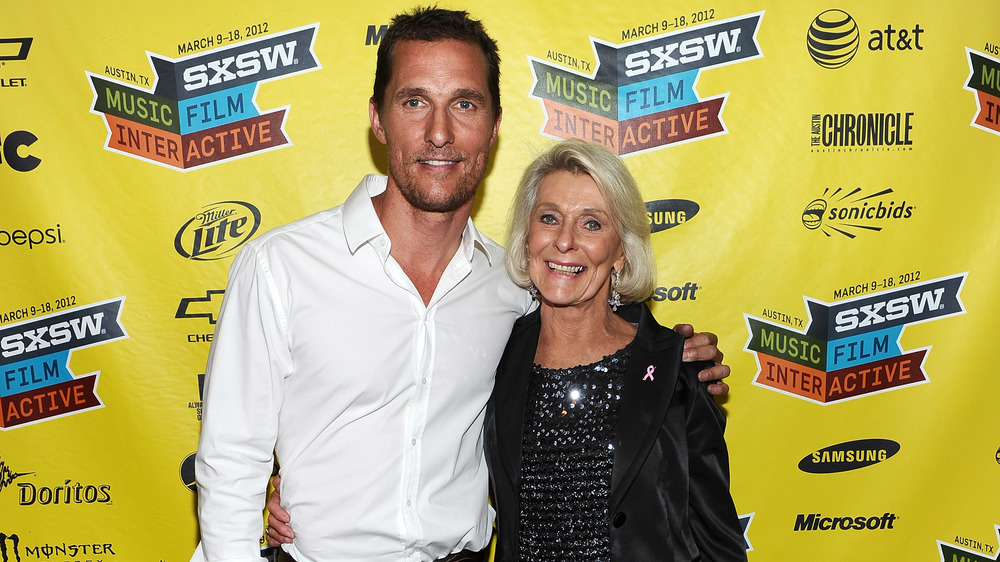 Michael Buckner/Getty Images
As McConaughey told Barbara Walters in 2006, his parents formed an explosive duo. "Both of them at different times said, 'Well son, I love your mother. Six days a week," he recounted, "and Mom said the same thing, 'I love your father six days a week.'" He went on to explain that the oft-used quip didn't mean they hated each other on the seventh day, but that, in his words, "You gotta have time for yourself, you can't lose yourself."
That's a lovely sentiment, but the McConaughey household was clearly an intense one, given the fact that Matthew's parents were married to each other three different times. That's right: They divorced twice over the course of their relationship. Still, they did keep finding their way back to one another, and there's certainly something sweet about that.
After reading the various stories about her and her late husband contained in her son's memoir, Greenlights, Matthew's mother, Kay McConaughey, reportedly said that she wished "[he] would've added some more of the times when [they] were sitting around hugging and having a great time, which was 99 percent of the time."
McConaughey's acting career began with commercials and uncredited roles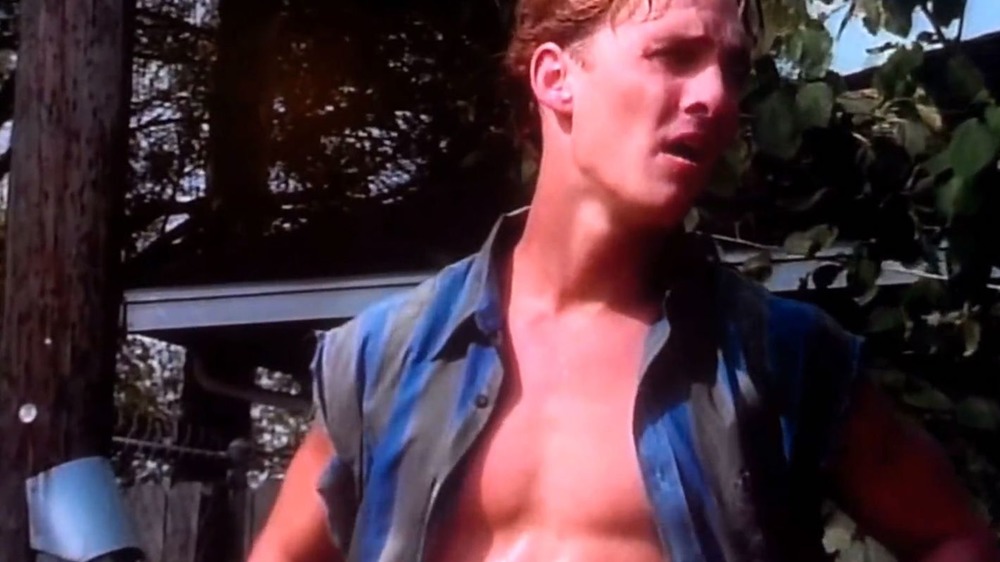 It's probably not surprising, but Matthew McConaughey, currently one of Hollywood's premiere leading men, started his acting career in commercials, music videos, and uncredited extra roles in the late '80s and early '90s. Everyone's got to start somewhere, right? Here he is as a nameless boyfriend in Trisha Yearwood's 1992 music video for "Walkaway Joe." Here he is as Larry on the original incarnation of Unsolved Mysteries, from later that same year. The summer after that, in 1993, he played the unforgettably named Guy 2 in Bob Balaban's black comedy zombie flick My Boyfriend's Back. It was McConaughey's first credited movie role — if you can call "Guy 2" a credit.
That, it turns out, was one of the last times he'd play a nobody. A few months before that movie was released, McConaughey ran into a hot-shot casting director at a bar, who'd tapped Sean Penn for Fast Times at Ridgemont High in the mid-'80s. The two hit it off, and McConaughey ended up being cast alongside fellow up-and-comers Ben Affleck, Ron Livingston, and Renee Zellweger in a little flick called Dazed and Confused. The rest, as they say, is history.
McConaughey's big break in Dazed and Confused was unplanned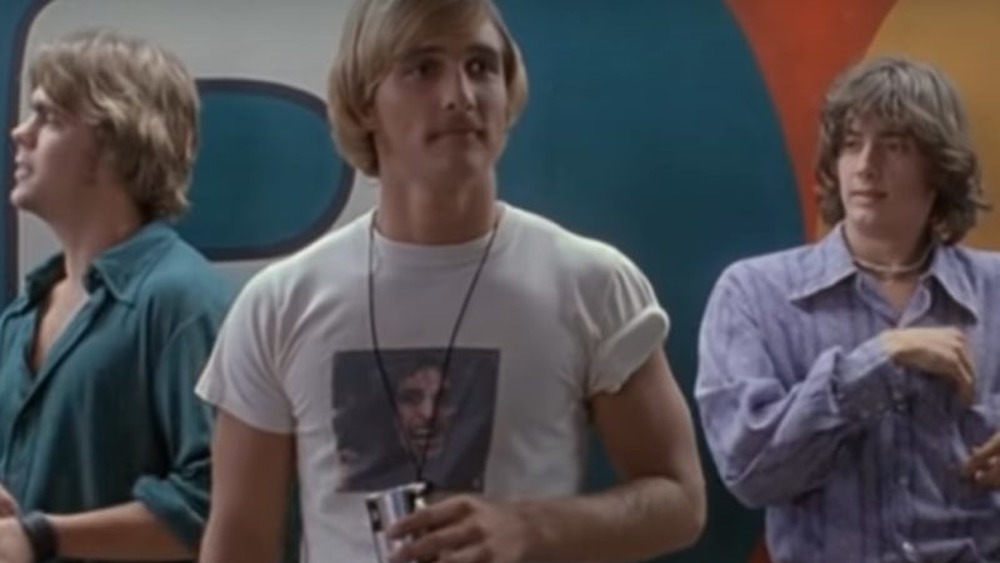 1993's Dazed and Confused is a comedic coming of age film centered on a group of high schoolers just trying to have a good time. The movie features an ensemble cast that's a whole lot more impressive now than it was then, including future megastars like Ben Affleck, Renee Zellweger, Milla Jovovich, Ron Livingston, and more. 
McConaughey had a double dose of career-defining good luck regarding the movie. First, he was only cast in it after unexpectedly running into the film's casting director at a bar. The two hit it off instantly, drinking and having a blast for several hours before the bouncer escorted them out. Second, another actor, Shawn Andrews, had been difficult to work with on set. "There was another actor [Shawn Andrews] who was kind of the opposite [of McConaughey]," director Linklater later recalled to Maxim. "He wasn't really getting along with everybody. I could tell the actors weren't responding to him." At one point, Andrews got into a fistfight with another actor, Jason London, who played a lead role. It was the final straw.
Andrews wasn't fired, but the decision was made to drastically reduce the presence of his character, Kevin Pickford. This led to a screen time vacuum that was ultimately filled with McConaughey's David Wooderson.
Much of Wooderson's character was improvised on the spot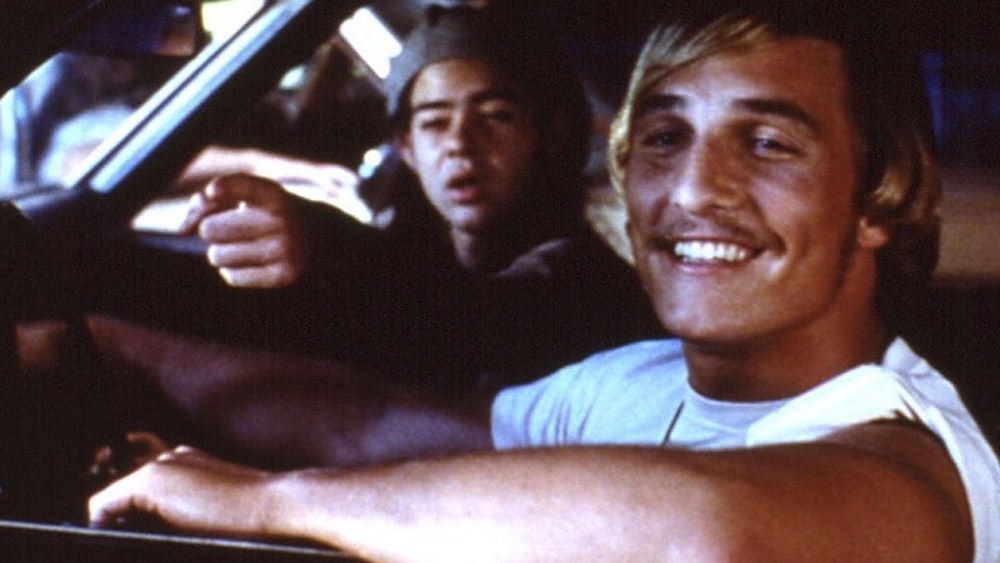 All of Richard Linklater's Dazed and Confused is well worth watching. But many of its most memorable moments come from McConaughey's Wooderson character: A stoner 20-something who's never moved on from the local high school party scene. As he so infamously says, "That's what I love about high school girls: I get older, they stay the same age. Yes, they do." Gross, but memorable. Either way, only McConaughey and his iconic Texas drawl could take a loser like that and make him work. The character is perhaps most famous for his "Alright, alright, alright" line, which has since become McConaughey's unofficial catchphrase, as well as saying, "You just gotta keep livin', man: l-i-v-i-n."
Thing is, none of those lines were scripted. None. There simply wasn't enough time to adjust the script to properly accommodate the last-minute decision to elevate McConaughey's character in the film. So he ad-libbed — a lot. This, combined with last-minute lines written by Linklater, proved to be a solid solution. Following the movie's commercial and critical success, McConaughey found himself in a whole new world. His days of commercials were behind him, and true stardom awaited.
McConaughey and his mom had a rough patch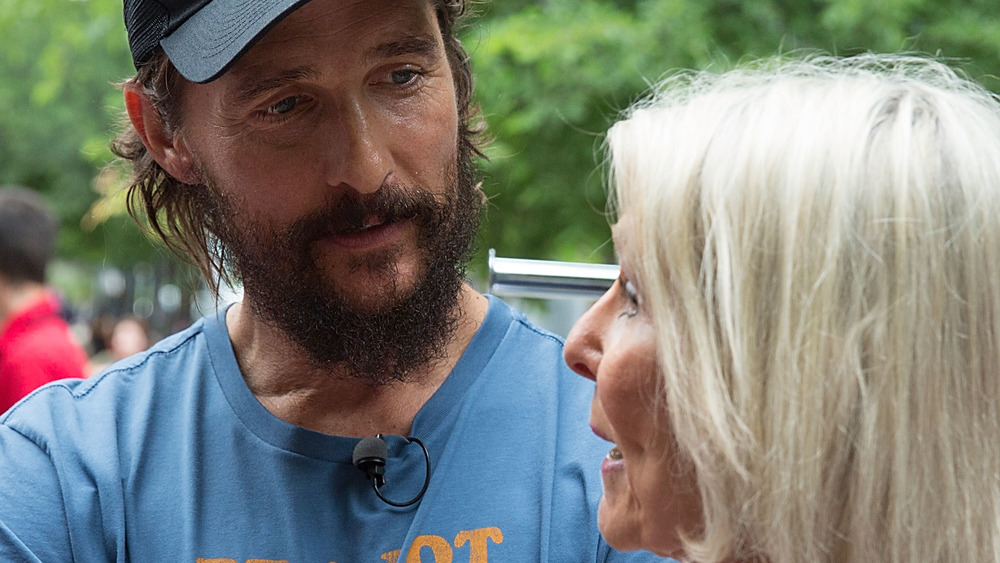 Rick Kern/Getty Images
McConaughey sat down for a 2020 episode of Red Table Talk and told hosts Jada Pinkett Smith, Willow Smith, and Adrienne Banfield Norris all about his painful, eight-year-long estrangement from his mother, Kay McConaughey. "As soon as I got famous after A Time to Kill, I started to have my weekly Sunday call home," McConaughey said. "Mother wasn't answering the phone. A fan of my fame was answering the phone."
Much of the story, along with countless others from McConaughey's life, can be found in his memoir, Greenlights. At one point, his mother invited a camera crew for the show Hard Copy into the family home. She later told a livid Matthew she didn't think he'd find out. The incident was a final straw that ended communication between the two for nearly a decade. "There were years there where I would not share things with her because I was, you know, again, finding my own balance," McConaughey said. "I was like, 'Look, mom, loose lips will sink ships. There are a lot of people that would like to know these things and it's none of their business.'"
Today, Kay McConaughey has admitted that she had indeed been enjoying her son's fame more than he was. Fortunately, the two have since come to an understanding and reconciled.
McConaughey got arrested for playing the bongos while naked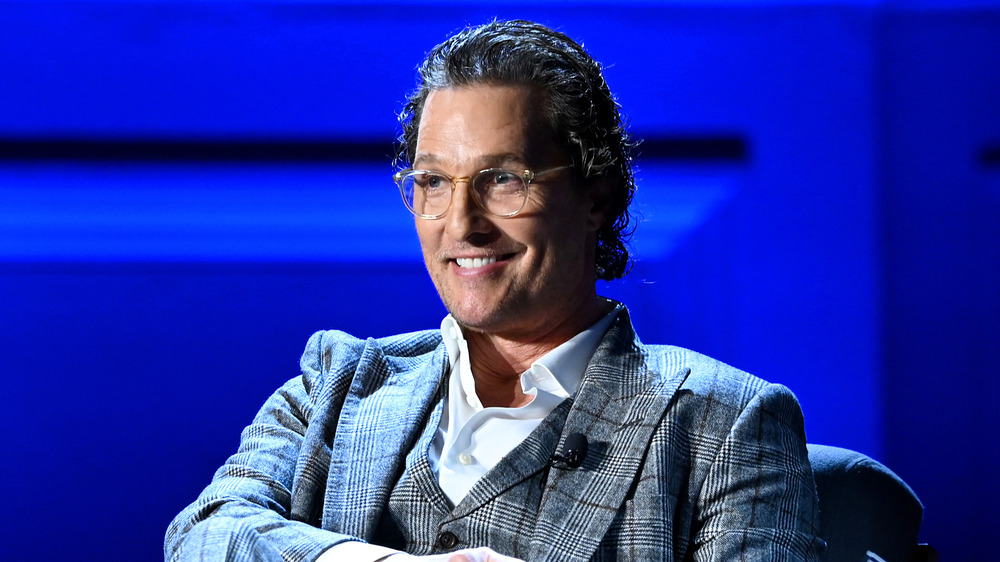 Noam Galai/Getty Images
Greenlights, Matthew McConaughey's 2020 memoir, includes a hysterical story about the 1999 incident in which the then-rising star was arrested while high and naked in his home, playing the bongo drums at 2:30 AM. He writes, "What I didn't know was that while I was banging away in my bliss, two Austin policemen also thought it was time to barge into my house unannounced, wrestle me to the ground with nightsticks, handcuff me and pin me to the floor."
He makes a note of explaining that he refused to cover up while the arrest unfolded, shouting and cursing at the officers for barging into his home. "Before I'd taken three steps up the wall, the Cornhusker body-slammed me back down onto the brick footpath," he goes on, before describing the prompt arrival of six more squad cars and the gathering of his neighbors on their porches to see what the commotion was all about.
Ultimately, the charges were dropped after McConaughey paid a $50 fine. But the real price (or reward, more accurately) was the media attention. The incident made headlines around the world, became instantaneous tabloid fodder, and even inspired "Bongo Naked" t-shirts.
McConaughey almost got DiCaprio's role in Titanic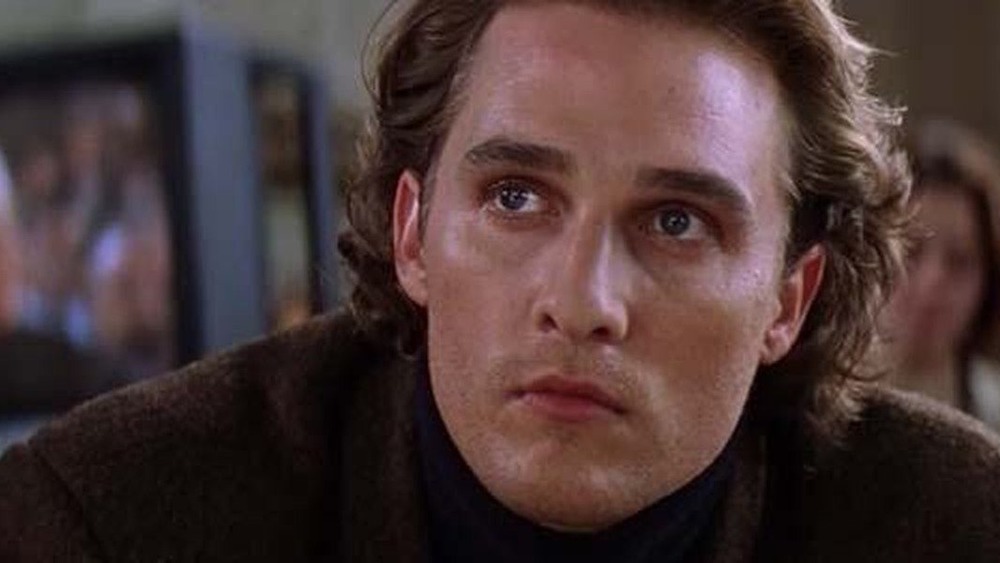 Unbeknownst to many, Matthew McConaughey came very close to clinching the lead role of Jack in one of the most popular and successful films ever made: James Cameron's 1997 historical romance epic, Titanic. "I auditioned with Kate Winslet," McConaughey said in 2018. "Had a good audition. Walked away from there pretty confident that I had it."
Obviously, it didn't happen. According to Cameron, he'd been satisfied with McConaughey's audition, but couldn't ignore the reaction of the women in the building when Leonardo DiCaprio strolled in to read for the part. "Matthew read for the part and then we met Leo," Cameron later recalled. "Leo came in for an interview and I had this weird thing: I looked around the room and every woman in the building was in the meeting ... the accountant was there, the female security guard, so I thought maybe I better cast this guy."
Clearly, McConaughey didn't take it too hard or get down on himself about his looks. He spent much of the following decade as one of the most in-demand leading men for romantic comedies, and it's hard to grab those parts if you're hard on the eyes.
McConaughey lost a beloved dog to cancer in 2006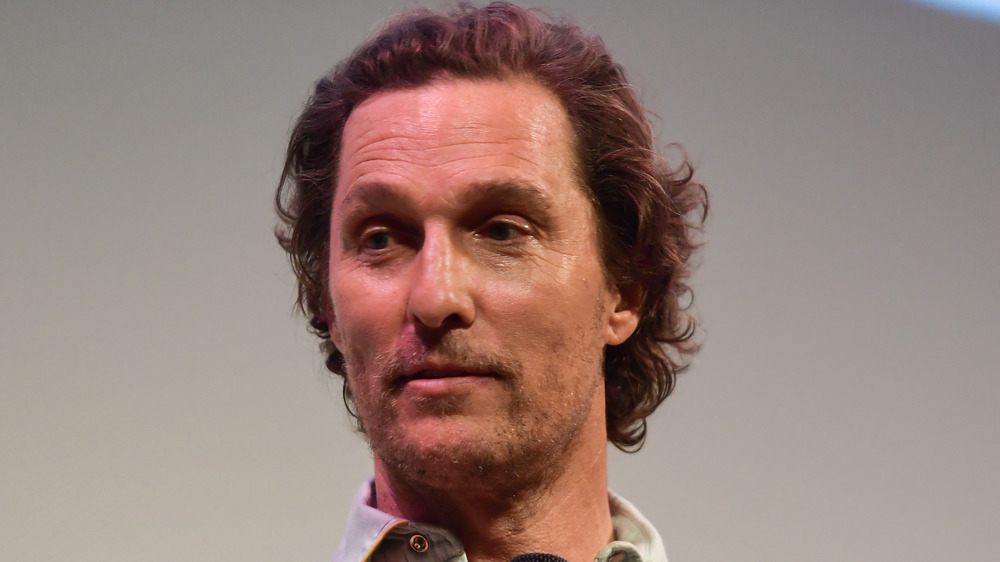 Matt Winkelmeyer/Getty Images
Dogs rarely outlive their owners, but that doesn't make losing them any less painful. For 12 years, Matthew McConaughey was best friends with a Labrador and Chow-Chow mix named Ms. Hud. In fact, "best friends" hardly seems adequate: The two were truly inseparable during this period, often traveling the country together. Sadly, the dog's health began to deteriorate in the mid-2000s. "We had a trip from California to Florida and back when the dog felt bad," McConaughey later recalled. "She was diagnosed with cancer in a veterinary clinic in Louisiana. On the way back we had to amputate her front paw. Then we were sailing on one river in Texas, Ms. Hud was feeling just fine, but when we returned home, she woke me up during the night, as if to say 'Hey man! ... I need a little help ...'"
By the time McConaughey took her to a hospital for treatment, her hind legs had been paralyzed. The doctors offered to amputate those legs in a last ditch effort to save the dog's life, but McConaughey knew he was only prolonging her suffering. "I asked: 'Ms. Hud, do you want to be a one-legged dog?' She seemed to answer me, 'Let me go my own way,'" the actor lamented, "And I had to let her go."
He's had a few beloved pets since, but by his own admittance, getting over Ms. Hud took time.
McConaughey was typecast as a rom-com leading man by the early 2000s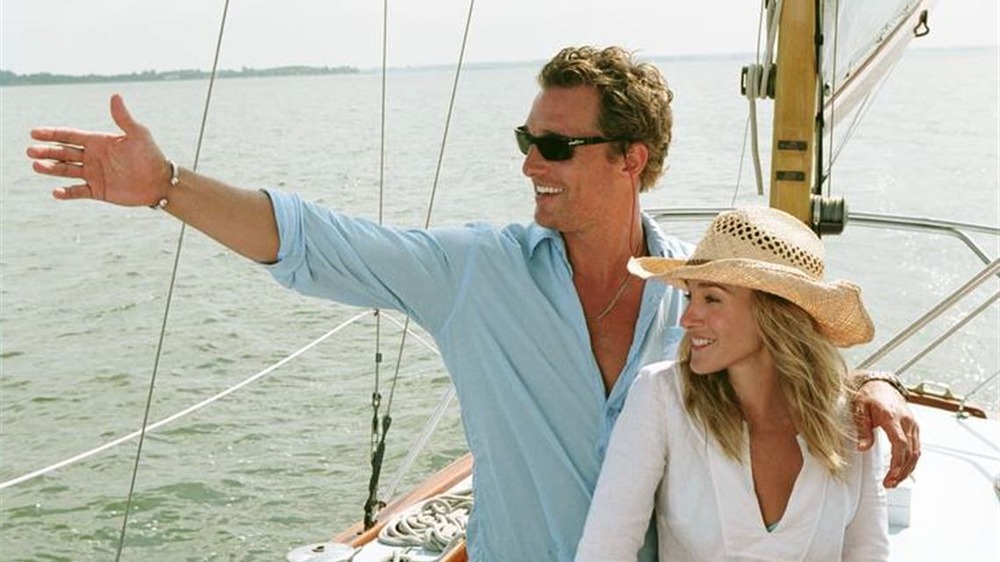 There weren't many actors more synonymous with rom-coms in the '00s than Matthew McConaughey. Hit movies like 2001's The Wedding Planner, 2003's How to Lose a Guy in 10 Days, 2006's Failure to Launch, 2008's Fool's Gold, and 2009's Ghosts of Girlfriends Past turned him into an international sex symbol. He even graced the cover of People magazine in 2005 as the Sexiest Man Alive.
However, McConaughey began to worry he'd become irreversibly typecast as a hot bachelor. He didn't hate taking those roles, mind you: As he put it in his own words, "I got to feeling like, for a few years, I was doing something that I liked to do with romantic and action comedies. But believe me, I noticed there were other things that were not coming in. And if they were coming in, it was in an independent form with a much smaller paycheck, and nobody really wanting to get behind them."
His time in rom-coms saw him become a consistent leading man, but he knew it'd become a prison if he wasn't careful. So he decided to take some risks. "I knew I could say no to the things I'd been doing," he mused. "In saying no to those things, I knew work was going to dry up for awhile ... At two years, all of a sudden ... I became a new good idea for some good directors."
The Wolf of Wall Street's iconic chest bump was a McConaughey relaxation technique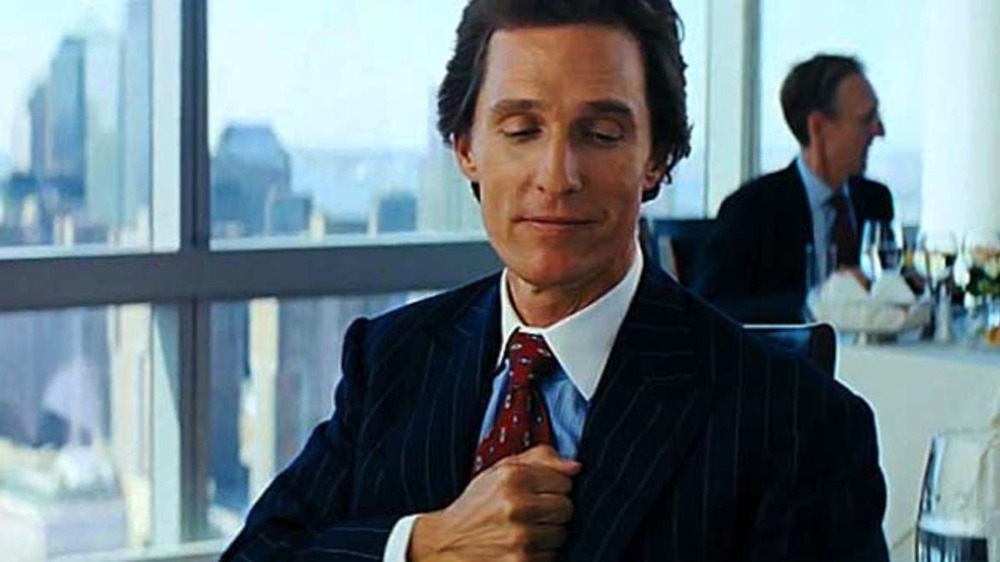 Martin Scorsese's debaucherous 2013 crime epic The Wolf of Wall Street contains many memorable scenes, but this is one of the best. Jordan Belfort (played by Leonardo DiCaprio), a 22-year-old stock broker, is taken to lunch by his new boss, Mark Hanna (played by McConaughey). While dining on martinis and, uh, something for the nose, Hanna starts humming and thumping his chest in an unforgettably weird way, imploring Belfort to join in. Belfort ultimately picks up on the bizarre habit and later turns it into a cult-like chant for his future brokerage firm-turned-criminal pump-and-dump enterprise, Stratton Oakmont. 
Like many of McConaughey's most iconic moments, the chest thump was not scripted. "It was a relaxation technique, a way to get out of my head," he recalled to the Independent. "I was doing that before each take to relax and then we'd yell "action" and I would start the scene and I'd stop doing it. We were done for the day — we'd done five takes, Martin Scorsese was happy, I was happy, Leonardo was happy, and we were moving ... it was Leonardo's idea. He goes, 'Hang on a second,' and he asked me, 'What were you doing before the take?'"
They ended up doing one more take of the scene that ended with the chest thump. It's both the take in the movie, and the one in your head right now.
The McConnaissance transformed his career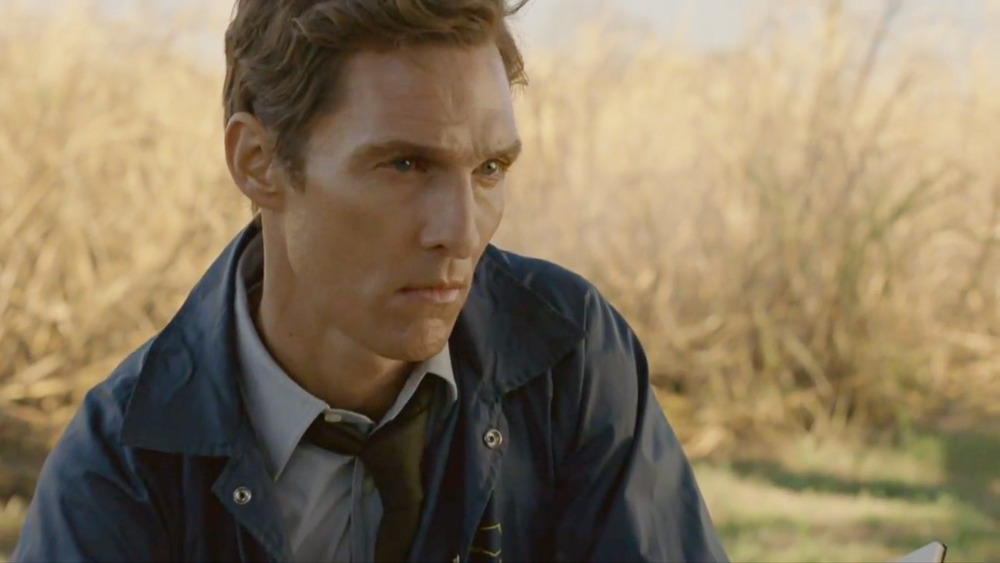 Matthew McConaughey spent much of the 2000s in a sort of purgatory: He was successful enough to keep finding work and enjoy all the material perks of fame, but never taken seriously enough to get meaty roles. He tried to at least partially bridge the gap between where he was and where he wanted to go by leaping from romantic comedies to action comedies. Sadly, movies like Sahara flopped hard and led nowhere.
So he took a different approach: He said no to romantic comedy offers that came in. The work dried up for a bit, but returned in slow, promising trickles ... until the dam broke entirely around 2012. The so-called "McConaissance" saw McConaughey completely transform his career with critical smashes like Mud, Magic Mike, Dallas Buyers Club, The Wolf of Wall Street, Interstellar, and HBO's True Detective series. All of a sudden, this "one-note" pretty boy Texan was a dramatic force to be reckoned with. Not all actors trapped in the doldrums of typecasting get a chance to reinvent themselves in this way — but then again, not all actors are Matthew McConaughey.